24 Coolest Examples of Drop Fade Haircuts This Year
Drop Fade for Short Hair
@barber_sergio97
Tame your hair even much better with highly drop faded sides down behind the ears. This contemporary look is guaranteed to transform you into a superb hunk.
Drop Fade with a Part
@mr.haiirstylist
Parted drop fade haircuts are a popular choice for modern gentlemen. It gives you a statement of refinement and sexiness at the same time. The parting of drop fades is very important because it makes a huge difference in the style.
Sharp Drop Fade High Top
@keonthebarber
High top haircuts with a dropped fade are complemented by neatly shaved sides for a dapper finish. This drop fade with flat top is an awesome example of how you can flaunt your kinks in a more stylish way.
Drop Fade for Long Hair with Curls
@besthebarber
What men and barbers admire about this drop fade style is how it excellently highlights the top of your head especially when you own a lengthy and textured mane.
Mid Drop Cut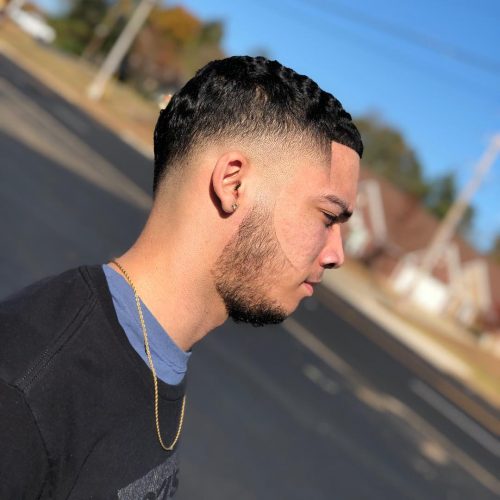 @mosscvtz
Put a twist on a classic drop fade cut for a really clean look! The cut fades evenly from the temples down to the nape and highlights the top hair and beard perfectly. It's one of the simpler men's hairstyles you'll see.
Top Fade with Straight Hair
@40_the_barber
Disconnect your thick mane from your hipster beard with a sharp drop skin fade like how Barber Leonel did for this quiff drop fade hairstyle. It's a sweet example of what you'd call a shadow fade.
Faux Hawk Drop Fade
@the_barber_sensei
Take this stylish fohawk drop fade to a much higher level with a sharp line-up! The contrast works classy from the short sides, front and back of the head. It really helps make the men's drop fade haircut more desirable.
Textured Top and Drop Fade with Disconnection and Design
@nunezthebarber
For edgier men's drop fade haircuts, you can opt for a cool shaved pattern hair design to go with your clean sides. It goes impressive especially with textured hair.
Styling a drop fade with textured top like this would require a salon-grade gel or cream.
Drop Fade Afro
@alsmillions
Take some unnecessary weight off of your voluminous hair by getting your sides drop faded. This slightly high-maintenance hairstyle easily complements those who have long textured hair on top.
Drop Fade Undercut
@ayozecastellano
Be amazed by this epic spiky hair made cooler by those low skin drop shaved sides. Pair with a beard to complete that bad boy look!
Low Drop Fade
@az_barber87
Let the texture do the talking! This low drop fade style perfectly brings out the ruggedness in your hair with the contrast it provides.
Wavy Drop Fade Look
@itsbarberblack
Here's a drop fade cut, which is also a great way to grow out a buzz cut. Patterned drop fade haircuts look best when accentuated with clean sides and back. This one's a low-maintenance choice.
Bald Drop Skin Fade with Side Part
@razvanicola
Boost your cool guy style and ditch the side burns with this clean and polished disconnected drop fade style with a side part. Brush the hair upwards and hold with your favorite product, and you're good to go with this dope drop fade hairstyle for guys!
Comb Over Hairstyle with Drop Fade
@rex97cuts
If you have thick hair and you wanna look groomed and stylish at the same time, this neat drop fade comb over is the best way to go! This side parting is one of the many variations you can create when you have long hair on top.
Not interested in the drop fade? Check out these photos of low fade comb over haircut ideas.
Drop Fade and Dreads
@rmml_blends
Drop faded sides are the best way to blend dreadlocks for black men! Choose this style if you don't prefer too much skin to be exposed.
Pompadour Drop Fade with Beard
@jack.of.all.fades
This is a gentleman drop fade hair down to the skin with a hard part and a beard clean up. This pompadour is ideal if you wanna appear sharp and hipster. Comb it forward or have it slicked back.
drop fade down to the skin, a hard-part, a lineup, and a beard fade."
Popplewell explains, "This pompadour drop fade haircut can be pulled off by most guys with a full head of hair, but I would never recommend a hard part  to dudes with thin or balding hair. I always take a minute to show the guy the best way to comb their hair. Believe it or not, a lot of guys are really bad at combing their own hair. So sometimes a little guidance goes a long way."
Braided Drop Fade Haircut
@mannyfreshbarber
It's a unique, trendy, versatile haircut with a low fade by barber Manny Reyes of Florida.
"You could dress it down or dress it up. I could see someone wearing a trendy suit and go to a wedding, as well as just looking clean going to a grocery store. What I like the most is the clean and simple part down the side. It makes the look overall look fresh," Reyes points out.
Anyone considering this look should get their braids and haircut redone at least every 2 weeks. They could also undo the braids and just put them into a man bun or comb to the side with some pomade.
Reyes adds, "This low drop fade cut would look good in almost any face shape. This is an artsy, urban look, and I don't think it will match in a corporate or professional setting. Although it's just hair – it will grow and people shouldn't limit themselves to what other people think."
Afro Blowout with Drop Fade
@lamont_tha_barber
The drop fade hairstyle offers a more clean and classy look than the traditional spiky mohawk or traditional Afro. This particular look is made by a professional barber from Texas, Terry Jackson.
"The style was made popular by singer, Usher Raymond, and later the pro-athlete Odell Beckham Jr. For those who are not familiar with the term versus fade, it refers to a natural top and faded sites. The drop refers to a phase that is circular and arching to or behind the ear," Jackson states.
Although the style may be warm by anyone, it's better suited for an extroverted personality type. This haircut also gives an athlete or any active individual more flexibility in-between haircuts, lasting 2 to 4 more weeks before the retouch.
Jackson assures that this drop fade style may be worn by several face shapes and types. One can accompany this style with a tool called a curl sponge or a twist sponge which makes the hair twist into a curl pattern which is twisted at the ends.
"Some products that may be used are natural products such as I am Curl cream, Cantu curl cream, and other natural products that nurture their hair and give control. It may also be worn dry, however, there must be shampoo and conditioner to maintain a healthy pH balance," Jackson suggests when asked about the hair products to use.
The Best Drop Fade for Afro Twists
@mr.getbusy
This drop fade with afro is a stylish medium haircut for teenage kids. It's designed by Florida-based barber Mark Rodriguez.
"Fade haircuts have been gaining popularity. You're keeping the length that all kids want to see and still pleasing the parent with a short clean cut on the sides. That would also have to be my favorite thing about this style for a young man – both sides are pleased, the parent and kid. At times it becomes an issue, the parent just wants a short low-maintenance haircut but the kids want the latest trends to fit in," Rodriguez emphasizes.
If your lifestyle is more on the get-up-and-go basis and doesn't have or want to make time to sit in front of a mirror every morning to style, this would be the ideal style for you. According to Rodriguez, it's very low-maintenance while giving you a clean look. Anyone with hair from wavy to extremely curly can achieve this style.
When styling, use shampoo and conditioner plus a light application of oil sheen to moisturize the hair and scalp. Rodriguez adds, "To complete this look, use any type or style of curl or twist sponge to execute the curly top look. The more you sponge the tighter the curl."
Fresh Drop Fade for Curly Hair
@vicdabarber
This drop fade with curls makes a unique curly messy style that gives volume in the hair with the fade that offers a clean look. The best part about this is its low maintenance, according to the barber from Indiana, Victor Maldonado.
"I recommend this haircut to men with naturally curly hair that is suitable for all ages. These curls will suit most face types and shapes. The product I use is Elegance Triple Action Gel," Maldonado states.
Drop Taper Fade
@young_loso_
This is one of the more subtle drop fade hairstyles for men. It's great for guys who don't want a skin fade.
According to stylist Carlos Velez of Ohio, "I gave the haircut an urban look by tapering the neckline and texturizing and styling the top. The best thing about this haircut is that it's simple, low-maintenance, and it's fit for every season."
If you're looking to have a good night out or even looking to have a clean simple cut to go to work with, Velez suggests this as it would definitely spark up a good vibe.
Medium Drop Fade
@olliefades
This look is a low to mid drop fade while keeping weight on the sides to allow for styling. The coolest part about this cut is the clean fade with the messy top style.
When considering this cut, barber Ollie Iglesias of Oregon explains that it's all about styling if you're willing to put time into your morning routine.
"This type of cut doesn't look good when it's not styled. I recommend any matte clay or pomade. I use Tomb 45 matte clay. This cut works best with straight to wavy hair texture. Perfect with dudes who like to keep in style," Iglesias emphasizes.
High Drop Fade
@danhowellshair_
The high drop fade is a variation on the classic high fade that will spice up any haircut and truly take it to the next level. This is how barber Dan Howells of Wales describes the look.
"The kind of skin fade is so named because the fade drops down through the hairline to create a nice strong outline on the hairline makes it look really sharp. This is because the fade adds a layer of definition to any haircut that makes it instantly stand out and gain another dimension," Howells continues.
The coolest thing about this high skin fade is that there is so much you can do with the style, such as there is more than meets the eye. Also, the blend always meets the fade amazingly.
Considering your look, lifestyle, etc., this style can be given to most men as it's easy-maintenance with minimal product. Howells narrates, "I finish this haircut with some styling powder to create lift and texture, then just a small amount of hairspray to hold in place and tweak a few bits. If anyone is considering this look I always advise them to go for it, purely for its simplicity."
Mohawk with Drop Fade
@grasso_cuts
What's great about this haircut with a drop fade is it clearly stands out to people. It also shows that you're not afraid to get something other than a traditional haircut.
This haircut is designed by a talented barber from New Jersey, Michael Grasso. "What I love about this cut is it can show a person's character. They could either go for the messy look or nowadays mohawks can even be somewhat professional-looking. There are no boundaries with this cut. Whether you're an athlete or you play in a rock band, this haircut can suit different personalities," Grasso explains.
For men trying to achieve this look, there are many things to consider, head shape, thickness, and type of product. Grasso states, "I would recommend a product with a strong hold depending on the thickness. But anyone can rock a mohawk with an open mind and creativity."