24 Classy Bob Haircuts for Older Women
Blonde Bob with Side-Swept Bangs
This blonde bob with side-swept bangs looks alluring and fine on mature women. It has a sleek style that ladies with straight locks can pull off. Whether the blonde is real or painted, it's the hue that's guaranteed to add brightness around the face.
Short Layered Bob
Rock a short layered bob if you're ready to knock ten years off your age. Layers add movement to your hair while the texture and the "sweeping" motion soften the style. Adding choppy layers give a modern vibe to a traditional bob.
The Stacked Bob
The stacked bob is known for its superpowers of adding fullness to the hair. Its structured shape enhances the head shape from the stacked effect. It also balances out your profile with a length that hits under the neck, ensuring all angles are covered.
Chin-Length Bob with Wispy Bangs
A chin-length bob with wispy bangs is sure to make older ladies look younger. The best characteristic of this cut is it suits grey hair. Its length works great with thinning tresses, too! Feel free to straighten the ends using a flat iron to create a more polished result.
The Lob
When a short pixie nor a long hairstyle doesn't work on you, you might need to go for a mid-length chop. Show off your dark-rooted blonde balayage that looks stunning with the lob cut. Ask your stylists for some shaggy layers, and fix them with waves for a softer finish.
The Face-Framing Bob for Glasses
Learn how to stand out while you sport your daily specs. If a neck-length chop fancies you, try the face-framing bob for the glasses you always wear. Blend in those greys with a deep black base for such a youthful edge.
The Swing Bob
The carefree look of the swing bob is what makes it eccentric in a great way. Its volume is totally astonishing—thanks to the waves in this neck-grazing, caramel balayage. Rock this bob, and from now on, you won't be bothered with messy-textured hairstyles.
The Feathered Bob
Designed for straight and thick hair, this is the feathered bob that offers an extra texture. Without the layers, this shoulder-length chop isn't much of an attraction. Don't worry if you like to explore a new color as you can take this cinnamon blonde as your inspiration.
The Classic Bob
Bring out your fiercest glare as one hair trend, brimming with so much sophistication, is here! Featuring the classic bob, it leaves you stacked layers to remove weight from your dense hair. Few added things won't hurt your brunette's outcome, too. So, why not try a fringe to accentuate your eyes and highlights to create a dimension?
The A-Line Bob
When you're blessed with straight and thick locks, a graduated cut suits you the best! Looking flawless from every angle, this is the A-line bob to give you a fresher look. Go for a warm blonde tone, which offers highlights 'coz you deserve a face-framing effect, too!
The Round Bob
Do you have thick, straight locks that manifest dimensional, warm blonde? If so, that would be perfect to pull off a neck-length, voluminous look. The round bob offers a superb hairstyle with side bangs for a younger-looking edge.
The Short Bob
If you don't mind wearing hair that doesn't go past beyond your jawline, take a leap and get a chop! This is the short bob that brings out the volume to ash brown locks and a fringe for added beauty.
The Textured Bob for Fine Hair
This is the textured bob haircut for 50-year-old women with fine hair, a neck-length, layered chop with bangs. A brassy kind of blonde is so out of style, but a bright and natural-looking one leaves an impression.
The Youthful Long Bob
A trend that's here to stay forever! This is the youthful long bob cut in which texture and waves are everything. Go for an ashy tone of blonde to ginger up your jaw-length chop.
The Short Bob with Bangs
Add excitement to your thin locks and pull off this bob hairstyle. It's the short bob with bangs, which does something magical to natural grey hair. The gradual layers work wonders on a wavy texture, for sure.
The Layered Bob for Thin Hair
Wear a layered bob for thin hair and feel the glam! The first thing to notice is the highlights in this blonde, shoulder-length chop. It creates a dimension that works with the texture, making fine tresses seem fuller.
The Asymmetrical Bob with Bangs
The asymmetrical bob with bangs that looks oh-so fine on older women! The uneven cut on short, thin, blonde locks leaves a great impact. Maintenance always pays off to keep the richness of your hair color.
The Blunt Bob
The blunt bob isn't always dull and boring. With texture and a bright shade of blonde, your neck-length cut will start a trend! Curtain bangs to frame your face is a sweet addition for a youthful vibe.
The Shag Bob
Not a fan of blunt cut? You better get a fresh chin-length cut as the shag bob might be your thing! The disconnected chop makes a very detailed look, which is accentuated by beach waves. Keep your blonde looking healthy and shiny for the utmost beauty!
The Pixie Bob
Older ladies, get a younger look edge when you wear this gorgeous hair! The pixie bob has layers that uplift volume and form a shape to your locks. Razor cut even makes a difference as it brings out the maximum texture. Combine your natural grey strands with a faint tint of purple for such a fine lavender finish.
The Graduated Bob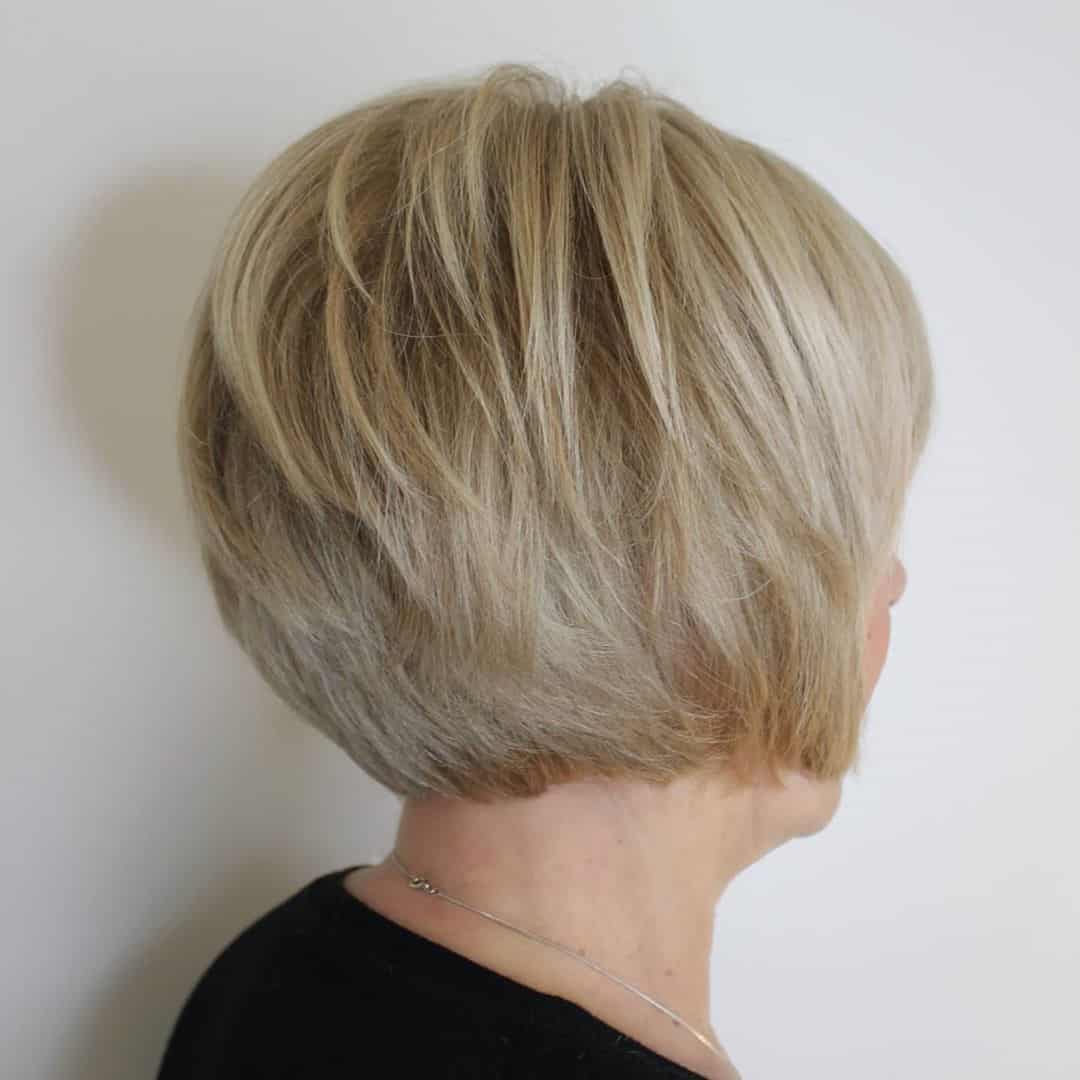 Want to secure more volume at the back as you add length in the front? The graduated bob haircut does what you wish for! Style it with texture to see the layers that effortlessly become visible on a blonde mane.
Q&A with style creator, Olga Millinson
Hair Stylist @ 2O Hair Design in Nottingham, UK
How would you describe this look?
This is in between an inverted bob and pixie bob. With short hair comes less maintenance, and it is very versatile. It brings volume and texture to the hair. This bob is for women of all ages, shapes, and personalities. It works well for many hair types and has countless styling options. With the right angle, it can visually correct the length of the neck and jawline.
Any advice for someone considering it?
There are many ways to style this bob. It can be sleek or messy, and it just depends on your desire and mood for the day. I've been using Label.M Paste to texturize it and finish it with Label.M Hairspray.
The Curly Bob
Turn your hair into its finest form! Embrace your natural hair's texture and get the curly bob as your new asset. You'll look flattering with your dark tresses and a neck-length chop.
Q&A with style creator, Gina Rodriguez
Owner/Stylist/Curly Hair Artist @ The Cultivated Curl in Fair Oaks, CA
How would you describe this look?
I love this voluminous, free, and ready-to-go look. It frames my face while forgiving my flat profile and aging neckline. I can go bed-head and not refresh second-day hair or refresh and look tidy. At last, I have fast-dry, fashionable, trendy, and stylish thick curls – the dream of curly hair women, young or mature! This cut will ease growing my gray hair – no more color.
I describe this bob hairdo as contemporary classic – always in fashion no matter the age. My favorite thing about it is how it is short and off the neck in the back, making the back styling so much easier in the morning.
Any advice for someone considering it?
Warning! This bob will make a mature woman rock again which leads to updating your wardrobe.
In addition, this look requires moisturized curls. As with any natural curly style, hydration/moisturized curls play a big role in the success of multiple-day styling. The better hydrated the curls are, the better the styling of natural curls.
The Inverted Bob
Brighten up your face with a dark-rooted, dimensional blonde! The inverted bob haircut will be perfect in case you want subtle stacked layers on your look.
Q&A with style creator, Kelly Andrew
Hair Stylist @ Suraj Spa Salon in Asheville, NC
How would you describe this look?
My favorite thing about this bob style is how little maintenance it requires. Between the rooty color and the shaggy layers, you get a beautiful grow out which requires less time in the salon. The cut is also very versatile which I love. The texture and layers give the client the option for a fixed, polished look or a messier, shaggy hairstyle. Creating styles with versatility is the best part of my job.
Any advice for someone considering it?
I think the best piece of advice for this style is to consider the texture of your hair. While this cut and style do well for straighter, medium to fine-textured hair, it might create more work for someone with coarse hair or hair that tends to be frizzy. However, that's not to say it's impossible to achieve this look if you do have coarse or frizzy hair. You would just need to keep in mind how much time you want to spend styling your hair and also what products you'd want to invest in.
The Choppy Bob
To every chic older lady out there, this is the choppy bob hairstyle for you! The detailed chop creates texture, so hair ends will not look so blunt. Waves on this shoulder-grazing cut intensify the dimension in its blonde shade.
Q&A with style creator, Anne Ekeberg
Hair Stylist @ 2 Frisører in Mysen, NO
How would you describe this look?
This medium-length bob is a practical, easy look that you can wear both straight and wavy. It's modern, natural, texturized, and can be worn in many different ways.
I personally love to make this kind of haircut because it's a style for both young and older women. It's important to choose the length of the bob from what face shape you have. This is important to make the look fit you personally!
The color I did with highlights and lowlights complements the haircut and makes the hair vibrant.
Any advice for someone considering it?
This bob haircut is an easy look if you have straight hair and if you have natural curls. If you have thick and unruly hair, you must consider using a flat iron to make it look good.
I personally like this cut better with some soft waves and more texture. Use the flat iron to make loose waves. It does not need to take a lot of time. I like to use dry shampoo and texture products with a matte finish. Always finish with hairspray and remember to use heat protection every time!
Considering this cut? Just do it – you will not regret!