28 Cutest Long Curly Hairstyles
Impressive Shag Cut for Long Curly Hair with Curly Fringe
@made_bymads
The best haircut for long curly hair is this – the curly shag with bangs. Impressive long curly hair with fringe on a dark brown shade like this curly shag is hard not to love. The messy curls look dreamy and so full of life! Long curly hair with bangs is a commitment.
Going back and forth to the salon to get trims is necessary to keep this brown curly haircut in shape. This hairstyle on curly brown hair with a fringe is made for gals with thick curls. The curly bangs on long hair can make it appear thinner while still keeping its fullness.
Medium-to-Long Curly Cut in V Shape
@nualamoreysalon
A medium-to-long curly cut in a V shape increases shape around the front of your hairstyle. Lifting your curl, the deeper the "V" the more shape nearer the face you will enhance. This works well for finer hair which can't be overly layered. The shape will focus all the attention on the front of your hair, while the back can stay effortlessly one length.
Long-length Haircut with Bouncy Curls
@nubiarezo
A long-length haircut with bouncy curls is perfect for women who want to revive their curls without taking much length off. Keeping the length, but adding in shorter layers, won't weigh down the curls. Once shaped-up, the curls bounce right back up and keep the length intact.
Long Red Curly Hairstyle with Large Curls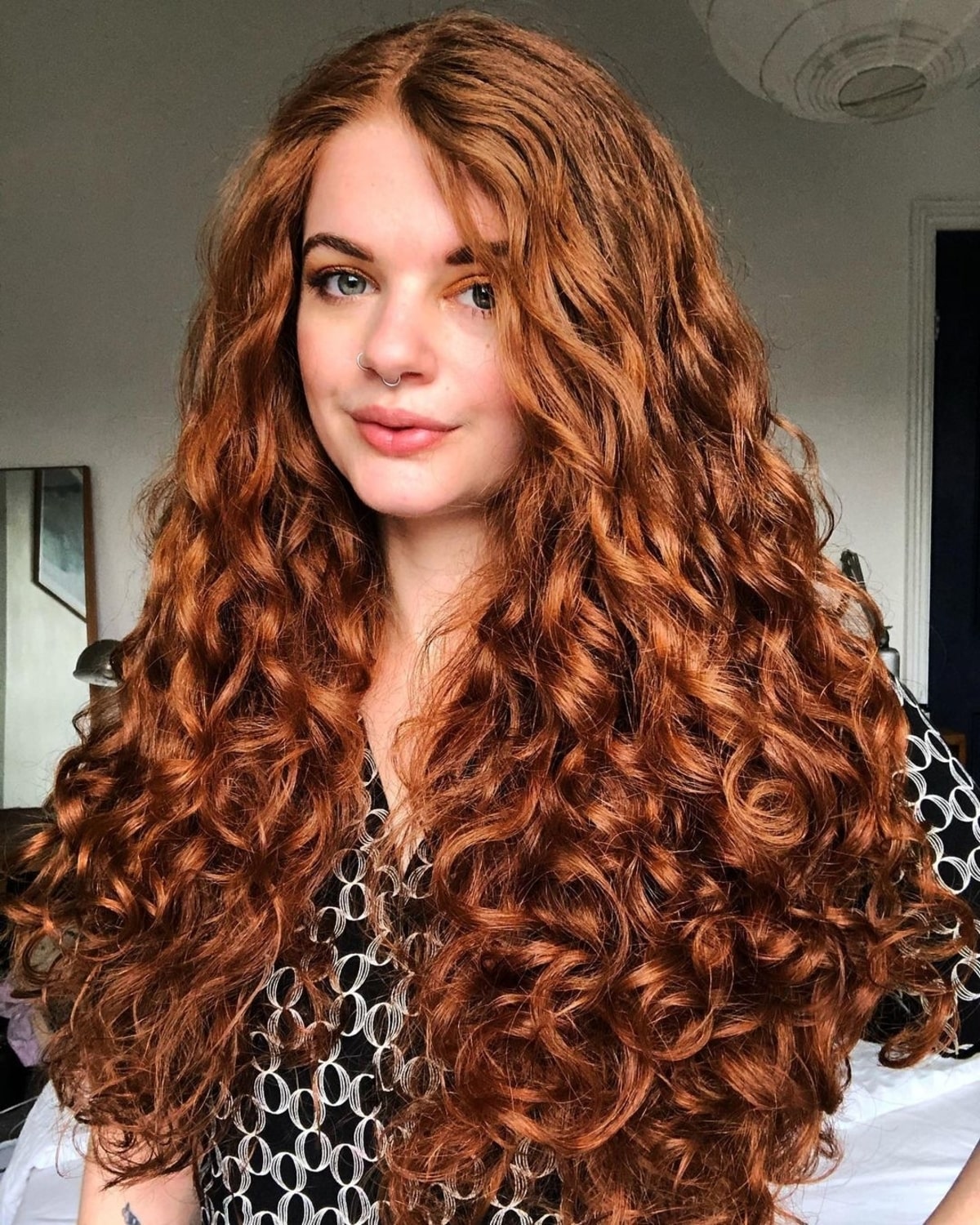 @anniegoukcurlygirl
A long red curly hairstyle with large curls is captivating as it shows off multi-tonal red-orange tones. For effortless radiance, try Evo Love Perpetua when curls are completely dry.
Long Layered Cut for Loose Curls
@marissa_lanae
A long layered cut for loose curls is great for women with thick tresses. Long layers will help remove weight. Oftentimes, the curls will spring back up to create volume. Consider visiting a stylist who specializes in curly cuts to achieve it. For frizz-free control and perfect curls, style and diffuse with Evo's Liquid Rollers.
Curly Bronde Hair
@nualamoreysalon
Curly bronde hair is the latest trend and most requested style. For curls to bounce, make an appointment to see a stylist that specializes in curly hair. Adding lighter bronde highlights can give dimension and contrast to the curls. Aveda Be-Curly is a staple piece for every curly-haired woman. Use a blow-dryer with a diffuser attachment and in a low heat setting to set the style.
Long Curly Ponytail Style
@rukahair
A long curly ponytail style is a sleeker finish to a messy updo. A ponytail hairstyle for long curly hair is perfect for non-wash days to get one more day out of your style. It is also perfect for an evening style. For this, fluff up your curls with a little backcombing to give an extra glamour.
Lived-In Definition with Long Curls
@haironbeat
This is the "lived-in definition" for long curls. "It's a low maintenance curly style for long hair. It doesn't complicate their hair routine with tons of products," explains curly hair expert Natalia Rodriguez of Somerville, NJ.
"Not every curl is the same," says Rodriguez, "that's what makes long, naturally curly hair ideas one-of-a-kind!"
When it comes to this curly style, she believes less is more. "The curls will curl, all they really need is water. Water is key to achieve frizz-free, shiny, and defined curls. While the hair is soaking wet, apply a light-hold gel. Then scrunch out excess water with a cotton t-shirt and diffuse hair until 80% dry."
This curly hairstyle is perfect for women who need a hair routine that isn't complicated and want their natural texture to exist effortlessly. A curly girl should wear the hair, and not let the hair wear you. Now, forget about your short hair and start growing out your curly hair long to try a new trend.
Dark Long Curly Hairstyle
@curlyonq
Dark long curly hairstyles are excellent for longevity between haircuts. Curl hair specialist Kara Dollahite of California made this one, and it looks cute in an up or down-do.
Dollahite shares some tips on how to achieve such a long curly haircut. "Don't stretch the curls as you dry cut. Layer in vertically and try only to use the very top of the crown to layer a ton," she notes. "Stay away from silicones, dimethicones, parabens, butters, and oils," she adds.
Long Curly Hair with a Middle Part
@styledbytal
If you have a symmetrical long face, loose long curly hair with a middle part would be ideal if you're searching for a long curly hairstyle for a formal event, like a wedding. The volume and the length effortlessly create a curly bouncy hairstyle and balance out your face shape, leaving you looking truly dashing.
A Lazy Day Bun for Long Curly Locks
@thebrownbosslady
This effortless, long curly hair topknot updo was created by salon and spa director Farah Khan of Bedfordshire, UK.
"Loosen some strands by pulling them out of the updo, creating an effect of a messy bun," says Khan. "What's also great about this long curly hair cut is that it can be worn by all women. Whatever your hair type, face shape, natural hair texture, or color is, hairstyles for curly hair like this will suit you."
Women considering curly long hairstyles for an updo need to be comfortable having their hair up. And you may need to think of curling it if you want extra volume/texture.
For styling, Khan says you definitely need to invest in these three products: Kerastraight Ultimate Oil for nourishment and shine, Emi DryMme for texture and a more lived-in feel, and GHD curling tongs for defined curls. "Here's an additional tip: one way to emphasize the curly bun is by opting for an ombre hair color," she adds.
Long California Beach Curls with Short Layers
@curlyhairdaze
These long California beachy curls with short curly layers were created by certified DevaCurl stylist Daisy Henson of San Diego, CA. "It's also known as a waterfall cut," says Henson.
The best thing about long-length hairstyles for curly hair is that they're sexy, tousled, and carefree with lots of volume. The short layers on long hair allow the hair to dry faster and give a lot of volume without sacrificing the length that many curly girls crave.
Long curly hair suits wavy or curly girls with shoulder length hair who want movement and shape.
Henson says to use DevaCurl products. "Start with BuildUp Buster, which is a deep cleanser, to remove buildup from past products. This will give wavy curls life and bounce. A buildup remover is important to achieve maximum volume. Certain products, as well as the environment, can weigh the hair down and make it impossible to get volume," she adds.
"Next, use One Condition Original and leave a bit in for moisture. Then use Styling Cream and Light Defining Gel to define your wavy curls. Towel dry with a microfiber towel to reduce frizz and then diffuse."
Edgy Disconnected Long Loose Curls
@styleandshave
Have these edgy disconnected long curls to show off such a fierce statement. This long curly hair has an elegant yet bolder way of styling natural curls. For women considering a similar curly style for their loose curls, just know that shaved undercuts can have an awkward grow-out process. Consider that factor before deciding to get curly haircuts and styles done.
These edgy disconnected long curls come with a side of cute! They were created by hairstylist Cassandra of Fredericton, NB. "Don't you love a close shave on one side and thick curls on the other? It's really the best of both worlds," states Cassandra.
"You have the flexibility of wearing your hair down or up," she adds. "If your hair is thick enough, you can even still have the option for a "full head of hair" look. The only downside would be the maintenance. You have to get your shaved side touched up every three weeks. Nothing like smelling like having a fresh, new shave!!"
Natural Textured Waves on Long Hair
@hairby_chrissy
These natural textured waves on long hair make a chic, eye-catching statement! The best thing about this beach style for long curly hair is that it enhances a curly texture. If you're considering these tresses, don't be afraid of too much product! When washing the hair, rake through the curls while there's conditioner in them. That's how you'll get any tangles out.
Effortless Curly Haircut for Long Hair
@melimel_devacurl
This long curly hairdo is easy day-to-day wear. All of the long hair with layers gives effortless shape. It was created by New York-based stylist and salon owner, Melissa.
"Cutting shorter pieces allows the medium curly hair texture to dry faster and requires less product," Melissa said.
"If you're looking to keep your curly locks but want to update your style, adding some layers will spruce up your long natural curly hair. If you wish to try this style, but don't have natural curls, a perm can help you," she adds.
Naturally Defined Curls for Long Thin Hair
@farkile
Naturally defined curls for long, thin hair are fun to try! Add a brown hue to make it even cooler! These are long, hydrated, and soft curls with volume at the roots for long thin hair. No more spending too much time with the curling iron as this creates one of the stunning natural curly hairstyles.
To maintain curly tresses and achieve a chic brown curly hairstyle for thick hair, use products without silicones or sulfates. The water-soluble products can ensure that hair is absorbing water. This way curls will stay soft and frizz-free.
Frizz-Free Curls Light Haircut
@alyssarxs
Get a frizz-free curls light haircut if you want a great wash-and-wear style! This is how one can embrace her black natural curls. To have a voluminous hairstyle for bouncy curls such as this one, long curly tresses must be healthy, so they'll look incredible.
Getting a curly long hairstyle begins with a convo between you and the stylist. This leads to educating you on how to take your natural waves or curls and turn them into something chic! This hairstyle is worth a try if you're over your short curly hair.
Layered Haircut for Naturally Long and Kinky Curls
@nolastudio
This long curly cut is called "The High Priestess" or "The Lioness." It was created by certified DevaCurl stylist Dianne Nola of San Francisco, CA. "Essentially, it is a long curly layered haircut on extremely thick hair. It commands attention," she explains.
"Use Innersense Organic Beauty products made locally in Walnut Creek, California to amp up this layered curly hairstyle," says Nola. "Their line includes the Hydrating Cream Hairbath, Hydrating Cream Conditioner, Inner Peace Whipped Cream Texturizer and I Create Hold Gel."
An oval face would wear this curl pattern best because it emphasizes length and fullness. With any other face shape, hairstyles with curly hair like this might look too extreme.
Waterfall Long Tight Curls for Black and Natural Hair
@rosiecurl
"This gently layered waterfall long curly hair cut was achieved by sculpting the curls to cascade away from the face with a soft, even shape," explains stylist Rosie Jablonsky of Minneapolis, MN.
Jablonsky says to try a combination of DevaCurl products and UpNorthNaturals for this curly layered hairstyle. "If your hair needs a lot of moisture, use the DevaCurl Decadence NoPoo and One Condition as a cleanser and conditioner. Add DevaCurl Heaven In Hair Deep Conditioner for extra hydration and thickness to the formula," she adds.
She goes on to explain, "Rinse the conditioner over halfway out after a thorough finger detangling and curl clustering session. The leave-in stylers to try are Up North Naturals' Hair Milk followed by 8 Oil Defining Gelly. Once dry, spritz on DevaCurl Set It Free for moisture lock and shine on your long curls."
This shape translates beautifully to wavy hair, medium curly, and the looser end of the super curly spectrum. Gentle shaping that works to define your texture and eliminate bulk is flattering on longer hair.
Shaggy Curly Long Layers with Bangs on Messy Curls
@made_bymads
Pair some shaggy curly long layers with bangs for an astounding masterpiece! This shaggy curly long hair offers a lived-in vibe. It's a beachy and tousled curly hairstyle with curly bangs. To get the same cut, find a DevaCurl stylist if you can. This particular curly haircut for long hair is for a longer face shape because of the fringe. It's what helps the face to look shorter.
Beautiful Tight Curls for Long Hair
@rosiecurl
Beautiful tight curls for long hair give the length to show off your natural ringlets. The longer length will pull the curls out and give more width to your hair than the volume on top. To keep your long curls tight, opt for a holding product like Aveda Confixor gel. This adds a light hold coupled with your favorite defining cream.
Natural Spiral Curls for Long Hair with Honey Blonde Balayage
@justine_bossio2
Natural spiral curls for long hair embrace the natural shape of your hair to the fullest. Long curly hairstyles are well-matched with long layers this is to keep the base fuller. Spiral curls are quite tight. Treat your curls with ample amounts of nutrient-rich moisture for longer-lasting curls.
Gorgeous Ringlets Long Hairstyle with Ash Brown Highlights
@i.n.v.u_hairstudio
Wow everyone at any event by adding ash brown highlights on perfect long hair curls that would create spectacular dimensions on your longer hair. Such a curly hairstyle with highlights looks awesome with a shine spray to boost vibrancy.
Fishtail Braid Curly Updo for Long Hair
@theupdogirl
Try out this fishtail braid finished by a boho updo on striking blonde curly hair with sun-kissed blonde lowlights. The braids in an updo for curly hair really create a more chic and feminine result. This curly blonde hairstyle isn't complete without any hair gems or floral accessories.
Luscious Curly Thick Locks
@marianellyy
This curly hairstyle with off-centre part on luscious curly thick locks has a face-framing look. It was created by hairstylist Maria Diaz of Los Angeles, CA.
"This cut on thick curly hair is great because of the layers," says Diaz. "Layers are great to create hairstyles for naturally curly hair. The reason for that is that the layers create volume and give your hair body. For styling curls, use moisturizing products."
Diaz says to try a hydrating leave in conditioner, then use a curl cream to define the curls. "For hold, use a gel. Try a strong hold gel because it holds definition, and it also retains curls for a good 3 days till your next wash day," she adds.
She goes on to explain, "this long curly hair is good for women who have high density hair 3a 3b curls. It's important to use products that will define your curls and help keep your curls hydrated. To maintain or to reach this length it's important to do trims/hair treatment to keep your long curls healthy."
Playful Long Ringlet Curls
@cosmocoolie
Wear these playful long ringlet curls and give other beauties hair envy. This is a layered cut for thick curly hair. Fun, charismatic, and really cute—this long curly hairstyle is full of zest! Use only a diffuser to dry the mane, which will keep its texture still effortless-looking!
These playful long ringlet curls is a voluminous layered curly cut with a face frame. It was created by Jasmine Lee, a stylist in San Antonio, TX.
Typically, face frames look good on all women. "The cheek bones are a good place to start because it helps to slim your face and add some extra fun movement to your hair. The layers are going to be for women who don't mind having volume," explains Lee. "The shortest layer is around chin/cheekbones which will add volume to the crown. I also like this layered cut for curly hair because the perimeter (ends) are still full even though there is a layer."
To style, Lee suggests using a mixture between diffusing and under a hooded dryer. Mostly defusing for extra volume.
Long Soft Curls with Side-Swept Bangs for Fine and Wavy Hair
@wendos_
Long soft curls with side-swept bangs create a style ideal for date nights and formal events. Those big curls offer a glam vibe that any woman can wear everyday. When it comes to easy-to-create hairstyles for long curly hair, this is it. This long curly hair with side bangs and a side part is just pleasing to the eyes.
These layered, long soft curls with side-swept bangs have a face framing front." It's also a great option of hairstyle for fine curly hair," says stylist Wendy Nguyen of Melbourne, AU.
"Use heat protection and a texturizing spray with light flexible hairspray when styling this long layered curly haircut," she adds.
Blonde Long Curly Hairstyle with Bangs
@salsalhair
This blonde long curly hairstyle with bangs is another trend that screams vivacity! The dimension from the balayage plus the movement and beachy texture that a long curly haircut can provide is amazing. Level it up by styling the curls with an inch wand and some texturizing product like a salt spray and gritty paste. Haircuts for long curly hair like this keep the tresses neat and in shape.