19 Amazing Ways to Wear Bantu Knots
Bantu Knots On Natural Hair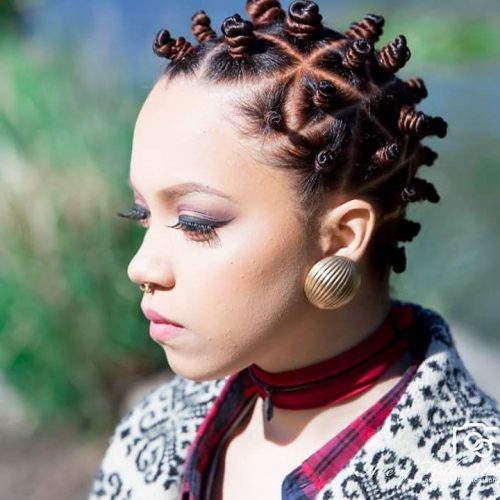 @salonnoa
Knots done on naturally curly hair usually crush the look especially when the hair is well moisturized and taken care of. The natural curl of the hair just flows with the Bantu style.
Bantu Hairstyle With Cornrows
@mzshidab
If your hair is still short for other protective styles like braids then these stylish Bantu knots can do the magic. For added style and dimension, you can add cornrows and accessorized braids in between those Zulu knots.
Bantu Knots On Relaxed Hair
@shanillia26
For all of you who want to achieve Bantu knots styles with a center part on natural hair, don't be afraid to try it! Just remember that it's super important to have your hair completely dry before you coil them. You can leave them for a few days and add some pretty Bantu braids and cute accessories to the hair ends to spice up your look, too!
Braided Bantu Hairstyle with Burgundy Color
@stylesb._
Try this vibrant red hair color on any protective style like these thick braided Bantu knots! It'll look flattering on dark skin as it has a brightening effect. Don't be scared to try high-maintenance fashion colors on your natural kinky hair!
Bantu Knots On Wet Hair
@trini4true
It's so amazing when you combine two top-notch hairstyles like these locs and knots at the same time! Try doing your knots on wet hair for slippery curled twist outs. Always remember to do deep conditioning beforehand. The curl pattern of your black hair will look amazing!
Bantu Knots on 4C Hair
@jaynellenicole
Embrace the versatility of natural hair by trying these classic Bantu knots out! These knots are ideal for 4C hair as they create more defined curls when twisted out.
Twisted Out Bantu Knot
@jolieluvlee
If you're looking for definition for your natural hair, this is absolutely one of the top Bantu knots hairstyles to try and you can do it in just under an hour!
Bantu Hairstyle on a Weave
@mandi_luv24
These huge Bantu knots with a weave are more attainable by using trendy crochet braids. Still super easy to do, yet gives you the loveliest outcome you could have.
Bantu Knots With Straight Hair
@gabriela_clesca
Straight or curly, long or short, Bantu knots will never fail to be the cutest and flirtiest African hairstyle anyone can try by themselves! You can wear them for a few days then remove them and rock those twisty curls after!
Bantu Knots for Short Hair
@mosdefhair
Though tricky, it's not impossible to do Bantu knots on short hair. A trick is to apply more mousse or setting lotion to your natural hair for more control and ease in twisting and styling.
Transitioning Hair with Side Bantu Knots
@curlyzizi
Make sure to create larger partitions if you're doing side Bantu knots on transitioning hair, but only after conditioning well. You can also opt for extensions if you want a more stylish and versatile look.
Bantu Knots on Dry Hair
@mosdefhair
The most important thing to remember when doing these fabulous knots on dry hair is to be especially careful when detangling, as dry hair can be coarse and brittle. Moisturize, be gentle, take your time, and it'll be all worth it!
Bantu Hairstyle on Afro Hair
@mosdefhair
These marvelous Bantu coils are particularly trendy on short natural African-American hair. This is an impressive way to style your hair without damaging it with heat.
Bantu Knots For Little Girls
@bellamanestudio
Get playful and imaginative with your little girl's hair by doing these creative Bantu knot hairstyles. Combine cornrows and cute beads together and finish with a crown of knots for a fresh look that's perfect for the most active kids.
Bantu Knots On Locs
@locsbyroxie
These Bantu knots on dreadlocked hair are sure to give your roots a unique and stunning pattern. Just keep your favorite moisturizing product near you to create your Bantu buns. Remember to use a bobby pin for each bun for extra security, too.
Though locs are already a striking hairstyle on their own, that shouldn't stop you from doing a more gorgeous one!
Small Bantu Knots
@blacknaps
A lovely black woman can get all perky with these small Bantu knots, especially if painted with a purple tone.
Bantu Knots With Braids
@signed_byelle
Bantu knots with braids is an out-of-the-box hairstyle that looks best on a woman who is confident. Stylist Elle Bee of Atlanta, GA reveals that it doesn't take long to do yet it's so unique and chic.
To create this Bantu knots style, Ella Bee says, "Know that your hair only needs to be long enough to put into ponytails and the rest can be done with extensions if you don't have the length. Also, you won't need too many products for upkeep, only oil for the scalp and a satin wrap or bonnet to cover your hair while sleeping."
Bantu Knot Twist
@nurtured.tresses
Larger Bantu knot mounds on your head create a larger statement that is also very easy to do, maintain, and keep.
Bantu Knots With Triangle Patterns
@thehairblessings
Bantu knots styles are great for protecting your hair. In the black culture and community, it's important to keep our hair moisturized to prevent it from breakage. It's a unique look that the Zulu and Bantu people in Africa tend to rock.
According to Texas-based stylist Desireé Ward, "Bantu-knotting is a strong look for women that typically have a lot to do and care for. It's seemingly a carefree stress-free style."
There's no one hair type for this Bantu knots hairstyle. A lot of people nowadays get their hair done this way for fashion purposes, but in reality, it's a sign of strength and unity for the Bantu or African culture. It's mainly used for protective styling.
Before getting this style, Ward suggests using shampoo with moisturizing hair products and detangle with a leave-in conditioner or light oil. "It's best to do this style while damped but some stylists or hair lovers do it dry before bed for a nice beach wave. In the morning, just take them down with light oil and finger them apart," Ward advises.
If you're getting them done while they are damped, they don't require shampoo. Ward adds, "This style can last up to two weeks. Light on the scalp with tea tree oil. This will help with the itch and moisture. Gently wrap them at night with a silk scarf!"