25 Hottest Twist Braid Styles Right Now
Mambo Twist Braids
@leilaluz
These mambo twist braids are guaranteed to give ladies hair envy. It's unique and looks fire! This twist style is an excellent option if you want extra length and thickness to your hair. Feel free to give it more spice by painting it with red tones.
Red Hair with Twist Braids
@hairby_seraiah
Rocking the red hair with twist braids is one way to amp up long tresses. The shade is so vibrant, it complements both cool and warm skin complexions. Keeping the ends curly, and not braided, will provide the hair an even fuller result.
Blonde Twist Braids for Black Women
@forynine
Gorgeous blonde twist braids for black women make a superb hair trend. Such a color flatters warmer skin complexions. The style offers a fuller finish, and it suits a longer length of hair. Stylish and versatile—there are enough reasons to love these twists!
Bob Twist Braids
@ijelalacrochet
Bob twist braids, if paired with radiant brown color, appear vivid and daring. It looks even more stylish with silver cuffs around the face, adding a bit of a shine. With its collarbone-grazing length, the twists seem fuller.
Afro Twist Braids
@razorempress
Try these afro twist braids for a sleeker, edgier vibe. The style keeps the twisted kinks looking neat. Its medium-length haircut is perfect for maintaining fullness in your hair. Black is the ideal shade to pair these twist braids with, resulting in a very classic and shiny finish.
Marley Braids
@braidsforyoubyme
Marley braids and ombre? Yes—these two work nicely together! The splashes of blonde add radiance to the typical black twists. It's the perfect style to go for when you want a fun, edgier vibe. To keep tresses looking fuller, ask for a shoulder-length bob.
Thick Twist Braids for Black Hair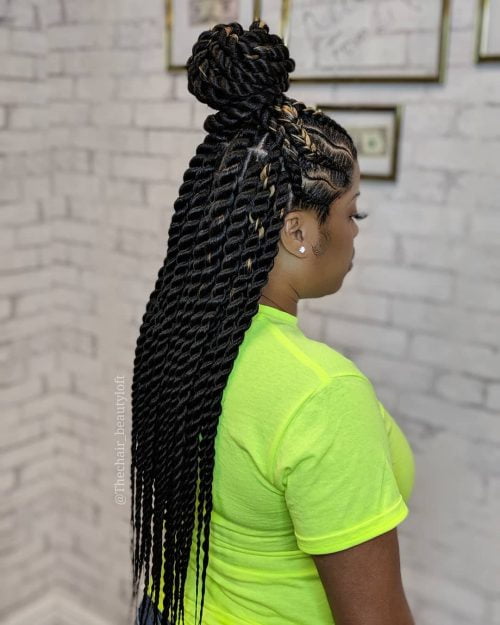 @tasha_worldofstyles
Thick braids capture most of your hair strands in a massive braid, resulting to a chunky-looking rope! With this, the twists are more pronounced; thus, more mesmerizing to look at.
Micro Braids for Natural Hair
@anneelisebraids
Don't be afraid to go for anything avant-garde when styling twist hairstyles! Long and fine micro braids with red highlights like these are enough to inspire you to get your own plaited wig.
Single Twist Braids
@hairbyugochiii
Simple single twists are thrilling to try! You can work with a chunkier, medium twist braids or go with smaller twist braids. Either way, you'll be able to wear a single twist with any technique you use.
African Twist Braids for Black Women
@nayabeauty95
The tapered ends make a distinguishing feature from the vibrant African twist braid pattern from the roots. Classic and timeless, this one is a pride to wear for melanin ladies out there.
Small Black Twist Braids
@grip_and_twist
Micro hair work produces vibrant small braids like this one. I say the smaller the braid, the sassier the lady! Braidwork this intricate helps lock the moisture in, so try one out and see for yourself.
Spring Twist Braids Hairstyle
@sashacheveux
Hold on tight to your best olive oil product to get the right kind of luscious spring twist braid. Proper moisturizing and taking care of your hair is necessary so that your hair could take care of your looks.
Kinky Twists Hairstyle for Curly Hair
@cosmogirlnedd
Super tight kinky twists are still a sight to look at even after all these years of being a top pick for twist hairstyles. The thick curling is done to make these kinks help maintain the volume and body of the over-all hair.
Crochet Twist Braids
@tresonsweaves
Crochet braids are famously known as ones that can be altered due to the hair extensions. Good thing crochet twist hairstyles are versatile 'cos it suits any face shape, hair color, and accessories that go with it.
Big Twisted Braids
@b.versatile_
Because being extra is the new black, big braids twist rule this year. Those interlocking strands can be easily completed as long as you have steady hands, patience, and a sense of style.
Romantic Braided Twist Updo
@beautiibraidz
What makes something romantic is if you can bring out the best in you, and this style sure did. Wear those braided twists high and proud with an updo to make sure your sparkling, lovely eyes are clear of any hair.
Rope Twists Style
@adornbraids
An a-class on those rope twists that give satisfactory protection and style. Like sturdy ropes that can take on anything, your locks are sure to get some love and give you some lady strength and confidence.
Long Twist Braid for Long Hair
@braidsbybutterfly
Manage your long locks by putting them in a long twist braids hairstyle. You'll still be able to flex those braids while keeping them neat.
Twisted High Bun Hairstyle with Color
@superstarthecreator
Tired of having your twists flowing down? Make an interesting look by putting them up in a bun! The details of the twists are still observed, plus you'll have a refreshing new look!
Passion Twist Crochet Hair
@thedollhouse_bbc
A newly conceptualized style, the passion twist braids make use of springy store-bought hair then loosened up before being incorporated into your normal twists. This technique boosts volume and texture and deviates from your normal smoothed up twists.
Cascading Thick Twists Hairstyle
@xcellentxtensions
Putting one whole twist onto your twists brings a whole lot of surprises! For this cascading twist braids hairstyle, the diagonal patterns bring your eyes across a wonderful masterpiece that is your twisted braids!
Short Twist Braids
@poplaura.b
Chunky twists in a short braided style is an outstanding look! The ends fall perfectly around the jaw area, emphasizing your face shape and making you look so petite at the same time.
Box Braids Hair Twists
@elyt_styles
Q&A with style creator, Hamdiyah Holliman
Natural Hair Specialist @ Elyt Styles in Lawrenceville, GA
How would you describe this look?
I chose this look, box braid twist, to compliment my client's hair texture and facial structure. Amongst numerous partings, like box parts and triangle parts, I went with the circle to give it a fuller look. My favorite thing about this twist braids hairstyle is how complex it is. It gives you a braid and a twist, two different techniques in one style.
Any advice for someone considering it?
The box braid twist hairstyle would be perfect for all women with hair types specifically transitioning from relaxed to natural who are seeking low maintenance, protective style. Once the style is complete, it can last up to four weeks. This was the most important factor for my client because she typically works in an office setting.
With this twist braids style, it allows the advantage to "wake up and go." Cutting down on time spent in the mirror, she can throw it in a ponytail or leave it down by only spending 2 minutes instead of 1 hour on her natural hair.
My client Tiffany is transitioning from relaxed to natural. Not only am I facing the challenge of two different textures, but her hair also has a blunt cut. Braiding to the length of her natural hair and twisting the remainder secures, the blunt ends and adds longevity to the style. I recommended this technique because she originally wanted twists, but I ensured the blunt ends are prone to sticking out of the twist. To accommodate my client, I came up with the box braid twist, which turned out to be perfect for her texture as well as her lifestyle needs.
As far as products go, I like to first moisturize with a hair lotion and oil the scalp with a grease. My favorite brand of hair is Xpressions because of the quality and how easy going it is on my hands.
Waist Length Jumbo Braids
@stylesbysmyley
Q&A with style creator, Damaris Smiley
Hair Stylist @ Styles by Smyley in Nairobi, KY
---
How would you describe this look?
The kinky twists are done using a kinky braid called Fluffy Kinky – it's a Kenyan brand (Darling Hair Kenya). Having the kinky texture, they bring out a more natural hair look with an African vibe.
The good thing about it is it's super light, pocket-friendly in the long run because they give long service, and quick to install.
Any advice for someone considering it?
The styling will depend on the length and size that a client prefers. For most of my clients, they prefer the long and chunky, which is something I love as well.
Always go for a self convenient product that works best for you and the scalp. I usually recommend the pure castor oil because it helps with the hairline and gives out a sheen look on the edges and scalp as well.
I've worked with different clients with different hair types. From time to time, I got to learn different hair textures and types, as well. 4C has the best grip since the braid is kinky, and the hair is kinky as well. For other soft hair textures, one has to be careful and gentle on the fixing.
Hairstyles do vary with personality depending on a client's taste and preference. When it comes to the twists, a client should pick the size, length, and color that is favorable.
Most of my clients are of the age bracket 20-30, so I'd say lifestyle to me isn't an issue – it just depends on what the client wants.
Jumbo Senegalese Twist Braids
@devinerootz
Q&A with style creator, Uju Ozumba
Hair Stylist @ Rootz Hairdressing in Enfield, LDN
---
How would you describe this look?
I love the simplicity and elegance of this twist braids hairstyle. Senegalese twists are very versatile and can look stunning left, down, or styled into an updo, a bun, and so many more ways. The ease of this hairstyle makes it perfect for any holiday and day-to-day. It's no surprise that Senegalese twists are a popular choice amongst my clients all year round, especially as this hairstyle can last up to 6-8 weeks, depending on how it is managed.
Any advice for someone considering it?
I advise everyone considering this hairstyle to do their research. The difference between protective styling benefits and hair breakage is not entirely dependent on the technique of the hairdresser but also how the client handles their hair. For example, tying the hair up too tight can put too much tension on the hair and cause breakage.
There are two key tips that I share with my clients. Use a spray bottle to spray the twists with leave-in conditioner every 2-3 days or after washing to prolong that 'like new' look. Wear a silk scarf or bonnet when you sleep. If you're a rough sleeper or just don't find them comfortable, try switching to silk pillowcases!
Medium Braids for Shoulder Length Hair
@victoriousdesigns_
For an easy-to-maintain twist style, opt for medium braids that are a few inches past the shoulders. Part your locks on whatever side you like, bring them up or style them down. The choice is yours! Don't let it get frizzy by using a satin scarf when sleeping.