20 Choppy Bob with Bangs That Are Totally Modern
Long Choppy Bob with Fringe
@taticristinabrandao
Freshen up a long choppy bob with a fringe and a blonde balayage. Give it more texture and dimension by adding voluminous waves. This haircut works best on tresses that are thin and fine.
Choppy Inverted Bob with Ombre
@beautyby_amandaclaire
Choppy inverted bob with ombre works great for women who want an edgy short hairstyle. To get this look, ask your hairdresser for a textured bob and an ombre hair hue.
Shoulder-Length Chopped Bob with Bangs
@hairbyabbyhughes
A shoulder-length chopped bob with bangs is a great style for professionals or even for both stay-at-home and working moms. It is quick ad easy to style with just a quick blow-dry or a curling wand for texture and dimension. This cut is to be maintained for about 7-10 weeks. It can grow a little longer yet still be styled easily.
Extra Long Bob with Choppy Bangs
@deanlittlehair
An extra long bob with choppy bangs that hits past the shoulders is a great cut if you're not ready to commit to really short hair. You can still pull it up in a ponytail if needed so it's great for active women. This complements most face shapes. The bangs show off your eyes with its length above the brows bedazzled with some interesting choppy detail work.
Choppy Blunt Bob with Bangs for Thin Hair
@alanginn_artistry
Choose a choppy blunt bob with bangs for thin hair. A blunt cut maximizes thin hair with its sleek shape and is super easy to style. If your hair is straight, just blow-dry with your fingers downward. For those with curly or wavy heads, use a smoothing cream and an extra-large round brush. Salon visits should be 4-5 weeks to keep this cut looking sharp.
Choppy Bob with Bangs Over 50
@thecreativehairdresser
The choppy bob with bangs over 50 looks more fabulous with a lot of hair texture and waves. The style creates a movement to make it extra modern. Before getting this bob, bear in mind that it requires effort in styling it.
Choppy Short Bob with Side Bangs
@rodrigues_ricardo
This choppy bob haircut with side bangs softens a strong, sharp jawline. It creates an ideal haircut for women with a diamond or heart-shaped face. When copying the style, use a flat iron or a curling wand for an effortless wavy effect.
Mid-Length Choppy Balayage Bob with Bangs
@rodrigues_ricardo
Pair a mid-length choppy balayage bob with bangs to build up a glam vibe. It's the shadow-rooted blonde hue that creates a dimension to this short hair. The volume in the mid-lengths is what gives a balance to an oval face shape.
Short Choppy Bob with Fringe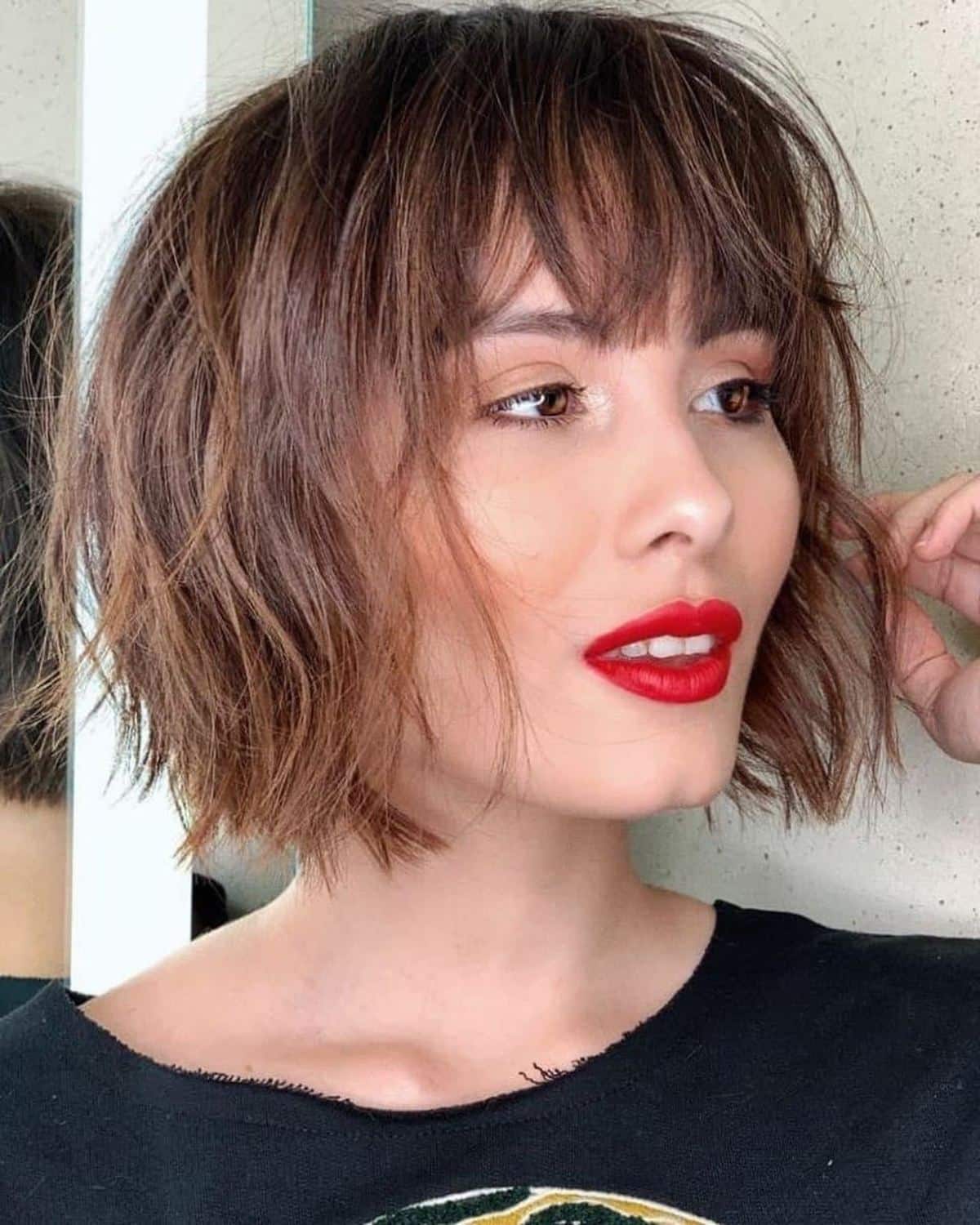 @rodrigues_ricardo
A short choppy bob with fringe will give thin tresses a thicker appearance. This chin-length haircut offers a fuller-looking effect. Big thanks to the texture and waves for creating such a soft, undone style. This choppy hair is achievable with the help of a textured mousse.
Choppy Long Bob with Bangs
@rodrigues_ricardo
A choppy long bob with bangs turns out to be more chic and stylish when a bit tousled. The texture may add edginess, but when matched with waves, the entire style looks softer. A wispy fringe that grazes the eyes is ideal for beauties with lovely eye colors.
Medium Choppy Shaggy Bob
@the_way_of_hair
This medium choppy bob haircut is divine! It suits ladies with a rounder face shape. The soft wavy hair style plus the bangs frame the face, and the finish looks pretty. When styling, use a shine spray for a finishing touch. It adds an incredible glow!
Dark Choppy Lob with Bangs
@joahhmendes
A dark choppy lob with bangs can give the tresses a maximum style and edge. If the hair is thin and it needs texture, this is one of the best chops to go for. Style it with soft waves, and achieve a voluminous finish.
Choppy Bob with Bangs for Fine Hair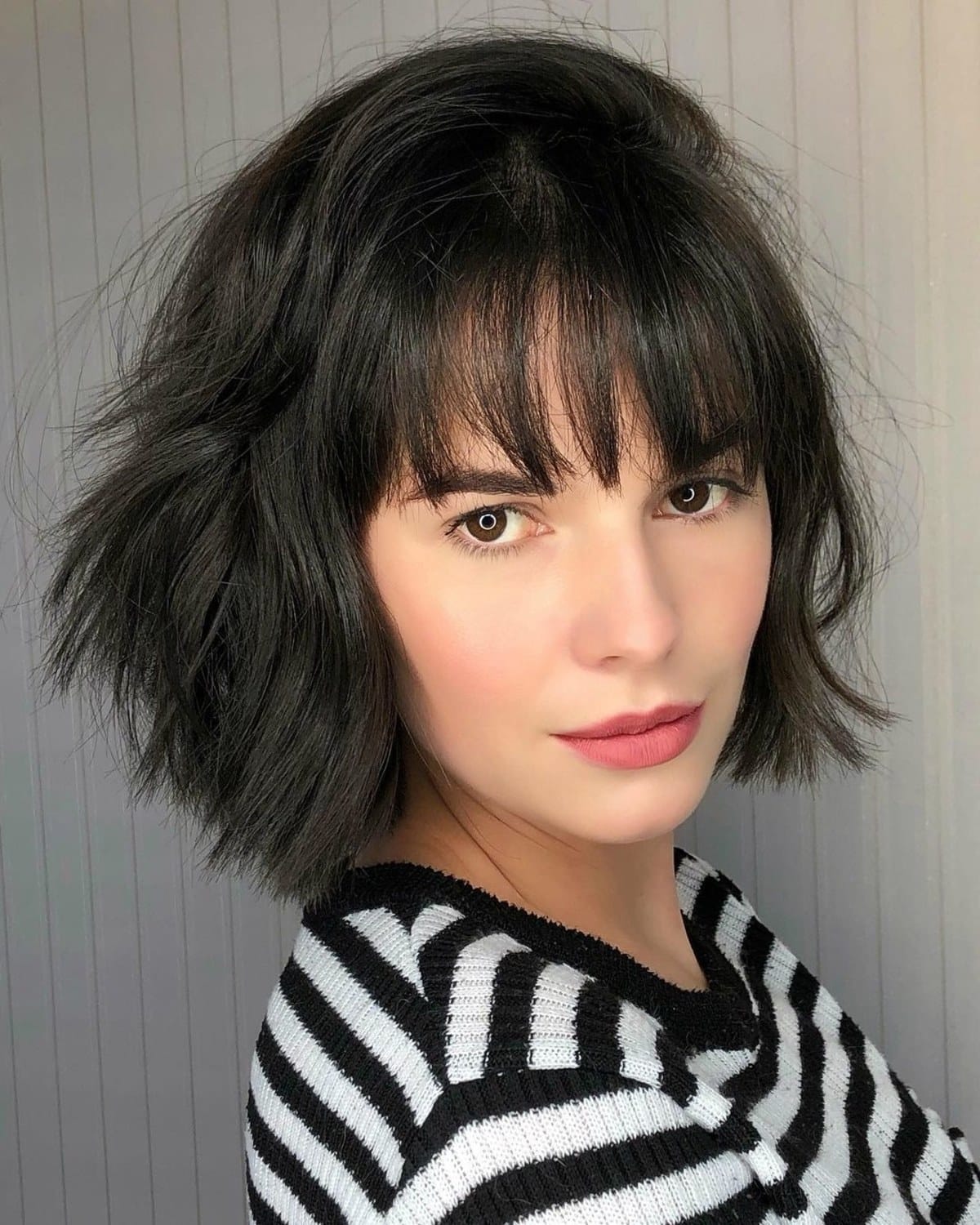 @joahhmendes
Such a gorgeous choppy bob with bangs for fine hair! What makes this flattering is the volume it can offer. With subtle waves, the black tresses can have a little more movement and texture, too. Here's a friendly tip—use dry shampoo to reinforce the volume and texture. The style should stay throughout the day.
Choppy Layered Bob with Bangs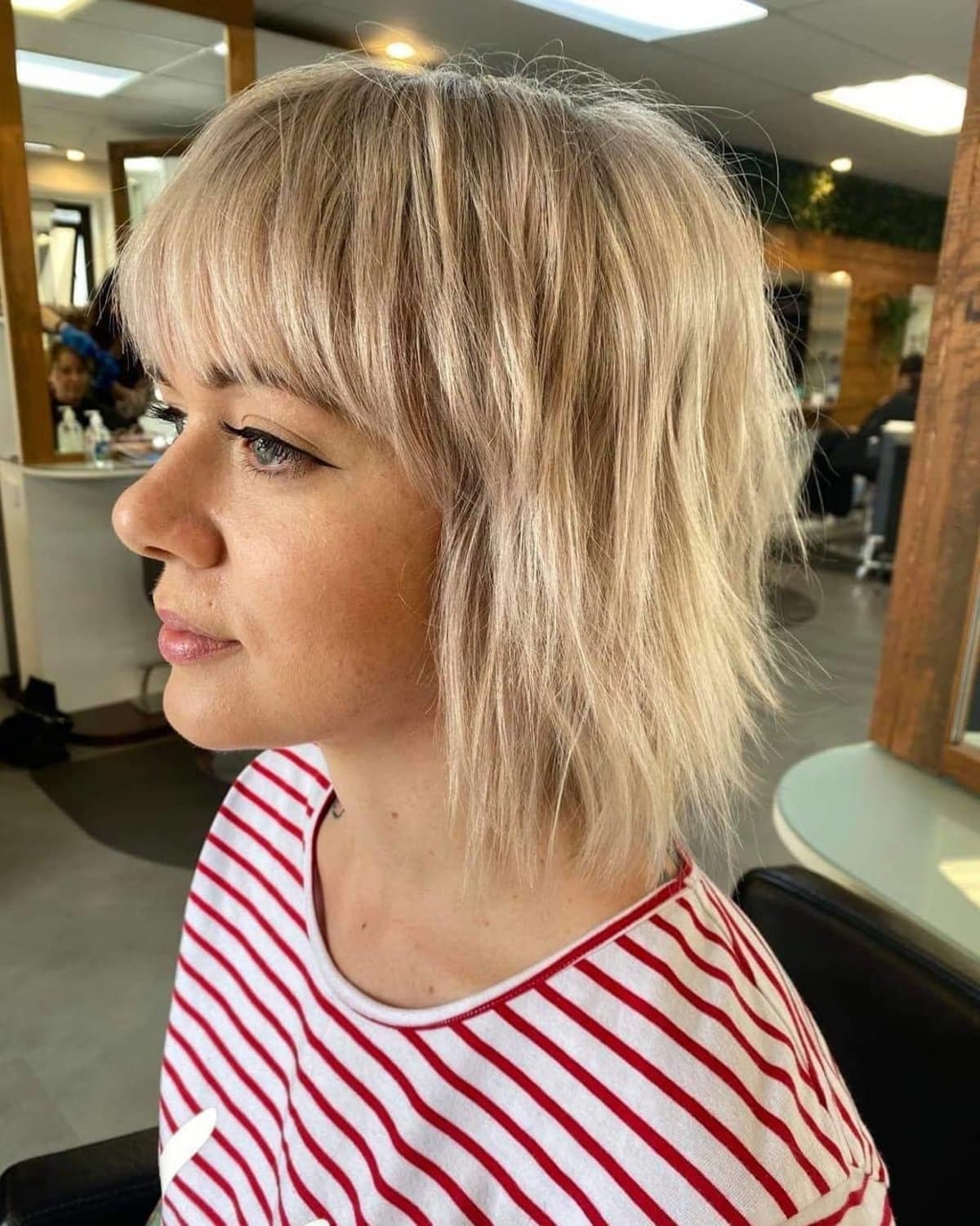 @hairbyshalane
A choppy layered bob with bangs is perfect for women with medium to thick hair. This is also ideal for adding texture to locks, preventing them from looking flat. A short haircut like this is easy to arrange. All you need is a salt spray, and the hair's natural texture will do the rest of the work.
Jaw-Length Choppy Messy Bob with Bangs
@tomsmithh
A jaw-length choppy messy bob with bangs is an effective way of having the hair look thicker. The choppy strands create the softness and edge that straight locks need. Bring out a fresher vibe to it by painting it blonde.
Short Choppy Bob with Bangs
@tomsmithhd
This short choppy bob with bangs is flattering on older women. It looks modern with a lived-in vibe. To copy the cute style, add waves and a lot of texture. Spritz salt spray as the finishing touch, too.
Wavy Bob with Choppy Bangs
@chri_edosalon
Imagine wearing this bob cut with choppy bangs. The edgy result is breathtaking! It seems fun to wear, letting the tresses look livelier. This kind of style is best suited for hair with a wavy texture.
Stacked Bob with Choppy Ends and Bangs
@annetteluxe
A stacked bob with choppy ends and bangs is easy to style on fine to medium hair density. Hairstylist Annette Madrid of Florida also finds it ideal for both square and long face shapes.
"I used halo layers, which adds volume around the sides to showcase long face shapes best. I also graduated the back to a slight angle," states Madrid, sharing how this cut was created.
Choppy Textured Bob for Thick Hair
@glowlemars
What this choppy textured bob for thick hair can do is remarkable! Here, the length is at neck level for versatility while keeping the hair's fullness. The choppy edges go very well with a messy, textured style. The finish looks fun and weightless.
According to its hairstylist, Nikki Nuzum of Le Mars, IA, "choppy bob hairstyles are very versatile and can be altered to fit many different faces! Textured looks usually require some sort of product like a texture spray or powder."
Nuzum warns this particular fringe requires daily maintenance with a hot tool and texture product.
Choppy Platinum Blonde Bob with Long Bangs
@ayhanonluel
A choppy blonde bob with long bangs works fabulously on a girl with fine hair. The layers give it body and movement. Volumizing products can also be used to help give it texture.