18 Bob with Curtain Bangs Hairstyle Ideas for Modern, Beachy Women
Shaggy Bob with Curtain Bangs
@yokii.san
For women with fine hair, consider a shaggy bob with long curtain bangs to activate texture and volume, by having a stylist add soft invisible layers, and gentle point cutting to achieve choppy bangs. Style your layered bob with R+Co Trophy for added shine and texture.
French Blunt Bob with Curtain Bangs
@ziggyazeigler
A french blunt bob with curtain bangs works beautifully on those who love a sleeker feel to their tresses. The sharply cut length keeps fullness in the bob that hits the jawline just right. Adding curtain bangs to a bob gives shape, giving an element of softness. The curtain bangs can be pushed around that they graze the eyebrows and give a symmetrical feel to the face.
Brown Bob Cut with Curtain Fringe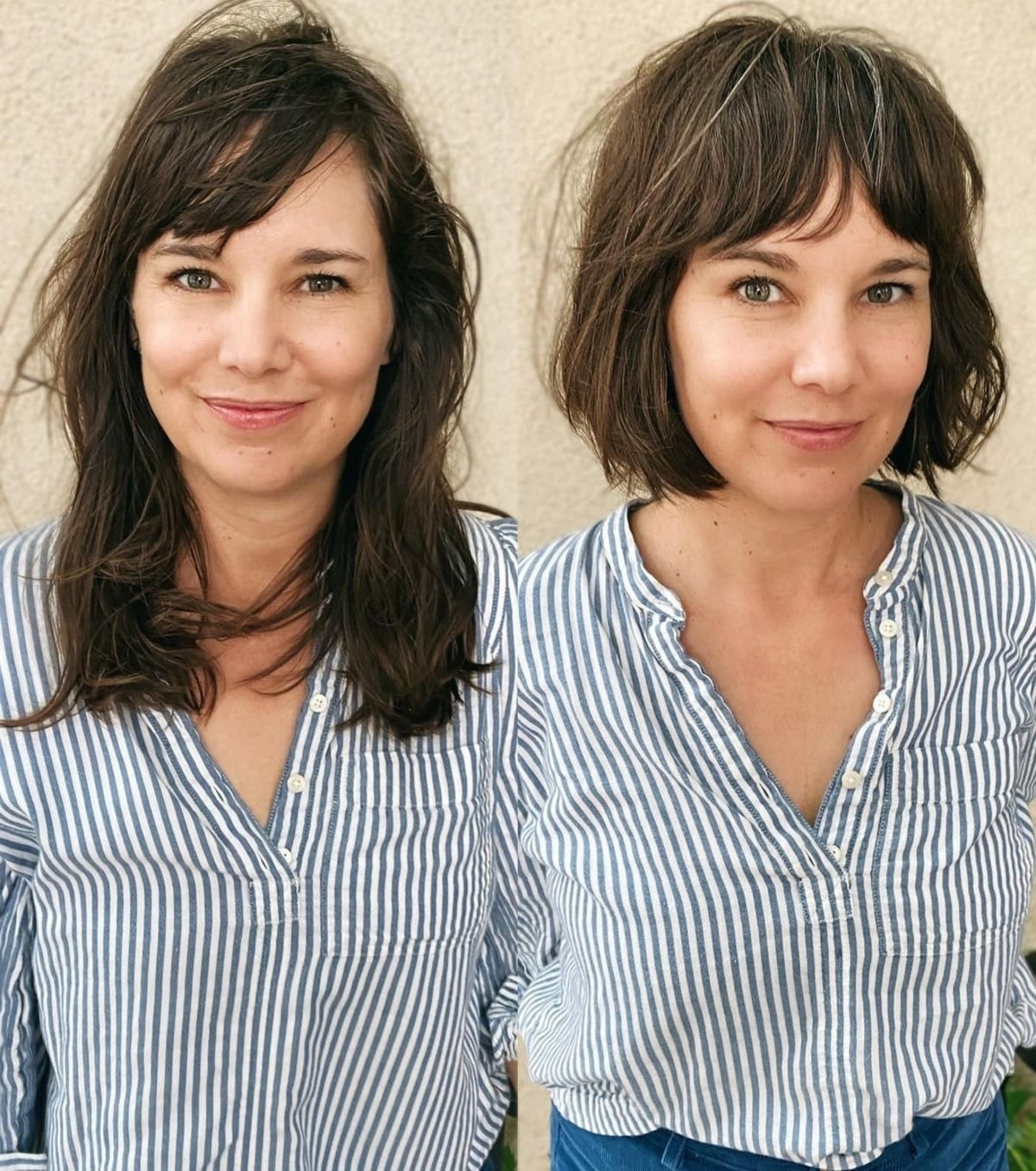 @drethings
Try a brown bob cut with curtain fringe to professionalize your style. If you are looking for a style to impress everyone at work, a bob has that put-together look that is also a great transformational piece for medium-length hair. The length can be versatile. You can choose anywhere from lip to below the chin. A bob works well on women of any age.
Angled Bob with Curtain Feathered Bangs
@o.le.oni
An angled bob with curtain feathered bangs is a classy and elegant cut. To give your hair more movement, invest in texture sprays and pomade that will add texture and volume to your haircut.
Shag Bob with Swoopy Fringe
@danae_edwardsandco
Try a shag bob with a swoopy curtain fringe that rests just below the eyebrow. It features texturized shorter layers for instant body and effortless styling. Spritz with sea salt spray and diffuse with low heat for quick out-the-door styling.
Blonde Bob for Thin Hair with Curtain Bangs
@ayhanonluel
A blonde bob for thin hair with curtain bangs is a great shag haircut for women of all ages. It instantly creates fullness and thickness. Soft curtain bangs help frame the face and are easy to maintain and style. Style with a 1 ¼" curling iron for soft waves.
Lob with Curtain Bangs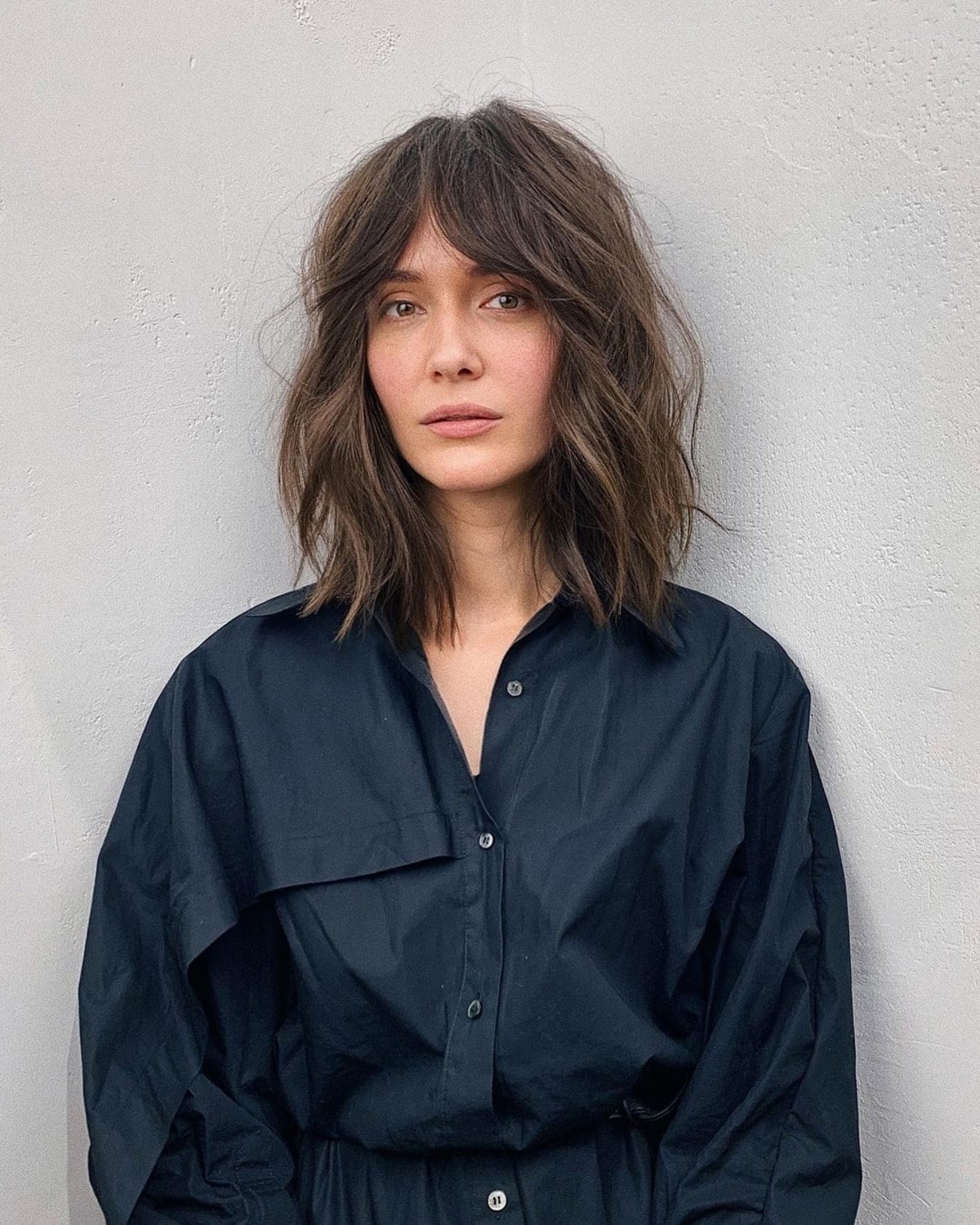 @stebunovhair
A lob with curtain bangs is perfect for women with fine hair who want to emphasize certain facial features and slim the face. The commitment level is low and gives a balanced and soft look. Style with Trophy texturizing spray from R+CO.
With Textured Curtain Fringe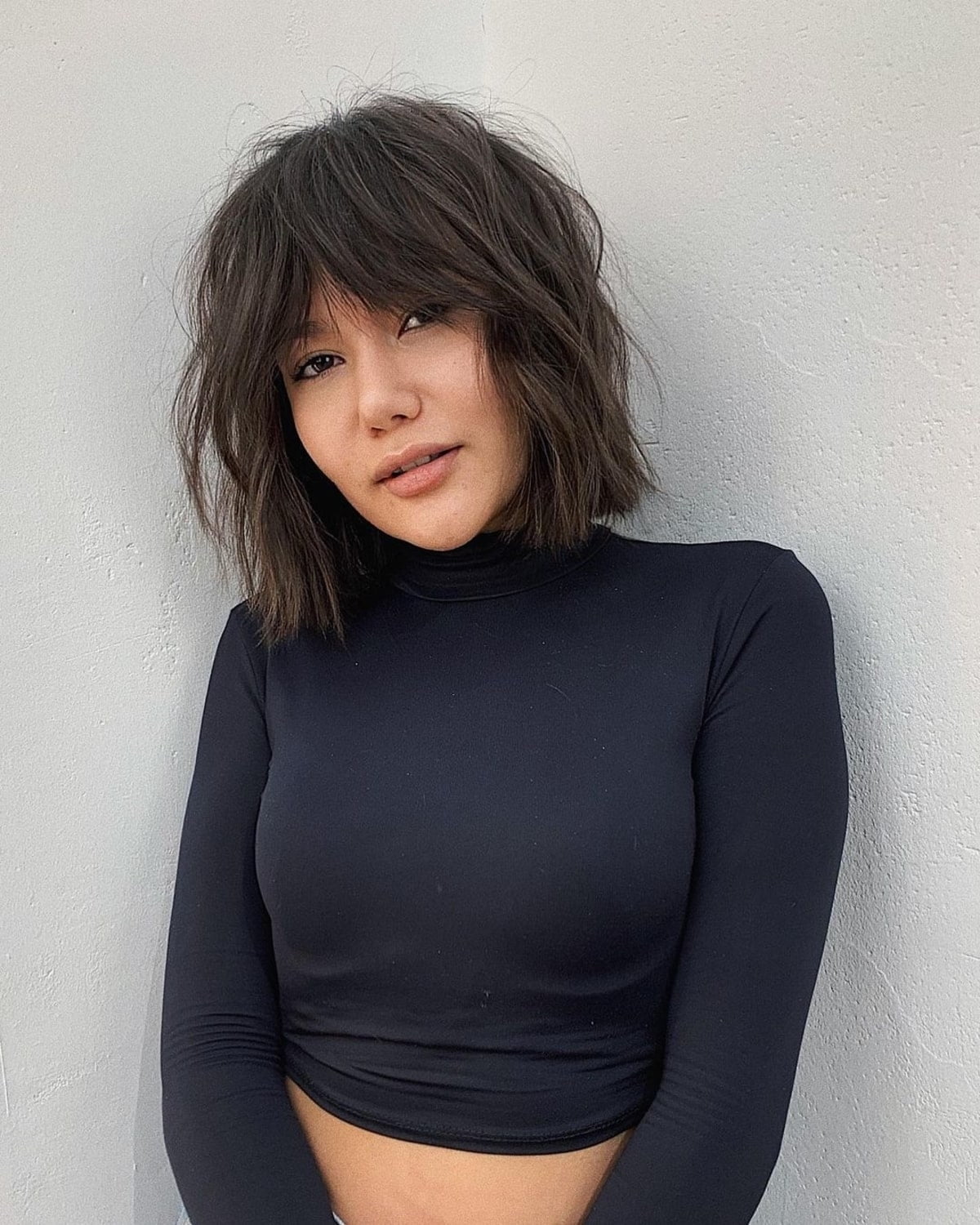 @stebunovhair
A bob with textured curtain fringe flatters women with a round face shape. Add soft waves with a 1" curling iron to give movement and body for a chic yet casual look. Spritz Haze by Evo into your wavy hair for activated texture and messy bangs.
Inverted Bob with Feathered Bangs for Dark Hair
@salsalhair
The inverted bob with feathered bangs has a frayed finish, leaving the ends of the dark hair more uneven. To enhance the movement, try spraying a leave-in texturizer on the strands and kneading them with the palms of your hands to add more texture to the look.
Cute Bob with Short Tousled Bangs
@brianaguilarhair
With the length that goes up to the chin or a little below it, this cute bob with short curtain bangs is a tousled and powerful cut with light layers.
Long Bob with Curtain Bangs
@danae_edwardsandco
If you're wanting to get rid of your long hair, opt for a long bob with curtain bangs. It's shoulder-length and has a straight base, but depending on the desired effect, the cut can be styled in different ways. Use dry shampoo to give a messy and modern texture.
Lob with Face-Framing Curtain Bangs
@prue.bodahairboutique
A lob with face-framing curtain bangs is a great option for those who want to try the reduced length with a versatile and elegant profile. More and more women opt for short hair cuts to combine a trendy look with more practicality. This cut looks particularly great on women with straight hair, too.
Wispy Curtain Bangs on a Bob Cut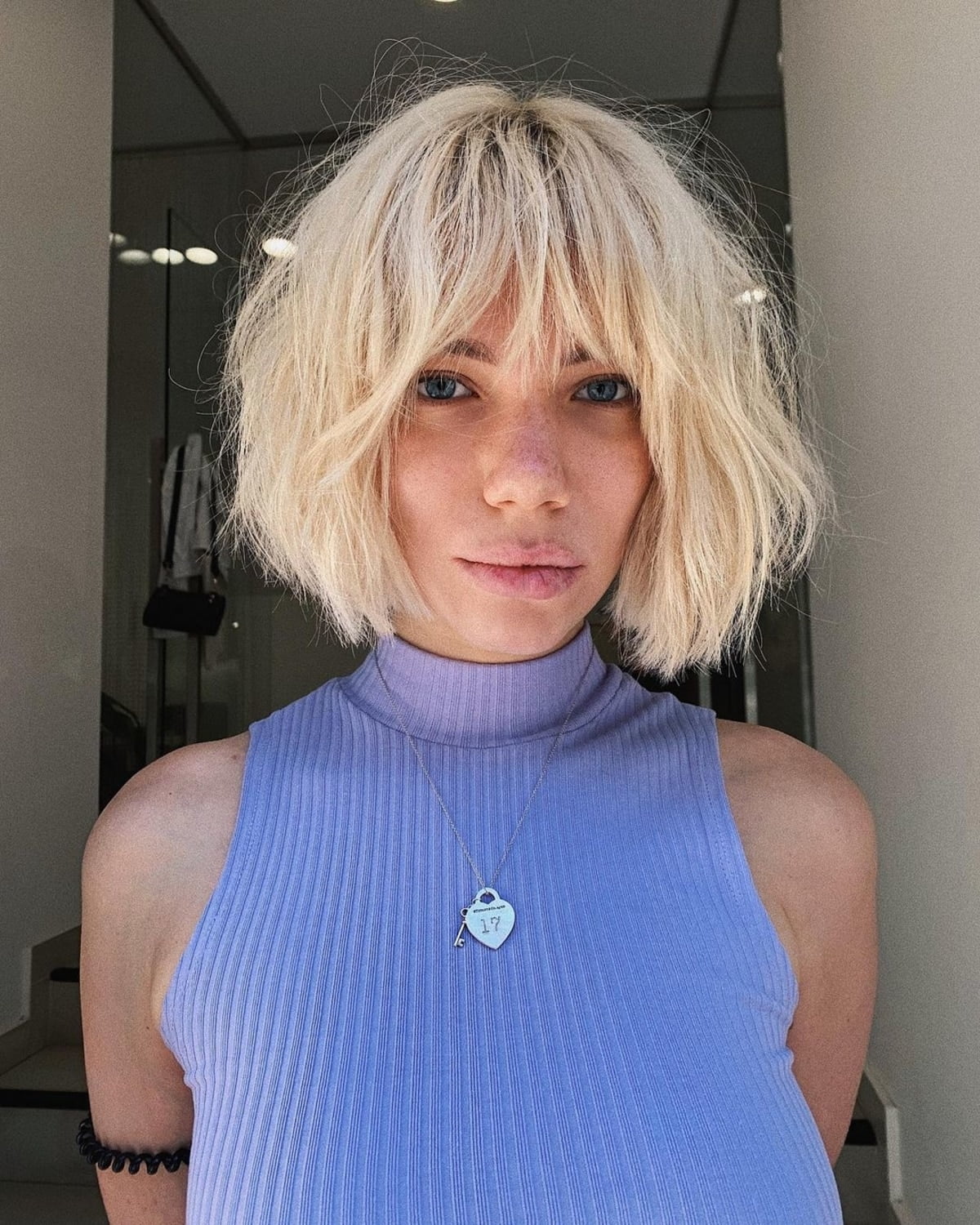 @stebunovhair
Wispy curtain bangs on a chin-length bob cut are bold. Its main characteristic is how the cut is close to the nape of the neck, which helps to lengthen the neck. With wispy bangs, it gains even more originality.
Platinum Bob with Layers and Curtain Fringe
@ayhanonluel
A platinum bob with layers and curtain fringe peaks from the nose, diverting attention from the face. Bet on the long bangs to complement the bob cut with elegance and style.
Curtain Bangs on a Bob Haircut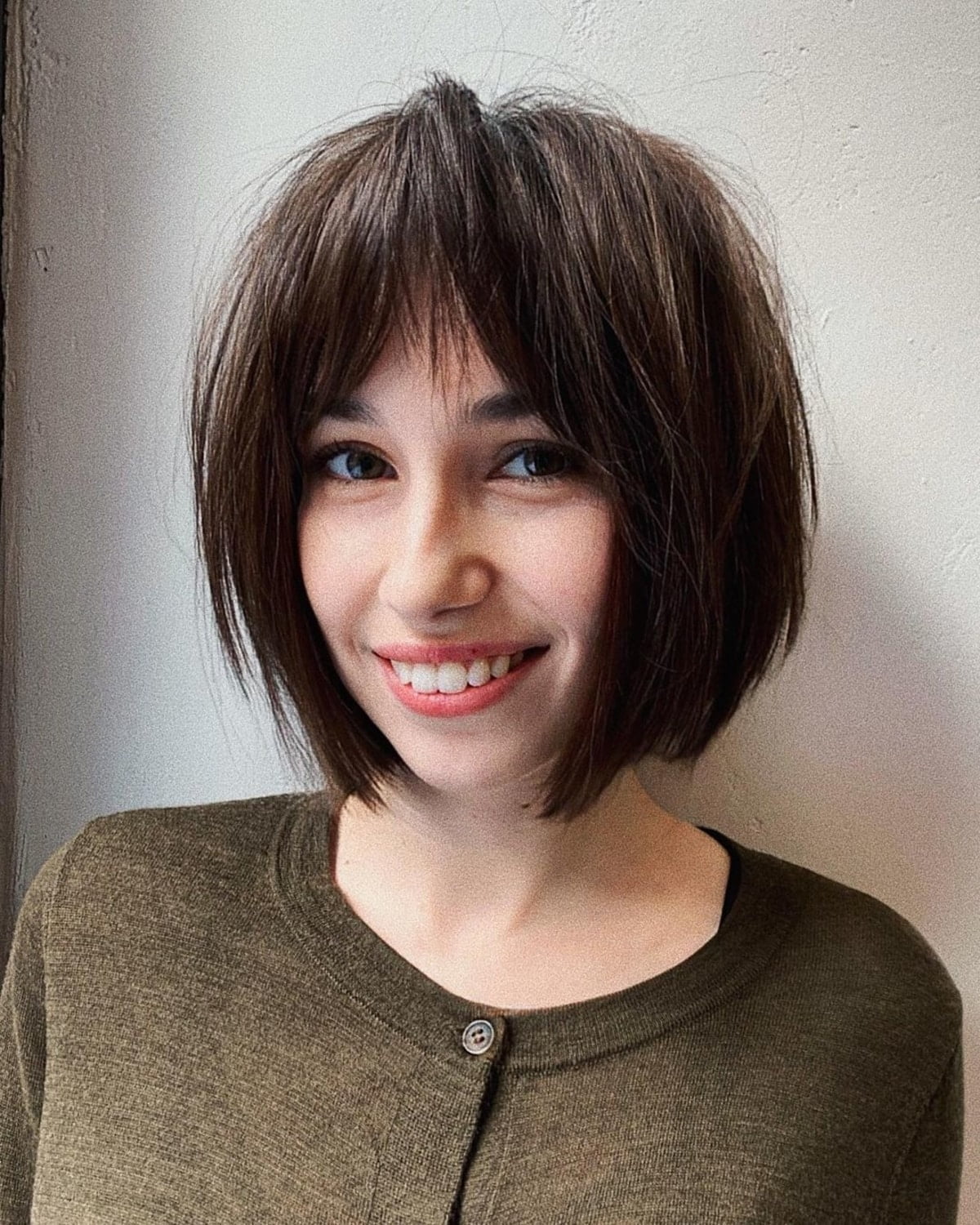 @stebunovhair
Classic, curtain bangs on a bob haircut are one of those shorter hairstyles that are always on the rise. Plus, it combines with all types of hair.
Short Bob with Curtain Bangs for Women Over 50
@rubylane_thevintagestylist
Try a bob that's short with curtain bangs for women over 50 to soften and lift your facial features. Curtain bangs are a great alternative to full-on bangs due to the softer movement which is gently swept on either side. Add this to a short bob to give a flick of shape to a one-length style.
Bob with Curtain Bangs for Older Women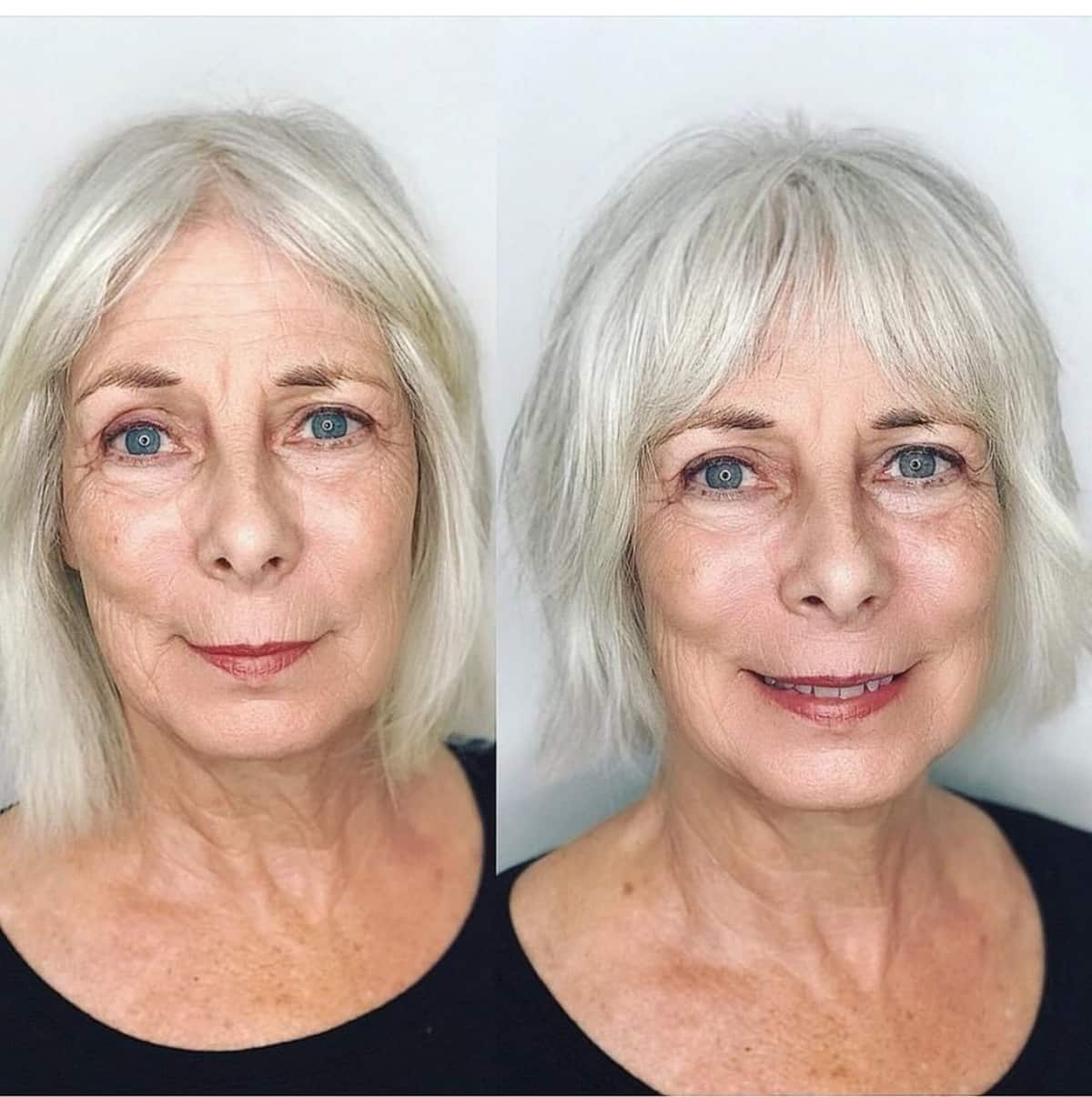 @jikaiahstylist
A bob and curtain bangs for older women needs texture, layers, and wispy, razor-cut ends. Styling bobs curly looks extra playful and gives an illusion of fuller hair.
Short Bob with Curtain Fringe
@hannahs_hairxx
A short bob with a curtain fringe is a bob hairstyle recommended for ladies with a square or oval-shaped face. Stylist Hannah Mellor from Australia says it works best on thick hair.
Mellor used scissors and razor techniques to do this chop. "I etched the back section to create texture and remove bulk at the same time. I personalized the cut using a combo of point cutting and etching," she adds.