21 Coolest Long Choppy Bob Haircuts for That Beachy Lob Look
Choppy Lob with Side Bangs
@rodrigues_ricardo
A balayage brown choppy lob with side bangs looks so flattering on older ladies. The ideal style you can do to this chop is with a textured definition. Choppy lob haircuts appear more effortless while being an eye-catching trend.
Choppy Angled Lob for Fine Hair
@katherineiacono_hair
Long choppy bob haircuts for fine, thin hair work well on straight locks, and it yields a fresher vibe. It makes a more modern and chic style if the edges are curled inwards.
Long Choppy Bob for Women Over 50
@jackmartincolorist
For women over 50 with a round face, a choppy bob that's long can be really flattering when you add bangs. It's the cut that frames the face and emphasizes the cheekbones. The feathered ends also bring out an illusion of a sharper jawline.
👉 See more bobs for ladies over 50
Long Blonde Choppy Bob Cut
@taylor_made_hairstudiot
A long blonde choppy bob hairstyle is modern and stylish. The jagged ends offer details that a usual medium-length bob cut needs. Because of how easy it is to style and maintain, busy women should give long choppy bobs a try!
Choppy Lob with Bangs and Balayage
@victorkeyrouz
Wear a choppy lob with bangs to give your look a whole new edge. If you have fine tresses, this longer bob haircut is an optimal choice. It's the layers that bring out more structure to the hair. Go ahead and play with a balayage to show off the texture even better!
Choppy Long Angled Bob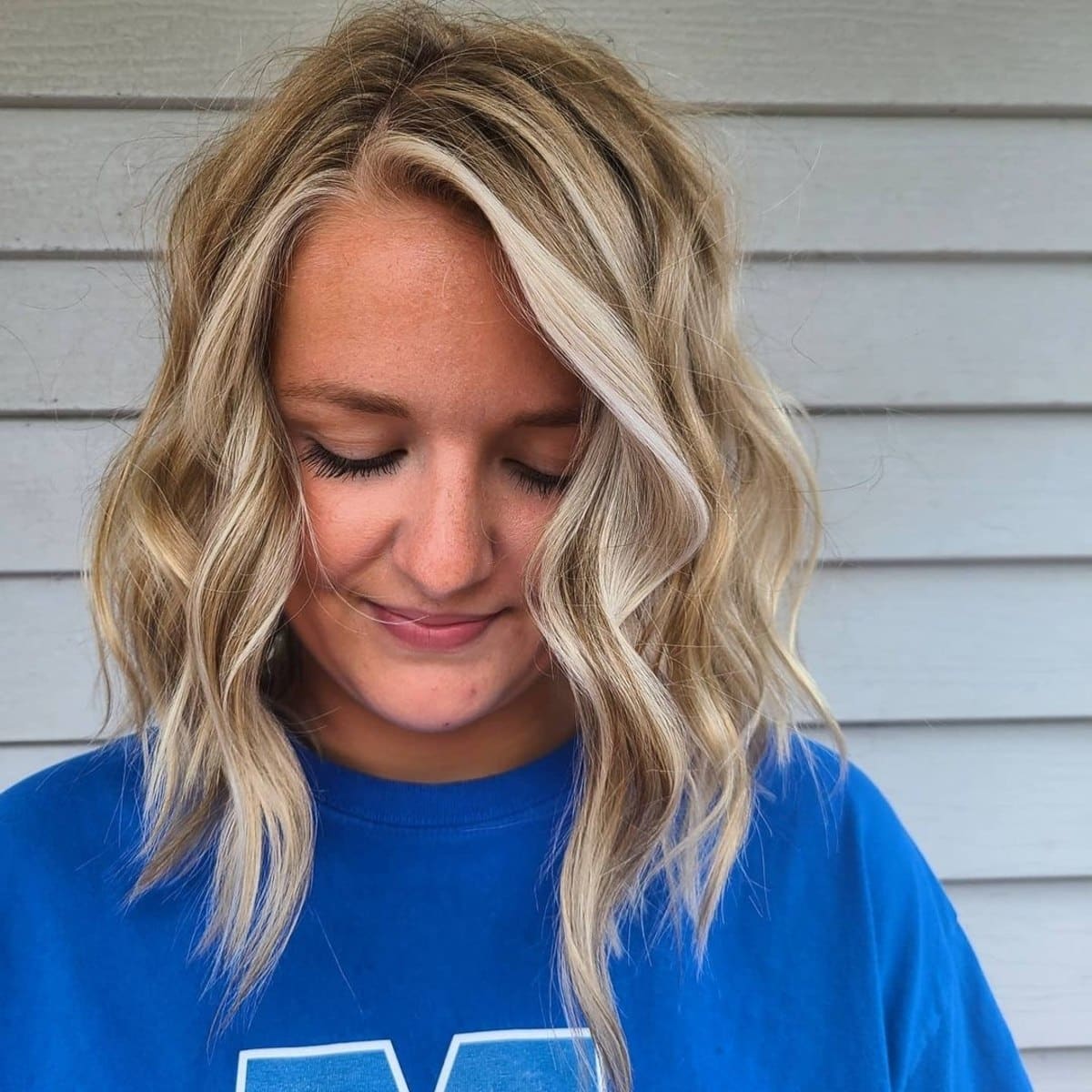 @hairbystephaniedebolt
A long choppy angled bob can be customizable. Waves are guaranteed to boost the choppy hair texture. The side part also adds instant root volume for tresses that are too flat. Why not give this chop splashes of blonde with a money piece for a modish look?
Choppy Lob for Straight Hair
@simahaircut
A choppy lob cut for straight hair gives volume and texture to straighten hair even more. The choppy long bob hairstyle plays with the overall symmetry of each choppier strand.
Long Choppy Bob for Dark, Wavy Hair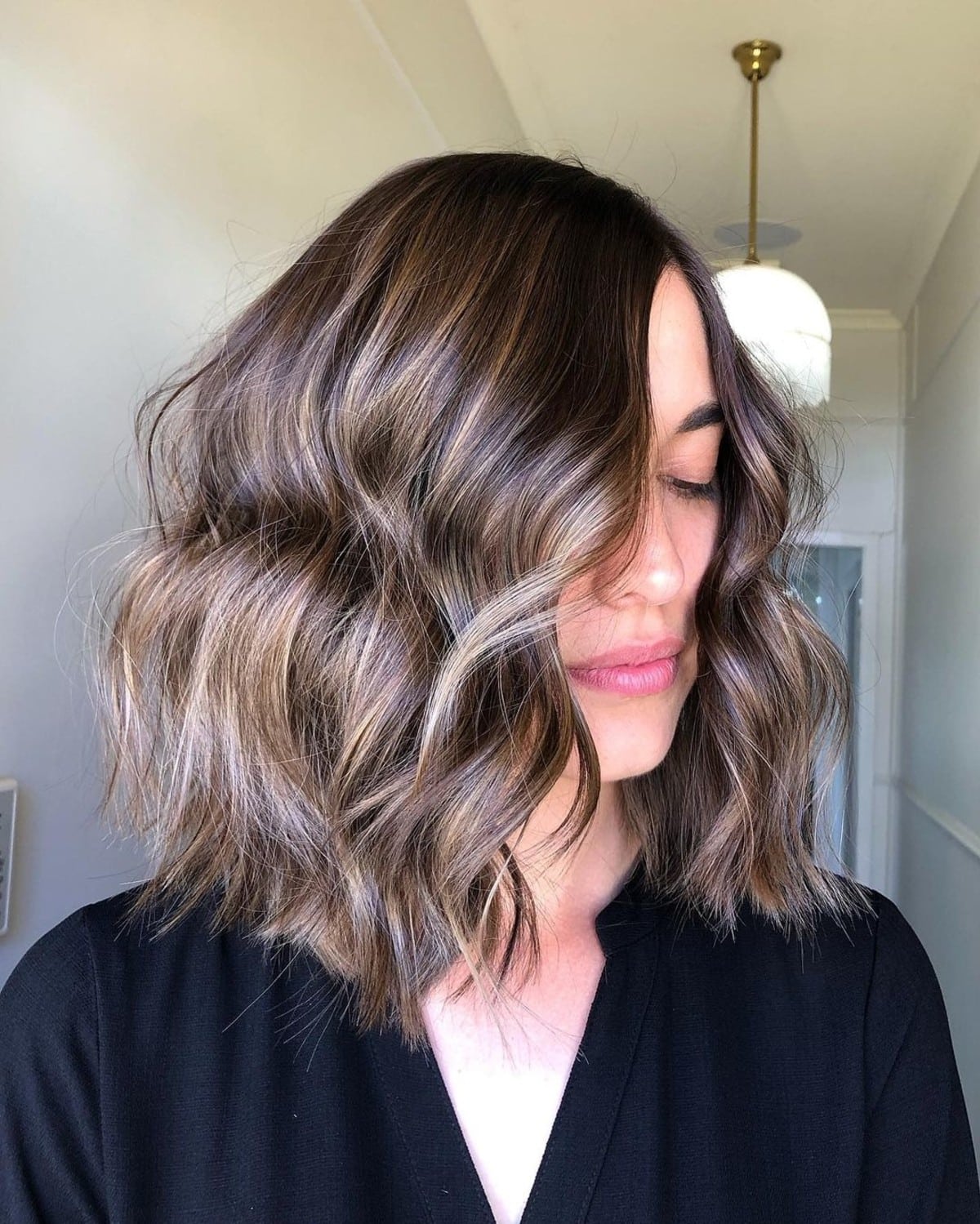 @hairbybreewatts
This long choppy bob for dark, wavy hair is voluminous, and women with fine, straight hair will love it! Part the hair to one side for instant volume. Copy the curly style with a flattening iron or a curling wand, which are easy to utilize.
Shoulder-Length Bob with Choppy Layers
@hairandmakeupbylo
Achieve this elegant shoulder-length bob with choppy layers and curls. This long choppy bob style is sure to provide straight hair more volume and body. To highlight its choppiest strands, use a 1-inch iron to create the barrel curls.
Choppy Layered Long Bob
@bridgetcolors
Try a choppy layered long bob to add extra bounce to the hair. Enhance the texture with subtle waves to show off the layers better. This long choppy bob haircut works on both thin and thick locks by creating lift to bring out more density to fine hair. It also removes bulk from the edges of dense tresses, too.
Choppy Lob Haircut
@hairbymichelle_b
When a choppy lob haircut pairs with beach waves, the payoff is stylish! To recreate the texture, use a curling wand for easier manipulation. Play with a shade of warm blonde to achieve a sun-kissed effect.
Tapered Blonde Bob with Long Bangs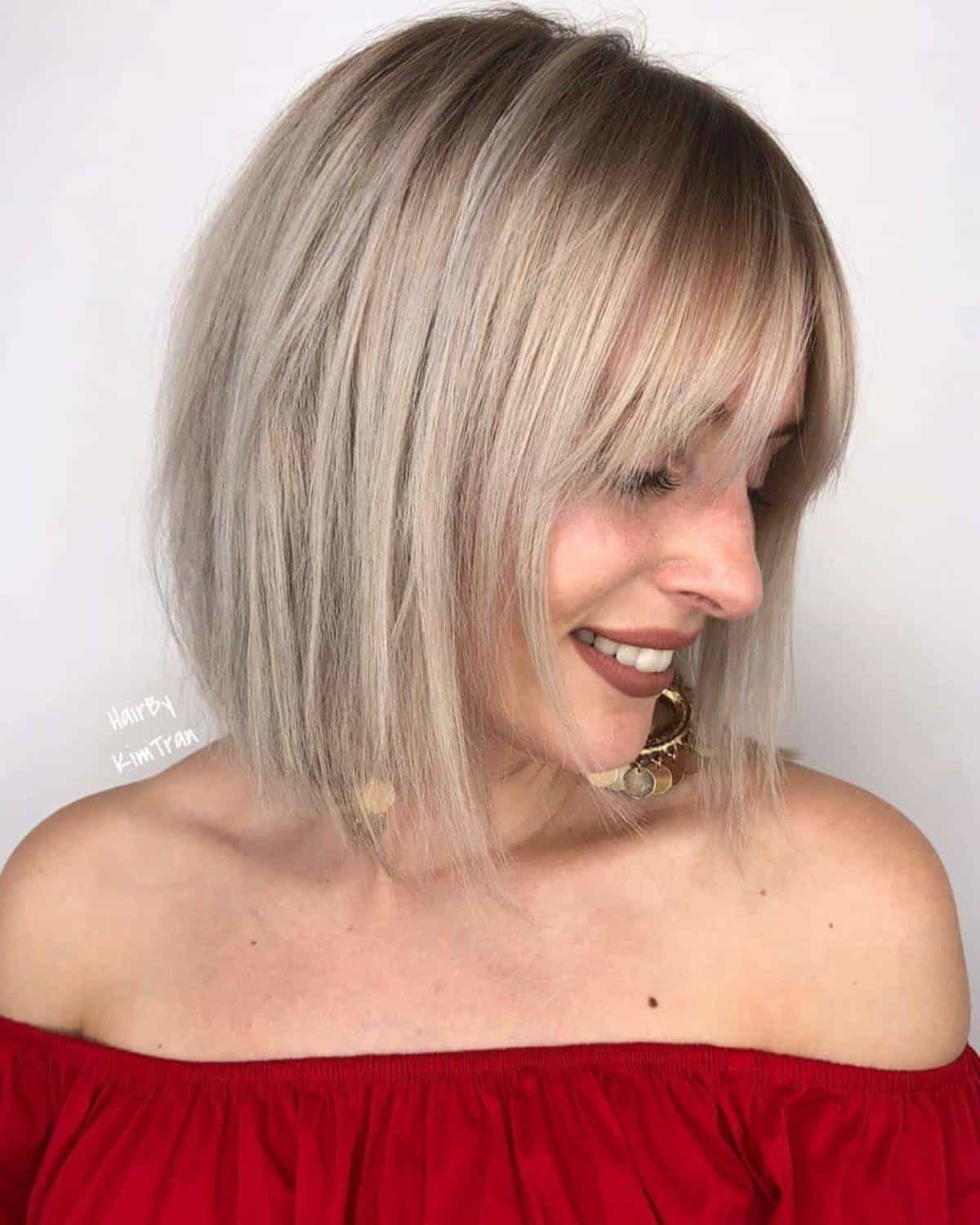 @hairbykimtran
A fresh tapered blonde bob with long bangs complements a fresh balayage. The shadow-rooted blonde hue allows the haircut to have a low-maintenance and on-trend grow-out. It would only take a flat iron to imitate the sleek style. Gorgeous and easy to copy—how can you not love this long choppy bob hairstyle?
Long Choppy Inverted Bob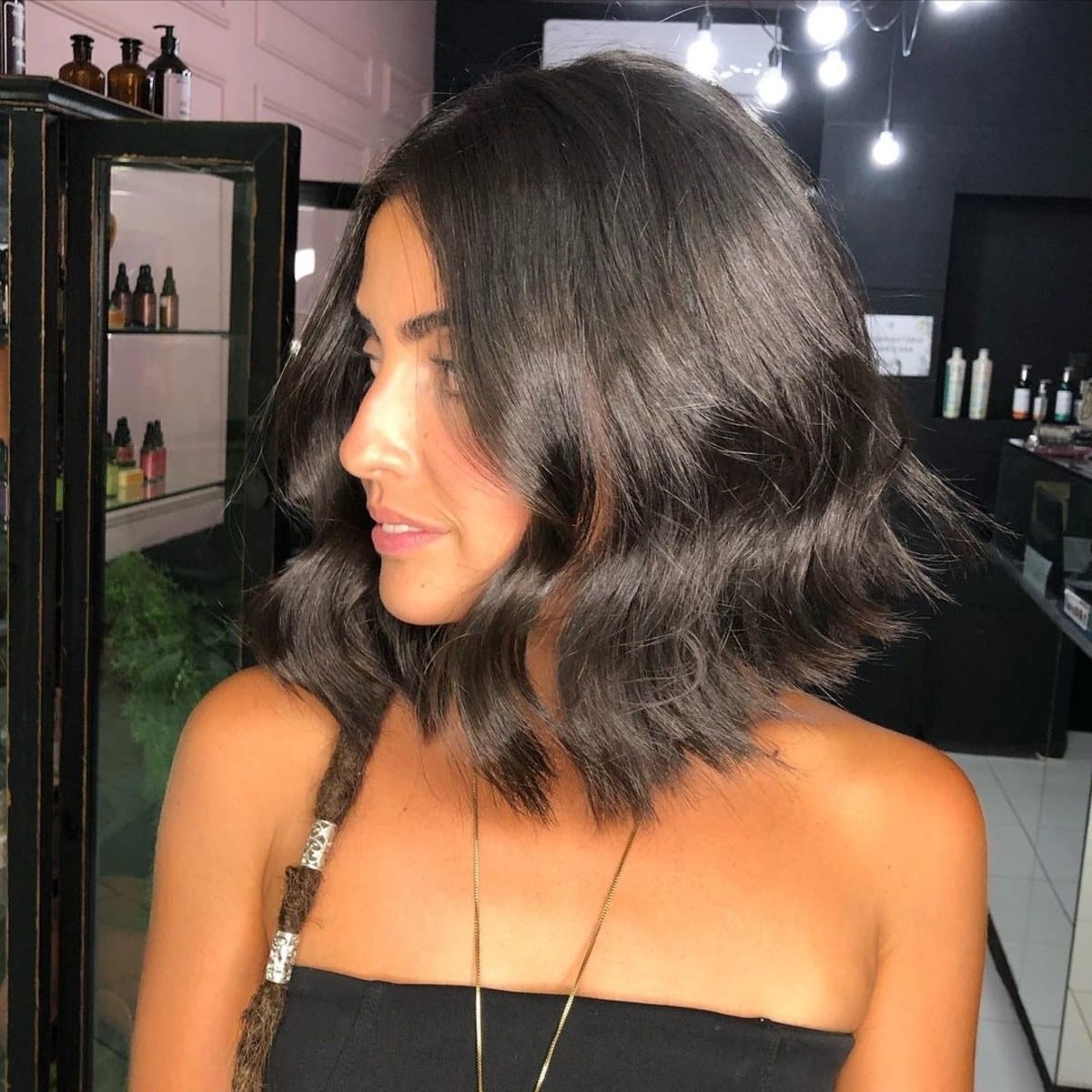 @mariannemota
Wearing a long choppy inverted bob with waves is one way to give tresses great body and movement. The waves volumize a mane that's flat and fine. This short hairstyle takes only a few minutes to create, so it makes a lovely go-to look for every woman.
Long Choppy Bob with Fringe
@abby.carter.stylist
This long choppy bob with fringe proves that there's no such thing as too many waves and texture. When opting for a dramatic hair makeover, consider this one. This is shoulder-length haircut can be versatile for any hairstyle or hairdo. It's very attractive with waves and a subtle texture. For a finishing touch, mist hairspray all over.
Choppy Layered Lob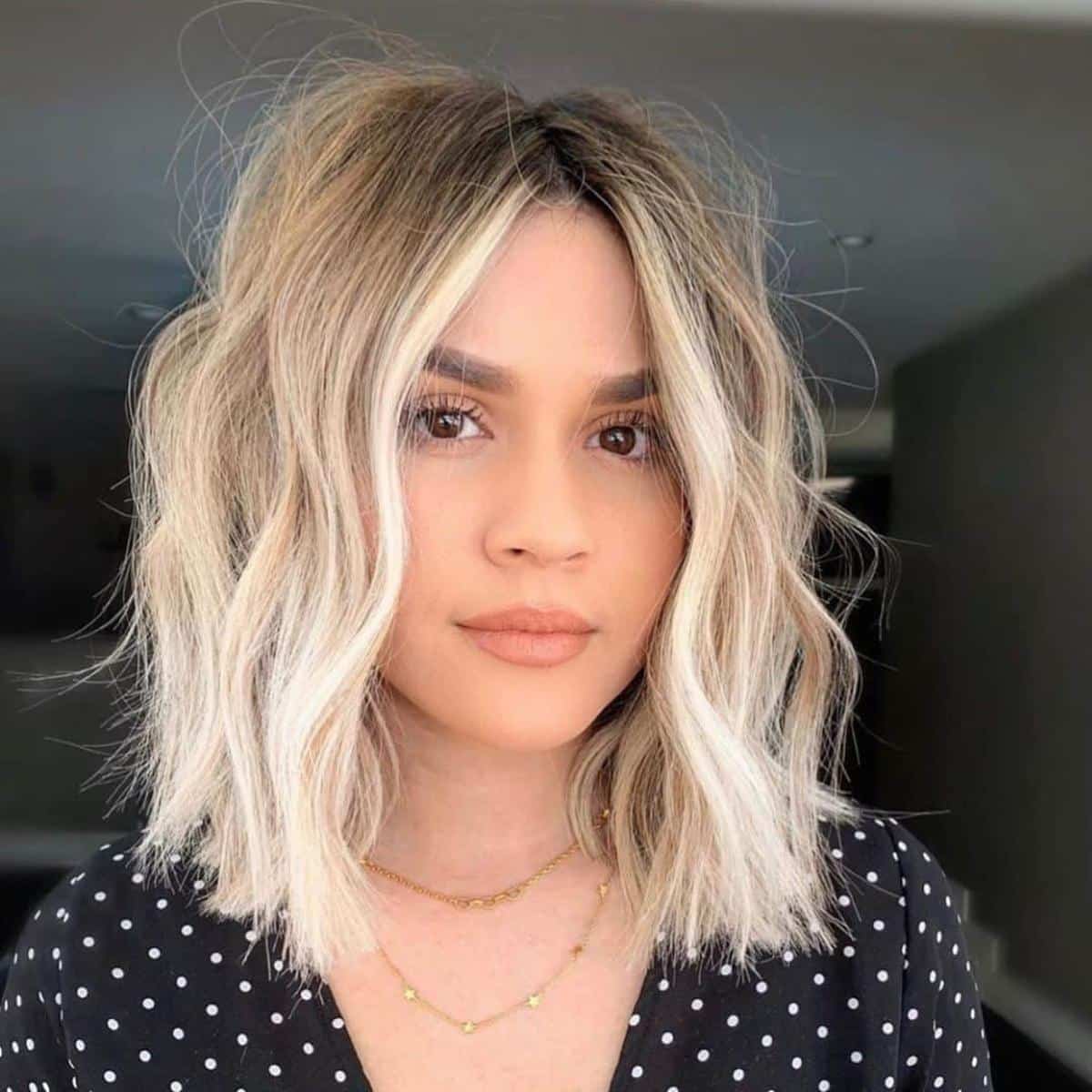 @muratercinoffical
Color a choppy layered lob blonde and get that modish, staggering hairstyle. Add a money piece to brighten the area around the face. Don't forget to style the hair with waves to boost its texture and volume.
Choppy Textured Lob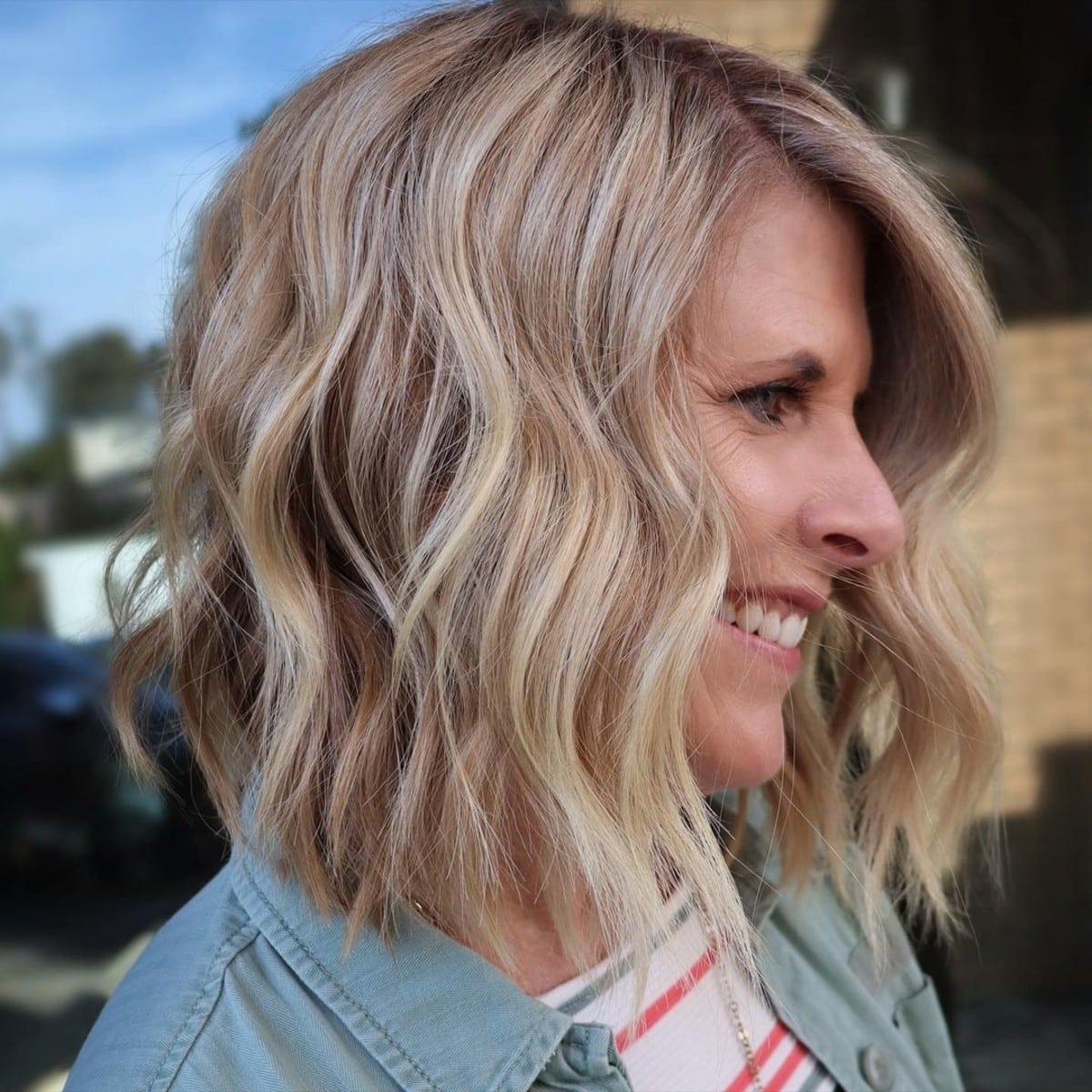 @manely.summer
With a choppy textured lob, your hair can have a whole new vibe! The key to choppy lob hairstyles lies in its beachy waves. Achieve a textured bob by styling the hair with a flat iron. This is the best tool to create cooler and edgier-looking waves. Brush the strands out for an effortless effect.
Long Inverted Choppy Bob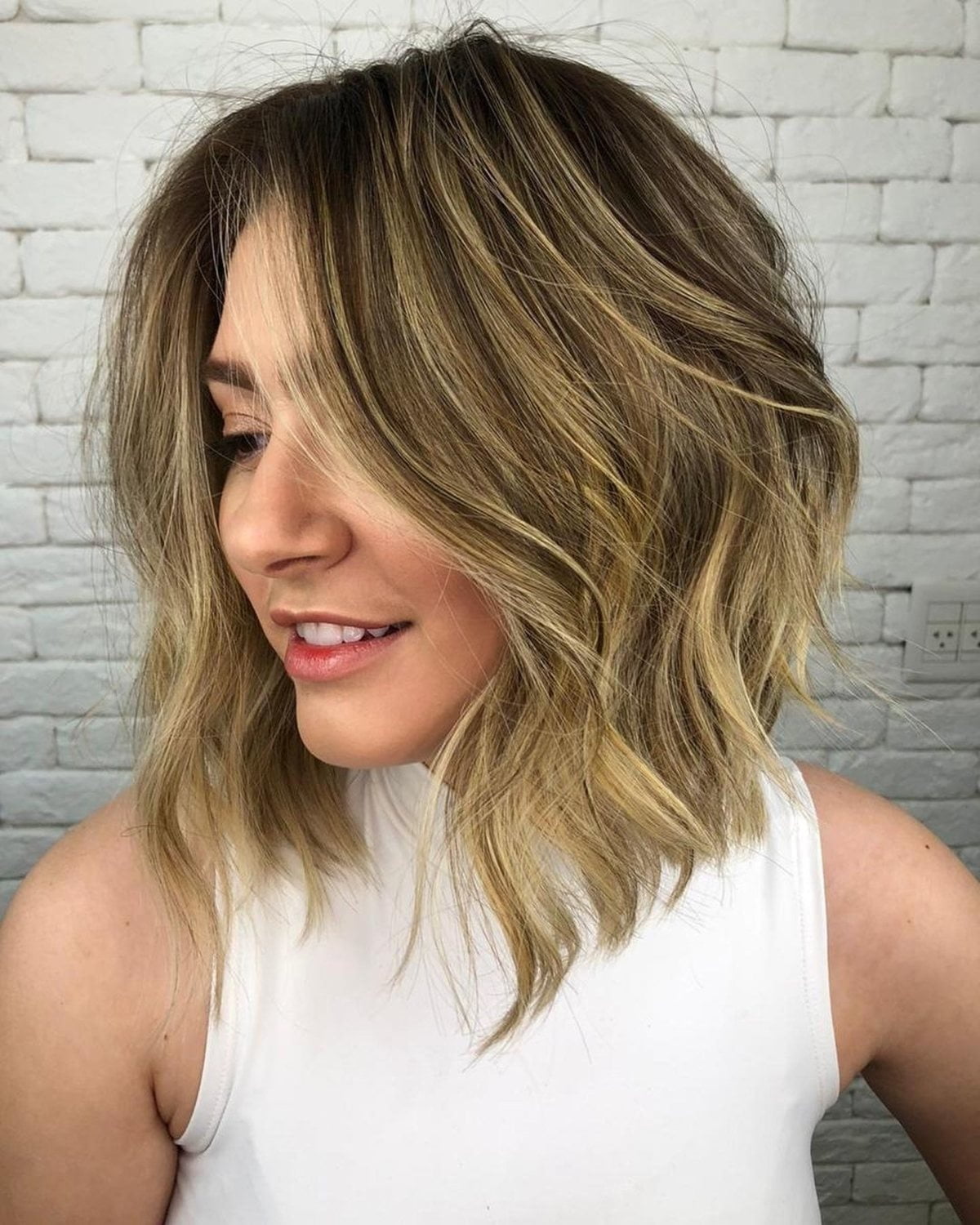 @rute_boazhair
Go for an edgier look with a long inverted choppy bob, styled with waves. It radiates a more lived-in vibe when painted with honey or dark blonde shade. The haircut's textured style is what boosts the color's dimension.
Long Choppy Bob with Bangs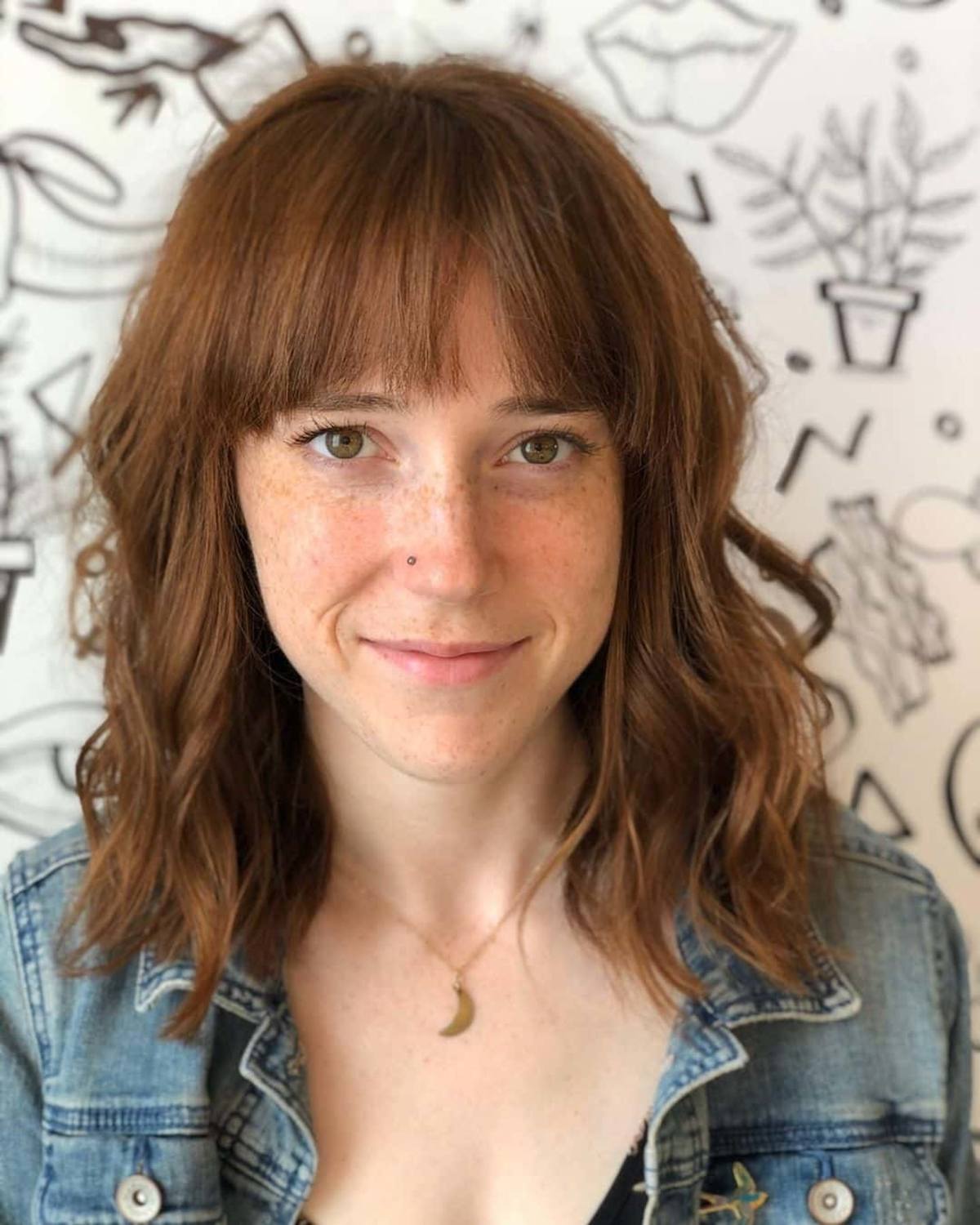 @stacysyrokahair
Give this caramel-colored long choppy bob with bangs a go if you have a heart or diamond-shaped face. The chop looks softer on such face shapes. Since this trendy haircut includes a fringe, it suits ladies with unique eye colors.
Long Layered Choppy Bob
@savannah.misshairthorne
Ask for a long layered choppy bob to go with a dark-rooted blonde color. The result makes a modern, lived-in masterpiece. Part the hair in the middle to frame the face and create a perfect balance. Amp it up with soft waves for a messy, feminine vibe.
Long Choppy Graduated Bob
@dmadrid76
The long choppy graduated bob is great for women with a round face because it aids in slenderizing the face. Created by Dawn Madrid of California, she says, "graduated bobs are also for women with very sharp features since it helps soften their look. The style is fairly easy to maintain on straight hair, using a round brush and blow dryer. If the hair is curly, it may require an additional step of flat ironing to achieve the look."
The lob is great for women on the go since it's longer in the front and can be tied back or put in a ponytail. Graduated lobs are also great for females who love the classic look of a bob, but would like to add a little more to their hair.
Edgy Long Choppy Pixie Bob
@jo_alterhaus_studio
Pull off an edgy long choppy pixie bob to own that cool, ultra-chic style. This is a short bob haircut that works wonders with a tousled texture. It looks undone yet glamorous. A short-length mane like this may need extra effort to jazz up and grow out.