21 Trendiest Long Shaggy Bob Haircuts for Carefree Women
Medium-Length Shaggy Bob
@hairbyelvisp
Medium-length shaggy bobs are trendy and a great way to add texture to a classic bob. A blunt perimeter with shaggy layers creates movement and volume and helps remove weight for those thicker-haired gals. Try styling both straight and curly to give different vibes from day to day.
Long Choppy Bob for Women Over 60 with Round Faces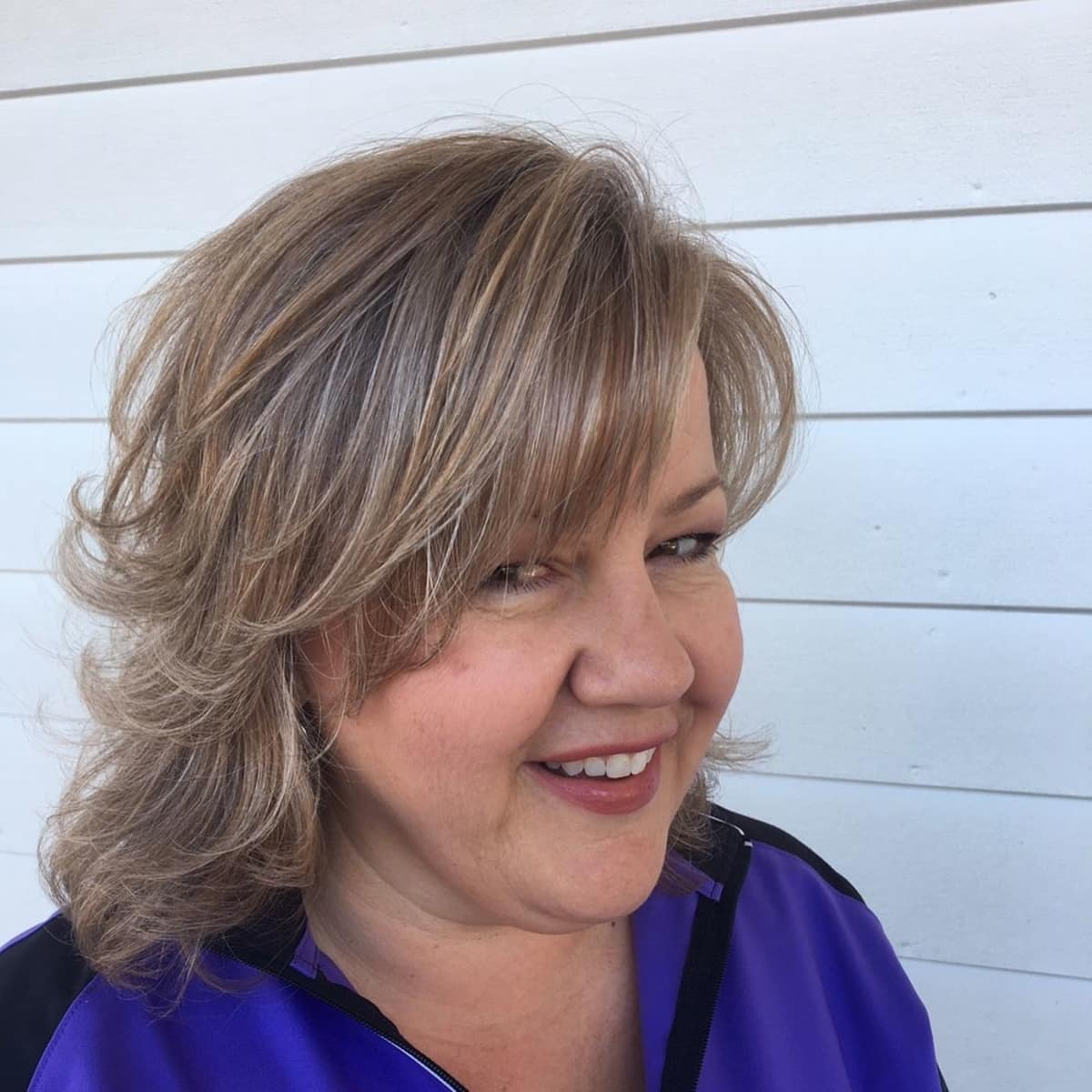 @finnellhair
Long choppy bob for women over 60 with round faces works great for women who have texture in their hair. To get this look, ask your hairdresser for a short layered haircut with side bangs.
Long Shaggy Bob for Older Women
@staceylibuit_hair
A long shaggy bob for older women is matchless! Who else can sport a feathered, shaggy hairstyle other than ladies who are over 50 with fine hair? The texture of this kind of style adds so much excitement to the hair.
Long Choppy Bob for Women Over 60 with Round Faces
@mandiscissorhands
A long choppy bob for women over 60 with round faces is the perfect way to give your hair a modern-day touch. This cut provides movement to the hair. The light choppy layers relieve the hair from bulkiness and give a softening effect to your long bob. The length is modern while the shape softens the facial features.
Shaggy Lob with an Undercut
@alexandre_takao
The shaggy lob with an undercut is well-suited for women who want to subtly reduce the volume of their hair while keeping it trendy.
Long Messy Bob with Blonde Ombre
@alice.gandolfi.parrucchieri
A long messy bob with blonde ombré is what you need if you're interested in modernizing your current hairstyle. Beach curls are all the rage and can be achieved with a 1-inch iron. Start curling mid-shaft, leave the ends straight and create stunning wavy curls. Ombré color is a fabulous choice to go with a bob. The dark roots hide any growth, making it a low-maintenance style to keep.
Shaggy Lob with Bangs
@hollygirldoeshair
Wear a shaggy lob with bangs when wanting an edgy, fresh cut without compromising your hair texture. The chop's length grazes the shoulders for added stylishness. Shaggy lob haircuts that feature a fringe will flatter and frame a round face shape. Modern and chic—this shaggy hair trend is a must-try!
Shaggy Bob with Long Bangs
@rodrigues_ricardo
It's so cool how a shaggy bob with long bangs creates the impression of an undone and effortless style. This long shaggy bob haircut is ideal for both thin and thick tresses. It removes bulk, especially from the ends, while offering a fuller shape. Match it with a strawberry blonde hair color for a flirty touch.
Shaggy Lob for Round Faces
@novaartssalon
A cute shaggy lob for round faces can highlight your cheekbones. Style the shaggy layers up with waves, then add a fringe to break up the roundness of the face. For a much vibrant outcome, say yes to a shiny shade of red!
Long Inverted Shaggy Bob
@nic0le_anders0n
Obsessed with this long inverted shaggy bob, too? You're not alone. This haircut is a lob with wispy bangs and subtle layers for natural-looking movement. A shaggy lob haircut looks chic in both straight and wavy styles. It goes well on hair with blonde teasy lights, too.
Longer Shaggy Bob
@taboohaircare
Pull off a longer shaggy bob like this by getting a razor cut. This chop is guaranteed to offer a style with lots of texture. Boost its movement by adding waves if needed. What makes this shag cool is it suits both younger and older women.
Shaggy Bob for Longer Hair
@lily.et.les.cheveux
An exquisite shaggy bob for longer hair looks better with soft waves. It flatters any face shape, especially a rounded one. Long shaggy bob hairstyles like this are the perfect length to achieve versatility.
Long Shaggy Pixie Bob
@brianaguilarhair
This long shaggy pixie bob is one of a kind. Two words to describe it—vibrant and bold! This haircut works great on both thin and thick tresses. It offers extra texture and gives thin hair a thicker effect. But, it would also be easier to manipulate if your locks have a lot of density.
Tousled Long Blonde Shaggy Bob
@brianaguilarhair
It can be super fun to wear a tousled long blonde shaggy bob. This trend is for ladies who have straight locks that need more texture and volume. Replicate the style by giving your hair tousled beachy waves and a spritz of a salt spray. Meanwhile, this messy blonde hair has darker roots for added dimension.
Textured Shaggy Bob with Bangs
@brianaguilarhair
A textured shaggy bob with bangs and soft waves offers a stylish and innocent-looking vibe. The finish features a textured effect for fine hair to appear thicker. To add enough interest to such a haircut, chop off some strands to add bangs. A shaggy bob with fringe can also carry out a more youthful edge.
Long Shaggy Bob for Thick Hair
@brianaguilarhair
Here's an ideal long shaggy bob for thick hair. Thin out the edges to create a weightless effect and add extra texture to your hair. It's parted in the center to flatter women with round faces.
Long Layered Shaggy Bob
@dionneshairbash
Give a long layered shaggy bob a shot. When styled with waves, it makes a stunning go-to hairstyle for most women. Since it's easy to style, all you need is a curling iron and hairspray.
Shaggy Long Bob
@evandro_bertucce_hair_design
A shaggy long bob shows off a soft, effortless-looking style that looks great on straight hair. It's guaranteed to flatter women with a square or diamond face shape. The waves can lessen the sharpness of a jawline.
Wavy Long Shaggy Bob for Fine Hair
@evandroertucce_hair_design
This is a wavy long shaggy bob for fine hair, and it's looking marvelous! The key to a more lived-in edge is soft waves that bring out movement. Try this long shaggy bob hairstyle with a shadow-rooted blonde to make the tresses seem thicker.
Front and Back Views of a Shaggy Lob
@felix.lynn
The front and back views of a shaggy lob show a lot of texture, creating height and movement on the top area. This chop, made by Arizona-based stylist Lynn Felix, opens up the face and softens its features.
Felix states, "I worked with square layers through the top. Then, I went in with diagonal forward sections in the back and sides to achieve this lob cut."
Curly Shaggy Lob
@flirtwithjoy
A curly shaggy lob haircut can benefit from a huge, kinky shape that goes perfectly with curly bangs. With the perfect layering, it can frame the face well. When preppin', apply a combo of moisturizing curl cream and control gel to redefine the curls.
This curly shag lob hairstyle is a baby shag haircut that was created by salon owner and stylist Joy Ishii of San Diego, CA. "This cut begins with the fringe. The curtain fringe builds upon itself adding a mini undercut. The shorter face-framing layers help create this fun shape," explains Ishii.
This shaggy haircut gives your hair a lot of movement. You can style it beachy, straight, or even with your natural texture. This cut can be customized to you, so be adventurous and make your layers short or keep them longer!
Ishii believes shaggy lob hairstyles are versatile and can be used on all textures of hair. "Straight, wavy, and curly hair will have so much fun having a baby shag! If you have curly hair, Bumble and Bumble has their own curl line which helps with styling. It's a styling cream for girls with curls who want to air-dry their hair, so don't blowdry when using this product," she notes.