16 Trendy Blunt Bob with Bangs to Inspire Your Next Chop
Blunt Bob for Thick Hair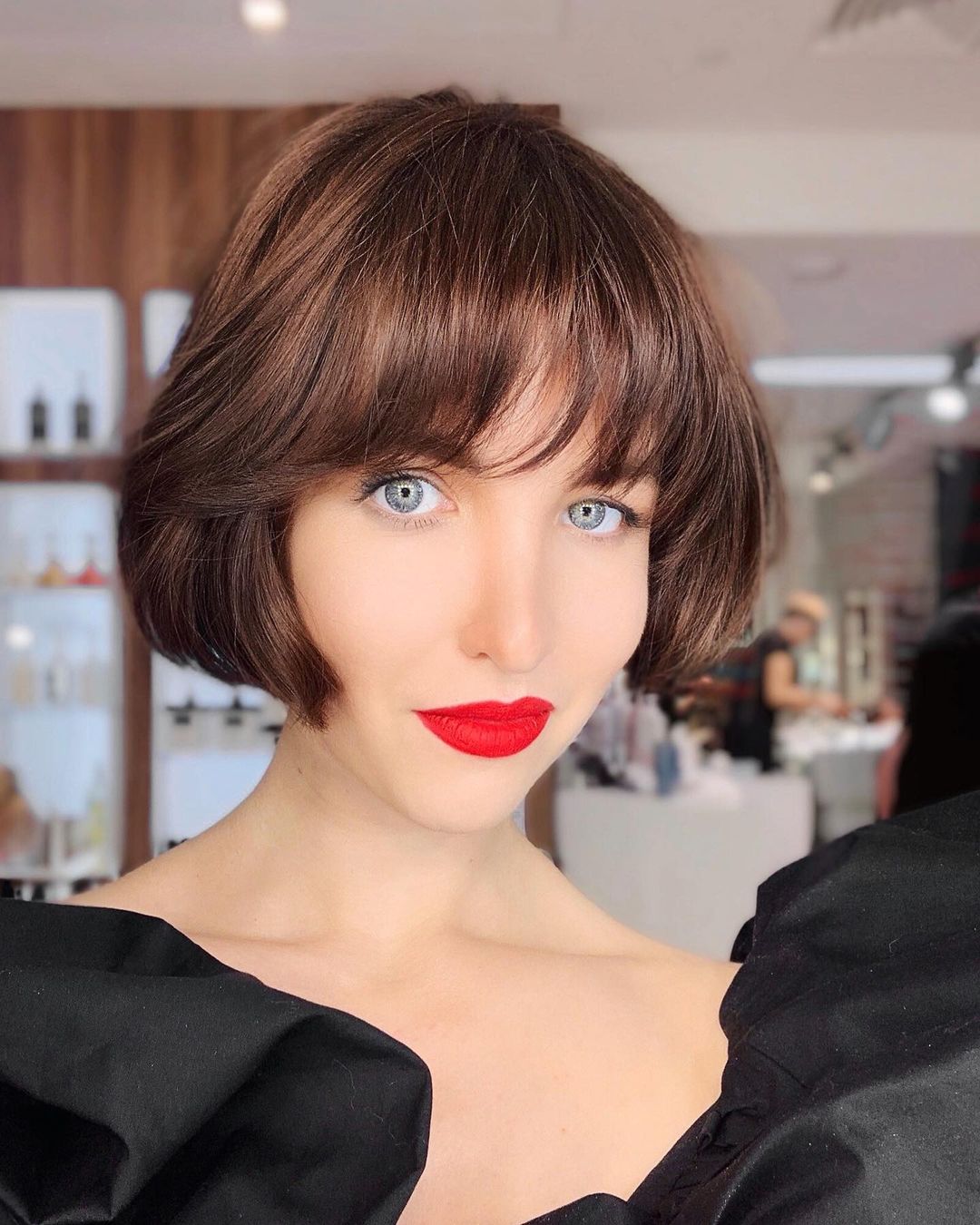 @mainpointsalon
What a breathtaking blunt bob for thick hair! To make the brown tresses appear effortless, add layers for soft movement. It helps the tresses to seem weightless and bouncy. This haircut grazes the jaw area, which stresses the cheekbones.
Blunt Bob with Side Bangs
@nikitenko_elen_
Another blunt bob with side bangs, revamped with a cool blonde tone! What makes this flattering is the cut's round shape, which enhances a square face. If your locks are naturally straight, a blunt cut with side bangs would be great as a go-to style.
Blunt Bob with Face-Framing Layers
@nikitenko_elen_
Reinvent a blunt bob with face-framing layers and a cropped fringe. This cut can accentuate the best facial features on any woman. Keep the length jaw-level to soften the face shape, as well.
Blunt Bob with Long Bangs
@maduda.hair
This blunt bob with long bangs has a modern and stylish finish. The wispy bangs are a chic addition to soften the cut. This hair idea proves that a lob doesn't need to be basic. Feel free to upgrade it with subtle beach waves and a healthy blonde tone or ombre.
Short Bob with Blunt Bangs
@aspirecreativehair
A short bob with blunt bangs is a trend that stays with us forever. It works on any lady with any face shape. Choose the length of bangs that grazes the eyes. Such a short hair cut can emphasize a stunning eye color.
Blunt A-Line Bob with Bangs
@mooshhairstudio
Here's an icy blunt A-line bob with bangs that will blow everyone's mind! A fresh, messy chop suits the vibrant and refreshing blonde tone of this balayage hair. To maximize its younger-looking vibe, the bangs must be added.
Blunt Lob with Bangs
@putsomerespeckonmyhair
A blunt lob with bangs plus a honey blonde shade results in a very "diva" style. Any lady can channel their inner Beyonce or J.Lo with this sleek haircut. Get the style by opting for a shoulder-length long bob and always use your curling iron to curl in the ends for a polished finish.
Blunt Cut Bob with Fringe
@houseofmanejsy
Match a blunt cut bob with fringe, as it's suitable for most women. This is a timeless blunt haircut that's easy to wear. It does a great job in both a sleek and tousled style. This neck-length hair can make a nice go-to style for busy, young ladies out there.
Straight Blunt Bob
@thecolourroom
A straight blunt bob haircut pairs well with textured curtain bangs! The combination makes a sleek finish, which never goes out of style. It brings out a classic vibe that chic, feminine ladies can pull off the best.
Blunt Cut with Bangs
@victorkeyrouz
A straight blunt cut with bangs creates a neat, classic hairstyle. It works on both thin and thick tresses but is sure to benefit ladies with fine hair. Glow up even more by incorporating an icy blonde hair color for a fresher vibe.
Blunt Bob with Fringe
@brianaguilarhair
Wear a cute blunt bob with fringe to frame a round face shape. Include a few layers to carry out natural-looking texture and movement. Women with fine, thin hair are sure to love this trend! Keep the length where it stops at the neck for easier styling.
Blunt Bob with Side-Swept Bangs
@diegomarcsant
A blunt bob with side-swept bangs is a versatile cut that gives hair volume. Stylist Diego Marcsant of Sao Paulo, BR recommends it for ladies with fine hair.
For this cut, "I used the razor and short strokes technique to give a blunt straight line to the base," Marcsant explains.
To style, Marcsant used a volume spray for the roots and a beach spray to bring out its messy effect.
Mid-Length Blunt Cut
@lucyhaydonknowell
This mid-length blunt cut is perfect for pulling off a sleek hairstyle. If you have been wearing a textured look and want a change this time, go for this bob with bangs. It pairs with bangs to conceal a big forehead.
This mid-length blunt cut is a modern and fresh twist on a classic Cleopatra-esque haircut and was created by hairstylist Lucy Haydon-Knowell of the UK.
"Use a product with a bit of hold such as Styling Cream by Sacha Juan. You can work this into damp hair, then when you dry the hair it holds the hair in place. A little bit really does go a long way so start with a drop and add more if you need it," she notes.
She goes on to explain, "start at the ends of the hair and work your way up to the root. Never apply a finishing oil or serum to the root area of the hair. It will weigh down the style and can make the hair look greasy."
Blunt Bob for Wavy Hair
@kalicolourshair
This blunt bob for wavy hair is ideal for thin density hair. It features the perfect length to keep the tresses appearing fuller. The waves, meanwhile, add extra movement and volume. These waves also restrain the hair from looking flat.
This blunt wavy bob hairstyle is a classic French bob, inspired by the roaring 1920s, with a bit of a modern take. It was created by salon owner and hairstylist Kali of Edmonton, AB.
"What makes it a french bob cut is the jaw-length and bangs hitting just above the eyebrows. Typically a french bob hits around the cheekbone to jawline area. However, there are slightly longer versions," explains Kali.
Usually, this style is an all one-length, blunt cut, that gives the blunt ends an extremely full appearance. It's the perfect at-home look due to its effortless nature. This is a wash-and-go style the point is to look as though you woke up like this – supernatural.
Kali goes on to say, "the classic French bob is really a show-stopping cut and style. It's a statement cut and will definitely require confidence to rock it. Depending on your face shape you may ask for something a bit different:"
For heart shapes keep this cut around the jawline.
For a rounder face shape keep the cut below chin-length.
An oval face shape can wear anything from super short to long.
For a square face shape, cut either above or below the jawline. Avoid hitting directly at it.
"Ask your stylist for a blunt bob, hitting wherever is most flattering for your face shape. Request some internal layering if you have thicker hair," Kali adds. "Leave it blunt and full for a finer texture, and pair it with a fringe. You can go for a fuller fringe, curtain bangs, or a piecier one- it's completely up to your own style."
Blunt Curly Bob with Bangs
@tangiblehairdressing
"This black blunt curly bob with bangs is a French bob and it was cut with texturizing scissors," explains hairstylist CJ MacPherson of the UK.
If your dark hair is on the frizzy side, MacPherson suggests you use a mix of Eleven Australia Frizz Control Shaping Cream and Keep My Curl Defining Cream. "Then work around the head with the diffuser until dry. Finish off with the Dry Powder Volume Paste to add definition and width."
A short blunt bob with bangs is a wonderful style if you have some natural movement in your curly hair. Learning to diffuse can take a little time. But once you have the hang of it, it's always quicker than blowdrying and heat styling.
Blunt Cut Bob with Bangs
@chairsideconfessions
Here's a blunt cut bob with bangs, and its chop is on point! It does a great job on thin tresses since that's the best hair type to show off the perimeter. This haircut looks lovely on straight hair, so use flat iron when styling.
This blunt hair with bangs is a classic, squared bob. It was created by cutting specialist and stylist Jason Jamiel of Las Vegas, NV.
"The length is the same from front to back which allows the hair to swing more evenly. The ends were cut blunt to maintain weight and to give a precision edge," explains Jamiel. "The fringe was also cut blunt to establish the desired length. Then it was elevated and heavily textured to create a more razored look.  The result is a classic look with a fresh, modern edge."
Jamiel feels a bob haircut always has a timeless feel and is a great choice for women looking for versatility. "It can be worn flat iron straight with a shine spray finish or you can use a surf spray and go for fun beach waves. It works well on a variety of hair types and textures," he adds.
The only thing to consider with a blunt bob hairstyle is your face shape. The eye will naturally be drawn to the perimeter of the haircut. If you have a round face shape, it would be more flattering to have the perimeter sit slightly above or below the jawline.