24 Best Short Blunt Bob Haircuts Ideas For Women of All Ages
Textured for Fine Hair
@rachelwstylist
A bob cut can be textured for fine hair to allow slight volume with a bulkier shape. The best factor of this haircut is it has a length that provides versatility.
It can look super chic with waves or appear polished with straight locks. Blunt bobs for fine hair also create a fuller finish.
Blunt Bob with Wispy Bangs
@realericvaughn
A blunt bob with wispy bangs creates a cool shag appearance. A bob looks amazing at any length, but consider taking the length slightly above or slightly below the shoulders to avoid any flipping of the hair ends.
Blunt Bob with Thin Bangs for Asian Girls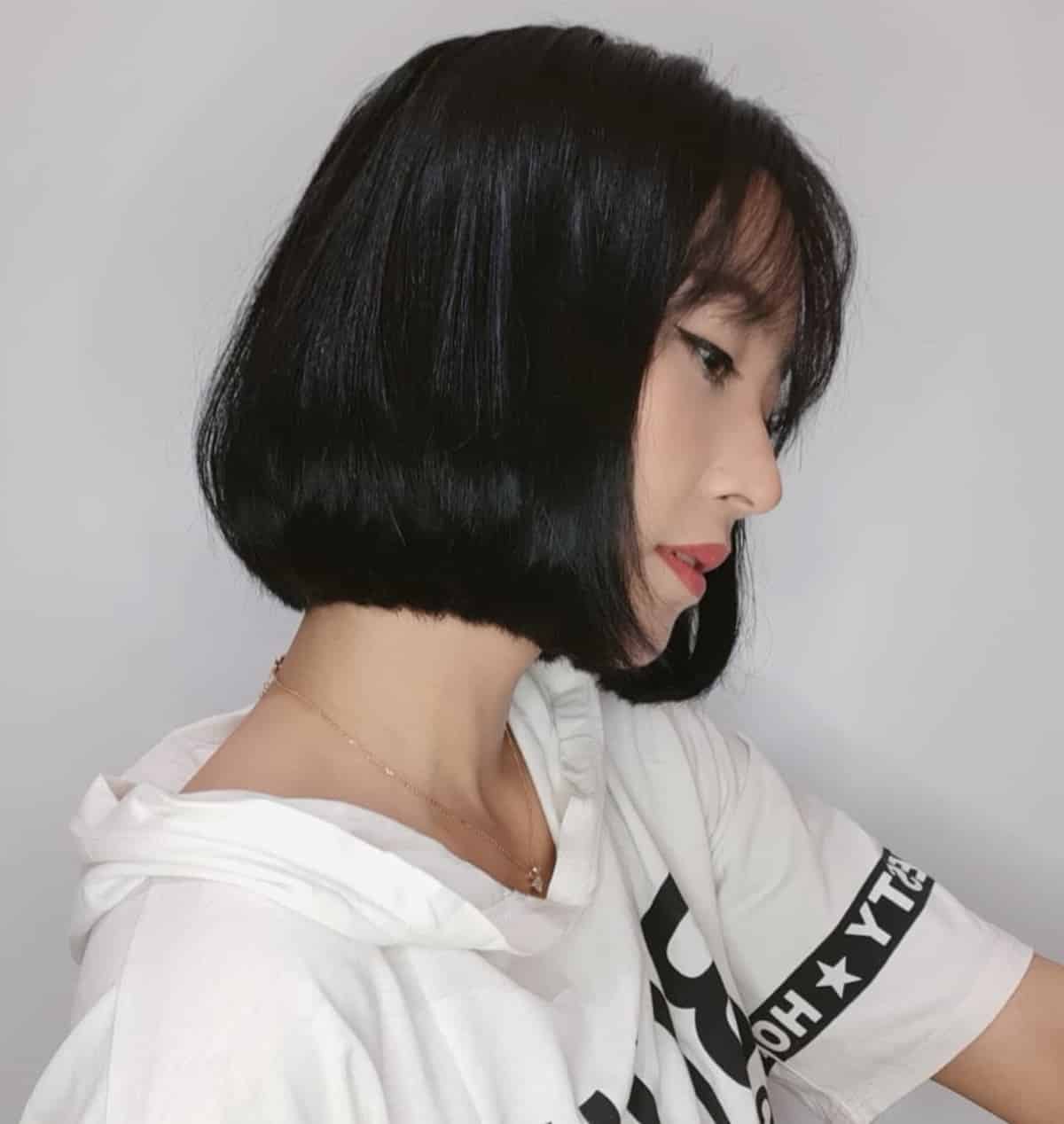 @luvlyly23
The blunt bob with thin bangs for Asian girls is great for those who have straight hair and want something low-maintenance. To get this cut, ask your stylist for a straight short blunt bob with not too much texture and soft bangs.
Short Blunt Wavy Bob
@juniorestevamhair
A short blunt wavy bob is a shoulder-length cut. It is lightly frayed at the ends for movement and texture.
Korean-Style Short Blunt Bob
@haum_pyoming
A Korean-style short blunt bob is a classy choice. A cute C-under curl added to a bob will give a lot of volume and body to the hair. This is great for medium-density hair. This style can be created easily with a blow-dry and curling iron. Add some thin bangs to shape the face and for it not to look heavy around the eyes.
Cutest Bob for Women Over 60
@jessfrazerhair
This is the cutest bob for women over 60! It has a voluminous shape that brings out a youthful vibe. Older women may not have much time to style the hair, so bobs are perfect.
A blunt bob cut short is ideal for women over sixty since it takes less effort to manipulate.
The One-Length Blunt Cut
@tborcova_hair
This one-length blunt haircut has a perimeter that makes hair look healthy and fresh. Ladies blessed with any hair density can pull this off.
Got fine, medium, or thick tresses? This haircut is sure to appear flawless! One-length blunt cut bobs will need regular trims to avoid split ends.
The Ear-Length Blunt Bob
@rodrigues_ricardo
The ear-length bob is a timeless haircut, providing a fresher vibe and a more stylish edge. It's a classic way to feel the breeze around your neck area.
Ear-length blunt bobs are undemanding when it comes to styling. So, this short haircut is perfect for ladies who are always on the go. Yet, it needs extra effort to maintain its shape and beauty.
Blunt Super Short Bob
@salsalhair
Here's another super short bob where the edges land right at the jaw area. This chop is for ladies with a rounder or an oval face shape.
It gives the illusion of a more defined and sharper jawline. Also, this super short blunt bob cut does a great job in making fine tresses look fuller than ever!
Very Short Bob
@rebelhairartists
This very short bob cut is on point! What makes it classy is its flawless perimeter. This very short blunt bob haircut works great on women with straight, thick locks. The sleeker the hair is, the better it appears.
The French Blunt Bob
@erickinvisible
When the French blunt bob grows out evenly, it looks great on a longer length. This chop doesn't have any heavy layering. With a wavy hair texture, it seems natural and effortless.
What makes this blunt French bob haircut more flattering is the fringe. The bangs add more texture and movement to it.
Blunt Bob With Side Bangs
@di_peregudova
With side bangs, a neck-length blunt bob looks pretty decent for square-faced women. It's the haircut that softens a sharp jawline.
For a more polished style, it's best to use a curling iron on the ends going inwards. Giving your short hair an ombre hair color won't hurt the outcome, too.
Perfect Blunt Bob for Thick Hair
@ diegomarcsant
A perfect bob for thick hair frames the face well. If you have a round face shape, this bob cut is ideal for you.
A blunt bob for thick hair like this looks staggering if parted in the center. Middle-parted hair gives the face a perfect balance, breaking up its roundness.
The Chin-Length Bob
@ayhanonluel
The chin-length bob is another haircut that provides a fuller-looking style. With texture and if parted on one side, it gives a thicker illusion.
This chin-length blunt bob style also appears soft around the face. So, ladies with a sharp jawline, give this a shot!
The Jaw-Length Bob
@davidwbullen
The jaw-length textured bob is for gals with finer locks that demand fullness and volume. Its middle-parted style allows the jawline and neck to get accentuated.
Ask for a razor cut if you want your jaw-length blunt bob to have textured ends.
Trendiest Blunt Cut for Women Over 50
@g_deodato
The trendiest short blunt cut for women over 50 is a hair trend that the world must see! This is a tousled-style blunt bob for 50-year-old women with short hair.
It has a messy texture to offer a chic and modern-looking finish. All in all, it radiates a youthful vibe for older ladies.
Edgy Blunt Bob with an Undercut
@barbercharizma
Flaunt an edgy bob with an undercut and show off your elegance and confidence. This is how you rock a classic bob with a stronger finish.
Perk up a blunt bob with an undercut, so it looks fire! Ladies with fine hair who want a stylish fashion statement will love this haircut.
Chin-Length Blunt Cut With Bangs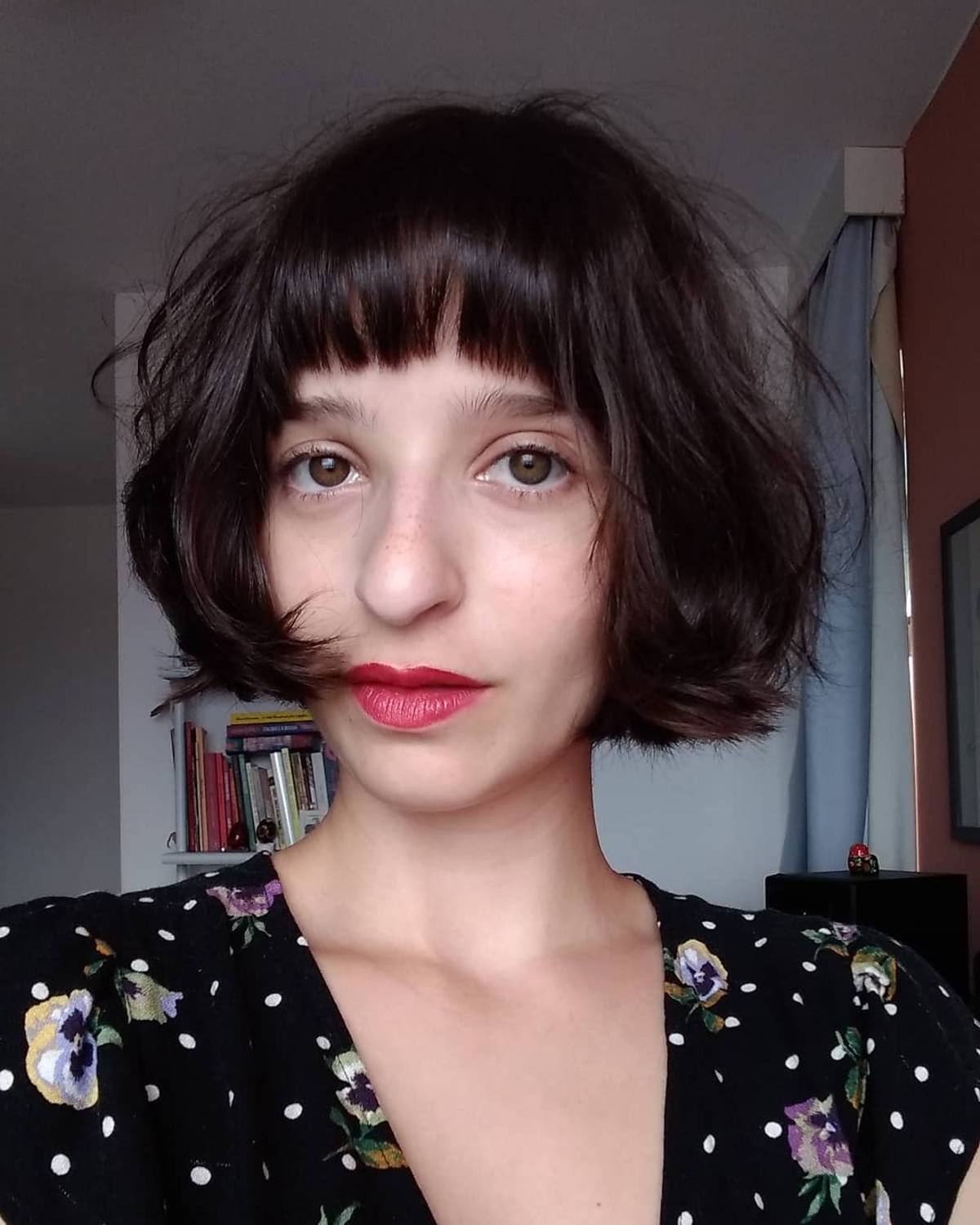 @sofia_freire
Pair your chin-length hair with a short blunt bob with bangs, then style it with texture and waves. Do that and never regret getting a big chop again!
This hairstyle is best to pull off by bombshells with straight locks. It benefits them, especially if they have a finer density of hair. This blunt bob, if styled with texture, gives hair a thicker result.
The Neck-Length Blunt Bob
@alexusestellehair
The neck-length bob on straight locks is always chic and flawless. It gives a classic look more modern flair. A bob is cut blunt at neck-length, so ladies with fine hair can enjoy fuller-looking styles.
Wavy Blunt Bob
@gabbyrosebeauty
Here's an exquisite wavy blunt bob, and it's worth a try! It's very beneficial for stunners who have fine and sleek tresses. The style and its neck-length cut bring out a fuller edge.
This wavy blunt bob for short hair would look even better with a lived-in blonde. It's the movement of the locks that's sure to give the blonde hue more dimension.
Flattering Bob for Women Over 40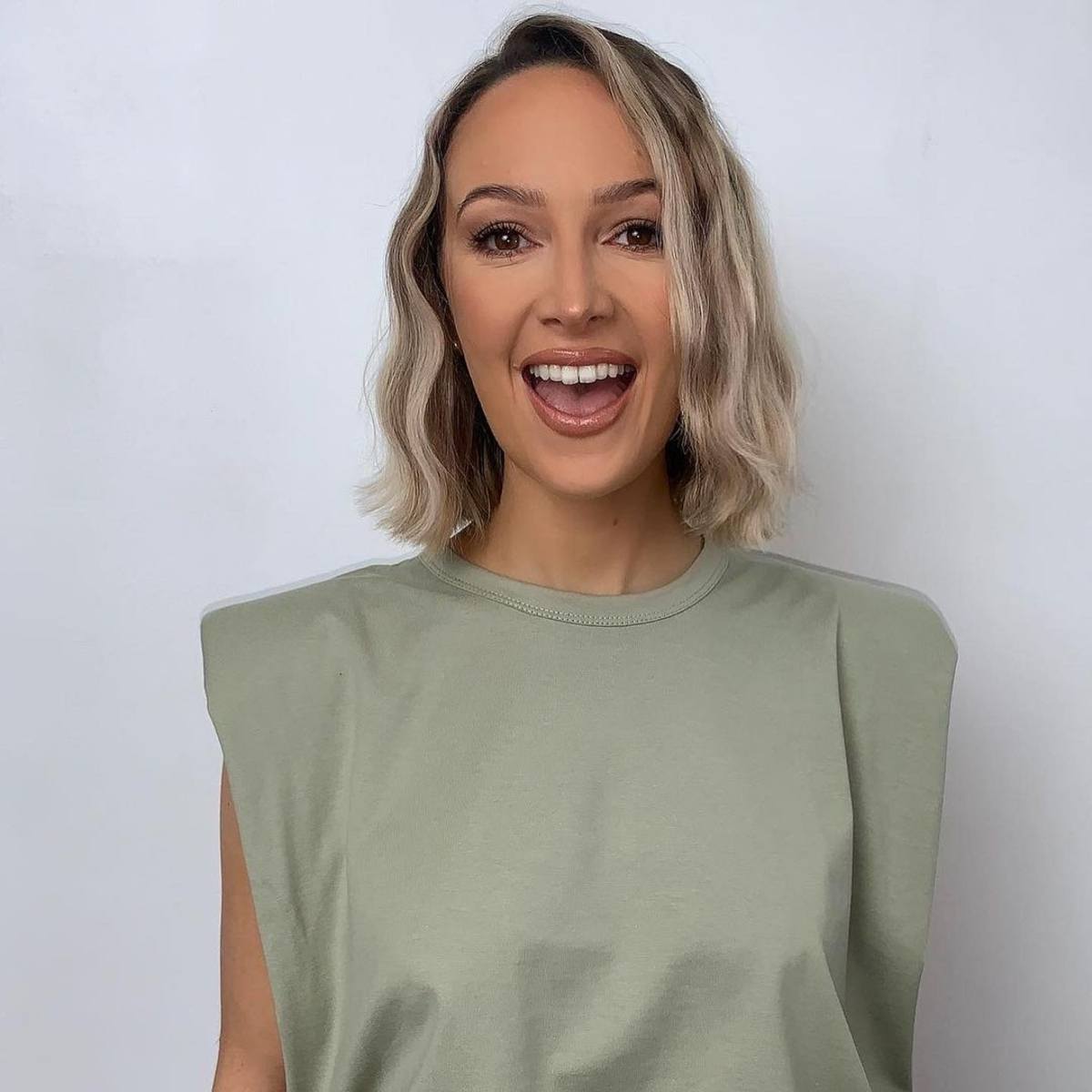 @kennethmcleodhair
A flattering bob for women over 40 often requires little to no effort in styling. Some older ladies prefer a chop that's easy to manipulate and maintain.
This short blunt bob haircut for 40-year-old women has bangs for a youthful style. And, that fringe is such a chic addition!
Stylist Kenneth created this traditional bob haircut with deep point cutting.
This bob is low-maintenance and easy to style!
Blunt Bob With a Side Part
@christinagarciasalon
Hair with a side part brings out a voluminous and fuller-looking result. It works with a blunt bob on short hair, allowing thin tresses to appear thicker.
Parting the hair on one side carries out an edgier, sexier look with an instant glam vibe, too.
Short Bob With a Middle Part
@hairbyallybarone
A blunt bob with a middle part goes very well on most face shapes. The center part is what gives the face a perfect balance, framing it for a softer finish.
It's an all-around look that appears stunning with hair texture on wavy or straight hair.
Short Blunted Bob with Balayage
@juniorestevamhair
What's great about a short blunted bob with balayage is it works on sleek or messy textured hair. Created by hair artist Júnior Estevam of Brazil, this is a cut that can be styled in different ways.
To achieve this cut, Estevam says, "I usually use the invisible layers and internal or deep layers." For styling, a good texturizer spray is recommended to make it fresh-looking at home.