Bangs for Round Face Shapes: 22 Flattering Haircuts
Long Side Bangs for a Round Face Shape
@erickinvisible
Make these long side bangs your wash-and-go shag style. It offers chic long side bangs for round face shapes, which go very well with the chop's layers. Ask for a mid-length cut with dark-rooted beige blonde shade to suit both your face shape and fine locks.
Textured Bangs for Round Faces
@acervo.hair
Try textured bangs for round faces to add structure to your upper face. Bangs for a round face can be uncertain territory but texturizing the fringe creates a lighter choppy feel. The uneven length helps balance out a rounder face shape, too.
Long Shag with Feathered Bangs
@accomando
This long shag with feathered bangs is beautiful. Wispy bangs on a round face that hang over the eyebrows is another way to draw less attention to a rounded face. If you want a shaggy look like this, ask your stylist for a razor cut.
Short Hair with Straight Bangs for Round Faces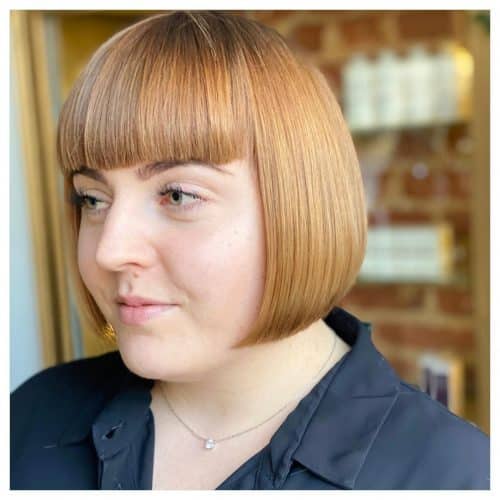 @christian_cartano_hair
Choose short hair with straight bangs to achieve that classic, flattering look! The perimeter accentuates the jawline, perfect for rounded faces like yours. It features straight across bangs that work great on fine tresses, too. This short hair with bangs is so versatile and stylish when matched with a natural ginger color.
Long Hair with Full Bangs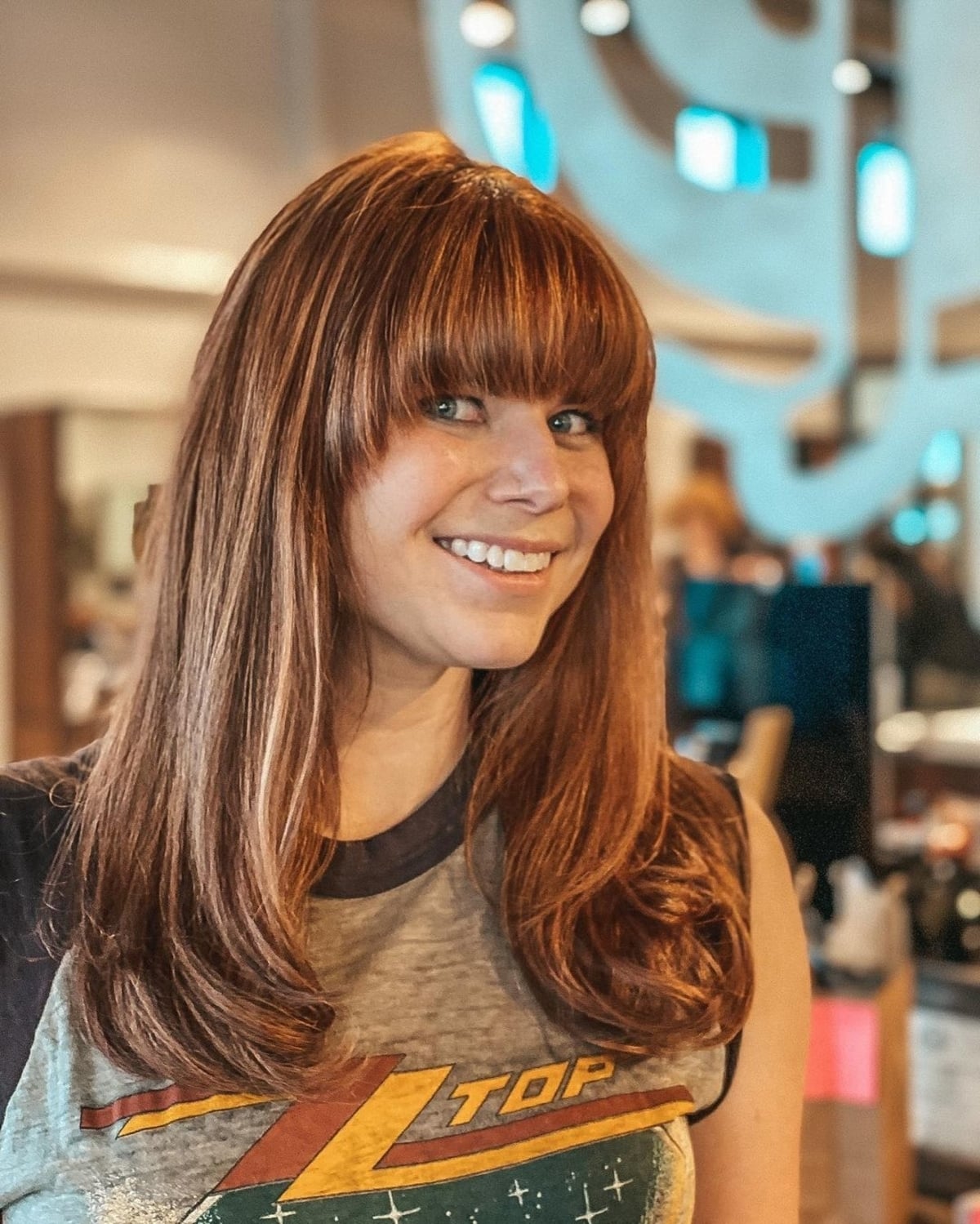 @thefoundrysalon
A long hair with full bangs is a perfect choice to make a round face more oval and elongated. Round-faced women can bet on fringes to make the face more harmonious and delicate.
Thick Bangs on a Neck Length Bob
@donna.hairpdx
This one-length haircut with thick bangs and with a little bit of an undercut was created by hairstylist Donna Malva of Tualatin, OR. "This hairstyle is great for women with round faces who want to wear there hair's natural waves and texture. The blunt bangs give an edgy vibe," says Malva.
"This is perfect for women that have natural volume. Rock your natural waves and enhance your cheekbone structure if you have thick hair," she adds.
To style, Malva says to add Oribe's thick dry finishing spray and Oribe mate wave cream to give it the cool boho bob look.
Long Pixie with Swoop Bangs
@tori_avante
Swoop bangs are another bang style to try. When considering bangs for round face shapes, face-framing might not be the best option. Elongating and angling towards facial features might be a better trick.
Middle Part Bardot Bangs
@thikhoanguyen
Middle part Bardot bangs on round face shapes are really cute. This particular cut was created by artistic director Thi K Nguyen of Honolulu, HI.
"The dimensions of the colors, texture, and voluptuousness are gorgeous," describes Nguyen.
These bangs for round faces for women that like their hair long but stylish without trying so hard.
Nguyen suggests that girls who feel their face shape is round, should try a curtain fringe to frame and make your shape more oval.
Best Bangs for Round Faces: Heavy Bangs
@looks_by_autumn
Heavy bangs are classic and versatile to any hairstyles. It's a long haircut with layers that elongates round facial shapes when worn down. The soft layers around the face will break up any roundness of the face that most women fear. Heavy bangs also complement big, blue eyes.
Long Side-Swept Bangs + Angled Bob
@yorkhair_
These long side swept bangs + angled bob is also known as a stacked bob. It was created by stylist Sylvia York of Senoia, GA.
York reminds us when considering a bob for a round face with bangs, it's important to look from not only the front but also from either side and the back.
"A longer side bang on a bob can change the look," says York. "Regardless if you are trying to open or close up your facial features or not."
She also recommends you decide whether or not you are okay with your hair being shorter than your shoulders. "Because keeping your hair at shoulder-length or longer won't give you the same look," she explains. "If you do not want to commit to bangs, a longer side-swept can be a subtle change."
Asymmetrical Bangs for Women with Round Faces
@stasiartistry
"These asymmetrical bangs are edgy on this asymmetrical lob," says licensed stylist Anastasia Lankford of Wichita, KS.
"It has a lot of texture throughout, but blunt lines through the perimeter. This creates an ability to have multiple looks with one haircut," she adds.
Lankford notes that asymmetrical bangs have a bit of maintenance. "So if you're looking for a wash-and-go style, this may not be the cut for you. However, if you're a girl with a round face who loves the wild side and you have a bit of time with your hair in the morning, try these bangs."
Soft Curtain Bangs for Wavy Hair
@hairbylizbeachy
This long haircut with soft curtain bangs with round face contours is laid back, natural, and tousled. It was created by hairstylist Liz Guggisberg of Millersburg, OH.
"With all the layers and fringe it's easily worn no matter which way it's styled," she says.
Guggisberg recommends you invest in great hair wax or texture wax to add texture and body to the bangs and layers.
This long haircut with bangs is flattering on ladies with round faces who feel like they can't do a full fringe. It adds character to your haircut and the roundness of your face.
Pixie Cut with Short Bangs for Rounder Faces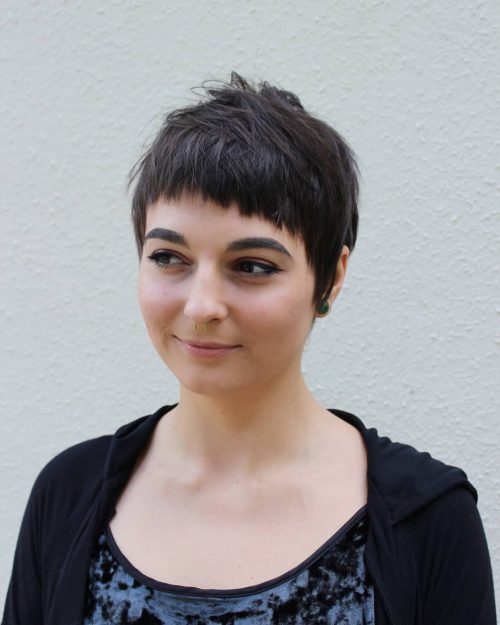 @natjtmhair
A pixie cut with short bangs is one of those short haircuts that is both edgy and cute. Look at this black pixie cut with short bangs that complements a round face shape. The texture on the top gives these round face bangs an emphasis. Styling pixie cuts with bangs is effortless and takes minimal time. All you need is a pomade or wax while you run your fingers through the strands.
"This heavily textured pixie cut with short bangs uses different contrasting textures," claims Aveda stylist Natalie Morrow of Santa Rosa, CA.
"There is chunky texture throughout the bangs," she explains. "They combine with the top soft feathery pieces on top."
Morrow believes any woman can rock a pixie cut, "just be mindful of the fringe area with your face shape. Fringe for round face types can be very appealing."
Bangs on round face shape should have some volume through the top. To make it look like you have an oval face or long face shape, keep the sides flatter to help elongate the face.
Cute Bob with Baby Bangs
@rossetomar
A cute bob with baby bangs accentuates the jawline and gives strong contour lines on the face. Bangs for round faces can create a super modern and sophisticated appearance to any haircut style.
Baby Bangs on Straight Hair
@pris_p_hairstudio
Baby bangs on straight hair are seriously the best bangs for round face shapes. They work best on straight hair as require some maintenance with styling. The shorter bangs open up your face, giving an elongated effect.
Brow Skimming Bangs for Round Face Shapes
@hairmettle
Brow-skimming bangs are an excellent option when wanting to accentuate the eye color. The fringe works wonders with most haircuts—whether it's a short or a long chop. It's the perfect type of bangs for round face shape.
Round Shaped Bangs
@sarahgossetthair
Round-shaped bangs on a shoulder-grazing cut flatter and soften round facial features. Full-bodies bangs like these work best on dense hair. Pull it off with a stunning silver blonde shade for extra glam.
Beautiful Long Bangs and Layers for a Rounded Face
@hairlife_by_genai
These beautiful long bangs and layers make a perfect combination. Both offer a stunning result, versatile to straight and wavy styles. Long bangs and long layers create an excellent haircut for women with chubby faces and fine hair.
Flattering Bangs for Thin Hair
@irina.brows.pmu
Flattering bangs for thin hair is attainable if you avoid a heavy bang. Instead, ask your stylist for long layers or wispy angles to frame your face well. For thin bangs to flatter women with round faces, ask your stylist to avoid bluntly cut ends.
Shaggy Bob with Blunt Bangs
@remeccahair
The shaggy bob with blunt bangs is a great option for round faces. Style the haircut with waves and achieve a classic beauty. The movement, especially around the face, frames facial features. It will make the face appear narrower than before.
Balayage specialist Rebecca King of Manchester, UK created this shaggy bob with blunt bangs that's a classic french bob that's Parisienne Chic. This bob with bangs is perfect for women with round faces.
"This shaggy bob is perfect for that get-up-and-go 'cool girl' style," says King. "It's low maintenance and forever timeless! If you're not too particular of the bluntness of the bangs, ask for rounded bangs instead."
King says to ask your stylist for a soft sun kissed balayage towards the ends of your hair and a wavy textured bob. "Style using a wand for polished waves. Or wash and scrunch to enhance your natural movement and texture. Use a dry texture spray to finish," she adds.
Curly Bangs for Curly Hair
@hairika_st.pihair
These curly bangs for curly hair create a super cute, rocking hairstyle. Curly hair with bangs is inspired by the shaggy styles of the '70s. Its curled fringe boosts the shape and texture of this hair trend. Women with round faces will love it, for sure!
Curly bangs for curly hair? Yes, please! This curly bob with round layers and bangs features framing pieces for a round face. It was created by licensed hair and makeup artist Erika St. Pierre of Portland, ME.
St. Pierre says this short cut on a round face is great for any woman with natural wave or curl.
"This was styled with a curl cream applied on wet hair and scrunched. Then left to air dry or diffuse. This is a low maintenance hairstyle that grows out well when the layers are balanced and blended," she explains.
Light and Wispy Bangs on Long Hair
@lizmariehair
Light and wispy bangs on long hair look gentle and cute. They are considered as the best bangs to frame a round face shape. This kind of fringe softens rounder facial features. And if you have long layers that you like to show off, waves do the job well.