26 Cutest Layered Bob With Bangs Ideas
Cute Choppy Bob with Choppy Bangs
@kateconveryhair
Q&A with style creator, Kate Hanley
Master Stylist / Colorist @ Love Culture Salon in Providence, RI
How would you describe this?
This is an effortlessly chic mid-length textured, layered bob with a choppy fringe.
This choppy bob with choppy bangs frames the face and it has subtle un-done texture and movement.
What's your best advice?
This layered bob hairstyle with bangs was cut using only a straight razor blade and finished the style with Hairstory HairBalm and Undressed. Then, it was dried with a diffuser. Use your hands to play up the natural wave and bend.
Find a stylist who cuts with a straight blade razor and specializes in effortlessly undone hair! All women can wear a bob and fringe, but the length in which you cut either really depends on the face you are framing.
This bob with layers and bangs is very low maintenance. Consider getting a fringe trim every few weeks and a full haircut every few months.
Stacked Bob with Long Bangs
@headshapematters
Going for the varying lengths of layers right around the backside of a stacked bob is the answer to limp-looking hair. The layers with bangs add a diagonal motion to the strands, having a much more elongated appearance.
Medium Layered Bob with Fringe
@hairbykatieg
Medium layered bob haircuts with bangs that are side-parted bangs are super cute.
Adding a whole lot of leveled layers gives this medium bob a feathered vibe.
Messy Bob with Curtain Bangs
@wowcoolwow
Choppy hair is so easy to style on a bob hairstyle. Like this messy layered bob haircut with bangs, you can partner it with some curtain bangs, showing off a little of your forehead and ending its tips flawlessly on your cheekbones.
A-Line Bob with See-Through Bangs
@sammisitu__stylist
Caramel babylights shine even more on these tapered ends. The a-line bob with layers and see-through bangs creates a stunning drape of hair that the colors can really stand out, and texture is added thanks to the layers and flattering bangs.
Shaggy Bob with Bangs
@robbie.hair
Shaggy bob with bangs is a combination of modern and classic styles. It's a trend that offers sophistication without trying hard. This layered shaggy bob is best for thin hair, giving it some layers, texture and movement. A shag isn't complete without pairing it with any type of layered bob with fringe.
Layered Bob for Thin Hair and Long Side Bangs
@bliss_fashion_vilnius
A stacked layered bob with bangs is ideal for women with thin hair.
The stacked layers on this gorgeous long bob are bursting with a texture that gives body to our hair.
Plus, the long side bangs are a neat addition, which can also show-of those lovely lilac locks.
Shaggy Layers with Side-Swept Bangs
@livedinhair
These shaggy layers with side-swept bangs are so adorable! If your hair is too straight and needs a little movement, a layered bob with side fringe is a must-try. The feathered layers allow the tresses to have extra texture. The added side layered bangs are an excellent choice to give the style a youthful and more modern touch. Try this shaggy layered bob with side-swept bangs if you have a square face shape to soften the jawline.
Textured Bob for Fine Hair and Baby Bangs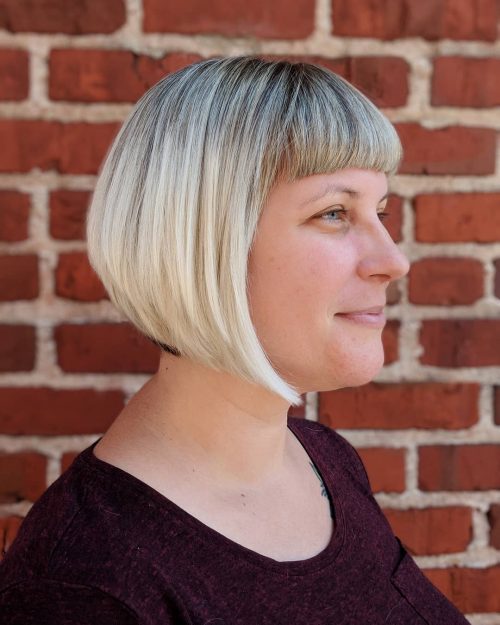 @rachelw.thegoodhair
What an incredible textured bob for fine hair and baby bangs! A short bob with cute bangs like this is a great cut for women with thin tresses and longer foreheads. The bob haircut with bangs features subtle stacks of hair behind the head to increase volume and add shape. Getting the locks in a short bob with layers and baby bangs is ideal if you love timeless, elegant styles!
Brown Bob with Short Bangs
@val.vincent_
A brown bob with short bangs helps shorten an oval face shape. That exact type of fringe—the Caesar-cut micro bangs—suits a textured, wavy hairstyle. This haircut is ideal for thick and straight tresses to remove lots of weight and add extra bounce. That's what the layers do.
Layers with Soft Bangs for Over 50
@dannaracqueldesigns
A layered bob with bangs for women over 50 has lots of texture to add more body to the hair.
Mature women often have thinning hair, which could be a problem in choosing a preferred style.
Add soft bangs for a softer look.
Wavy Bob with Side-Swept Bangs
@waxxapeldoorn
A wavy layered bob with fringe on ash brown hair looks incredible for women with a darker skin tone.
Spiked, tousled layers in a wavy asymmetrical bob has the ultimate texture.
A long layered bob with side bangs cut near the jaw-line is the perfect cut for women over 40.
Angled Bob with Bangs
@robertalicks
Wearing an angled bob with bangs means wearing a versatile, bolder-looking hairstyle. Either straight or wavy, this angular haircut looks flattering on women with a round face. It frames the face to make it appear slimmer.
Layered for Thick Hair
@jucremonez
A layered bob with bangs for thick hair is cut with shorter layers to remove weight. With more mass in your hair, having a long bob could maintain the cleanliness of the lob with layers and bangs. And those bangs are there to spice up the already hot look!
Rounded Bob with Wispy Bangs
@corrinndoeshair
This layered rounded bob with bangs is the perfect guise for long faces. The wispy bangs add that softening effect to the look, making you all dolled up and cute!
Layered Lob with Feathered Bangs
@beautybrigadesalonandspa
A bob cut with layers and feathered bangs will flow superfluously is the type of texture that is likable to see in a layered long bob with bangs! Get in with the program by adding some neatly snipped bangs to flatter the face.
Layered with Brow-Skimming Bangs
@hairondisplay
Pair your layered shoulder-length bob with brow-skimming bangs. A style that screams business in the front, party in the back.
Neck-Length Bob with Long Bangs
@rachel.lott.hair
A neck-length layered A-line bob with long bangs looks amazing on short hair.
A blonde layered bob is perfect for longer hair in the front, as it blends to a dirty blonde color as the hair shortens at the back.
Long Bob with Side Bangs and Layers
@celestenevarez
Q&A with style creator, Celeste Nevarez
Master Stylist @ Salon Vivid in Webster, TX
---
How would you describe this?
A long bob with side bangs and layers is not too long and not too short.
This is a bob with layered bangs that you can style to either side or still pull up and away from your face if you choose. This layered lob is easy to style.
What's your best advice?
A bob cut with layered bangs is a great option for many hair textures and can quickly be styled in so many ways.
In this picture, a smooth blow out using a wide round brush was done, and a lightweight mousse was used for a hint of body.
Curly Bob with Light Bangs
@sheerlock_combs
Q&A with style creator, Brittany Shields
Hair Stylist @ Mitchell John Salon in Boston, MA
---
How would you describe this?
This is a modern take on a classic 1920s curly layered bob with bangs.
Some layered haircuts with bangs are cut entirely with a razor to help enhance the natural texture and leave for a soft, more airy finish.
To style, use mousse with a bit of grit then diffuse for about ten minutes until the hair is 90% dry. This allows your curls to do their natural thing once the hair is almost dry.
What's your best advice?
Bob haircuts with bangs are versatile for every hair type – it is the shape and length of the bob that really determines what you want to accent. Layered bobs with fringe can enhance your natural features, such as your strong jawbone and high cheekbones. With a chin-length bob, the chin draws more attention because that's where the weight line of the hair falls.
Bobbed hair with fringe is ideal for women who have always wanted to have a short bang. Having bangs as well creates more balance for your face. Avoid a basic bob by adding more texture into the hair while removing weight. It will give you a more versatile cut that could be worn super sleek or played into the texture with a little product assistance.
If you're considering a chin-length bob with bangs, be aware of your features and exactly what you're showcasing by creating a bold style.
Layered Hair with Blunt Bangs
@bclinspirations
Q&A with style creator, Camille Fowler
Licensed Cosmetologist / Stylist @ Philosophie Salon in St. Augustine, FL
---
How would you describe this?
This layered bob with blunt bangs is a very classic short bob. It's an edgy, fun look that's sophisticated, yet a little undone.
The entire cut was done with a razor. Using the razor on coarse hair texture will give it the very "lived in" style. The majority of this cut was done dry. It's important to see how the natural texture will respond to the length.
A razor was used to create new layers and to shatter the ends, making them light and airy.
What's your best advice?
Women considering a drastic change should take the time to decide. Although it may be needed and wanted, it is wise not to make a rush, impulsive decision when it comes to your hair. Set up a thorough consultation with your stylist before your appointment. Be open to feedback and together create a bob haircut with fringe that works for you.
Chin-Length Bob with Layers and Swoop Bangs
@chrisjones_hair
This is a modern texturized, layered bob with a heavy swoop bangs to nicely frame the face and bring attention to the eyes!
There's a lot of movement is in this cut and it's versatile for all hair textures! Style your layered hair with bangs with a 1 1/2″ barrel iron in alternating directions for each section to give more of a beach feel!
If time is available, some waves can be added to bobs with fringes along with texturizing and volumizing spray. Or, short layered bob hairstyles with a fringe can be worn straight with a shine spray for a sleeker style! The bangs can be worn in a curtain style or swept to the side for a different bob with fringe style!
Shaggy Bob for Naturally Curly Hair
@danapaints_hair
This gorgeous shaggy bob for naturally curly hair is sure to enhance a wavy texture. It's a neck-grazing cut for easy-styling, with curly bangs for a more youthful vibe. With the hair's natural waves, this layered shaggy bob with bangs give a nice, effortless shape.
Pixie Bob with Bangs and Layering
@yelenadoesmyhair
Q&A with style creator, Lena Tchilikin
Senior stylist @ De Berardinis Salon & Spa in Ontario, CA
---
How would you describe this?
A short, layered pixie bob haircut is very trendy, sassy and fresh.
If your hair is very fine, this hair cut creates volume movement and texture.
What's your best advice?
Women with fine hair are great candidates for this hairstyle. Shorter hair always looks thicker and fuller. Also, it's a very versatile haircut and can be customized to any face shape or styling options by increasing or decreasing length and graduation.
With some products like a heat protector cream, you could have it blown out smoothly for a soft vibe. If you're feeling a bit edgier and looking for a textured bob with bangs, use texture spray or powder.
Bob with Angled Bangs
@simplybeautifulbywhitmartini
Q&A with style creator, Whitney Bolser
Licensed Master Hairstylist @ Lunatic Fringe Salon in Liberty Township, OH
---
How would you describe this?
This is a chic layered bob haircut with angled bangs and a subtle highlighted dimension. With this haircut, texture was created with a razor. The bob is a classic hairstyle, but this texture gives this haircut a fun twist.
What's your best advice?
This bob haircut with asymmetrical bangs would require 6-8 weeks of maintenance. Bringing the length up and creating the layers with a razor would keep the hair density, which would benefit you if you would like the appearance of fuller hair.
If the hair density is high, a lot of weight would need to be removed. Because the length is short, it could make the face shape appear wider than it is.
Styling layered bob hairstyles with bangs is best with a large round brush and blow-dry into beach waves.
Use a blow-dry primer and a volumizing mousse with a large round brush to achieve this bob cut with bangs.
Inverted Bob with Straight Bangs
@headcase_hair_killer
Q&A with style creator, Megan Kushner
Hair Artist @ The Color Room in Northfield, NJ
---
How would you describe this?
This is a layered inverted bob with bangs.
This layered haircut on straight across bangs is so versatile!
Bob hairstyles with layers and bangs can go from super conservative to super modern – it all depends on personal style. Everyone loves a good bob!
What's your best advice?
For bangs on a layered bob, you'll need to consider your face shape, hair texture, and lifestyle. If you have medium to fine, straight hair like her, this works really well on her!
Inverted bobs are probably not the haircut for women who have very thick or curly hair, and doesn't want to blow it out very often. Use a thickening balm by Unite to blow the hair out, keeping it full on top but straighter on the ends for modern and sleek bobbed hair with bangs!