13 of the Best Medium Long Haircuts to Try This Year
Mid-Length Platinum Blonde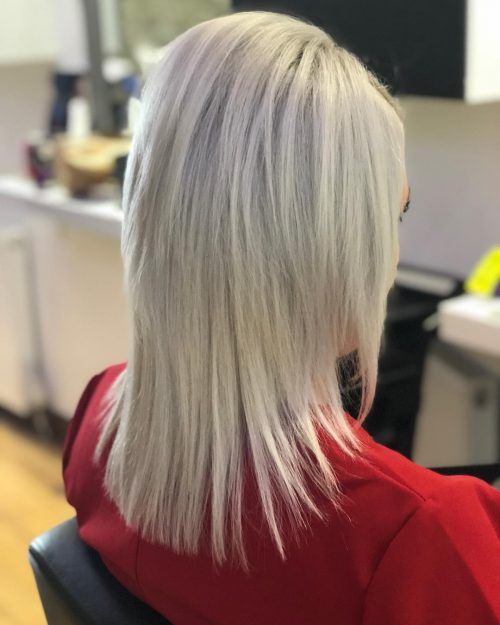 @studiomsandiacre
Iced and bleached, this version of medium-long hair that's white is the trendiest right now. Cut some layers in and end bluntly for added texture and volume even with straight hair.
Medium Length Cute Cut with Bangs
@hairtalk22
A feminine soft medium long haircut with slight wave that ends at shoulder-level is a low-upkeep option that is popular nowadays. If you're searching for medium haircuts for women, go softer with wispy fringe that goes excellent with most face shapes.
Gorgeous Medium Long Cut for Thick Hair
@lavivahairstudio
Create a marvelous curtain effect with your medium-length long thick hair when you part it from the center. It's an easy and stylish way to balance the volume and show off those dimensional waves.
Trendy Medium to Long Lob with Side Bangs
@julieallen.hairstylist
Opt for a shadow root and some babylights to go with medium long hair and a razor cut to get that popular lived-in look. You can also add a sweet and long side-swept bang that hides a long forehead for a more balanced result within medium cuts.
Medium to Long Straight Hair
@alliediazhair
Simple and flat-ironed is one of the best medium long hairstyles. On casual days, an easy midpart can do, and if you feel motivated, you can throw in some bouncy waves to your long straight hair without much effort.
Medium Long Feathered Layers
@baileyhairbeautyy
If you have thick dense hair, choosing a medium long layered haircut would be the best option to remove bulk and manage your hair easier. It's a simple yet perfect option for any natural hair color and straight to wavy hair.
Medium Length Layered Cut for Fine Hair
@beautybynatalie2006
Blonde is a great natural color for medium long thin hair as it hides any scalp showing areas. Style with short to medium layers and you'll have a textured yet soft result. Layers are ideal for medium hairstyles for women over 50.
Before and After Medium Long Haircuts
@thebeautyofbalayage
Q&A with style creator, Kendra Lee
Salon Owner & Stylist @ Silver Rose Tanning & Hair Salon in Weyburn, CA-SK
How would you describe this?
This stunning medium to long cut is the perfect combination of playful and professional! The color is low maintenance and a great way to add dimension to fine, lifeless hair. You can have it smooth and polished and then transform it into a completely new medium long haircut by adding texture spray and messing it up!
What's your best advice?
For women who may be considering this medium long hairstyle, it is best suited for medium length hair textures. It is very versatile and can suit many faces shapes by adding layers and texture, and a fringe! Styling this longer mid-length cut requires minimal product – a good heat protectant, light texture spray, and a shine spray (optional). Use a 1-1/4″ curling iron to create these loose waves and leave your ends out for a more lived-in vibe! Curly hair goes well with medium long length haircuts.
Edgy Modern Medium Long Shag Cut
@judeviola
Q&A with style creator, Judith Viola
Hairdresser @ The Young American Salon in Tustin, CA
How would you describe this?
This beautiful medium long cut is a modern take on the 70s style rocker shag, ideal for the girl who is always effortlessly cool. With a mix of sweetness and edge, the coolest part about this medium long hair is that it's a statement for the girl who doesn't want to just have pretty hair.
Long or mid-length hair can sometimes get a little boring, so add piecey bangs and wispy layered ends to elevate your medium hair from the ordinary. You get everything that you would want from long hair – volume, softness, shine, but your longish mid-length hairstyles is just a little cooler than your every day long layers.
What's your best advice?
Put in the work to find a stylist who specializes in haircutting and make the investment, so you don't have to invest a ton of time into your hair every day. Search for someone who specializes in dry cutting or razor cutting to achieve the cool grittiness that hairstyles for medium long hair call for.
Do plan to schedule bang trims with your stylist if you want to maintain the baby bangs, but also know that this fringe will also evolve into a cool side sweep as it grows out.
This medium to long hairstyle will work best if you have some wave, as it is meant to be air dried with a curl balm and spray wax to enhance your natural texture. You can still achieve medium hairstyles with longer layers if your hair is straight or curly, you'll just need to spend some time with your hot tools.
Shoulder Length to Long Blunt Cut
@rachaelmary_hair
Q&A with style creator, Rachael Woods
Freelance Hairstylist in Glasgow, UK
How would you describe this?
This easy medium long cut is super low maintenance! Long inverted bobs grow out really well, and don't need to be maintained every 6 weeks like a lot of other medium to long hair cuts! The layer allows for an undone, texturized feel. This is the ultimate #coolgirl haircut!
Ask for a cut that's blunt, slightly shorter at the back & with a soft, long layer. Spice it up with a rich brunette with undertones of mahogany & silver, to create a beautiful shine. Of course, Olaplex was also used!
What's your best advice?
Medium to long hairstyles like this are really adaptable, whether you style your hair every day or leave the natural movement. To encourage natural movement try Mythic Oil L'Oreal & Salt Spray when wet and allow to air dry. The oil helps to stop frizz & the salt spray helps encourage a wave & groups the hair together to appear textured.
To heat style, rough dry all the hair forward, no need to use a brush. Then use straighteners to alternate the curls and use your hands to dress out! Re-straighten the bottom inch or so for a more relaxed look. Tthis style goes with most face shapes, just use the collar bones as a reference for length! It's a great way to ensure a flattering long bob.
Perfect Mid-Length Cut for Thin Hair
@dinaghoulina
Q&A with style creator, Dina Ghoulina
Cosmetology Student @ Jean Madeline Aveda Institute in Philadelphia, PA
How would you describe this?
This is a one length medium long cut with a solid form. The best thing about mid to long haircuts is how simple but classic they are.
What's your best advice?
When choosing medium long cuts, consider how you wear your hair on a regular basis and your natural texture. A solid form or bob looks great on everybody, but the cut must be modified in length in order to flatter you individually. Besides getting medium length haircuts frequently (4-6 weeks), this haircut is very low maintenance which is great for those with a busy lifestyle.
Beachy Wavy Hair for Women with Medium Long Hair
@jamesplain_edwardsandco
Q&A with style creator, James Plain
Colourist & Stylist @ Edwards And Co. in Surry Hills, NSW
How would you describe this?
Medium long haircuts are all about effortless, lived-in hair. This collarbone-length lob is texturized internally and layered in order to increase volume and create movement.
Any advice for someone considering it?
Consider your own hair texture, density, condition, and natural color.
Women with very fine hair should consider a more blunt haircut. However, this longer side of mid-length cuts works for most women. The best thing about this color and cut is that it is very low maintenance. You should only need to schedule a salon visit a maximum of three times a year as it will grow out beautifully.
Aftercare is important for mid long haircuts though, and all blonde women should use Olaplex weekly and a toning treatment such as Christophe Robin Shade Variation Care in order to maximize color longevity and condition.
Lovely Long Layers on Medium Length Hair
@hairmettle
Q&A with style creator, Hannah Brady
Studio Owner / Stylist @ MALVA House in Portland, OR
How would you describe this?
This as an "entry-level medium long shag" for women wanting to try medium length hairstyles. The layers frame the face and bring attention to the soft features. The cut itself is a bit bombshell and a bit edgy, and cutting with a razor gives it a kind of undone movement.
What's your best advice?
Gorgeous medium to long haircuts like this can be worn by any woman. As long as the layering is shaped according to their facial structure. Razor cutting has a way of coaxing out your natural wave pattern and adds so much movement to the fine, curly, wavy, or straight hair. It air dries so beautifully. The only women who should proceed with caution are those prone to breakage and overprocessed ends.