18 Most Popular Short Layered Bob Haircuts That Are Easy to Style
Long Side Swept Fringe on Short Hair
@reds.hair.and.co
What an awesome bob for wavy hair! It's a haircut with layers to complement the movement of the mane. This layered short bob is also perfect for dark tresses with blonde highlights. The waves can give the blonde streaks more emphasis plus a dimensional effect.
Stylish Short Stacked Bob with Layers
@shmoakin_hair
A stylish short-stacked bob with layers is ideal for women with thick hair. Internal layering in a short layered bob cut helps to remove bulk and texture while adding a little more shape. For a dimensional effect, add highlighted waves to your pixie bob with layers.
Trendy Layered Bob With Bangs
@rokkjess
A trendy layered bob with bangs is a short haircut that can be worn straight, wavy or curly. Stylist Jess Sutherland from Australia says, "It's easy to maintain, but it gives a strong style."
This short layered bob with bangs is a blunt one-length cut with a slightly beveled edge. Sutherland uses an internal layering technique to remove bulk from thick hair. She adds, "this ensures that we keep the integrity of the hair and its natural wave."
Check out more layered bobs with bangs here for inspiration!
Perfectly Layered Bob for Thick Hair
@acutshair
This perfectly layered bob for thick hair takes away bulkiness. Layers also offer more body and shape, so straight locks won't look uninteresting. If you want an edgier style, go for a short inverted bob, styled with waves. To achieve it, ask for a short bob haircut with some layers.
Fresh Neck-Length Layered Bob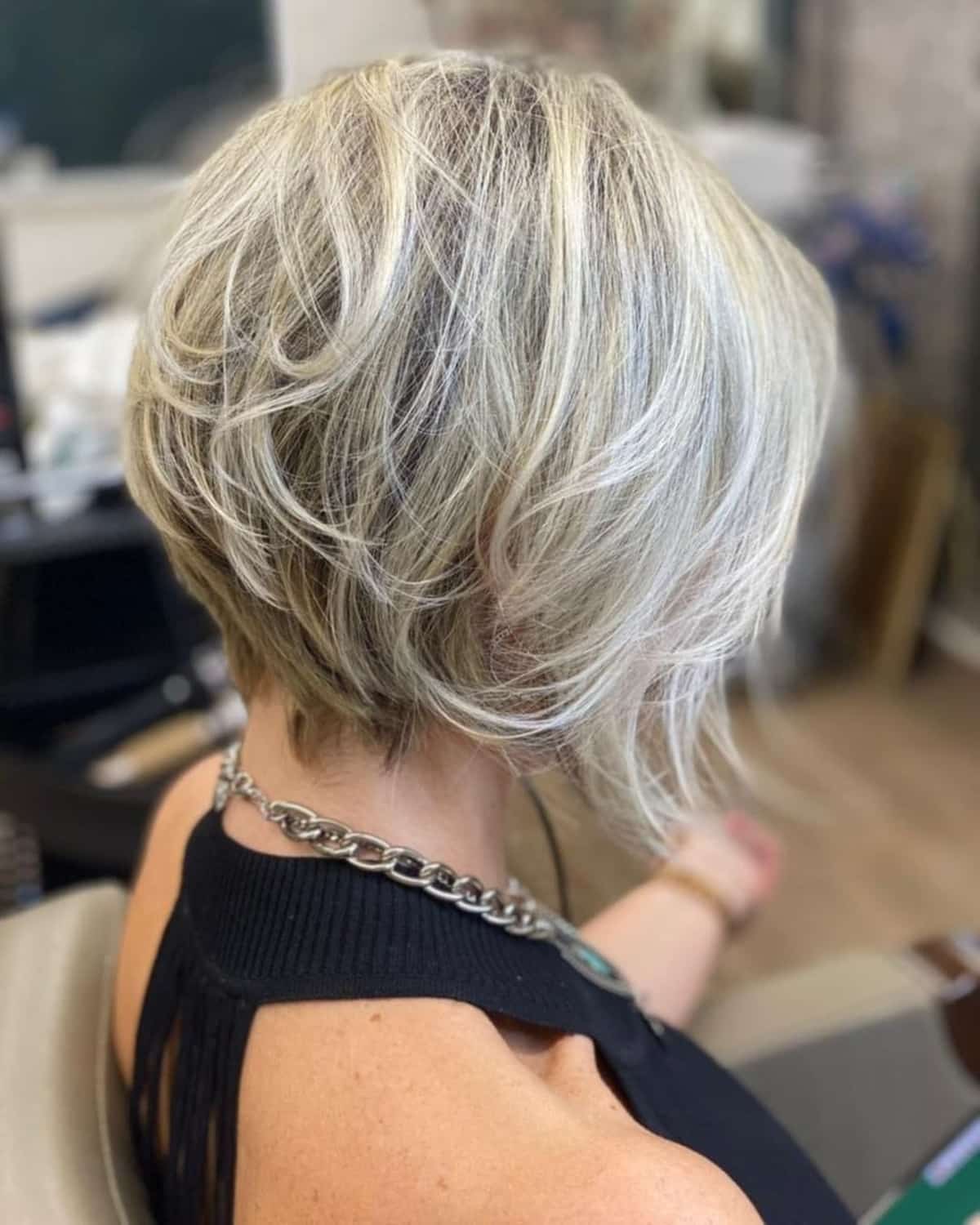 @studiobassani
A fresh neck-length layered bob is the ultimate summer vibe. A layered short bob is a type of short haircut with varying lengths, creating dimension, texture and can add or take away volume depending on your shorter hair texture.
Gorgeous Short Bob with Layers
@mesutgunes91
A gorgeous short bob with layers is ideal for women with naturally wavy hair texture. It's sure to scream sophistication! No matter what density the tresses have, this short layered bob will work well. Layers can give fine hair a full-bodied finish. Apart from that, they can take away bulk from thick locks.
Sizzling Long Layers on a Short Bob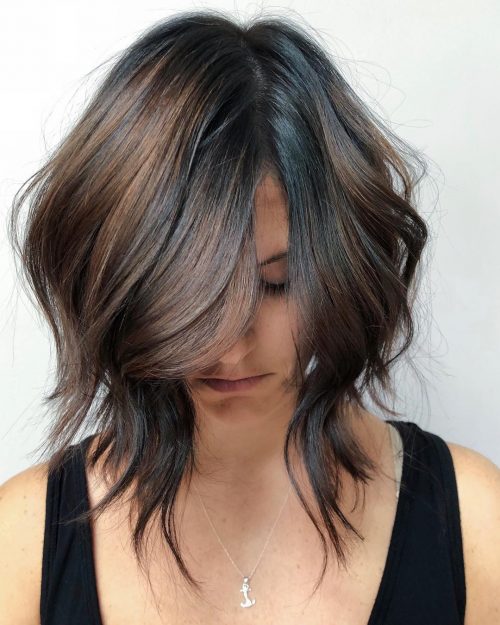 @hairmeroar
This is one of the most popular short layered bob hairstyles you'll see! A tousled neck-length bob with heavy layers is the simplest yet most gorgeous look you can get if you're looking to take some length off. Styling it with an inward wave for a sexy finish adds volume to the hair, making it a great look for thin hair.
Classy Stacked Bob with Layers for Women Over 40
@lalaschoolhouse
Here's a classy stacked bob with layers for women over 40. It's a short bob with layers that's perfect for those who are into foxy hairstyles. Short layered haircuts are easy to maintain and style. Sure, it makes a stacked bob  with layers that women over 40 will love!
Cute Angled Bob with Wavy Layers
@shannonbucarohair
A cute angled bob with wavy layers is perfect for ladies with a more rounded face shape. Short layered bob haircuts are cut in various lengths. It creates an illusion of more texture and dimension in your hair. It can either help add volume or take it away. Short hair with layers works for all textures. Layered bobs can be low-maintenance and worn with a variety of hairstyles.
Sleek Inverted Bob
@headrushdesigns
A sleek inverted bob like this makes a lovely everyday style. This is a bob with layers on shorter hair to give it a voluminous style. The result shows a lot of confidence and elegance. Apply oil from the mid-lengths down to the ends when preppin' for an added gloss.
Layered Bob for Thin Hair
@marikaraiter_hair
A short layered bob for thin hair is a great haircut for women who need help with movement and texture. Style your layered bob for short hair with a medium barrel curling iron and a texturizing spray such as Salty Dog by Evo.
Awesome Bob for Wavy Hair
@heckagoodhair
An awesome bob for wavy hair looks great with an undercut and some disconnected length in the front. With a layered bob, using a point-cutting technique will give your hair some piecey texture through the length and layers. A side part really shows off the volume and curls. Wear naturally wavy or if you're naturally straight throw in some curls with a styling wand.
Sassy Short Choppy Layers
@teddibickers
These sassy short choppy layers make a glamorous wavy bob! This short-length, textured bob haircut has subtle layers that are easy to grow out. It's a perfect cut in case you're considering keeping a long hairstyle. For thicker tresses, shattered ends can make them seem weightless.
Messy Shaggy Bob
@chrisjones_hair
This messy shaggy bob looks cute and elegant at the same time! A short layered bob cut with a tousled style recreates a modern shag. And if you like a messy textured vibe, this shag is perfect for you. It's easy to style, low-maintenance, and appears chic if super textured.
Edgy Asymmetrical Bob
@salsalhair
Here's an edgy asymmetrical bob that matches a strong, impeccable personality. It's a short cut bob, parted on one side for an added volume and height on the roots. Straight locks don't always need to seem lifeless, so give them waves to create movement. A few hints of blonde are sure to add a little spice in there, too.
Short Layered Cut Bob for Fine Hair
@lenina_yin
A short layered cut bob for fine hair is perfect for an edgy look. The shattered layers add texture and interest. Ask your stylist for texture in your hair.
Very Short Bob with Layers
@cabelosfhabioribeiro
A very short bob with layers makes the hair bolder and elegant. What's great about this chop is it's wearable by a lady who has either thin or thick locks. One more thing—a woman, no matter how old she is, can rock this haircut as her everyday style.
Easy Short Layered A-Line Bob
@styled_by_carolynn
An easy short layered A-line bob is an all-time fave by ladies who love hair that's easy to maintain and style! This short and layered bob cut may look stunning when straight, but wait 'til it's wavy! Hair looks more textured and with movement if styled with beachy waves. Interested? See more short A-line bob haircuts here.