28 Most Flattering Short Hairstyles for Round Faces
Cute Short Cut for Curly Hair
@lucyjacobi
These messy waves painted with warm brown hues are perfection on short haircuts for round faces! The soft and effortless styling and cut past the chin balance the whole image, leaving an elongated yet voluminous curly hair.
Lovely Short Stacked Bob for a Round Face Shape
@loxbybrynn
Complement your round face shape with this short stacked bob cut that's long enough in the front to balance and give your look an edge, yet short at the back for less bulk. You can also spice up your straight hair with subtle red ends to complete the round face + short hair style you're looking for.
Beautifully Braided Bob for Natural Hair
@braids_vienna
Chin-length short hair for round face shapes is a great way to make your face appear narrow. This accessorized pretty short braided hairdo can easily be done by anyone as long as you have enough natural hair and a little bit of creativity.
Short Shaggy Cut for Rounder Faces
@torriedoesmyhair
This short shaggy cut with short bangs is a perfect example of short hairstyles ideal for a round face. Considered a slimming haircut, it frames the face well. Styling it with a lot of texture and adding baby bangs helps to lessen the illusion of a chubbier face shape. Don't want baby bangs? Ask your stylist for longer choppy bangs instead!
Short Pixie Bob with Long Layers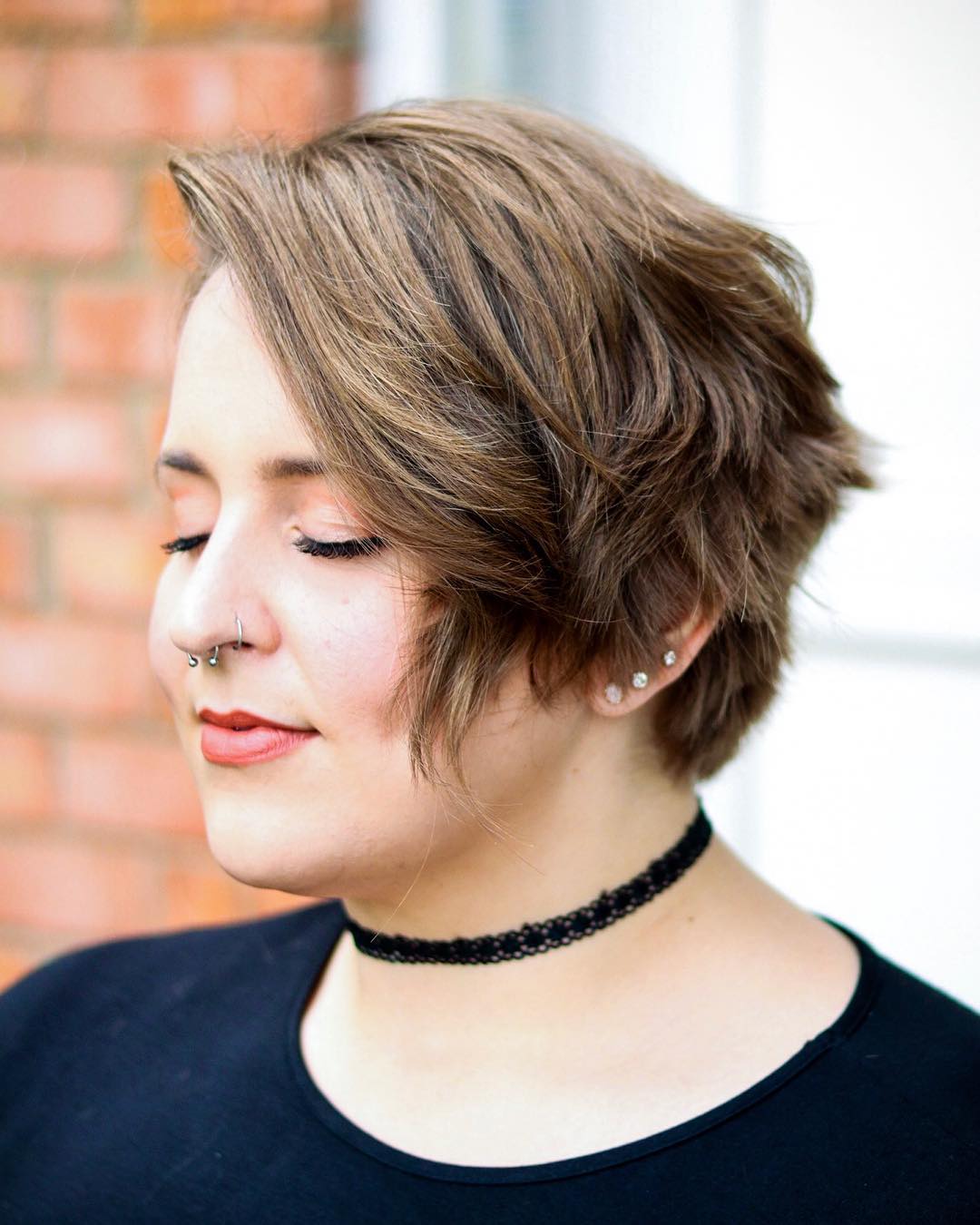 @choppedndrewed
Go for a short pixie bob with long layers because it's cute, stylish, and very trendy! This short pixie bob with long layers is designed for a woman growing out a pixie cut. Such a short haircut with textured ends and choppy layers is also great for round face shapes. The cut's edginess complements the fullness of the face shape.
Short Choppy Layers for Women with Round Faces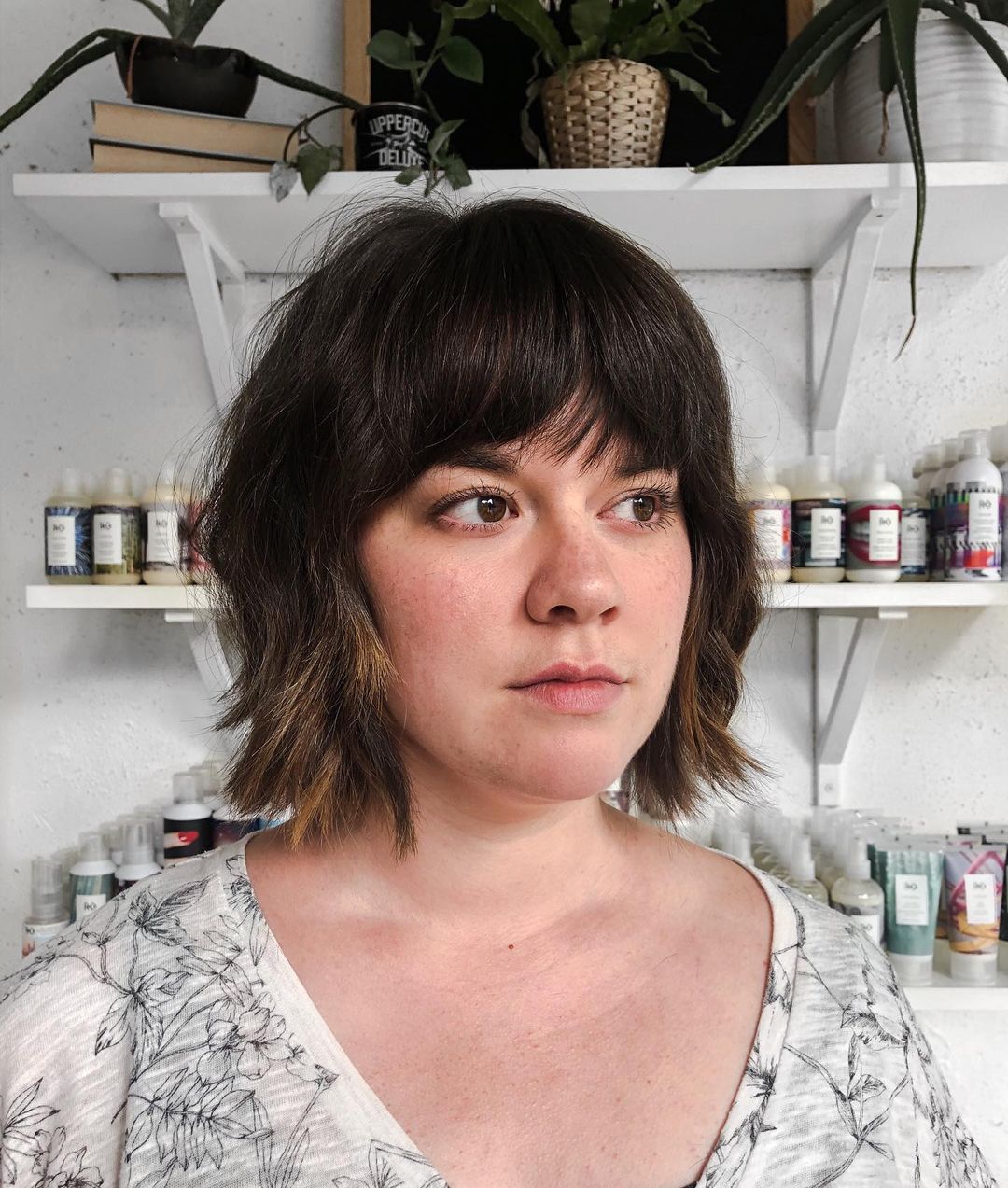 @made_bymads
Short choppy layers on a haircut draw attention away from the symmetry of a round face. So yes—it's ideal for women blessed with a round face shape. This short cut is also great for fine hair as it offers a more natural movement. Layering on the crown creates an illusion of more hair while enhancing its shape and body.
Flattering Short Haircut for Women Over 50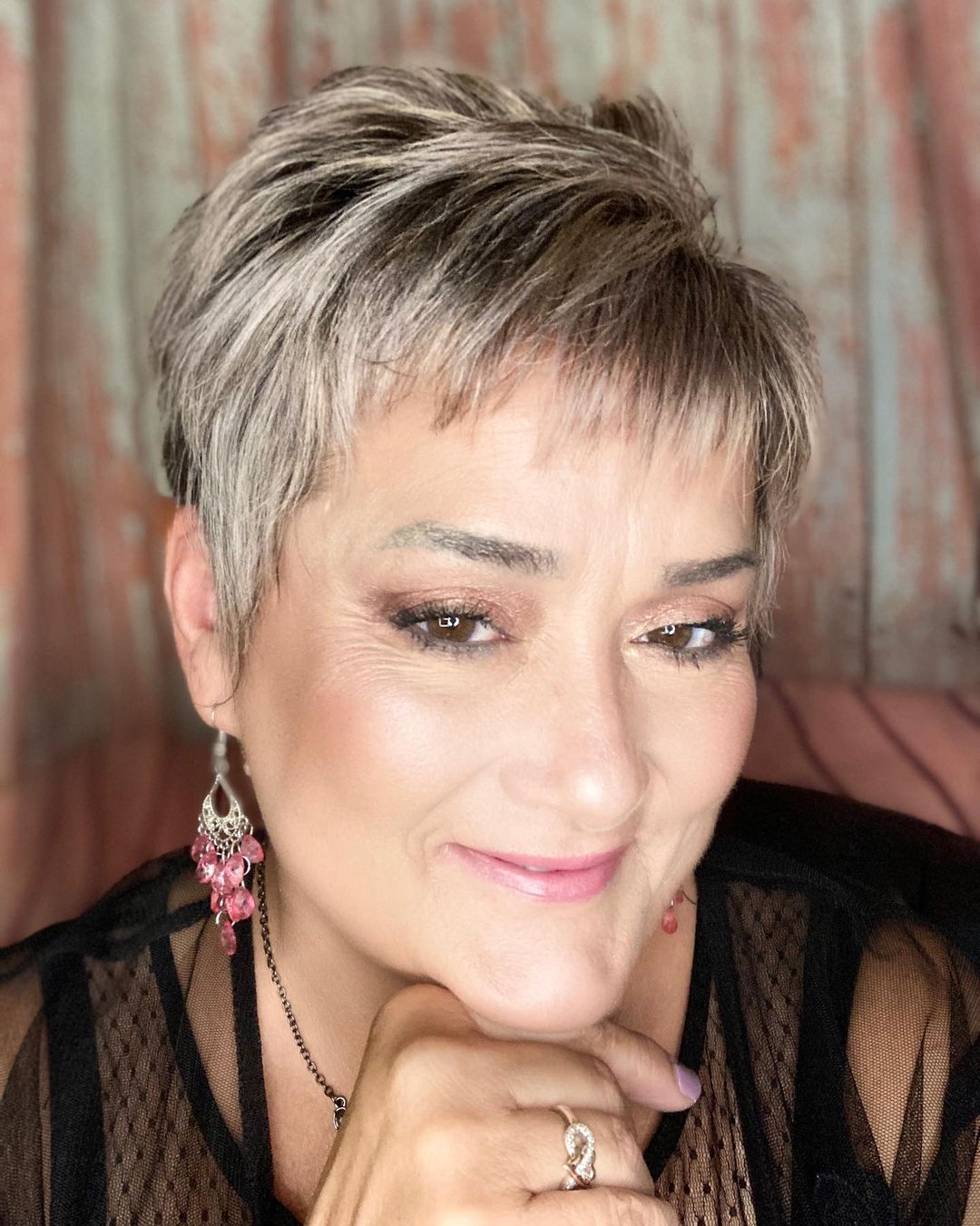 @sheilap65
Here's a flattering short haircut for women over 50. This short pixie cut offers volume at the crown area, making it perfect for round faces. Shorter cuts for women in their fifties like this are easy to style. Lovelies who don't always have time to style up are sure to love this pixie.
The Classic Bob with Bangs for Round Faced Women
@absolutelyhair
This classic bob with bangs for round faced women was created by senior stylist Sol Wade of Temecula, CA. "This short length cut is classic and timeless. Black color can be a commitment. You have to know to go into it that it's staying for a long time! This cut is a one-length bob," explains Wade.
Depending on the shape of your face, the texture of your hair, and your realistic desire, you can determine the bob style. "In the photo above, she has a round face. I didn't want to enhance that, so I made sure it was past her chin," she adds.
Product will be your best friend. To keep this cut for a round face shaped perfectly, you have to keep getting it reshaped every 5-6 weeks.
Trendy Angled Bob on Short Hair for Round Faces
@carolineformsalon
This is a blunt, short and slightly angled bob styled with a beach wave. It was created by stylist and co-owner Caroline DeLauder of Towson, MD. It's very easy to achieve and is very flattering on round face shapes.
A short, angled bob haircut is great for most women with a round face shape who want a low maintenance hairstyle. It can easily be worn curly or straight without much effort. If your hair is naturally wavy try a curl cream to enhance the wave and keep the frizz away for your round face.
"If you have a straight hair type, you can blow dry it with a round brush to create volume or a paddle brush to make it sleeker," states DeLauder.
Stylish Asymmetrical Bob for a Chubby Face
@xpanago_hair
Hairstylist Chrisy Panagopoulos of Toronto, ON created this short bob hairstyle that's chic, stylish, and dramatic. "It accentuates the round cheekbones, chin and the neck which are all very sexy features for a woman or younger girl. It's a classic cut with a playful edge and can be worn styled or let your natural texture create its own shape," describes Panagopoulos.
Short cuts for round faces take maintenance, so you'd need frequent cuts to maintain the shape. That's not to say it won't grow out well.
Blonde Long Pixie with Side Swept Bangs
@randa.rivera
A long pixie with side-swept bangs is one of those cuts that are suitable for women with rounder faces. The haircut's short edgy shape is sure to complement the curve of the face. If wanting a fringe, choose side swept bangs. They give a much flattering angle to the face.
Short Wavy Bob for Women with a Round Face
@switch_hair_design
The softness of a short wavy bob with a middle part is sure to match the curve of a face. This hairstyle flatters women with a round face because it has an added height to draw the eyes upwards. The stack and angle in the back also give the illusion of a tighter jawline from the profile. Own such a short haircut if you're looking for a new style to go with your round face.
Choppy Pixie Cut with Long Bangs
@freche.frisuren
A choppy pixie cut with long bangs can flatter round faces. The length was left on top for added movement and softness. This short haircut works well on women with a rounder face who want to put little effort into styling. It may be easy to style, but it demands regular trims to maintain its shape and volume.
Modern Textured Bob for Round Face Shapes
@lindsayshair
Don't be afraid to go extra short this time. Rock this modern textured bob for round faces, and it'll give you that soft, undone edge that's eye-catching. Pair it with a dimensional bronde shade to enhance the texture even more. With all the layers in this chop, it makes an ideal short hair for round faces.
Choppy Bob for Fine Hair
@toriwiget
A neck-length choppy bob for fine hair is one of those flattering hairstyles, with a softer, textured style! It even looks lovelier with subtle brunette babylights to add shimmer. This short hairstyle on a round face does the framing effect better on straight and wavy locks.
Side-Parted Long Bob (Lob) for Round Faces
@hannahkramerhair
This side-parted long bob is a choppy bob, styled with lots of undone texture and airiness. "Style it with a 1.25 inch curling iron and finish it with texture hairspray," says balayage stylist Hannah Kramer of Easton, PA.
"The right amount of movement would compliment/soften round face shapes. If you're wanting a more natural version of this bob, go for a softer shade of copper or opt for a rich brown," she adds.
This length is great for get up and go lifestyles but definitely plays up well when you spend time styling it. Looks great both wavy and straight.
Textured Inverted Bob
@madison.taylor.hair
This textured inverted bob on short hair is sure to flatter your round chubby face shape. It's a perfect variety of the best short hair styles for round faces. The movement within short hairstyles for women like this will bring out extra spice to your dark locks.
This short hair for chubby face shapes is an inverted stacked bob with layers. It was created by hair stylist Madison Taylor of Powell, TN. The stacking in the back adds beautiful shaping. It's perfect for women with thick hair in need of texture.
"Women interested in textured short cuts must be willing to blow dry it for styling purposes," says Taylor. "Doing so will optimize the shape of the bob haircut! Make sure you're comfortable with your chin and neck because they will be more emphasized. However, if you want to leave it longer in the front, that will help offset women with rounder faces," she adds.
Layered Bob for Thick Hair and Round Face Shapes
@dnwluxehair
This layered bob for thick hair is a shaggy boho bob that was created by master colorist and stylist Dana Wexler of Chicago, IL.
"A cutting that measures the head shape to fit the desired outcome was used to create this layered bob.  The hair was prepped with a thermally activated smoothing lotion. Then it was followed by a texture spray that keeps memory in the hair.  This way when you touch those curls they hold their definition and shape," explains Wexler.
Messy, Beach Waves
 @headrushdesigns
This is a slightly stacked lob haircut with beach waves and a little bit of an angle in the front. It has no layers except a messy interior layer. It was created by stylist Julie Holbrook of Ogden, UT.
"This short hairstyle for round faces is great for women who have thick or thin hair with a fine texture," says Holbrook. "It works great straight or curled. There are no layers on top so it's still easy to pull up, but has interior layers so you can still get texture and movement."
For short hair with a round face, you simply adjust where the front pieces hit. This short hair for round face shapes is perfect for women who only wash a few times a week and for women who wash every day!
Cropped Pixie on a Rounded Face
@cabelenka
Get a cropped pixie if you're blessed with a round face shape. It's one of the beautiful short haircuts that's beneficial for women with round faces. This is a neat chop, jazzed up with texture at the top area. It's the textured style that complements and adds a balance to a round face.
Short Neck-Length Bob with Side Part
@mila_kryshchykhina
Such a lovely short hair for chubby faces! This simple neck-length bob for straight hair will make you want so many styles to try. You can flaunt it with waves, braids, or explore a blonde color melt, too! Switch your part then blow your hair dry to achieve instant volume when styling.
Short Shaggy Bob with Volume for Rounder Faces
@shearpulp
When pulling off the short shaggy bob, it always works better on wavy hair texture. It looks much more natural and fun. This shaggy bob cut on short hair has a tousled texture that flatters a rounded face. The curls are what can break up the fullness of the face.
Flattering Cropped Hair for Women Over 60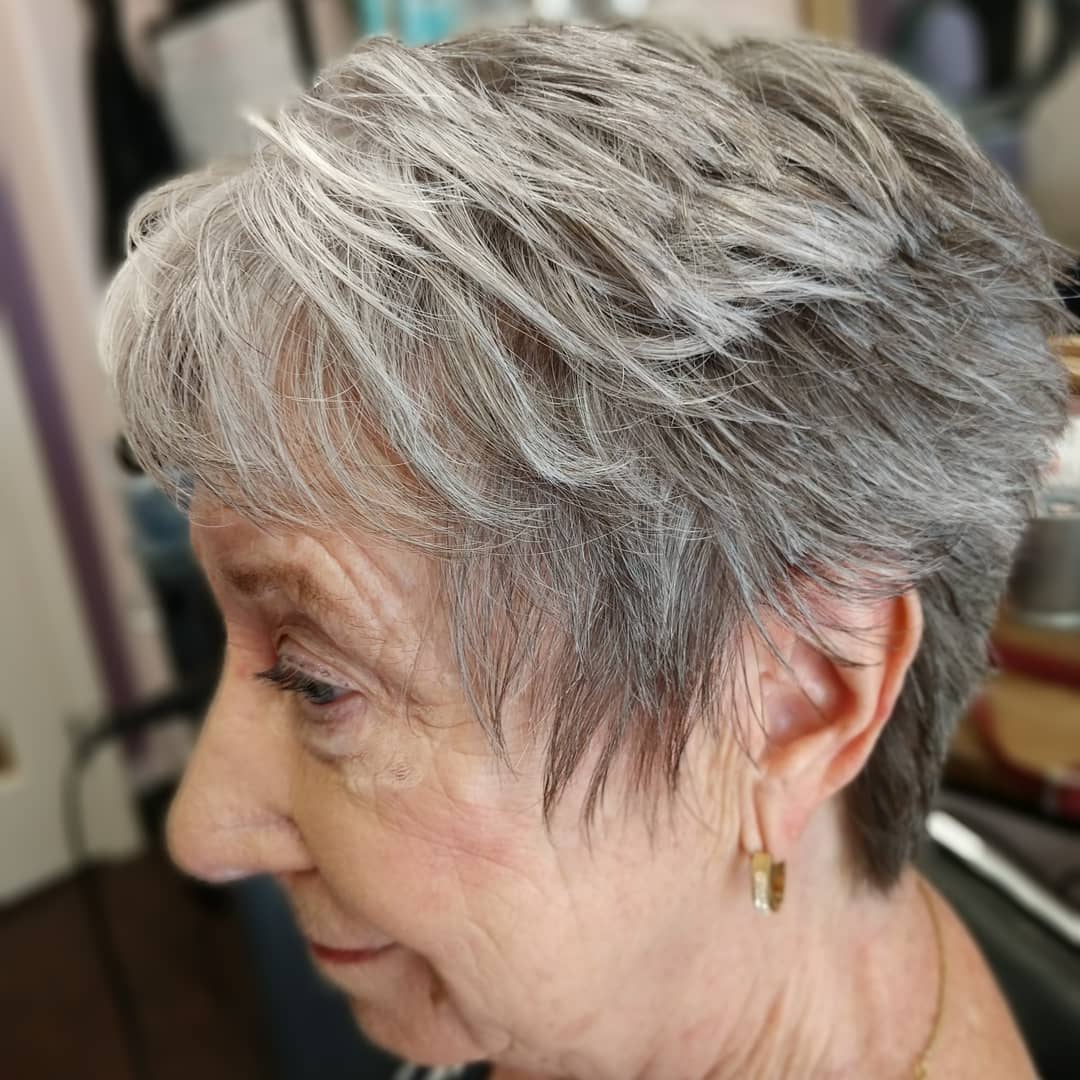 @grayshairstudio
A pixie makes a flattering cropped hairstyle for women over 60 with a round face. This cropped hair for over 60 gals is low-maintenance, and it's sassy looking. It's one of the most popular short and textured hairstyles for round faces and thin hair. If searching for a short haircut for ladies over 60  that's easy to maintain and style, check this one out. It fits the bill!
The Short A-Line Bob
@hairpin_me_down85
The short A-line bob is a dramatic angled cut with low graduation. It's a haircut for a chubby face shape made by Texas-based stylist Emily Hamilton.
Keeping the cut below the chin elongates the face and neck. Hamilton notes that it's a "great length to have versatility with."
One thing to consider about this haircut is the maintenance. Hamilton reminds us, "you'll most likely need to see the hairdresser every 6-8 weeks."
Modern Graduated Bob with Glasses
@emiliebhd
Perfect for a round face, this short haircut that's short at the back and longer at the front has a natural slimming effect and gives dimension to the graduated bob hairstyle. Styling it straight and simple offers that amazing shine that you can easily recreate at home.
Chic Chin-Length Bob for Round Faced Women
@_rhiannonlee_
This textured short cut has a stunning dimension with those choppy ends and rough layers stacked at the back. Opting for a trendy balayage on soft waves makes it easier to maintain and grow out.
A Short Bob with Long Bangs
@salsalhair
A short bob with long bangs and a round face shape is like a match made in heaven. This short bob can make round faces with a double chin appear more oval because of the straight long bangs. Having a jaw-length haircut and fringe can frame the face, balancing out its structure.
This charming pink short bob can make round faces with a double chin appear more oval because of the straight long bangs, while also accentuating the eyes and complementing fair skin.
Textured Pixie with Side-Swept Bangs
@sarahkrook.hairstylist
Master stylist and Davines Ambassador Sarah Krook created this textured pixie with side-swept bangs. With the right amount of texture, the color will pop.
Krook believes good hair products to use are "Bedroom Hair" by Kevin Murphy and "This is a strong dry wax" by Davines.
"This is a great look for women who have a petite face and by adding texture it helps create volume to elongate the face and add height," she adds.
Shorter cuts like this generally need to be done every 5 to 6 weeks. The color is super versatile as the combination of colors works great from spring to winter!