21+ Cutest Short Pixie Haircut Ideas You'll See This Season
Stylish Pixie for Women Over 60
@hairbykellief
This short style is the most stylish ideas for pixie cuts for women over 60! A big thanks to the texture, this short hair offers a classy look that fits your sophistication. This pixie even looks great on older women with glasses. Blonde with babylights is excellent in covering your grey strands on a short haircut, too!
Short Layered Pixie Cut
@hollygirldoeshair
A cute short, layered pixie cut that gives a modern hipster vibe.
Pixie Bob Haircut
@chloenbrown
Chloe has one of the top pixie cuts for this year with the layers, deep side part, grey color and shaved sides.
Shaved Undercut Pixe
@sandra_sinh
Shaved sides on a pixie cut is a top trend this year.
Short & Shaggy Pixie Cut
@sarah_louwho
If you have naturally wavy short hair and find yourself asking "should I get a pixie cut?" A shaggy pixie haircut is is your answer. Shaggy pixie haircuts are a hot style for women who can pull off these charming styles.
Perfect Pixie Cut for Black Women
@kali_atartistry
This is a gorgeous example of a pixie cut for black hair.
Edgy Pixie Cut for Thin Hair
@leahfittsbeautydesign
If you have long hair and are in the process of growing out a pixie cut, then this short style is a great look to start with as you work your way down. Also, check out this comprehensive guide from xojane.
Cute Pixie Cut for a Round Face
@haley_marshall
Another beautiful example for a pixie haircut for a round face and tan skin.
Edgy Cut for A Little Girl
@hair_by_ashb
A little girl no more with this rocking edgy pixie cut with long side-swept bangs. Add a pop of your favorite fashion color for a funky short hair 'do! Pixie haircuts are adorable on little girls because their facial features are dainty at that age.
The Cutest Way to Style a Pixie Cut
@gbhdesign
Q&A with style creator, Giorgio
Hairstylist in Italy
How would you describe this?
It is a very short pixie cut with a smooth shave on the side and nape. In the upper part is a modern bowl with long and short hair.
What's your best advice for it?
Pixie cuts like this aren't for everyone. It is recommended to those with a thin face, and a young and dynamic girl.
Beautiful Blonde Pixie with Long Bangs
@mikaelabalzerhair
Q&A with style creator, Mikaela Balzer
Stylist @ Brian Graham Salon in Minneapolis MN
---
How would you describe this?
A blonde pixie haircut with a fringe is beautiful. It allows softness and movement to the hair and is very versatile for styling. The piecey fringe offers a feeling of length and is able to be worn down, to the side, or pulled back. You can wear this messy or smooth and anywhere in between.
My favorite thing about this short pixie cut is the versatility of the styling. You can keep the fringe down and have a romantic, soft feel, pull it all back creating an edgier look or smooth it all down creating a more polished look. Options are endless!
The blonde adds to the texture and gives the hair dimension which is important for pixie cuts. You are able to see the pieces and the movement. This blonde pixie was done by painting all the hair off of the scalp to keep the dimension of the roots and offer easy outgrowth.
What's your best advice for it?
A shaggy pixie cut like this is suited for most hair types. My model has a medium amount of hair with fine texture. Very coarse, thick hair may want to keep a bit more length to help with styling control. This type of fringe can be worn with all face types and is easy to tailor to your preference while still keeping a pixie feel.
When styling pixie hairstyle use a heat protectant from roots to ends and added a blow-dry activated texture spray. I hand-dried the entire back of the head in the direction I wanted it to lay and added volume at the top by drying the roots upwards. I dried the fringe to the opposite side it was to lay to create soft volume when styled. The pixie was finished with a dry texture spray and some tousling.
Pixies with bangs are so fun and lend themselves to so many styling options, as they can be easily tailored to each person and are a killer way to show off your style.
The Best Pixie with Wispy Bangs
@jasonnash74_
Q&A with style creator, Jason Nash
Haircutting Specialist / Art Director @ Douglas J Salon in Okemos, MI
---
How would you describe this?
This shape of this choppy pixie cut is a soft, classic cut with a little bit of Mariah's personality added to it. I wanted to customize the style to fit Mariah's sensibility and enhance her face shape.
I feel that the hair you wear has to be an extension of you and your personality. A soft cropped cut with just enough texture to allow you to have multiple styling options.
I would have to say my favorite thing about the shape is how well it enhances not only her personality but Mariah's face shape. Let's face it not everyone has an ideal face shape. Liking a hair cut picture is one thing but creating the appropriate lengths and shape which is suitable for the face shape is the difference between a great haircut and a good one.
What's your best advice for it?
I'd really encourage them to make sure they have the right hairdresser for the job. Is your hairdresser a designer or a groomer, there's a big difference.
Someone who understands bone structure and face shape and most importantly, understands who you are as a person.  What's your fashion sense, what's your ideal maintenance schedule, and what are all your needs? As far as products I feel less is more – a light texture cream or soft holding wax's work great for allowing versatility and hold without needing bulletproof hair spray.
Michelle Williams' Pixie Haircut
Source / Gage Skidmore
Just like Katy Perry, Michelle is well known for short hair and this pixie cut short was specifically cut for her late partner, Heath Ledger.
Morena's Blonde Pixie with Bangs
Credit / Gage Skidmore
The beautiful Brazilian-American actress went from dark brown hair to a very bold, short pixie cut with bangs. Blonde pixie cuts are a very statement-making and fashion-forward look.
Metallic Short and Choppy Pixie
@bytonibeckham
Q&A with style creator, Toni Beckham
Senior Technician & Style Director @ Toni & Guy in Cottesloe, Western Australia
---
How would you describe this?
The short choppy pixie cut with bangs is a playful interpretation of an Edie Sedgwick 'it girl ' look, while the color is inspired by modern trends in steels and metallics. I love how strong but effortless the haircut appears.
What's your best advice for it?
This girl's hair is quite thick, so she didn't need a lot of volumizing products. I blow dried the hair smooth, and toward the end blasted label.m Shine Mist through with cold air.
Not everyone can pull off short choppy pixie cuts and keep it feminine. Choose soft shapes if you have strong features.
Be prepared to style your hair daily and really invest in products to maintain style and color. Listen to your hairdresser if they offer good advice and be brave and leave your current one if they offer no ideas.
Shattered Pixie with Choppy Bangs
Amaris Pattynama / Instagram
Style by Amaris Pattynama
Independent Hair Artist in Lake Forest, CA
---
How would you describe this?
I would describe this short hair cut as a shattered pixie-length haircut. There is a lot of texture that helps break apart any solid lines in the hair. I love that she has coarse, straight hair, so it is a fun challenge to structure her hair to appear light and airy.
What's your best advice for it?
I would recommend using a hydrating shampoo and conditioner for coarse hair to help soften the cuticle. For how to style a pixie cut like this, I would recommend a dry wax like Kevin Murphy Rough Rider to add some volume and separate the layers.
Pixie haircuts like this one would work best on someone with an oval face shape. However, anyone with a bold personality can wear it. This haircut is great for those with an active lifestyle or career since it does not take very long to style and there is no need for hair ties!
I highly suggest using social media to find a hairstylist that specializes in cutting short hair pixie cuts. I recommend trimming every six to eight weeks and investing in a good styling product.
Classic, Disconnected Pixie Bob
Michele Sanford / Instagram
Style by Michele Sanford
Stylist & Owner of Boho House Salon in Vero Beach, Fl
---
How would you describe this?
This is a classic disconnected pixie cut. The sides and the back are trimmed much shorter than the top, almost like a chic pompadour. This is a very airy, textured haircut.
What's your best advice for it?
This pixie haircut calls for a styling product with hold that builds a foundation, and a smoothing styling product for the ends. Once dry, use a texture product for hold and style. I highly recommend R&Co Rockaway Salt Spray, R&Co Aircraft Pomade Mousse, and R&CO Continental Wax.
Depending on the hair length, this style works for many face shapes. The pink pastel tones work better on someone with a cool complexion. As for lifestyle and personality, this is for someone who wants their hair to have a lot of movement and life.
It is not the best for those who want a very structured haircut or for every piece to lay exactly the same. The more confident and comfortable you are with a pixie hairdo, the better this will look on you.
Try starting with a slight undercut, layered pixie bob. That look is a nice transition into this haircut! I always feel comfortable cutting this on someone when they are not trying to talk themselves into or out of it. They have to want it to own it!
Disconnected Pixie for Fine Hair
@mellowhair1
Q&A with style creator, Melanie Skeoch
Owner/Hairstylist @ Mellow Hair in St. Catharines Ontario, Canada
---
How would you describe this?
This is a cross between a pixie cut and a disconnected undercut with bangs. It is the perfect combination of cute and feminine, yet still edgy and fun. My favorite thing about this pixie haircut is the undercut, and of course the color. I love icy cool tones!
What's your best advice for it?
For this particular pixie hairstyle, my product of choice to maintain the color is "sterling silver" shampoo (an anti-brass shampoo) by AG.
For styling pixie hairstyles, use KMS Add Volume spray on wet hair. After drying and styling, I finished with Goldwell Unlimitor spray wax to give it some texture.
These kind of pixie haircuts are best suited for someone with a heart shaped, oval or square face. For closely cropped styles like this one, you need to have the right hairline in the back (higher is better). Keep in mind is that it will draw more attention to your facial features. Because of this, some women tend to want to play up their makeup.
If you are considering this type of look, I suggest having a good consultation with your stylist who knows your hair (and you personally) to decide if it's the right choice. Also, with a shorter style like this, you will have to maintain the pixie every four to five weeks.
Dirty Blonde Pixie with Layers
@ladyponyo
Q&A with style creator, Peggie Huang
Hairstylist @ ARROJO Studio in Soho, NYC
---
How would you describe this?
This is a disconnected long pixie with an undercut. It was inspired by a bowl haircut but produced with a razor to give it softness and more texture.
My favorite thing about this short cut is that it's a really playful short hair cut and style. Long pixie cuts can be very versatile, giving you lots of different ways to wear it.
What's your best advice for it?
For styling pixie hairstyles use ARROJO products. Their texture paste and hair cream specifically, which will create the texture and messy hair.
This long pixie haircut will be great for those people who are looking for a cool, edgy, modern, or even a bald kind of look. It is great for straight or wavy textured hair.
Understand that pixie haircuts are a short haircut and it needs higher maintenances. It's a really fun haircut to have!
Super Short Pixie Shag
@annahairdesigns_
Q&A with style creator, Anna Syloucreutz Ojermark
Master Stylist @ The Crazy Arrow Salon in Alamogordo, NM 
---
How would you describe this?
This is a sweet, edgy, and feminine choppy pixie cut. I love the contrast between the short hair on the sides and the longer wavy hair on top. I also colored the hair with dark brown and a hint of metallic violet to give an industrial edge. The combination of the haircut and color come together to create a truly unique look.
What's your best advice for it?
To style this short cut, use K Mousse Bouffant by Kerastase on damp hair then air dry or diffuse to enhance the texture. This mousse will hold the texture well without becoming crunchy. Taming wavy hair is all about the products. Having great products which hold your wave and fight frizz make a night and day difference to the end results. After the hair is dry, add some Kenra Dry Texture Spray to enhance the texture even more.
Pixie haircuts are great for the stylish woman on the go. It's perfect for the busy mom as well. It is an easy, no-fuss style, especially if you have a cool wavy texture! This is a pixie hairstyle that lets you play with your own texture. This pixie will work well with a petite, slimmer face.
This is a low maintenance style, but you must go back to the salon for a clean-up every three to five weeks. Not everyone can pull off this pixie haircut, but if you can, it will make a serious statement!
Curly Pixie for Naturally Curly Hair
Holly Seidel / Instagram
Q&A with Style Creator Holly Seidel
Hairstylist @ Winslow Salon in Kirkland, WA
---
How would you describe this?
This short curly pixie cut is a mix of short and edginess, but also soft and feminine. I love the bits and pieces of the haircut that frame her face and neck.
What's your best advice for it?
I used a pomade mousse from R+Co hair called Aircraft to fingerstyle and air dry. You can use your favorite light pomade or hair wax.
This curly pixie was created for women with naturally cury hair, but can work on anyone with fine to medium texture. It's is very low maintenance because you can simply tousle or air dry it. It will look best on oval or square shaped faces and with any skin tone.
Keep in mind curly pixie cuts are shaved to the natural texture, so be open-minded about your texture and how your hair falls. That's what makes it special and personal for your curly hair and your style!
Gorgeous Grey Pixie for Older Women
Ceairra Kopcheck / Instagram
Q&A with Style Creator Ceairra Kopcheck
Hairstylist @ Mane Tame in Arizona
---
How would you describe this?
This pixie cut an edgy look with some sass, depending on how you want to wear it. You can wear this slicked to the side for a more formal look, or textured and messy for an everyday style. I love this short hair look because it is very versatile and I truly feel like anyone can rock it.
What's your best advice for it?
I recommend a texture spray/workable hairspray and a pomade. To create this short hairstyle, I used Kenra Professional Texture Spray and Layrite Original Pomade.
This short hairstyle for older women also works for women of all ages. I have seen platinum on so many skin types and I think it looks beautiful on everyone. This is great for someone that wants something they can maintain easily while still wanting to be able to style for different occasions.
The best tip for this short pixie is to use products! A lot of times I see people getting frustrated because their style never looks the same as when they left the salon, but they aren't taking the time to use what's right for their hair! Don't be scared to try different things and always start with a small amount of product and add more if needed.
Razor Cut Pixie with Long Bangs
Carly Rae Coady / Instagram
Q&A with Style Creator Carly Rae Coady
Hairstylist @ Harlow Salon in Nashville, TN
---
How would you describe this?
This pixie screams edgy and feminine at the same time. What's great about this haircut is that it has the strength of modern short pixie cuts, but the versatility and softness through the top to allow the client to style many ways. The copper shade pairs well with the strength that is in redheads, but at the same time, they (to me) represent all that is unique in beauty.
What's your best advice for it?
I definitely love any type of texture, ESPECIALLY in a short look, so I love to cocktail Bed Head's Joyride Powder Balm with Sfactor Creamy Molding Wax to create soft control and to allow the manipulation of the hair working from roots to ends. I used TIGI Copyright Color for the red. From my experience their longevity for red hair color is unparalleled.
Oval or elongated face shapes work best for pixie haircuts like this one, as it does not lengthen the appearance of the face. If you're into effortless style, this is perfect for you because you can let it dry naturally or have a quick blow dry and go with the right product. Copper tones are best on naturally warm toned skin, so if you're on the cooler side, a cooler red may work best!
This short cut is all about that strength but at the same time, effortless style. Embrace that and run with it! Be willing to play with the product as your main styling tool.
Edgy & Chic Short Wavy Pixie
@hdbywhitney
Q&A with style creator, Whitney Green
Hairstylist @ Warren Tricomi in New York, NY
---
How would you describe this?
Short pixie cuts can be edgy and chic style. What I love about this hairstyle is that anyone can rock this pixie haircut, you just have to have self-confidence, rock it and own it.
What's your best advice for it?
With the correct haircut, a strong firm pomade and a little oil serum combo will easily achieve this pixie haircut. Don't forget to add your stronghold hairspray as well for the finishing touch.
Now many people may say this pixie haircut is not made for certain face shapes, skin tones, etc., but I believe this wavy pixie hairstyle is multicultural that can really create a whole new look for someone. Another cool thing about this hairstyle is that if done properly, it can be worn both in the nightclub or in the office. It covers all the bases!
Short hair does require more maintenance. In order to keep this look looking fresh and chic, just be prepared to visit your hairstylist at least once a month.
Unique Long Layered Pixie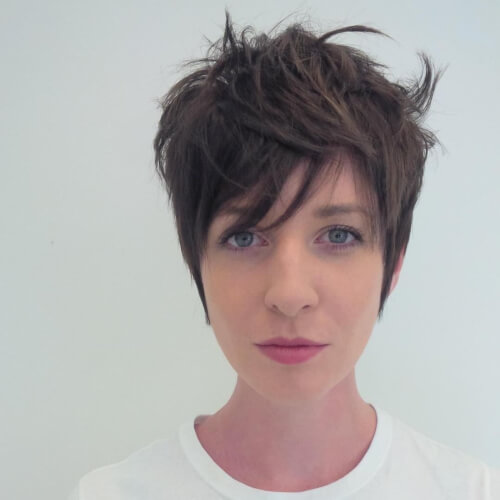 @wwesleyjohn
Q&A with style creator, Wesley Hanlon
Creative Director @ Sassoon Salon and Academy in Toronto, Canada
---
How would you describe this?
This short pixie has a rounded, head-hugging shape. The great thing about it is that the short layers through the top are different lengths. This creates movement and a lot of texture, which is what I love most about it.
What's your best advice for it?
I used Craft Clay from Sebastian which gives lots of texture and separation. You can also finish with a bit of light dry hairspray to hold the look.
Any women with confidence can pull off short pixie haircuts. The haircut can work well on straight or wavy hair textures. The color is just hints of warm highlights to add even more texture.
If you're ready for short hair and your hair type is similar to this model, go for it.
Long Pixie with Side Swept Bangs
Q&A with Style Creator Vanessa Williamson
Hairstylist @ Rendezvous Hair Salon in Columbus, OH
---
How would you describe this?
Long pixie cuts can be short hairstyles that are not only professional but extremely low maintenance. My favorite thing about it is the versatility. It has enough length in the front to be worn to the side, in a pompadour, wavy, or without any styling at all. This pixie hairstyle makes it incredibly attractive for women for all of these factors.
What's your best advice for it?
I try to live by the rule that most styles can be created by only using three products. For this particular long pixie haircut, I used Kenra Blow Dry Spray to protect from heat and reduce drying time in half. It also leaves the hair shiny and manageable. The second product that I used for this pixie haircut is Moroccanoil Light. I used this so that the client's hair would not only feel like silk, but also to help treat her lightened hair from the inside out. The third product that I used was Moroccanoil Dry Texture Spray. This is my HOLY GRAIL of texture products. It isn't heavy, it leaves beautiful texture in the hair, and it smells divine!
A long pixie haircut amazing on many different types of women. My entire philosophy as a stylist is to empower each woman to be the most confident version of themselves, period. That is all this style requires. Confidence! It does not matter your hair type, face shape, skin tone or lifestyle.
Make sure to always book in advance so you can be in the salon every four to five weeks to maintain! Other than that, be prepared for the endless compliments that it receives.
Androgynous Pixie for Thick Hair
@hollygirldoeshair
Q&A with Style Creator Holly Seidel
Hairstylist @ Winslow Salon in Kirkland, WA
---
How would you describe this?
This is a boyish or androgynous pixie haircut on thick hair.  I love this little cute pixie! It's cut with a longer, very texturized top. You can wear this with side-parted bangs around the face or all slicked back and up for a "borrowed from the boys" or tomboy look.
What's your best advice for it?
I would recommend a product with hold and definition. Rock Hard Gel (although feels like more of a cream) from Oribe is great for this style.
This short pixie hairstyle actually works very well on medium to pretty thick hair. Straight to slightly wavy hair will work best for this style as it's meant for very little styling. This style will show off your face and features and works great for many different face shapes. Any lifestyle works as pixie cuts go between edgy/trendy to conservative, depending on how you style it!
Going short can be scary the first time, so if you are considering this cute pixie cut make sure you are ready to let go and trust your stylist to create the perfect look. The more confident you are in your hairdresser, the better your result will be!
Pastel Pixie
@elissawolfe
Q&A with Style Creator Elissa Wolfe
Hairstylist @ Axis Hair Salons in Vancouver, BC
---
How would you describe this?
This is a smokey pastel on a long pixie cut. I love these types of pixie cuts because there is so much movement in the color and the longer layers on top. I think this is the most versatile a shorter crop can be and have some fun color too!
What's your best advice for it?
I used Joico Metallics to make the pastels, but any direct dye or semi-permanent color mixed with conditioner will do! I recommend some volumizer before blow drying for movement and then a texturizer to mess up the layers once dry.
Fine to medium density hair is great for this short style! Any skin tone can wear these colors because of the metallic undertone to the pastels. They compliment all skin types! I think this pixie definitely requires a strong personality to pull off the statement both the cut and color makes. It's fun but still professional, so any woman can pull these pixie hairstyles off going to school, the office or anywhere!
I recommend doing a hair strand test before trying to create these pastels as they require a lot of lightening first. A good, clean blonde base will allow for these pastels! If you're wanting to have chopped hair, make sure you go for maximum versatility. Keep length in the front and on top to give pixie hairstyles lots of styling options.