35 Stunning Short Layered Hairstyles & Haircuts You Should Try
Fun Short Layered Hair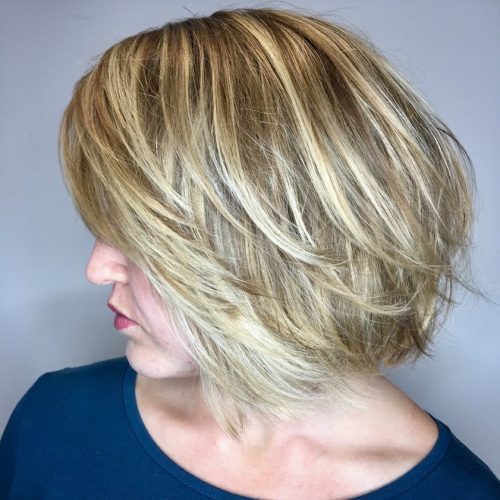 @camillepiatthair
Styling easy short hairstyles with layers have never been so exciting! Here's a fun bob for short layered hair perfect for your joyous mood. It's the jaw-length chop, creating movement and uplifts the dimension of your blonde locks. The swept and tousled layers effect also forms the illusion of weightlessness.
Short Shag with Feathered Layers
@salonosostyle
A short shag with feathered layers is what you need if you love undone volume. The feather-like layers on a short shag will pump up the volume in your hair. While this may need a little bit of volumizing mousse to get some hold, the soft, messy shape is super flattering on mature women.
Pixie with Top Layer Platinum Balayage
@buzzcutfeedgold
What's a better mix than a pixie with top-layer platinum balayage? Pixies are a striking haircut, but throwing on a platinum shade takes the hair to another level. Having a longer layered top means you can be creative with styling and mix up your looks each day. Also, keeping it disconnected so the sides can be tapered short still radiates a feminine feel.
Short Layered Blunt Bob with Blunt Ends
@yukistylist
Having a short layered blunt bob with blunt ends is great for straighter hair types who yearn for some texture. The blunt ends also work perfectly with finer hair to ensure there's a structure in length. The layers add a soft movement, which enhances the life in your hair. This also works great for those who love an effortless, undone style.
Short Hair with Wispy Layers
@summerevansstudio
Effortless short hair with wispy layers is the perfect undone hair. While the length of the bob is kept blunt for fullness, enhancing the shape with some soft wispy layers adds texture and flow to the style. Try a little Aveda Shampure Dry Shampoo in your hair once styled to get a stunning lived-in effect.
Trendy Short Layered Cut
@caitycaatt
The sweeping layers of this short layered bob with a side part make it incredibly wearable for most women.
Modern Pixie with Hidden Undercut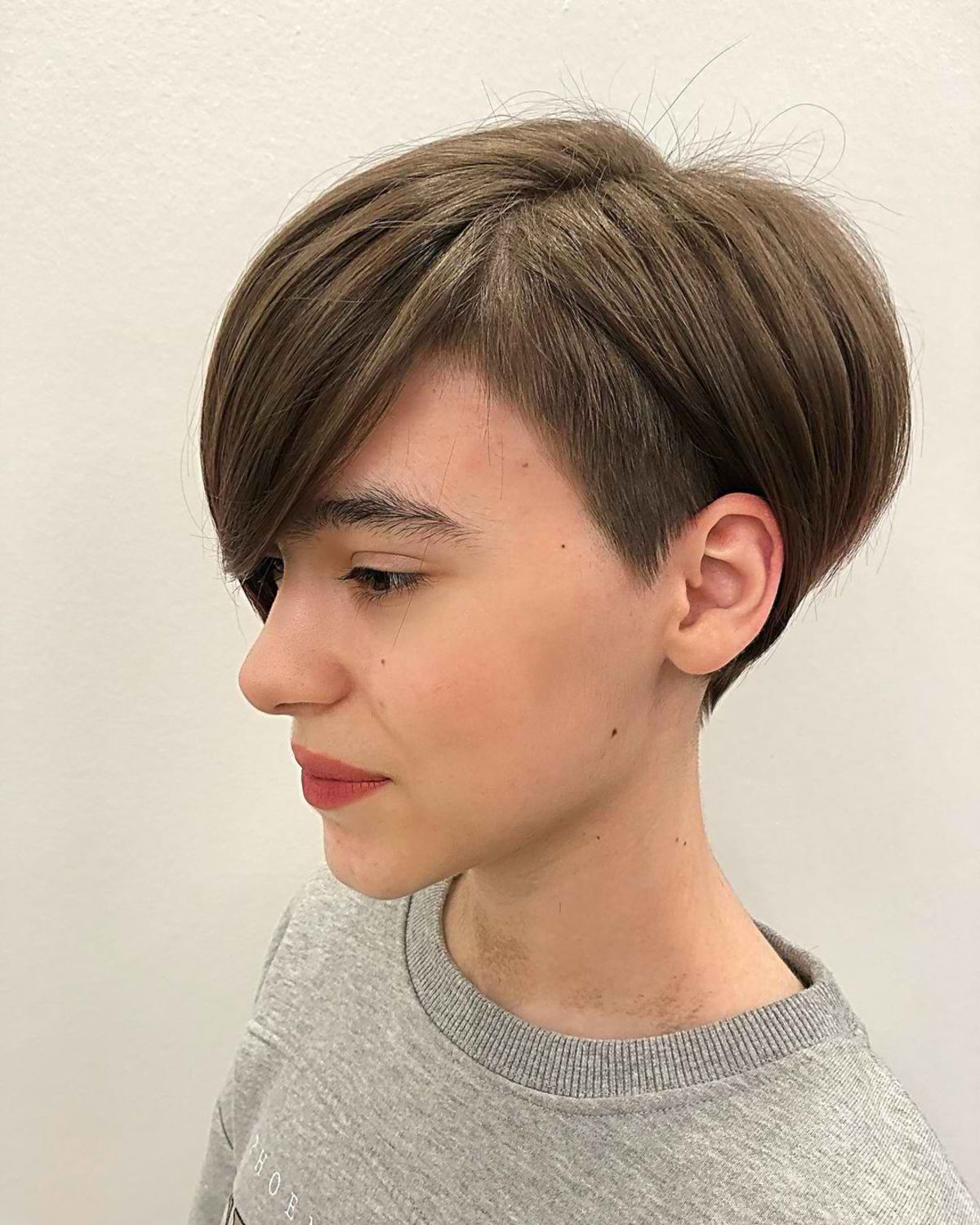 @wuzzupkarry
A modern pixie with a hidden undercut for straight hair is a great option for a short pixie. Short layered hairstyles for women create a modern pixie cut with layers that can volumize thin hair.
Layered and Textured Short Shag for Thick Hair
@mattyhairdresser
This jaw-length cut is a short shaggy haircut with lots of layers. It was created by hair dresser Matthew Ortiz of Carmel, CA. The shape is effortless and beachy, and this short cut is very versatile and can be worn smooth or with texture.
For styling, Ortiz says, "I always start with good shampoo and conditioners like Davines Minu shampoo and Minu conditioner. Spray Minu leave-in conditioner on zone 2 (midshaft) and zone 3 (ends). It makes the layered hair very shiny and frizz-free. Blow-dry with your hands, then use Davines Sea Salt Spray to finish."
Short layered haircuts like this are great for medium to thick hair. It's perfect for women who don't want to spend a lot of time styling. Adding more of the top layers of your hair will help with the shape. Short shag haircuts can work for many face shapes, especially round and oval.
Layered Pixie Bob Cut with Side Bangs
@nikitenko_elen_
A short layered pixie bob cut with side bangs has volume built onto the crown. Short layered bob hairstyles like this have a little bit of a charm with feathered side-swept bangs. To finish off the short cut, try R+Co Trophy shine and texture spray.
Undercut Long Pixie
@nadiachatshair
This undercut long pixie that's layered was created by master stylist Nadia Elias of Canada. "I love how edgy and fun all of the texture created sits above a very visible shaved area. Short cut with layers like this makes such a bold statement," says Elias.
This razored pixie is great for women who have a lot of hair to manage. Thick layered hair has the tendency to look puffy and big when shorter, and this cut eliminates that problem by removing all the weight from the bottom of the head.
This saves a woman with thick hair a ton of time getting ready in the morning and gives an airy effect that thick hair can almost never achieve! "If you have thick hair, definitely try short layered hairstyles," she adds.
Flippy Short Layers
@frizerskisalontanjavodopivec
Flippy short layers are a great way to get lots of movement and width into your hair. This cut works best on medium/fine hair. Short hair cuts with layering keep fullness in the base but allow more layering to give a flippy effect. The short haircut with short layers does require some styling. Try using a medium round brush to curl the hair under the brush when blow-drying.
Chin-Length Stacked Bob for Fine Hair
@charisetucker
"My favorite thing about this textured, short layered stacked bob is that it gives a very stylish look while still giving a lot of versatility with all the layered textures," says stylist and certified balayage and extension specialist Charise Tucker of Tustin, CA. "I also love how adding the blonde balayage lowlights brings out all the layers and adds depth to her short blonde hair."
To recreate this short layered hairstyle, Tucker would use Kerastase VIP Spray to give it volume with a little bit of grip. "Finish it with L'Oréal Architecture to give it separation and highlight all the layered hair textures," she adds.
This chin-length, short layered bob cut is for women who like a natural, undone look and who don't spend too much time styling their layered hair. The less this style is worked, the better. All the beauty comes from the natural look of all the texture in the layers while still keeping a polished style of the short bobs angle.
A cropped layered cut on short hair is great for women with fine to medium hair to keep the weightless look of the shorter layers.
Trendy Short Layered Hair Back View
@_hairbysandra
The back view of this a-line, graduated bob with short layers is trendy yet sophisticated. It was created by hairstylist Sandra Torres of Pasco, WA. "The best thing about this short layered hair is that you can really customize this overall bob to your preference.," says Torres.
Try Plumping Shampoo and Conditioner set by Kevin Murphy, as well as the Plumping Leave-in Treatment. Spray at the roots right before round brushing. After the hair is dry, use the Powder Puff Volumizing Powder and top it with Shimmer Me Blonde oil spray.
Torres recommends this look to women that don't mind more high maintenance haircuts, women that already style their short hair every day, and that don't mind using products in their hair. "Straight to wavy medium hair with an oval face is ideal, but a woman with a more round face shape could keep more length at the front to help elongate the face," she adds.
Flirty A-Line Cut with Short Layers
@carolynrosecina
This short bob with short layers was created by hairdresser Carolyn Cina of Millbrook, NY.
For this style, Cina suggests using Paul Mitchell Sculpting Foam, Super Skinny and Mirror Smooth Primer. "I blew the hair dry and then went in and created the waves using a smoothing iron. When creating the waves, I used Paul Mitchell Neuro Style-Protect as a heat protecter and Paul Mitchell Worked Up as my working spray," she explains.
The layered hair itself gives the look a lot of texture and movement without the layers being heavy.
Get Up and Go Pixie Cut
@ms_getyourhairdone
This layered pixie cut with side-swept bangs is an easy, free-flowing, get up and go kind of look. It was created by hairstylist and salon owner Phea Monea of St. Louis, MO.
This look with fringe does not require a lot of product. Monea recommends Argan Oil and a little holding spray if needed.
"I recommend this look for heart-shaped or even oval-shaped faces. Short layered hairdos are definitely a style for women who don't have a lot of prep time in the morning," she adds.
Bold Short Layered Hair
@shmoakin_hair
Bold short layered hair is perfect for women who have thick hair. The layers on short hair can help to soften the image, removing the feeling of "weight" and giving more movement to it.
Messy Layered Stack Cut
@hairwizardiva
Senior stylist Lauren Gray of Midlothian, VA created this modernized stacked and texturized bob for layered hair. "This short and layered hair cut feels so on-trend with its unstructured and messy workable texture creating beach wavy hair. The best thing about this cut is the edgy disconnected layered hair," explains Gray.
Once dry, mist the hair with Davines No Gas Hairspray and comb through before creating flat iron waves. "No Gas provides heat protection and all-day hold for your waves," she adds. "Then use Davines Invisible Serum (which is a weightless cream) to piece out and define the layered hair waves and calm any frizz."
Layered Shaggy Bob Hairstyle
@shmoakin_hair
A layered shaggy bob hairstyle is an effortless cut that's easy to style and maintain. Layered and short shaggy bobs have soft interior layers that will still show off the full tresses, but not remove any visible length. To style short layered cuts, try Haze by Evo – just add one or two pumps and rub into the hair to create texture within this short hairstyle.
Black Short Feathered Bob
@sierrashear
Stylist Sierra Shear of North Charleston, SC created this short feathered bob with layers. "This short length hair is a great protective style for women with medium to long hair and takes no more than 90 minutes for full installation," she explains.
Shear says the best thing about this layered style is since your hair is protected, it can be curled/manipulated as much as necessary and there is no heat damage to your natural tresses!
"To recreate and/or maintain this look, simply curl with a 1 1/2-inch curler or flat iron along with a rattail comb. It may be necessary to sleep with a satin cap if your pillowcase is not satin," says Shear.
This look is great for the get-up-and-go black woman with layered hair!
Brown Layered Feathered Bob
@cabelosfhabioribeiro
A brown layered feathered bob is a short layered haircut and perfect for fullness and medium density. Throw in a heavy part on one side and some feathered layers that lay away from the face to give cute short hairstyles a soft sweeping style. Hold it in place with a little medium-hold hairspray and you're good to go.
Graduated Bob with Blonde Highlights
@elysse_northernbeaches_hair
Short hair styles can look like a graduated bob with blonde highlights, which is a versatile look that can suit any woman of any age or style. This one was created by hairdresser Elysse Bornstein of Sydney, AU.
"For a more mature age group, the style can be blow-dried into a round shape to give the effect of a short, sleek style that has been shaped and doesn't require much styling. It's a fun, modern style that allows the layered hair to feel full," explains Bornstein.
For styling, products to use include Kevin Murphy's Anti.Gravity spray when wet to lift the roots. Bornstein also recommends Kevin Murphy's Young.Again oil on the ends and blow dry it in.
The layered short hair is incredibly versatile and can be used on any hair type.
"The style works miracles for ladies with fine hair. As the layered hair is cut into from the back and angled, it creates the effect of thicker hair on the top, creating a more full look rather than long and stringy," she adds.
Wavy Choppy Bob with Undercut
@verosainzpeluqueria
If you are looking for a short layered cut, consider a wavy choppy bob with an undercut. Undercuts are a dramatic style and can be cut shaved or left a bit longer for a softer look. The layered waves in the top portion add movement. This super stylish cut would look great on women of any age group, just determine how bold you would like the undercut to be.
Layered Ombre Bob with Beachy Waves
@bohemianbeautystudio
Try a layered ombre bob with beachy waves if you have fine hair and want texture and pops of brightness throughout. The lighter pieces will create instant texture while layers create movement and body, and the illusion of thicker, fuller hair. To protect the hair, prep hair with a good heat protectant such as It's a 10 with Keratin.
Cute Layered Pixie with Bangs for Over 50
@hairbyloristephens
A cute layered pixie with bangs for over 50 is a great option for short hair with layers. Short layered haircuts are excellent at softening the look, creating a pixie with bangs that is easily stylized.
Broken Layered Curls
@caseyg.westendsalonboulder
This short and layered hairstyle is the broken curls with the layered bob. "You wear this cut smooth and sleek, or in broken curls with a light wave to it," says hair designer Casey Goldsworthy of Boulder, CO.
"The best way to recreate this look is to use Bedroom.Hair from Kevin Murphy," says Goldsworthy. "It is a moveable wax spray that works as a spray without the stick."
Textured Layered Hair for Women Over 60
@liberatedhair
"Layered short haircuts for women in their 60s like this can be casual or formal," says senior stylist Sandra Matesic of Sydney, AU.
Matesic suggests Mister Fantastic by Evo for styling. "Used on wet hair, it adds hold and thermal protection. I also reapply it on dry hair to create texture and shine," she explains.
This style is best blow-dried in the opposite direction to how the hair naturally falls to increase the volume and texture.
This style is ideal for women with a round face. "Swept-back off the face, it's great for women who don't like their hair to fall on their face. I would not recommend this for fine hair as it removes a lot of bulk from the hair," adds Matesic.
Easy Layered Angled Bob for Straight Hair
@missionsmaneattraction
This is a short layered cut that is angled and slightly longer layers in the front. It was created by California-based hairstylist Marcia Omar. "I love that it's a modern take on the classic layered bob hairstyles for short hair and that it's versatile," she states.
Apply a bit of Moroccan oil to prep the hair and give it heat protection. Then use Paul Mitchell's Sculpting Foam to give it a bit of volume with the blow dry. Use a medium round brush and over directed the top to create lift at the crown.
This is an easy, low maintenance layered haircut for short hair. It works for all ages but is especially great for ladies in their 20s-50s. "You can play with the styling to make it age-appropriate. It's a trendy but still a very classic style for layered hair," adds Omar.
Fun & Creative Short Layered Hair
@rodrigues_ricardo
Creative short hair with layers is never out of style. Short-length hairstyles with layers are beautiful on all face shapes, the added choppy layers just make it more fun!
Slightly Angled Layered Hair with Dark Balayage
@stylist.katricecondon
This slightly angled layered bob hairstyle with texture was created by stylist Katrice Condon of Fayetteville, NC.
The dark color is a deep brown with an auburn balayage color. "With your hair at an angle, it shows off more dimension," says Condon.
Use a curling iron to create a slight wave to make it playful and show off the short hair with long layers and dimensions. Use Oribe Apres Beach Wave Spray on the outside and Oribe Dry Texturizing spray at the roots to give your hair body.
This look is extremely versatile for most hair types and face shapes. It's is an effortless style that doesn't require a lot of maintenance, so it's great for women on the go or for women that don't like to spend a lot of time fixing their hair.
Soft Layered Bob
@keelyreedhair
Master stylist Keely Reed of Nashville, TN created this soft layered bob. It has everything that people love about a bob without the harsh lines.
"I love how versatile short hair with layers can be," says Reed. "It can be styled flirty and wavy as in this photo, but can also be worn sleek and smooth."
To recreate this look, you definitely want to start with a light mousse like Redkin Aerate. Use a 3/4-inch iron to curl strands away from the face, leaving the ends out to give it more of a wave look.
"I did a little backcombing in the crown with Big Sexy What a Tease spray. Finish the look with a light to medium spray like Big Sexy Spray and Play or Kenra's medium hold hairspray," says Reed.
This cut also works with any face shape. Your stylist can customize the type of layering to what your face shape needs.
Very Short Disconnected Haircut with Layers
@kelliannmason
This conservative disconnected short layered hair cut was created by owner and stylist Kelli Mason of Midland, MI.
For styling a very short cut, Mason suggests using Eufora Beautifying Elixers, as well as the Bodifying shampoo and conditioner to help moisturize and add volume. "The Eufora Elixer 1 leave-in treatment is a miracle for prelightened short hair! To finish, I love Eufora Boost for volume and Piece Works for a flexible molded hold," she adds.
This is one of the best and easy hairstyles for a more skinny texture of layered hair as it appears more voluminous styled up on top of the head.
Textured + Layered Inverted Bob
@hairbyquincy
This is a very textured and layered inverted bob on short hair with a subtle angle and lots of layers and movement. It was created by Seattle-based hairstylist Quincy Mate. "It's been styled to have messy loose waves to highlight the textured layers. The best thing about this short inverted bob is how low maintenance it is and the effortless, 'woke up like this' look," says Mate.
Texturizing products are key to recreate this look. Use a sea salt spray on damp hair before blow drying or air drying. If the hair doesn't have a natural wave, use a flat iron or curling iron to add some bend to the hair.
Short hair that has layers and is medium in texture and density is best for this cut. It works for any face shape, but adjusting the cut to have a steeper angle will be more slimming for rounder faces.
Classy Textured Bob with Volume on Top
@mckennashair
This textured short haircut with layers is classic and sassy with an ombre. It was created by cosmetologist Catherine Randa of Brookfield, WI. "You can wear this look sleek or with lots of layered volume as it provides you with lots of movement," says Randa.
When it comes to layers with short hair, it is important to use products that provide flexible hold. Before blow drying,  use Pureology Clean Volume Levitation Mist and Clean Volume Weightless Mousse. This combination gives you heat protection and fullness without getting sticky.
"Short hair with layers looks gorgeous on ladies with strong cheekbones. The cut works best on fine to medium textures, but can be personalized to any texture. Expect to spend some time styling in the morning," Randa explains.
Straight Layered Bob with Bangs
@hairbyhavana
Hair designer Elena Monzon of New York, NY created this straight, short and layered haircut that's very trendy. "I love its short choppy layers, soft lines and flirty movement," says Monzon.
"To maintain a smooth finish, use Savannah leave-in conditioner two inches from scalp. Also, use a large barrel brush to smooth and straighten. This heavy leave-in conditioner keeps flyways at bay and adds needed protection for flat iron heat," explains Monzon.
This layered bob with bangs hairstyle is a classic with a twist by adding layers.
Triangular Graduated Bob with Layers
@aaronscottlacy
This is a short, layered graduated bob with a triangular shape that complements the bone structure. It was created by artist and educator Aaron Scott Lacy of San Diego, CA.
A very short blunt bob is a classic haircut that meets the modern aesthetic with the layers.
"I used the no.4 Blow Dry Lotion and a wrap drying technique with the Vess 9 Row ceramic brush to smooth her layers while maintaining natural volume that required minimal iron work. I followed with the no.4 Fluoro5 Elixer Restore & Repair Oil to give a polished finish," explains Lacy.
Lacy recommends this short layered hair with bangs for women that want to be bold, are self-confident, and refined in their sense of style. "It's ideal for the woman who prefers sleek over disheveled. A triangular shape is generally complementary to the face and this cut works especially well with medium/fine hair texture because it builds weight rather than remove it," he adds.