21 Stunning Silver Blonde Hair Colors
Platinum Silver-Blonde Balayage
@danielleodhair
A platinum silver-blonde color never fails to create a high-fashion hair trend. Its solid silver color has a cooler tone that makes an ideal pairing for long, beachy waves. To achieve this beauty, a full balayage, root melt, and babylights must be done correctly.
Silver Blonde with Pink Tones
@tmi.mirkkalappalainen
A silver-blonde with pink tones is the perfect blend of warm and cool while creating a pearl-like finish. You can pre-tone with a violet shampoo and then add a pretty warm pearl toner to the hair. You will need to maintain this color every 4-6 weeks max to keep looking fresh. Looks beautiful with lighter skin tones and is easiest to maintain with a natural 7+ base.
White Silver Blonde Shade for Women Over 60
@thehendrixhairexperience
White silver is a stunning blonde shade but especially for women over 60. If you're not 100 percent grey and much of your hair is dark, go more dramatic with bright silver tones.
Silver-Blonde Ombre
@dianaduran1515
Explore two colors in one with a darker silver-blonde ombre color, especially if you have long, lengthy hair. Stylist Diana saved the day by adding a deep balayage of silver to blonde locks. Keeping the roots dark can make this color slightly low-maintenance. Try this trend and let's add spice to your natural hair color!
Dark Silver-Blonde Hair Color
@hairbydreaaaaa
A dark silver-blonde makes a radiant gray-platinum hair color. It offers an ashy tone that flatters neutral skin complexions. Styling hair with heat can make the color dull, so always use a heat protectant and it will keep its glossy finish.
Silver Balayage
@pracowniahairstylistno
A silver balayage on long, wavy hair? Oh, that's aesthetically pleasing! The movement adds shine, texture, and dimension to this hair's silvery color. It's perfect for fine hair!
But, if the tresses are thicker than usual, ask for darker roots on the mid-lengths and ends to create depth, and to break up the thickness of the locks.
Dark Blonde with Silver Highlights
@beautybyjordyy
Get the effect of fading hair color with platinum highlights on deep blonde hair. Colorist Jordan did an amazing job of this low-maintenance color combination. The tones create a dirty blonde hair dimension with its warm hue that looks super pretty during summer.
Silver Highlights on Blonde Hair
@herostyle2003
Silver highlights on blonde hair add creaminess to the look. The finer the silver highlights are, the more natural they turn out to be. Most ladies can definitely pull this off. It's a nice alternative for women who want to experiment with blonde locks the first time.
Silver-Blonde with Dark Roots
@hairbydarcy
This pale silver-blonde with dark roots is a cool, grey, silverish tone with a dark root smudge. It was created by hair therapist Darcy Carpentier of San Pedro, CA.
If you're considering this blonde, Carpentier wants you to understand that it's a very high-maintenance color. "It's an investment in your time and your bank account. This is a 5-hour hair appointment, every 2-3 months," she notes.
"Use of proper and professional shampoo, deep conditioning, and styling products," she explains. "Consistent trims and deep conditioning treatments. This look fits all ages and lifestyles. Older ladies, this is a great color to blend your current natural grey hair."
Platinum Silvery Blonde
@brushedtoblonde
This is a platinum silvery blonde hair color that features a soft melting effect. The darker roots are what intensifies the white-blonde hue. Opt for this trend if you're inspired by Lady Gaga's iconic pale silver color, and want to play with a different shade of blonde.
Icy Silver
@jeffreyrobert_
An icy silver-blonde hair color that's worth trying! This combination of bright silver and cool blonde shades has a cool, smokey tone that complements fair and warm skin complexions. Edgy, chic, and sophisticated—this works on any woman, no matter what vibe she's going for.
Soft Silver-Blonde
@beautybyashleywalls
"This soft silver-blonde is a perfect icy blonde. It has dimension to give it movement and contrast with a textured medium-length haircut," says stylist Ashley Walls of Scranton, PA.
"If you are looking into getting one of these silvery-blonde hair ideas, please know that it will take time but the time will be very much worth it," says Walls. "Depending on the color of your hair at the start, it could take multiple blonding appointments every 6 weeks. It will be best treated with a purple shampoo once a week. Then use a very hydrating shampoo and conditioner for the rest of the week."
Walls goes on to say, "products are super important with blondes so we can keep your hair as healthy as possible. Once you have reached your goal color, a toner every 4-6 weeks will do the job and then retouches as needed. It is perfect for women who love to get pampered in the chair often."
Silver-Blonde Highlights on a Dark Brown Base
@kimwasabi
These silver-blonde highlights on a dark brown base have a dimensional silver smoke look. They were created by hairstylist Kim Pham of Newark, CA.
"This is one of the most high-maintenance hair colors as far as blonde color goes because the shade is so delicate," explains Pham. "This color was achieved using the tease foilayage technique. This is where all the dimensions blend with lots of lightener concentrates on the lower half of the hair."
The dark hair color then has to be lifted very light and rid of any yellow underlying pigment for the silver to take.
"First, you will spend at least 8 hours in the stylist's chair, sometimes more depending on the hair history. You also need to be willing to spend $500 and more for the session/sessions," she notes.
Pham continues, "since the hair has to be lifted very light, the hair is depleted from its natural nutrients and moisture. Therefore the hair has to be treated regularly with some sort of bond builder or collagen."
To maintain the longevity of this brown hair's pastel color on the cooler silver side, less shampooing is best.  Use a color-safe shampoo.  Shampooing once or twice a week is recommended. Dry shampoo will be your best friend.
Silver Ash Blonde
@createdby.el
Choose this silver ash blonde as your next hair goal. You won't regret it. Shades of ash-blonde like this can be pulled off with a short bob or long haircut.
When considering this look, it's a commitment to take steps to get the desired color. It also takes time and effort to go through all the maintenance to keep an ashy tone. Stylists recommend Redken Blondage shampoo to protect its silver hue.
Blonde and Silver Hair with Braids
@himeshair
Blonde and silver hair with braids makes a fun and flirty style for long tresses. It's a textured half-updo made by Texas-based stylist Brooke Himes.
The bright hair color is a show-stopper, especially when partnered with such a style. "I curled the hair, wrapping it around my 1-inch Paul Mitchell curling iron. I left an inch out at the bottom for a more beachy curl," says Himes.
Silver Blonde Pixie for Women Over 70
@leonarobinsonhairartist
The silver-blonde pixie for women over 70 is great for most face shapes and requires minimal styling. Leona Robinson, a stylist from New Zealand, finds it very suitable for super fine and even curly hair.
"I got the feathery look on the neckline by personalizing and assessing it section by section. I kept some length in the crown and top, eliminating the bulk in the sides. This makes the top appear fuller," she explains.
Icy Silver Pixie Hair for Women Over 50
@estrellasalonstudio
Icy silver pixie hair for women over 50 is a short-length cut with a forward swept front and short layers. Arizona-based stylist Miranda Denman suggests this chop is for women with thinning hair.
"This was created using a straight razor to shorten and texturize the areas where the hair is thicker. The longer parts of the haircut were cut with shears. This resulted to blunt ends where I wanted to create fullness," Denman points out.
Short Silver Blonde Bob for Older Women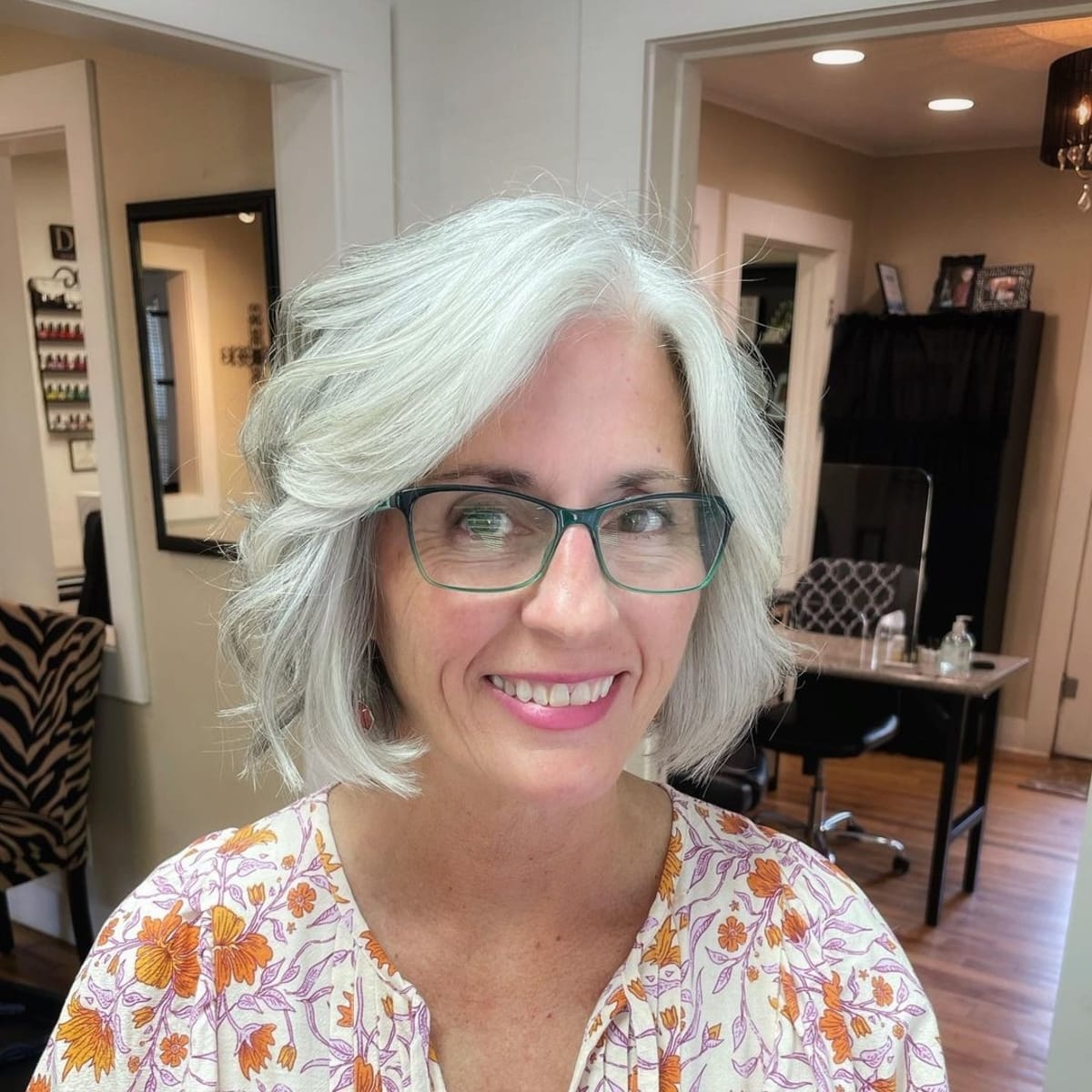 @lezliel6
A silver short blonde bob for older women is a classic haircut that enables the natural roots to grow out. Lezlie Alcorn Lust of Texas learns the benefit of such a look, and she loves it!
"This is natural, so no need to worry about the roots and going for a professional color every four weeks," says Lust. As for the maintenance, Lust uses purple shampoo and conditioner about twice a month.
Silvery Smoke Blonde
@kysandra_loove
"These silver-blonde tones create a light ash dimensional blonde with the natural base color running through. It pairs with her root tap which makes her grow out a bit more seamless," explains hairstylist of Kysandra Gomez of Palm Desert, CA.
"I would definitely let them know that these long silver waves can be a bit high maintenance," says Gomez. "Therefore home care is just as important as what we do in the salon, if not more important, so using the right product is key."
Gomez recommends Olaplex shampoo and conditioner along with the Number 3 at-home treatment to keep hair hydrated and healthy. "Also, a leave-in conditioner or treatment. If you're committing to the process and price of this look, you definitely want to invest in great products," she adds.
Silvery Frosty Blonde
@leanne_chadwick_hair
A silvery frosty blonde that's worth copying if you're an aspiring blonde babe! Achieving this tone is a process, but maintaining it will be easy once the result is achieved. Stylists recommend using purple shampoo for an icy or silver-blonde shade. Such a product is effective in canceling out the brassy tones.
Metallic Silver and Blonde
@panachehairbychristina
This metallic silver and blonde hair has a cool root to go with the icy blonde hair. It was created by hairstylist Christina Brannon of Abingdon, MD.
"For this color, Wella Blondor powder bleach with 20 volume was used. Babylights were added throughout the hair to give a more natural look. For toning, Guy Tang 10sm and 8sm were used to give it that pop of silver metallic shade," explains Brannon.
Brannon also says, "women who have more of a cool tone skin type can definitely rock this color more than a woman with warm red tones."