28 Best Stacked Bob Haircuts You'll See This Year
Stacked Medium Length Bob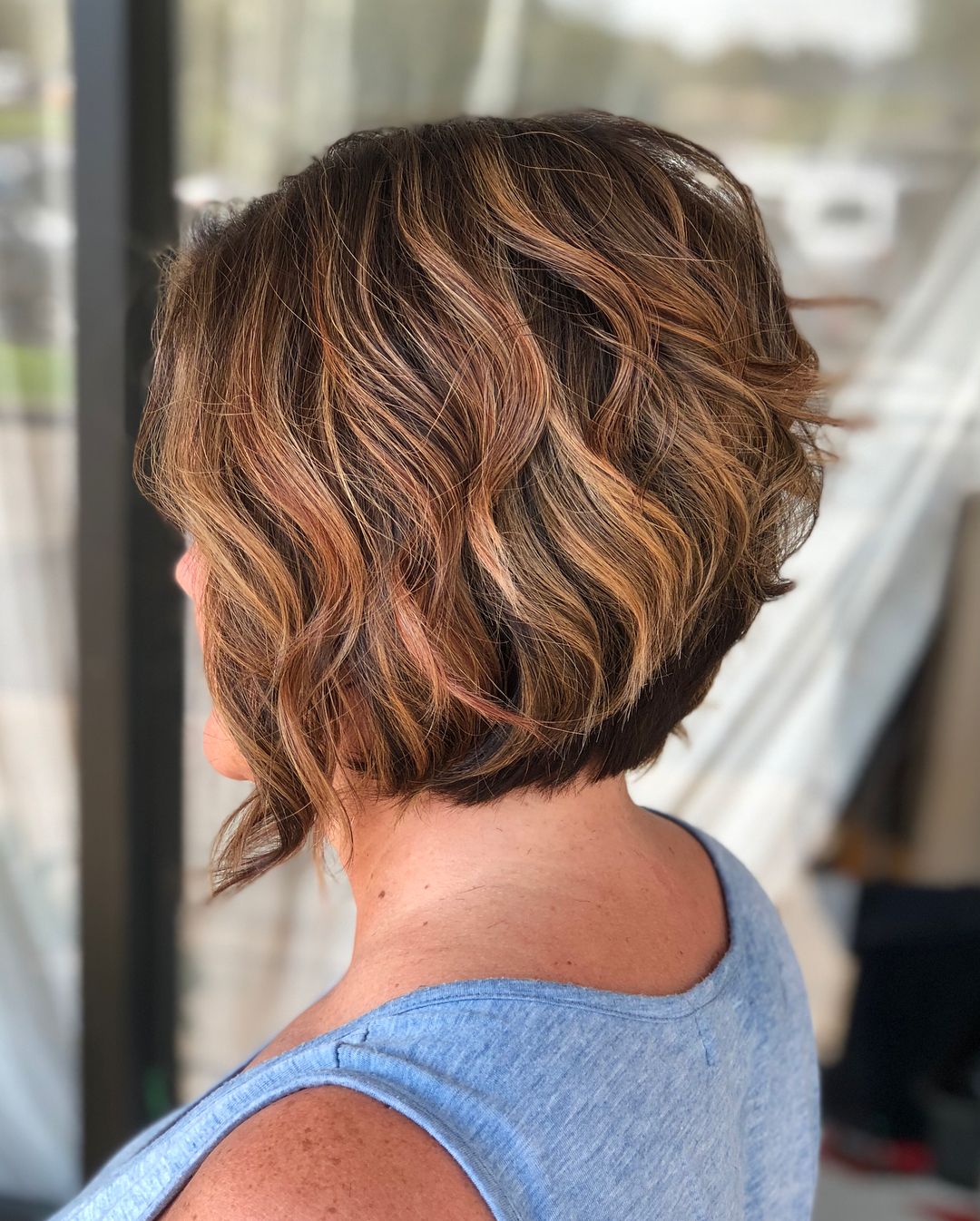 @acutshair
Q&A with style creator, Alex Brock
Stylist @ Urban Society Salon in Conway, AR
How would you describe this?
This cut is a long textured, stacked medium length bob. It has lots of layers and texture throughout to give movement and the popular lived in look.
What's your best advice?
This cut is great for thicker hair that has lots of natural body. It looks great straight or curled. It works well for all face shapes by changing the part placement.
Stacked A-Line Bob
@dre.xo
Q&A with style creator, Andrea Peña
Professional Hairstylist / Makeup Artist @ Kut Haus Salon in Glendora, CA
---
How would you describe this look?
This stacked bob haircut is a very edgy, daring, and sassy look. I love the way the sharp and longer front corners elongate the face and the way the round shape on the back just hugs her head and gives it a beautiful shape so easily after round brushing it. I love adding layers in the back to bobs, so they fall nicely around the shape of my client's head.
Any advice for someone considering it?
Depending on their hair texture, it may or may not require much styling. So if you have very unruly hair, it might require more effort in styling. That is something to consider before trying this look. But also, people who desire short hair but have round faces (like myself) can rock this look. The longer front will help give the illusion of an oval face shape, which is usually ideal and goal for most clients.
Short Stacked Bob
@bryandoesmyhair
Straight, thick hair on short stacked bob hairstyles looks marvelous when it's high up at ear to neck-length. Light colors like blonde and silver can help add volume to the whole hairstyle.
Edgy Stacked Long Bob (Lob)
@glamiris
This lived-in layered, stacked long bob haircut is a total stunner with its highlights that provide amazing contrast and dimension on naturally dark hair! It's a sexy take on the modern long bob.
Shaggy Bob That's Stacked
@6feet_of_style
Q&A with style creator, Jessica Parker
Independent Stylist in Scottsdale, AZ
---
How would you describe this look?
This is an updated stacked bob cut. The lived-in color, texture, and tousled wave all help to make it feel fresh instead of the same old bob.
The best thing about this short shaggy bob that's stacked is how versatile it is! The style is cut right in. The hair will fall into place, whether it's blown smooth or waves are added.
Any advice for someone considering it?
This cut is perfect for fine to medium density hair and works well for most face shapes. You'll want to visit your stylist every 6-8 weeks to maintain the shape.
Finer hair types use a heat protectant blowout spray on damp hair. Once dry, add texture with 1″ iron and then mist a sea salt spray for a beachy finish. Medium hair types use a smoothing blowout cream before blow-drying. Add waves with a 1″ iron and finish with a cocktail of pomade with your favorite serum/oil to give it definition and shine.
See more shaggy bob cuts here
Trendy Stacked Bob with Undercut
@shmoakin_hair
Q&A with style creator, Sheridan Holyoak
Hairstylist @ AVEsalon in Ogden, UT
---
How would you describe this look?
This cut is a textured, slightly stacked bob with undercut. On this particular client, her hair is shaved all the way around her head on the underneath side. I love being able to see the undercut when it's tucked behind her ear. I think it adds just a little extra detail to the overall look.
Also, for clients that have a tricky neckline, but still want a bob, that is another benefit of the undercut. If you can eliminate any cowlicks or swirls on the neckline, you can still achieve a very sharp baseline. I cannot claim the color.
Any advice for someone considering it?
Prepare to be styling your hair most days. Find a good quality salon product to achieve the look you're wanting. If the client isn't sure what she needs, she needs to ask her stylist, and hopefully, they can turn them in the right direction. For this style, I used products from Kevin Murphy and Davines.
I always use a leave-in conditioner and heat protectant. If a volume product is needed, I will use one, but since this client has so much hair, it wasn't needed. For dry styling, I use a GHD flatiron and loosely curl pieces leaving out the ends and finish with a dry texture spray or light spray wax.
I would recommend this cut and style for anyone who has a fair amount of hair and has the time to style it. I think the bob haircuts we see now look great on most face shapes and can be styled many ways. I would just recommend finding a stylist who is seasoned in cutting short hair which can give you a good length and texture to complement their own face shape.
Medium Length Stacked Bob
@betofaria_coiffeur
This is a gorgeous A-line bob with stacked layers. Enhance the stacked medium bob even more with blonde highlights on brown hair.
Long Stacked Bob with Bangs
@ascendhairdesign
Unlike the usually graduated bobs, this long stacked bob with bangs gives length and form to your hair. Caramel tones and bangs add attitude to the layers.
Short Curly Stacked Bob
@peachiehair
This short, curly stacked bob haircut how precise cutting and the use of highlights and lowlights can gorgeously define and give life to curly hair! A shadow root can also give added dimension.
Messy Stacked Bob for Thin Fine, Hair
@hairbymanouk_
Asymmetrical looks straight on anyone, especially to round and oval faces. The disheveled messy bob look on this stacked bob haircut also works best if you have thin, fine hair.
Stacked Bob for Wavy Hair
@melissa.gill
Even a slightly angled shape to a medium-length cut can do a great job in enhancing your hair's texture and volume! Just make sure to use the best products when styling waves for a lasting gorgeous stacked bob for wavy hair.
Gorgeous Stacked Bob for Thin Hair
@tmhairstylez
This stacked bob for thin hair has layers that gradually increase. This creates the illusion of a bulky and beautifully shaped back that makes your hair look denser than it is. Stacked bobs are fashionable options for women with thin hair because it creates a fuller appearance.
Super Short Stacked Bob Pixie
@tammygamsobeauty
Keep it sassy with this cute stacked pixie bob cut that's trimmed at the nape area but kept long at the top for versatility in styling. The dark red hair color reminds me of chocolate and cherry.
Short Red Bob with Undercut
@brittnado_
Q&A with style creator, Britt Lincoln
Studio Stylist @ Von Kekel Salon and Spa in Cary, NC
---
How would you describe this look?
This is a fun, edgy take on a stacked bob cut. My favorite thing about it would be the awesome undercut, as it's a freeing feeling not to have hair on your neck.
Any advice for someone considering it?
Stacked haircuts are best for women with thick hair and who would like a cute trendy cut. To help maintain this edgy look, you would want to use Aveda smooth infusion style prep to help smooth the hair to show these nice clean lines.
Short Stacked Bob with Bangs
@kolors_by_kim
Q&A with style creator, Kimberly Murray
Stylist @ Ave Salon in Ogden, UT
---
How would you describe this look?
This short stacked bob with bangs is just fun and playful! I gave her bob long textured layers with some fringe around the face. I love that it can be worn more smooth and sleek or full and messy, depending on what the client wants that day.
Any advice for someone considering it?
I recommend applying a product for volume when wet (I used a volumizing mousse) and then styling with a round brush to give optimal lift. The blow out is everything when it comes to getting volume. Spray wax is my go-to when giving the finished look and showing off the texture. I feel a bob can be customizable to most hair types. Stacked bobs normally grow out great, but I recommend regular trims to keep the shape.
Very Short Stacked Bob with Side Bangs
@willowsalonmn
Q&A with style creator, Jenna
Stylist @ Willow Salon in Maple Grove, MN
---
How would you describe this look?
This is a sassy and fun yet sophisticated, very short stacked bob with side bangs. I like that this cut looks amazing curled and messy or straight. It's easy to style, and if you're looking for something that's a good mix between long and short, this is it. The color works well for this client because it is great for grey blending.
Any advice for someone considering it?
If you want something that you can style multiple ways (straight, wavy, teased, etc.), this is the perfect look and is easy to get volume and texture. The best product to use with this look is texturizing hairspray to give it that tousled texture. Have fun and play around with it because there are so many different looks you can get!
Inverted Stacked Bob
@natasharaquel_hair
Q&A with style creator, Natasha Raquel
Stylist @ Shine Salon & Dry Bar in West Dundee, IL
---
How would you describe this look?
This bob is stacked and inverted. It's the perfect step toward a first-time color without it looking totally artificial. It's so soft and enhances the soft layering in the cut beautifully.
Any advice for someone considering it?
This stacked inverted bob hairstyle is easy to achieve with very few styling tools and styling products. A light volume foam is such a great product to start with. It will allow you to create volume without a stiff hold.
I love to start my looks with a good flat wrap using a Denman brush or a small boar paddle brush that will ensure smoothness and create a natural volume based on the head shape. Once completely dry, I use a medium or small round brush for the front fringe area to give it extra bounce and put a bit of a bend in the hair to create interest. You could also opt for a curling iron as well as create the same look in the front. Then I finish with a light moveable hairspray.
This is a great stacked bob for fine hair that needs movement. Keeping some length in front creates a beautiful elongated look, which is very slimming.
Blonde Stacked Bob for Over 50
@hairbyjilly
Q&A with style creator, Jill Toma
Hairstylist @ Salon Westlake in Westlake Village, CA
---
How would you describe this look?
I would say this cut is somewhat of a stacked bob haircut with a slight undercut to give it more volume. This gal has fine wispy hair in front with quite a bit more in back. I wanted to create a natural ebb and flow with many interior layers in the back, allowing the top of the cut to sit nicely without much product to weigh it down. With this cut for fine hair, less product is best.
Some styling cream for the blowdry (cream over a moose as her hair is on the dry side and the alcohol in the moose dries it out more and the cream is more smoothing on her frizz), a little dry powder root lift at the crown and top it off with your favorite spray. The front is softened with fringe and layers but kept the edges sharp to fit with her button-down personality. I feel anyone/any age can wear this cut as long as it's tailored to their personality.
Any advice for someone considering it?
This gals lifestyle is on the go, but that doesn't mean this is your low maintenance color and cut. I see this client every five weeks like clockwork for highlights/cut and bang trims in between. But hey, if you want to get noticed, this is your go-to. She gets stopped everywhere she goes. She's my walking billboard!
Stacked Bob with Layers and Bangs
@beauty_ingspiration
Q&A with style creator, Ingrid Kissel
Future Professional @ Paul Mitchell the School in Green Bay, WI
---
How would you describe this look?
This cut is great for any texture and density! It's so easy to style every day or run a flat iron or curler through to change it up. The color has a lot of dimensions with keeping that underneath darker, and it's flattering for many face shapes and is almost slimming to the neck area.
Any advice for someone considering it?
With this bob with highlights, there will be outgrowth that needs upkeep, so you'll be back in the salon every 4-6 weeks. The cut will also require upkeep to keep the lines clean at the neck.
Everyday styling can be as low maintenance as you want it to be. You can let it air dry and rock a more lived-in look or straighten it and add some Paul Mitchell Awapuhi Wild Ginger Treatment Oil from the mids to ends to add shine and softness and finish the look!
Medium Stacked Bob
@jacquelynmariehair
Q&A with style creator, Jacquelyn Marie
Cosmetologist / Makeup Artist @ Bii Natural Salon & Shop in West Dundee, IL
---
How would you describe this look?
The color is a custom balayage highlight with a gray coverage color touch-up. The cut is a razor cut, stacked layered bob. It has a graduated, diagonal forward cut.
I can't say any single part of this medium stacked bob haircut is my favorite. What I do love is that this look is organic. It's light, airy, and lived-in.
Any advice for someone considering it?
This color is more low maintenance when it comes to touch-ups. You can go to a couple of appointments with just color touch-ups to cover gray. These kinds of blended highlights grow out beautifully – no lines of demarcation. Balayage is the way to go these days. "Natural highlights" will always look like an effortless beauty.
This cut does require some styling daily. The razored layers look organic, as well as grow out beautifully.
Stacked Angled Bob
@hairbystephaniep
Q&A with style creator, Stephanie Pachla
Stylist @ Mila Salon and Spa in Shelby Township, MI
---
How would you describe this look?
This is a stacked angled bob with lots of texture. I took weight out through the back, especially to keep it from looking too bulky. For styling, I used a 1″ barrel curling iron to create a soft tousled look.
The color is a Wella Professional line, and we wanted to deepen her down from her summer golden blonde. I added in deep reddish lowlights to maintain dimension and then made her base a rich auburn tone.
Any advice for someone considering it?
For someone who is seeking stacked bob hairstyles like this one, it's all about the maintenance. You have to be willing to get it cleaned up in order to maintain the shape. It can work well on most hair types because the graduation through the back adds fullness if you have finer hair, but it's also a nice option for someone with thick hair as long as the weight is taken out, and texture is added.
I typically always use a volume spray to achieve this look. My favorite is thickening hairspray by Bumble and Bumble. I also used a styling lotion to add moisture and shine and to protect against heat styling. My favorite is called Perfect Me and is in Wella's Eimi styling line.
Wavy Bob
@laura_vance_hairstylist
Q&A with style creator, Laura Vance
Cosmetologist @ Hair Bar in Natchitoches, LA
---
How would you describe this look?
I love this cut because it gives the look of a lot of effort without complicated styling. The shape is interesting to the eye and looks great both straight and curly, so you can rock your natural wave pattern or quickly run a flat iron through it if you're in a hurry. When you have more time to style, you can curl it like shown here for this refined but slightly edgy look! The color is a balayage, which gives a ton of depth and dimension with less upkeep than traditional color.
Any advice for someone considering it?
Stacked bob haircuts are great for coarse or thick hair but can also work on fine, thin hair when the right products are used. This client has thin hair, so to style it, I used L'anza Healing Oil on damp hair, then blow-dried and curled with a flat iron with about one inch of the ends left out. I finished it with Kenra Dry Texture Spray for a bit of "grip" and teased the crown area for extra volume. This cut would also be perfect for round or wide face shapes since the long pieces in the front help to balance the width of the face. The ease of styling and the balayage color are awesome for people with busy lifestyles or those who don't want to spend a ton of time on their hair, but want to look like they did!
Asymmetrical Bob
@jcastillohair
Q&A with style creator, Jessica Castillo
Hairdresser @ Panther City Salon in Fort Worth, TX
---
How would you describe this look?
This is an asymmetrical bob with classic graduation. I really love this shape because the graduation allows the haircut to be tailored to fit the client's head shape. This allows for a really nice grow out. The unexpected asymmetry adds an unconventional element to bring a little more edginess to a classic shape.
Any advice for someone considering it?
The good news about stacked bob cuts like this is that it can be achieved in almost anyone who already has the length in the right places. The irony of going shorter is that sometimes, layers and face-framing have to grow out enough to create a strong angle in the front like this one. If the shape is executed correctly, it will work nicely on almost anyone because it is specificity tailored to the client's head shape. If you are thinking about trying out this look, just go into it with an open mind and let the art happen!
Layered Stacked Bob Back View
@km_hair_studio
Q&A with style creator, Kris Schiller
Stylist @ KM Hair Studio in Gulf Shores, AL
---
How would you describe this look?
This is a seamless, stacked layered bob cut. When I was thinking about what I wanted to achieve, my goal was to make sure you didn't see any hard lines. A razor and shears were both used throughout the haircut.
Any advice for someone considering it?
This is a versatile haircut. I would adjust the length, height, and volume depending on the texture of the hair and face shape. A good consultation helps to ensure the success of the haircut and to meet the client's expectations.
Shoulder Length Stacked Bob
@hair_by_sarah_brophy
Q&A with style creator, Sarah Brophy
Licensed Cosmetologist @ Lace'd Unisex Hair Salon in Langhorne, PA
---
How would you describe this look?
I would call this look a shaggy bob. This client originally came to me as a color correction. This was her 3rd session with me, and I finally was able to achieve the goal of color beigey blonde. The maintenance of this color is low because we can bring the root down for a more shadowed look.
Any advice for someone considering it?
Have an open mind for styling. Using the right size tools will help create the intended shape of the haircut. Even using a 1″ curling iron will enhance a stacked bob hairstyle like this one.
Chin-Length Stacked Bob with Fringe
@jkingsbury.stylist
Q&A with style creator, Jessica Kingsbury
Stylist @ Cherry Creek Hair Company in Puyallup, WA
---
How would you describe this look?
This is a fun textured stacked bob with fringe that has lots of built-in texture and movement. It has a pretty high stack in the back with a dramatic angle. For this particular client, she wanted to get a little edgier with some custom design on the underneath.
The greatest part of this chin-length bob is the versatility. It can be worn super sleek and perfect, or you can make it more undone with some soft waves. It is a fairly easy style that always gets tons of compliments, and the lilac will be sure to turn some heads.
Any advice for someone considering it?
This particular haircut can be achieved on many hair types, rather than be fine or thick, wavy or straight hair. As for the desired color, I recommend the client who does not have dark natural hair. This allows you to get the natural hair color to a super pale blonde that you need in order to achieve the pale pastel lilac.
At-home care for this client, I shampooed and conditioned her with Kevin. Murphy Blonde Angel Wash and Rinse. Towel dried her, next added Kevin.Murphy bodybuilder volumizing mousse all over the entire head. I then round brushed her with a 1-inch Moroccan oil round brush. After she was blown out with mega volume and smoothness, I then went in with my GHD flat iron to smooth out the ends. To finish the look, I added a little bit of Kevin.Murphy Bedroom hair Texture spray to her ends to make it a little more undone Then did a light mist of Eleven Australian give me hold flexible hold hairspray for medium-strength hold.
Choppy Stacked Bob with Long Sides
@ro.hsiqueira
The choppy stacked bob hairstyle works well with most hair types and face shapes. It is easy to style either straight or with some fun waves. Use a mousse or cream for blow drying and a light styling paste to add texture when dry.
Stacked Bob for Thick Hair
@hairby_ericabranch
Q&A with style creator, Erica Branch
Hairstylist / Booth Renter @ Impressions Hair Studio in Saraland, AL
---
How would you describe this look?
This stacked bob for thick hair is one of my absolute favorite hairstyles! It's super cute and fun to play around with. Styling made simple with this haircut. It's an easy blow-and-go, or you can give it some textured beach waves. It's very versatile. The color is a natural balayage for a subtle, lived-in look.
Any advice for someone considering it?
This haircut requires a bit more attention than most. If it's too long, it can be a headache! Regular haircuts are a must to keep it shaped up and looking fabulous. With this color, it's very low maintenance. Keeping it looking as natural as possible but yet having a few pops of color. It makes it simple for someone who is on the go and doesn't have time to go to the salon for a touch up every 4-6 weeks. I used a 1″ curling iron & Amika texture spray to give the curls some texture to create this look.