The 22 Best Haircuts & Hairstyles for Teenage Boys
Forward Textured for Wavy Hair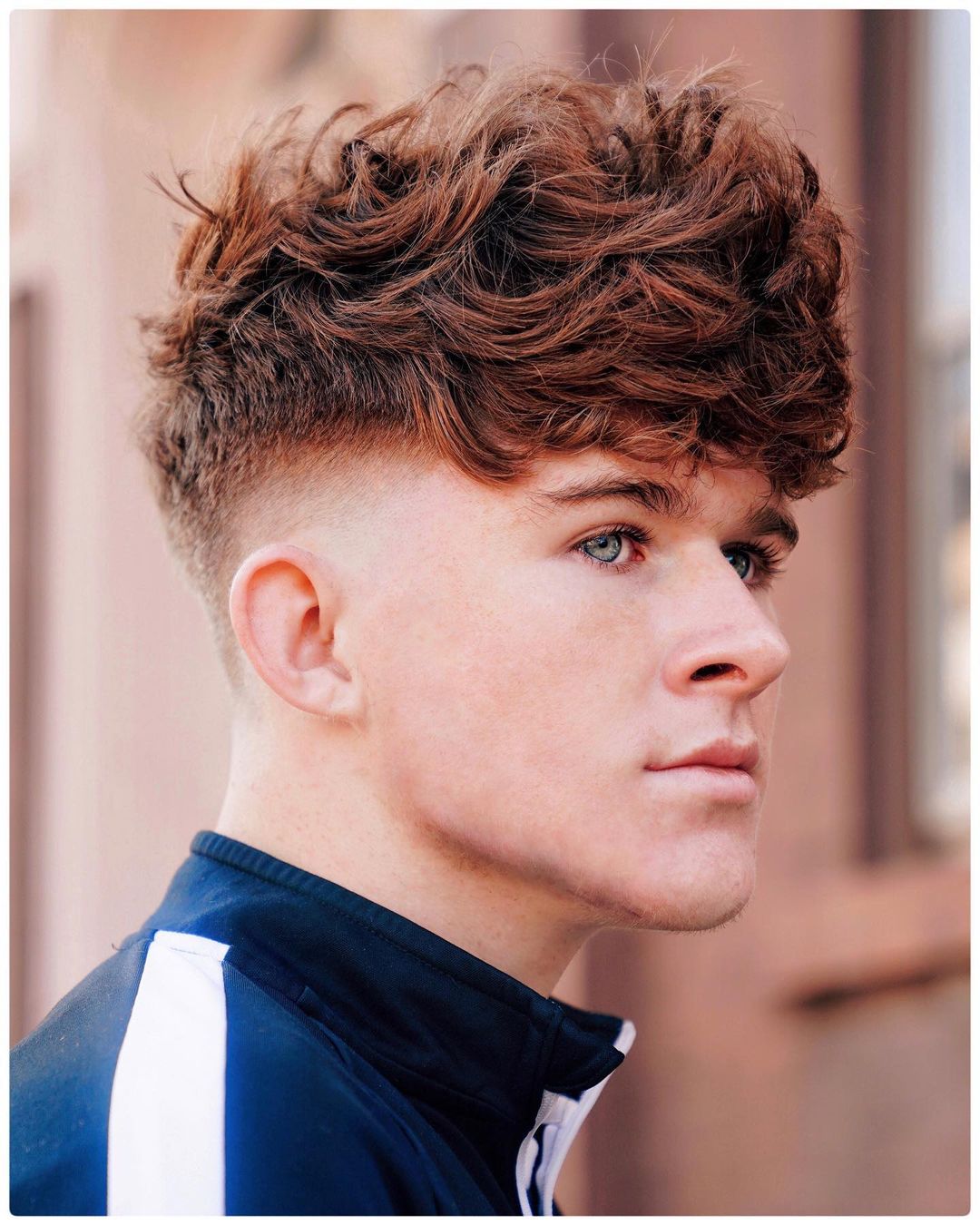 If you have naturally wavy hair, try a forward brushed style. Ask your barber for extra texture
Faux Hawk with a Burst Fade
@frant_bryansk
Stylist Michael owned this cut, emphasizing the gradient fade with a triple slash. The faux hawk was the star of this cut, with a hard line to define from the fade.
Pompadour with a Low Fade
@joshlamonaca
Puff up that pompadour and give it a nice, contrasted fade for one of the coolest teen boy's haircuts.
Mid Fade for Short Curly Hair
@brianbarber_
A balanced cut that gives you a real polished look but also the versatility to style your strands on top.
Surfer Shag
@miamihairmel
A cool gray tone to balance out this hot cut! Keep your long locks and have fun with that shaggy look, dude.
The High and Tight
@mirrormirrorwillits
For that shower-and-go look, try this cut that will take no time to style but will still keep you looking tight. When it comes to teen boys haircuts, the high and tight is very popular for its simplicity and ease of styling. Active teen boys will find the short hair great for sports activities as well.
Short Afro with Bald Fade
@carlosthebarber96
Stylist Carlos crafted this fun and funky top. A handsome look for a fun-filled Friday night.
Faux Hawk with a Burst Fade
@freddy_cuttz
Sport this edgy and eye catching style with a real cool fade work to complement the bold styling. Short hair and a burst fade are great compliments for each other.
Boys Crew Cut with a High Fade
@charbelghorayeb_
A fresh and dapper-looking hairstyle that is perfect to start the school year with. Keep it neat with an inviting dark brown hair color. Teenage boys who want short hair often go with the simple crew cut but how the fade is done makes a huge difference.
Quiff with a Hard Part
@welbertbarber
Jazz up that that sleek hair with subtle chestnut brown on the tips and clean sides, and this will complete your signature everyday look.
The Man Bun / Long Hair Top Knot
@taylorcutz1
Keep it looking fresh, and this ultra hipster hair will never let you down. Long hair is kept at the top in a bun and can be styled uniquely as well.
Short Waves for Black Guys
@smashthalegend
Wavy is back! Keeping it dapper with a natural hair color to let those strands splash through.
Undercut for Teen Boys
@cindyhstyles
Cut it like Beckham! A cleanly shaved skin fade will definitely complete that sporty and cool look. It is a nice contrast of the skin fade and long hair at the top.
Short Haircut with Skin Fade
@urechepaul
The perfect schoolboy look – this short haircut with a skin fade is straightforward, neat, and still allows you to style your hair on top any way you want.
The Modern Short Mohawk
@hmsalonformen
A stand-out haircut that's playful and exciting – this punk hair complements those young men who's not afraid of anything.
Short Sides
@yungspoodydabarber
Go suave and hip with this double lined clean cut. Those sharp angles are sure to make your image way more masculine.
Disconnected Undercut
@_runninwithscissors
Accentuate your textured top hair with shaved sides and an etched part. This fresh cut is suitable for teens with any kind of hair!
Twisted Curls for Black Guys
@locs_by_tee
This interesting pattern on locs will turn you into a natural gem. Perfect if you are looking for a change in your look.
Low Top with Designs for Black Guys
@valiantbarbers
Keep it natural on top but intriguing at the back. If you want a dapper teen boy's hairstyle, then this will be suitable for you.
Dreads for Black Guys
@_vonunique
Start your dreads early to achieve the perfect dreads-life look. Partnered with a tapered hairline this look will surely be the talk of town.
The Ivy League Haircut
@rgbarbers
Q&A with style creator, Gemma Davies
Stylist @ R & G Barbershop in Crediton, Devon
How would you describe this look?
This look is a classic fade suitable for teen boys. The best about it is the smooth flow from top to bottom giving it the natural look.
Any advice for someone considering it?
You need to be aware of the natural direction of your hair and that blow drying may be essential to create this look.
A matte finish product is used to finish the look with the use of fingers to create texture as a pose to a sleek finish. The haircut suits all lifestyles as it a very classic look and there is nothing too extreme about this cut.
The Side Part Combover
@_abigailfernandez_
Q&A with style creator, Abigail Fernández
Stylist @ Johnny's Barbershop in Los Angeles, CA
---
How would you describe this look?
This teen boy's haircut is of classic style that's ideal for all ages. Thanks to the products of today, you can give a natural look for every day, and for something more formal you can use ointment and hair dryer, which keep its essence classic-elegant but at the same time modern.
Any advice for someone considering it?
I like this type of cut because it is very gentle to all face shapes. It is recommended to make the hair more manageable with light products. If the hair is rebellious, there are different types of products from a gel with extra strong fixation or heavy ointment to achieve a stiff effect. That depends on the client's need and their hair type.
The products that I personally use and recommend are from the Gentlemen Republic because they have ointments of various types from soft to heavy natural shine and matte high fixing gel. That's why I like them because they have for each need of different people.
Cornrows for Black Guys
@curlzofglory
Q&A with style creator, Aramide Dada
Hair Braider @ Curlz of Glory in Madison, WI
---
How would you describe this look?
This look is a protective hairstyle that not only saves you time in the morning but also turns head. The coolest thing about this teen guys haircut is the angle of the parts. It gives the braids a unique style that makes it stand out.
Any advice for someone considering it?
To ensure that this braided hairstyle lasts a week, I will suggest that the client wears a du-rag to sleep and prevents the braids from getting wet while showering. This will prevent the hair from becoming frizzy quickly. I will also suggest that the client oil his scalp every two days or whenever it starts to itch. Constant scratching of the scalp can not only frizz up the hairstyle, but it can also irritate the scalp.