The 46 Best Short Hairstyles for Thin Hair to Look Fuller
Ultraviolet & Platinum Pixie
@trishjamesinc
The best haircut for fine thin hair has to be this ultraviolet & platinum pixie hair! Looking edgy and fuller—this pixie haircut is optimum for fine tresses. It gives finer hair types the illusion of density they need. Moreover, the style creates a natural-looking volume, and that's breathtaking!
Messy Short Choppy Hairstyle with Side Bangs
@hairby_elisharene
This messy short choppy hairstyle with side bangs features a blunt bob and textured ends. It was created by hairstylist Elisha Rene Bosch of Scottsdale, AZ. "The ends are point cut for a more shattered and messy vibe," she explains. Curl in one inch sections with a flat iron and make sure your ends are straight. Bumble and Bumble dry spun texture spray will help with the messy texture.
Less is more, says Bosch. "Don't try to be perfect with the style. Messy is in! This is perfect for fine hair because it will look a lot fuller with it shorter. Also if you have thick hair, you can add silky texture or thin it out it to make it look shattered.  Just a little bend with a curling iron or flat iron will make this look sexy."
Stacked Bob with Wispy Bangs
@chrisjones_hair
Stacked bob with wispy bangs like this is suitable for fine to medium density and straight to wavy locks. Short hairstyles for fine hair like this need a lot of texture. This stacked bob can make fine hair look thicker.
Short Haircut for Women with Finer Hair
@stylist.miranda
This short haircut for women with finer hair is a modern blonde bowl cut with texture. "If you are looking for short hairstyles for fine hair, this is a great choice," says stylist Miranda Barton of San Jose, CA.
"This style builds the illusion of volume all the way around. Plus, it will enhance and contour your facial features by how high or low the weight line is placed. A higher weight line makes this style look edgier.  A lower line is softer," she adds.
This short haircut is for women who have slightly longer facial shapes. Hair texture doesn't matter. For fine hair, it creates volume. For styling, apply a heat protectant and heat active products. Then, dry with round brushes, and use hand tension. Smooth it down for a clean polished style.
Modern Blunt Bob for Thin Locks
@zammitneville
A modern blunt bob for thin locks is a smart choice. Adding waves to a short bob will give you the tousled bob you are craving. A bob hairstyle is great for thin hair especially with a blunt cut with minimal to no layering. Great for heart, oval, and diamond face shapes.
Long Pixie Cut
@sergiosy
A long pixie cut flatters women with short, thin hair. To keep the fullness around the sides, where we have lesser hair, you'll need fewer layers. Thin hair appears thinner if the length is longer than the chin added with several layers. Keeping more layers in the back will create fullness having more hair to work with.
Neck Length Wavy Bob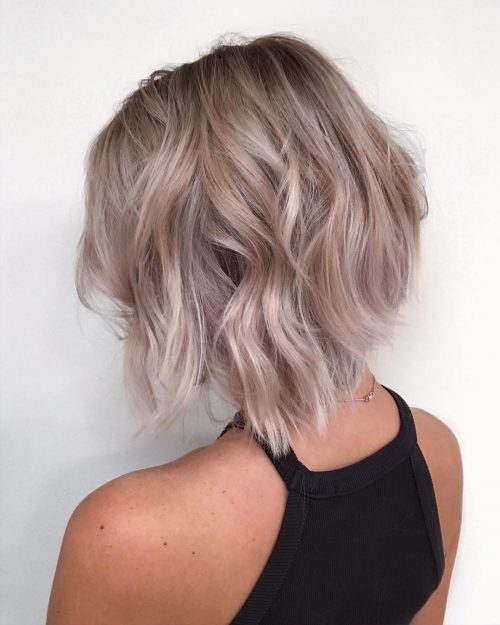 @colourmesue
The short cut for thin hair is slightly angled to give it a bit more volume in the back with soft layers, but not in a traditional way. It was cut and styled by hairstylist Sue Soussain of Amerstdam, Netherlands.
"Instead, it's cut freehanded to make the hair a little more personal," she explains.
For styling your fine short hair, use a salt spray for more grip and texture then finish with a few twists using a medium curling iron. Use dry shampoo on thinner hair to give it the appearance of more hair.
Make it a little longer/shorter according to what you like. More or fewer layers but not too much to keep it looking fuller, especially when using a freehand layers technique.
"Use a good silver shampoo and a good professional conditioner to keep your hair healthy and looking ashy," she adds.
Jaw Length Bob with Choppy Thin Bangs
@karenvustudio
A jaw-length bob with choppy thin bangs is one of the best short hairstyles for thin hair. For women with thin hair, consider bangs that are above the eyebrows. They're clean, simple, and no fuss to style. Style with a bit of Haze by Evo.
Short Asymmetrical Bob
@chromacrowns
If you are looking for that extra edge to spice up your thin, short hair, going asymmetrical with a bob definitely satisfies that craving. Just be sure to get one that works with your hair texture to complete that cool and fashionable image.
Colorist Jen Puebla Alfaro of Glendale, CA created this short, asymmetrical blunt and textured bob for thin hair. It has fullness around the edges while still being playful and light with the layering.
These soft waves give great texture all over, and the longer side adds to the interest around the face. There are also soft balayage highlights added throughout for dimension.
"Find a professional stylist you love! This person will be able to recommend the best cut for your face shape, hair texture, and density," says Jen.
This cut is also great for short thin hair as it gives the illusion of fullness in the ends when they are all cut at one level.
Short Textured Bob
@vitosatalino_official
A short textured bob is one of those ideal short hairstyles for fine hair. Women looking for a fuller hairstyle should consider a short-length haircut with soft texturizing for body and movement. Adding dimensional highlights can also increase more texture and body in the hair. To style, add soft waves with one to two pumps of Haze by Evo. Use dry shampoo to keep they style for more than just one day.
Thin Razor Cut
@hairbycalliesmith
Achieve a thin razor cut for short locks with slight graduation. Cut by stylist Callie Smith from Texas, this makes one of the chic wash-and-go short hair styles to try!
Smith shares how you can mimic such a thin haircut for short hair. "I used a razor for the entire head, cut it dry, then washed it. I also styled it with a shag fringe around the face."
Chin Length Platinum Blonde Bob
@juliana.key
Featuring a chin length platinum blonde bob, brimming with sophistication! This thin, short haircut is extremely versatile while remaining modern. To style this chin-length bob, use a paddle brush and a 3/4″ Marcel iron to add the slight bend. Though it looks divine when sleek, a little messy texture won't hurt the overall outcome.
Choppy Layered Bob with Side-Swept Bangs
@philipwolffhair
A choppy layered bob with side-swept bangs offers an edgy style with a rocker vibe. This short hairstyle for thin hair looks modern and slightly undone. Yet, it's beautiful! The choppy layers give the short haircut more texture, especially at the hair ends.
Short Hair with Undercut and Fringe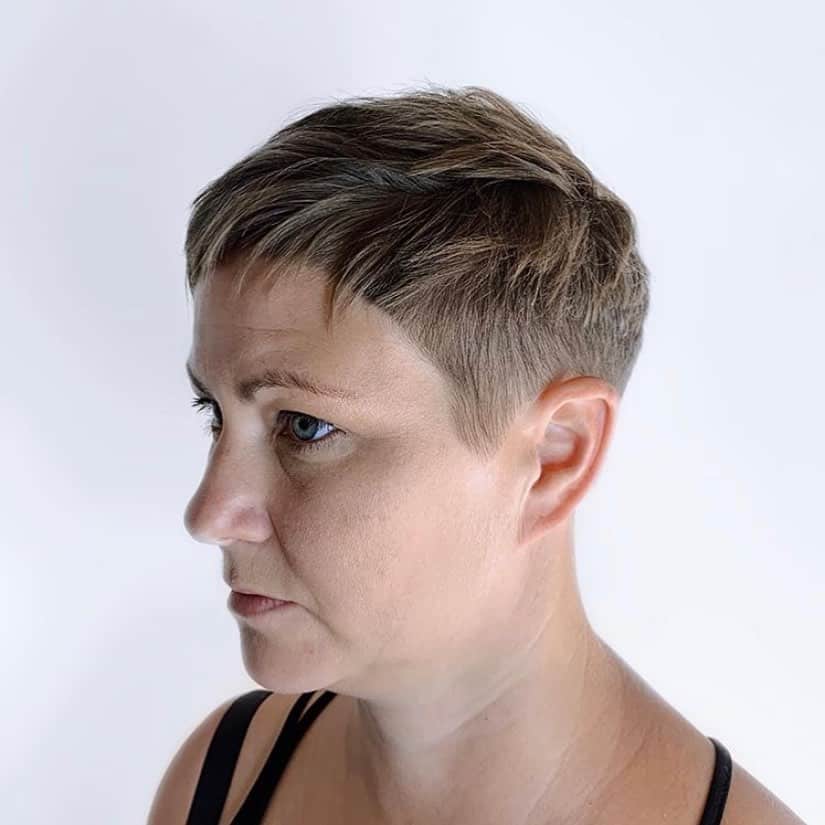 @zachspiveyhair
Flaunt short hair with undercut and fringe to exhibit confidence and a bolder edge. Fine locks can benefit from this the most. If you want a trend that requires the least effort when maintaining and styling, get a short haircut. All you need is your favorite texturing product to separate and enhance the texture of the chop.
Hairstylist Zach Spivey of Exeter, UK created this short hair with an undercut and fringe. "A strong structure in the hair was created, especially around the hairline. Length on top was left along to add plenty of texture," explains Spivey.
When it comes to short pixies, there's a ton of variations in length and textures. For day to day styling, use a light mouse for hold (Aveda Phomollient) and a texture powder (Aveda Pure Abundance Hair Potion). Once dry, avoid using anything too heavy and weighing the hair down.
An Easy to Style Short Bob
@timpascoe_hair
An easy-to-style short bob with a side part style is perfect for providing volume to thin hair. It's a jaw-length chop that's very feminine and versatile to wavy or straight styles. To class it up, use a styling or modeling spray plus a styler to comb and curl the tresses. Blow-drying the hair upside down can, however, bring out more volume.
This is an easy to style short bob for thin hair. It was created by Redken certified hair colorist Tim Pascoe of Subiaco, WA. "The baseline is point cut and kept horizontal. Texture/volume spray and blast in the opposite direction (without nozzle). For volume where needed, and down (with nozzle) to keep flatter, and then smooth ends to finish," he explains.
This bob haircut is perfect for women who have straighter, fine hair. Medium to fine hair would be less work styling. This short bob isn't very suitable for curly hair, as the shape would change dramatically. For finer hairstyles a volume spray and heat protector will keep the hair full and strong.
Short Curly Bob with Bangs
@gellalegaspi
A short curly bob with bangs is the ideal cut to show off the natural hair texture. It was created by hairstylist Angela Legaspi in California. Curls are the easiest and most fun way to go for quick volume when it comes to short, thin hair. They make a maximum style with minimal effort.
"This short curly bob with bangs has added dimension to make the hair pop. For hair on the finer side, twist and carve out pieces randomly. Doing so will give thin-haired women a fuller voluminous style," says Legaspi.
If you have textured hair and are thinking about getting a curly bob, do it! More so on the side, if you wear your hair curly most of the time then not. Use a Moroccan oil curl mousse and Davines oi oil- by to style. It's definitely worth taking the time to finger coil sections and diffuse.
Sassy Layers for Short Fine Hair
@wickeddopehair
Sassy layers for short fine hair are the best when messy and tousled. The style makes an effortless, but great appeal. Layers can add more texture to short fine hair, so try Olaplex 6.
The Classic Pixie Cut with Glasses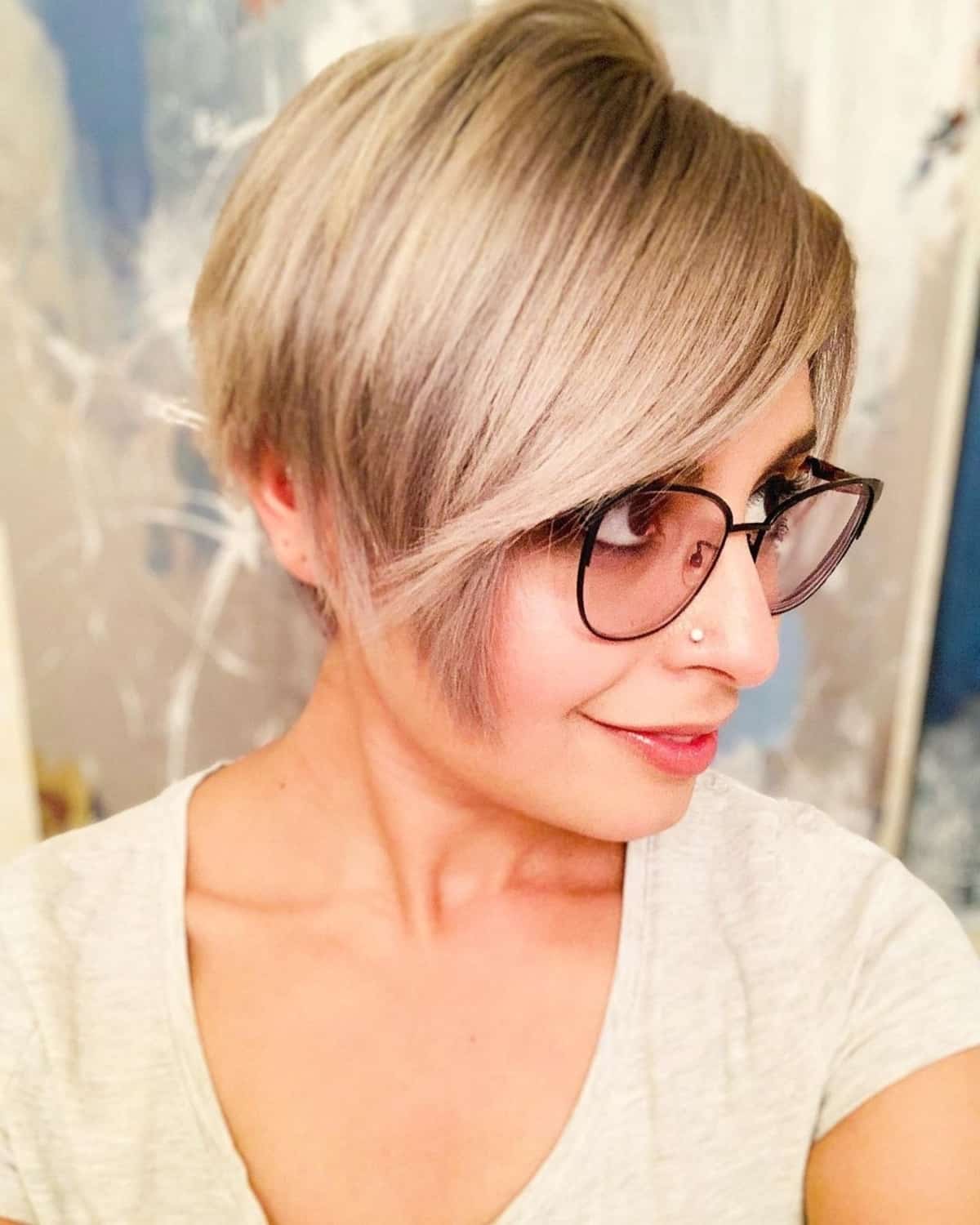 @sunshine_grace_3
The classic pixie cut with glasses is a smart choice for those considering short haircuts for women with thin hair but want to look stylish as well. This short cut for thin hair tapers around the ears but has length on top to give you fullness. Maintenance to keep this cut in posh shape needs to be done every 4-6 weeks. If you ever want to grow it out again it's easy to transform this cut into a cute bob along the way.
Thin and Feminine Layered Lob
@waxxapeldoorn
Choose a thin and feminine layered lob because it's pretty cute and classy! It's a great long bob for women with thin hair that lacks texture and volume. The exact length of the bob rests based on the way the face is shaped. If cheeks are more round, ask your stylist to cut an a-line just below the chin to draw the attention lengthwise.
This thin and feminine layered lob is a beige blonde long bob. The cut is texturized one length with a side swept front piece. It was created by hair stylist Aaron of Apeldoorn, NL.
"For this layered lob for thin hair, use a light foam before blowdrying and put dry shampoo on the roots. Then texture spray the rest of the hair. The cut is very easy to style," adds Aaron.
Short Angled Bob
@courtneyxcentrichair
This haircut is a short, slightly angled bob with a hidden taper in the back. It was cut by hairstylist Courtney Bond of Waterloo, ON.
"The shape is created in the nape area to give a curved silhouette allowing it to be sleek without any shag layers while still maintaining the taper effect," explains Bond.
Women with short, thin hair, who don't want to fuss with their hair will benefit from the ease and versatility of this cut.
Thin to medium hair works best and typically those that have length and fullness in the front will achieve this degree of an angle. Adding a deep side part to create a diagonal line makes this cut suitable for any face shape.
Bond suggests using a texture spray as a finishing product is best for this haircut. "Thin, fine hair tends to get weighed down by overusing product. The texture spray provides just enough grit to the thin hair and allows movement," she adds.
Textured & Layered Pixie Bob Cut
@georgiykot
Try a textured & layered pixie bob cut to add life to thin limp hair. The textured layers create width and volume to hair that tends to lay flat Add some holding products like Aveda's Volumizing Tonic or thickening tonic to give a little grip to the hair when blow-drying.
Short Graduated Bob with Long Bangs
@maygovintage
This is a short cut with graduation at the nape of the neck with the longest front and light layers. It was cut by hairdresser Mayara Goulart of Sao Paolo, Brazil.
"Styling products with a light fixation that gives shine and volume to your hair such as the Perfect Me (by EIME Wella Professionals) before and after drying," explains Goulart.
This bob is for modern women who want practicality with a touch of sophistication in their day to day style. This haircut is great for women who have thin or normal hair, and short face shape.
Short Shaggy Bob
@hairbygunny
This short shaggy bob screams movement and texture! The layers, if styled with soft waves, look so natural on thin tresses. To add a youthful vibe, feathered bangs and a dark-rooted blonde hair color will amp up this short shaggy haircut.
This short shaggy bob is also known as a textured bob. It was created by hairstylist Gunny Hastings of Chicago, IL. "A razor was used to give the appearance of a lived-in haircut. As long as you're willing to lightly style this layered bob, you can easily make it look dressed up or down," explains Hastings.
If your hair type is very fine, a shaggy bob may not be suitable for you. Loose styling is what's going to make this cut stand out and enhance your locks of hair.
"If you take an iron and curl some pieces away from your face while leaving some pieces straight, and using a dry texture spray or powder will give you that undone style," she adds.
Short Choppy Bob
@mooloolahvalleyhair
A short choppy bob consists of choppy short haircuts for women with thin hair. They give texture and maintain a fuller style. A cut like this would work if you're growing out a short pixie and you've noticed some hair growth on your nape. Have your stylist cut up to the hairline in the nape area. This creates a more balanced cut between the sides growing out as the back.
Short to Medium Cut
@sgexpatcolourist
A short to medium cut is a great length to try different styles. You can tie it up or wear it down, says stylist Rachel House from London.
This is an ideal short hairstyle for women with thin hair. House created it by using a slightly angled technique. "It gives the illusion of more fullness at the back while maintaining some length around the face. There are no layers, which gives it more of a blunt edge," says House.
Chic Short Cut for Women over 40 with Thin Hair
@hairbyjaimilea
This chic short cut for women over 40 works great on thin hair. It makes the mane appear thicker and fuller than it is. It's also parted in the middle to frame the face beautifully. When styling, give it a few waves to achieve instant volume and bounce.
Short Haircut with Wavy Hair
@rodrigocintra
Consider a short haircut with wavy hair which gives more life and movement to your tresses. A shoulder-skimming length gives a fuller feel to fine hair. The loose natural waves also give width to the hair and add volumized texture. While pixie cuts for fine hair give maximum impact, this cut is also for those wanting to keep some length yet gain more fullness to the hair.
Blunt Bob with Choppy Bangs
@_locksxlukacz_
A blunt bob with choppy bangs gives an illusion of thick, chunky hair. The dramatic short bangs (fringe) and wavy texture of tresses are absolutely amazing when combined. This cut softens the facial features such as the pronounced cheekbones and jawline. Get it done by asking the stylist to cut the hair dry for an even more blunt result.
Short Layered Bob
@linda_carmineandco
Short layered bob haircuts are super versatile, and they work with any hair type and face shape. They look beautiful on women at any age! Master stylist Linda Pomilio of Pennsylvania, who does short bob cuts, shares how she did this one.
"In this layered bob, I used square layers. These maintain length in the top to give it a more modern feel. Also, I created texture by point-cutting with my scissors," she notes.
Layered Pixie
@hairbyfranco
This pixie cut for thin hair features a muted purple-silver shade on a wild nape undercut. Layering adds more density and texture that can give the illusion of thickness to this spiky short style.
Super Short Crop for Thin Hair
@thaai_andrade
Get a super short crop for thin hair for an easy-to-manipulate style. It shows a lot of confidence plus it looks alluring and fuller. With a bit of a texture, this chop is sure to offer great hair without trying hard.
The Really Short Inverted Bob
@hotsaucehair
The really short inverted bob is a cute neck-length haircut benefiting thin, fine hair. It offers layers at the back for a voluminous and bulkier effect. Short bobs for fine hair can be edgy and elegant, depending on its style. This thin cut looks stunning when either messy or sleek.
Short Hair with Beach Waves
@hairbyjaimilea
Amp up the short hair with beach waves for a modish, flirty result! This short hairstyle looks messy and sexy with tousled waves. Short cuts for thin hair are easier to style when adding lots of texture to create more volume and shape. Layer the sea spray by using it right out of the shower, then again when the hair is dry.
Stylish Crop for Women Over 60
@thevanityloungehairandbeauty
This is a stylish pixie crop for women over 60 who's ready to go for short hair. If you're one of those thin-haired ladies, you can rock a textured pixie cut and style the best. A fusion of grey and blonde strands can make a gorgeous short haircut for women over 60 years old, for sure!
The Asymmetrical Pixie
@kalnascimentostudio
Wearing the asymmetrical pixie cut is like wearing both long and short hair. The neat cut at the sides and the back complements the long bangs at the front. This is such a flattering cropped cut that breathes volume to fine, thin locks.
Short Curly Hair
@dknastudio
Getting some volume-enhancing layers means classing up your short curly hair. Short layers add more movement and texture to dark locks that thin-haired girls with a round face will admire the most.
Silver Pixie for Women Over 50
@bglam_boston
The best short haircut for women over 50 with thin hair is something that gives comfort and a youthful edge. Chop off your grey hair and upgrade it now! Try this flattering silver pixie for women over 50. For thinning hair, it's easy care to manage and style, so you'll love it, for sure!
Nape Length Long Messy Pixie
@shmoakin_hair
Featuring a nape-length long messy pixie that gives body to short haircuts for fine hair! When it comes to an optimum chop for fine locks, this pixie fits the description. The length, layers, and even the beige blonde shade contribute to making the hair seem fuller.
Trendy Long to Short Hairstyle Makeover
@nomoreboringhair
This gorgeous brown hair makeover is a dramatic transition from a long hairstyle to a short bob balayage that gives the hair more volume. Short hairstyles for fine hair like this one are becoming more trendy with it's angled side part and subtle waves.
Layered Wavy Hair with Highlights
@cambonesdibble
Work a new short wavy bob with blonde highlights by spraying some sea salt spray for added texture that complements shades of brown and blonde hair like this one. A deep side part helps balance an angled face that needs softening and also adds volume to hairstyles for fine hair.
Funky Asymmetrical Undercut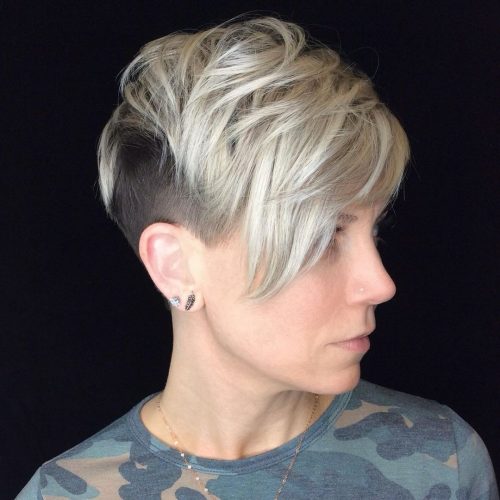 @courtneyxcentrichair
Pull off this funky asymmetrical undercut if you want that same edgy vibe. The slight wave on top adds movement and texture to naturally straight hair. This blonde undercut is gorgeous and only requires minimal styling. While it's not the most popular short haircuts for fine hair, it's super trendy right now.
Feathered Wavy Lob
@anastasia_potapova14
This feathered wavy lob makes some of the best short hairstyles for fine hair. It's versatile and customizable! A feathered lob works well with any texture and looks good on any length. Adding bangs and face-framing layers allows it to suit any face shape. A wavy lob is perfect for women who have natural waves in their tresses.
Disconnected Undercut Pixie Haircut for Women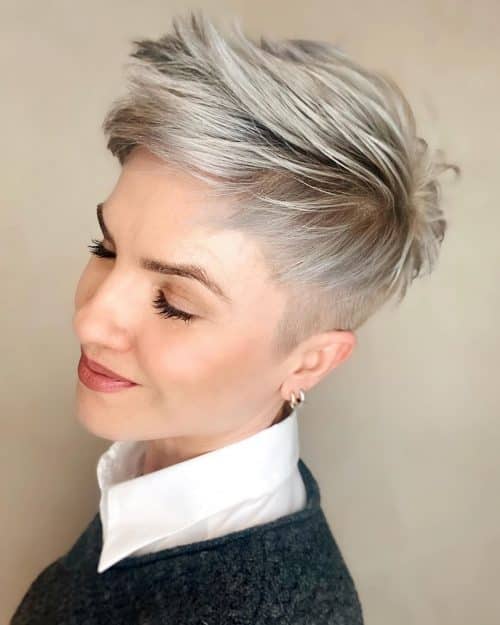 @sonia_rohrbach
A disconnected undercut pixie haircut for women always looks edgy and sophisticated. So if that's the vibe you're looking for, try considering this short silver pixie. It features a chop with longer hair on top and a shaved side. When styling short haircuts for fine hair like this, use a texturizing product. This will give your straight locks volume and movement.
Straight Bob with Side-Swept Bangs
@sergeyshapochka
This straight bob with side-swept bangs makes a classic trend that's here to stay forever. It takes minimal effort when styling, and suits most face shapes. You know it's one of the best short hairstyles for fine hair as this cut gives a fuller outcome.
A-Line Bob Cut for Black Thinning Hair
@evancutshair
A-line bob cut for black thinning hair has an exaggerated line to maintain length in the front. Stylist Evan of Idaho created this classic chop for inspiration. "I slightly cut into the shape by channel cutting and point cutting to create a little movement," he describes.
Evan explains that this cut has a longer front, ideal for someone who has a broader jawline. "It gives the illusion of slimming it down because the front lengths are longer."
Lovely Short Hair with Volume
@julia_edwardsandco
Lovely short hair with volume and texture promises an edge that offers fullness. The voluminous style plus the length, where hair grazes the neck, gives a bolder finish. Parting the mane on one side also helps in providing an instant volume to the style. Subtle shags are great short haircuts for women with thin hair as they're easier to maintain.