Top 27 Short Shag Hairstyles & Haircuts Right Now
Short 70s Shag with Choppy Ends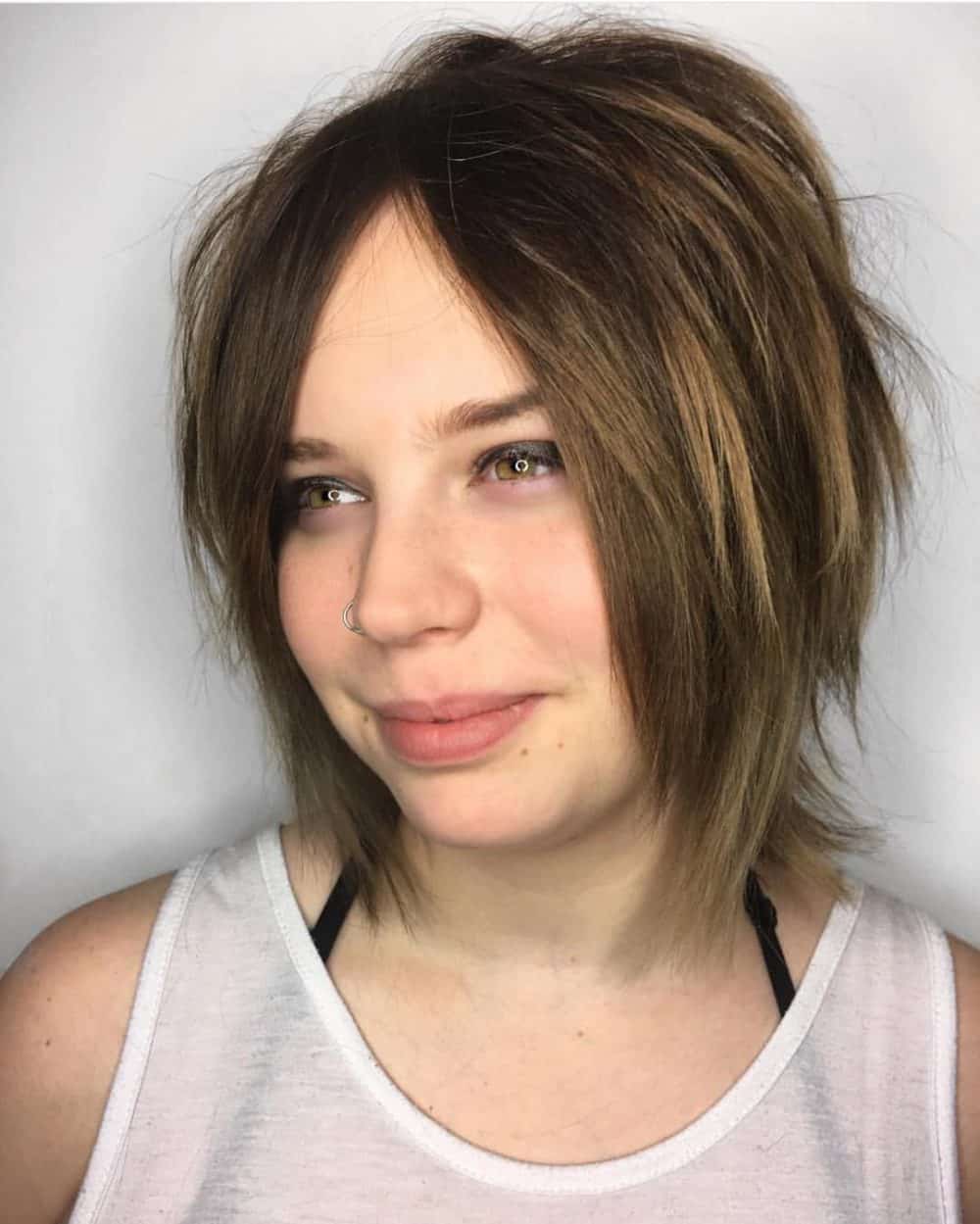 @allybrown1004
A shag haircut looks like this short 70's shag with choppy ends. Modern short shag haircuts that are tousled can give you a fresh look! It frames the face beautifully and gives an effortless texture to the hair.
@rachelwstylist
A modern twist on a short bob shag with a side part keeps some structure in its form. A side-parted shag works great on squarer faces, as the normal full-on bangs shorten the face even more. This is also perfect for those who prefer a side part. Due to the side part style, you won't want the layers too short. Allowing for lots of movement to form around the perimeter brings flow and texture to your bob.
Black Shag Bob with Pink Highlights
@hairby_hannaemilia
A black shag bob with pink highlights can add some brightness and lightness to your style. The shag adds a lighter feel to the hair from the layering techniques used. With increased flow and movement to the hair, your color pop even more. Try adding pink highlights to your black shag to enhance the depth, with the bright pink sitting against black tones that blend into the layers.
Short Shaggy Bob with Middle Part
@hairbybethany
This short shaggy bob hairstyles can be catered to any woman's hair texture and face shape with face-framing layers. It was created by hairstylist Bethany Duffy of North Providence, RI.
"If you are considering short bob haircut like this, it is so low maintenance! Shagged short bobs are totally a wash and go haircut," says Duffy.
Duffy recommends getting a curl cream like Davines Love Curl Controller for wash days and Davines Sea Salt Spray for a refresher on non-wash days to keep that fun texture.
If you have a night out, use a wand to define a few of the waves for sassier shaggy bobs. Even a little bedhead will make it look awesome!
Short Dirty Blonde Shag Style
@alliehairandbeauty
A short dirty blonde shag style is a textured cut, ideal for medium to semi-fine hair. Idaho-based stylist Allison Loftin creates short shag haircuts for women like this one. "For a big forehead or receding hairline, this cut's curtain bangs will be a good look on you," notes Loftin.
She adds, "shorter shag haircuts helps ladies with less hair get more body and volume. When hair is cut short with texture, it can create a cute messy look."
Short Shag Cut with Short Layers
@jenikafortrue
This short shaggy hair style is so sassy and sporty, and was created by senior stylist Jenika Criswell of Las Vegas, NV.
The nice thing about this cropped shag cut is that you can get so much diversity out of this look. From sleek and straight to wavy messy and edgy.
Regardless of your hair type, Criswell recommends deep conditioners, heat protectant, and leave-in conditioners. "Getting in Salon treatments to keep your hair healthy and shiny at least once a month," she adds.
Shaggy short haircuts for girls are great for those who don't mind taking a little bit of time to get their style just right every day. The cons of a short shag like this is that it's not a wash and go kind of look.
Neck-Length Wavy Shag with Bangs
@hollygirldoeshair
"Go for short shag hair that is a little fuller on the ends instead of carving it out as much as a true shag," advises master stylist Holly Seidel of South Pasadena, CA.
The fullness created by the wavy hair and shaggy layers pictured here gives the crown more volume, and the bangs and bits create such a flattering frame for the face.
This shag cut for short hair is also incredibly easy to wear. It works just as well air-dried and tousled as it does blown out or curled.
"Shag hairstyles for short hair work on so many different hair types, including very curly hair and very straight too. If you have very thick hair, ask your stylist to remove a lot of bulk using a straight razor technique," adds Seidel.
If you want short wavy shags, then know they come in different lengths and can be modified by the amount and length of layers, as well as the style, length, and fullness of the bangs/fringe.
Chin Length Choppy Shag for Thick Hair
@singing_stylist
These chin length choppy shag cut ideas feature a modern take on the classic shag for short hair.
Short shag haircuts for thick hair are a great way to remove the bulk and heaviness.
Super Short Balayage Shag
@emilya_filippa_do
This popular short shag is low maintenance blonde hair inspired by Anh Co Tran. It was created by colorist and stylist Emilya Filippa Do of Austin, TX.
"Super short shaggy haircuts are great for women with strong jawlines," she adds.
Short French Crop Layered Shag
@cindi.love
This French short shag style is relaxed with an effortless aesthetic that moves between the French girl vibe and 70s rock and roll vibe. It was created by hairdresser and owner Cynthia Valdez De Gamboa of McAllen, TX.
The internal layers of this short cut and transitions give it a fresh textured shag style. Now you can wear a shag hair cut that easily showcases your personality.
"The shagginess of this hairstyle is ideal for the girl on the go that can commit to at least two styling products and can at least take ten minutes to style. Short shaggy haircuts for fine hair should add movement to the hair," she explains.
Products like beach waves, texture sea spray, or texture clay is the easiest way to maintain the fresh and effortless aesthetic of this short shaggy hairstyle.
Short and Chic Shaggy Lob
@nicollemaryanabeauty
"This is the cutest idea of a short shag haircut for women," claims hairstylist Nicolle Muldowney of Lathan, NY.
A chic shaggy lob haircut is a modern twist on a retro style.
"Know that shaggy short styles should have layering and de-bulking. This way it becomes a great way style a shaggy, short length haircut in big, loose waves," adds Muldowney.
Razored Shaggy Pixie Cut for Over 60
@lissettehair
This is very short shaggy pixie cut for women in the 60s on naturally textured hair. It was created by hairstylist Lissette Brito of Edgewater, NJ.
This is short in length and so it's a low maintenance cut that's still stylish.
This shaggy crop is the perfect short haircut for 60-year-olds. This spiky pixie shag can be recreated at home with ease and minimal blow drying.
Brito says to use a hydrating shampoo like MoroccanOil to add shine and keep the natural texture from drying out. "Lastly, finish off with a little Redken Outshine to add definition to shaggy wispy haircuts for older women," she adds.
Shaggy Long Pixie Cut
@style_by_ashley
Get a short shag cut like a long pixie cut that is easily worn in a few different shag hair styles. Take this shaggy pixie for example. It was created by designer Ashley Rosky Springer of Kent, OH.
"To women considering short shag haircuts, keep in mind that the woman pictured has fairly fine hair," says Rosky Springer.
If you are considering short shaggy styles and have thick and/or coarse hair, you may find yourself working a little bit harder to style your hair without it looking "poofy".
Shorter Shaggy Angled Bob
@howehair
An angled shaggy bob on short hair is trending right now because it is a relatively easy style to achieve at home with a small amount of effort. Midgley Ross Howe, stylist and owner of Howe Hair in Cape Town, South Africa created this modern shag haircut.
Howe says the most important thing to consider when you have a shag haircut is that chunky short hair isn't always the easiest option. "However, for styling purposes, it is easy once you get the hang of it," she explains.
This shag hairstyle with short layers works best on women with short fine to medium hair.
You will need to be ready to use some sort of product like mousse or texturizing spray to give it that shaggy look and the hold that it needs. If your short hair is quite curly or straight, using a tong is the easiest way to get that perfect short summer wave.
Feathered Short Chopped Shag
@prettycutanddry
"A textured bob shag on short hair that has feathered layers as opposed to sitting on top of each other," explains style creator and hairstylist Sara Carden of Costa Mesa, CA.
This celebrity shag inspiration creates a more modern, versatile bob hairstyle.
"Short shaggy hairstyles are great for women that don't have a lot of natural texture to fight with. This is why it's good to add shaggy layering into the cut," says Carden.
This is one of the best shag haircut ideas for a wash-and-go style that is great for women with thin hair. The short length works best for women with a heart or oval face shape.
Short Razored Shaggy Hair
@jpattonsalon
This short razored shag cut is full of texture and carved out pieces that make it youthful and fun to wear. It was created by stylist Julia Patton of San Francisco, CA.
Short layered haircuts often look undone or lived-in, so it works well for a low maintenance woman who is not looking to shampoo and style their hair often.
"If you're exploring popular short shags and aren't sure if it will work for you, set up a 15-minute consultation with your stylist. Bring some images that you like so your stylist can customize a short scruffy cut shag that will work best for your hair texture and face shape," explains Patton.
How to Style a Short Shag:
– Towel dry the hair very well
– Add some salt spray
– Use your hands to style as you dry the hair
Modern Short A-Line Shag
@misahara5
Stylist Margarita Ford of Moorpark, CA created this modern A-line shag haircut for short hair. It's really a feminine cut.
The best short shags have lots of texture that work for every hair type.
"This short cut is great for women with fine to medium texture hair. It gives the appearance of a thicker, sexier and can help you pull off the shaggy trend for short hair," says Ford.
To style:
– I Kenra Volumizing Spray at the root
– Blow it dry with a round brush.
– After the hair is dry, spray with Kenra Professional Heat Block Spray to protect while flat ironing.
– To finish, spray with Kenra Dry Texture Spray.
Shaggy Cut with Short Fringe
@hairyalexhorne
Choose a very textured, short shagged cut with a short fringe that is very customizable to each woman. Stylist Alex Horne of Pensacola, FL created this one.
"This favorite haircut is for ladies who are a little more adventurous, out of the box, eclectic, and does not have pin-straight hair," she explains.
How to Style a Shaggy Cut with Fringe:
– Dry with a diffuser using Aquage Sea Salt Spray for that messy, lived-in look.
– After that use a Hot Tools Curl Bar to wand any curls you don't like into a direction you go like.
– Finish it off with Dry Texture spray from L'anza to define the texture and put in some hold.
Short and Shaggy Undercut
@samkanehair
This really short shaggy bob with an undercut is the trendiest cut for bold girls. It was created by senior stylist Sam Kane of Boston, MA.
"Edgy short shags are great for any woman who is maybe a little shy about committing to a full short pixie bob cut," says Kane. "You have the shortness in the back, but the safety net of some length in the front. This short hair style is a great way for thin and fine hair to appear thicker and fuller."
When it comes to styling shaggy pixie bobs, Kane says:
– First, blow dry (just using fingers) with a salt spray or light mousse.
– Apply a texture spray once the hair is dry for that effortless piecey look.
Prettiest Jaw-Length Shaggy Cut
@elyselouise_rixonhair
The prettiest jaw-length shaggy cut works well on fine textures and a heart-shaped face. Taking away any underneath bulk with an undercut and texture the ends. Shorter layers in the back crown give a lot of lift working around any cowlicks and mid-length layers around the face. Showing off the jaw creates a fun short shag haircut.
Short to Medium Shaggy Asymmetrical Bob
@tagyourhair
This shaggy short hair is a super textured, asymmetrical razor cut with a ton of layers. It was created by hairstylist Kim Taglienti of Philadelphia, PA.
"Use the razor to create texture in shaggy bob haircuts, and then texturizing it with shears when it's dry, will create an effortless short style that has the shag haircut feel," she explains.
This shorter cut is great for all hair types from straight to wavy to curly. It just depends on what style you are going for, and that determines how it will be styled.
How to Style an Asymmetrical Bob:
– Use a volumizing tonic & damage remedy daily hair repair while wet & after curling.
– Use a 1 1/4″ curling iron alternating the direction leaving the choppy ends out to give it the tousled beach wave shaggy hairstyle. – Then, use the defining whip & control force hairspray.
"Using a pomade is key in achieving this shag look to help give it the texture," she adds.
Short Blonde Shag with Bangs for Over 50
@christopherashleysalon
A short shag cut is perfect for older women who still have thick hair. Adding some champagne blonde balayage color is a great way to hide your naturally gray hair and add a youthful look if you go short.
Cute Shaggy Cut with Curls for Short Curly Hair
@jamesblakehanson
Short shag cuts are super trendy right now. "This short cut is very diffused, rounded at the top, squared on the sides, and very open around the face," says stylist James Blake Hanson of Orlando, FL.
A short curly shag can fit any woman. It can enhance natural hair texture, remove weight, or add body. It's extremely easy to maintain as long as you're willing to use a little product.
Straight hair can become textured, wavy, and curly short hair can become enhanced.
"This girly shag really opens the face and looks great with fringe too. For someone with strong cheekbones, you can really open it up. For women with a round face, you will still look great and you can even narrow the look of your face with a slightly longer face frame," he explains.
Short Textured Shag with Side-Swept Bangs
@mainpointsalon
A short textured shag with a side-swept bang is a sassy and cute style. A shag differs from a bob because the sides are shorter than the back. Short shag hairstyles are great for thin hair. Salt spray is a great product choice for short hair cuts.
Cute Short Blunt Shag with Bangs
@timpascoe_hair
Short shag hairstyle with bangs is a razored haircut that has graduation along the length showing disconnected ends. The cute short blunt shag and bangs stands out with a super stripped messy finish.
Short Brown Shag Haircut with Highlights
@definedbysav
Add some toffee highlights to dark brown hair for a fun and fresh short to medium shag. Each highlighted stand will show off all the dimensions of your new short shaggy haircut, and the darker hair color is sure to match any skin tone.
The Cutest Short Layered Shag
@holly.stylist
Try a short shag with baby bangs, which gives short hairstyles a vintage and punk feel. This short layered shag was created by stylist Holly Scott of Salt Spring Island, BC.
"The best thing about this cool short haircut is that it is so versatile, depending on how you style it," says Scott. "Waves give it a soft 'lived-in' look while straightening this gives an edgier vibe."
Wavy medium/fine hair is perfectly suitable best for this shag's length and shape. If you have straight hair, the key to making it look effortless is to create a 'bend' with the flat iron vs a curl. Lastly, tousle your hair with a texture spray to finish your new short shaggy hair!