24 Hottest Short Weave Hairstyles
With Shaved Sides
@egobeautybar.philly
The more weaves, the better! The volume can be customized to your liking with this one. See more short natural hairstyles here.
Perfect For Long Faces
@deedollbox
Keep your hair length past your chin to balance your oval face. Cutting it blunt and adding in straight bangs are also smart and stunning ways to make your long face look shorter.
Gorgeous Curly Hair
@houseofglamchic
Get a natural look when you wear these super cute curls all over your head! With those subtle copper highlights, you'll absolutely have a unique and glamorous appearance!
Wavy Bob
@the_br_stylist
Keep your business simple yet cute and curly with this easy weave! It's perfect for women who want a fabulous look without too much going on.
Weave with Bangs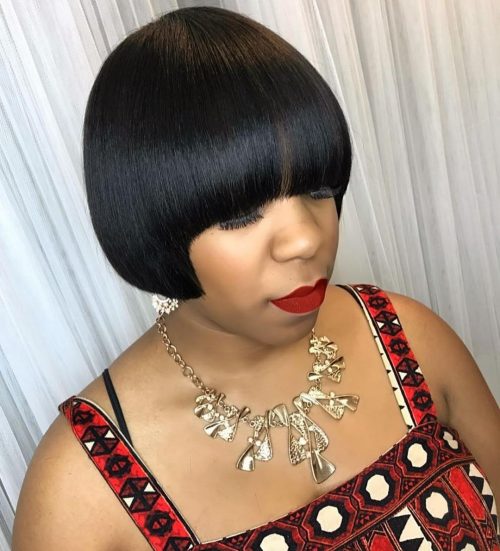 @hairbylatise
A straight, thick, and classic ear-length cut – this look is the bomb! Aside from its elegance, what's great about it is how it can highlight your eyes and makeup.
Curly Sew In
@istyled_it
Drop jaws with this really hot hairstyle that's all about volume and movement! It's thick and face-framing pieces will surely make you fall in love with it instantly!
Layered Bob
@alyshaplease
We surely love this fun haircut that features lots of flips, curls, and splashes of sexy colors!
27 Piece Weave
@mswilliams__
This features a classic short hairstyle – a neat pixie cut with so much body and volume. Definitely gorgeous for workplace settings.
Asymmetrical Bob
@hairstylist.rara
Go for something longer with an unequal length if you want to have the best of both worlds! This look is absolutely simple yet sassy!
Weave with Closure
@hairby2couture
Shape and cut that's ideal for oval and long faces – this jaw-length bob makes for a balanced look that is super easy to manage.
Side Swept Bob
@markanthonystyles
An easy way to liven up your simple black hair is to go for an uneven look. Part it from one side for a more interesting finish.
Weave with Highlights
@hairbyshugnc
The asymmetry and dimension of this totally envy-inducing look make this style very unique. Add in those light streaks and flirty layered side bangs, and you're sure to get endless compliments!
Jet Black Weave
@arlisestylez
If you want a less hassle yet cute style then this cut is for you. It's a closure sew-in parted in the middle for added sophistication.
Short Bob
@heavenlyroxie
This jaw-length graduated cut styled with a side part is a total eye-catcher. Going blonde for a beautiful contrast is also one way to get attention!
Short Quick Weave
@elandadunn_stylist
Get sassy with these soft and feminine waves in a short quick weave hairstyle like this one. This style looks so surprisingly natural and only requires little to no maintenance.
Quick Weave Bob
@roesnaturalhair
Q&A with style creator, Roe Withers
Owner @ Roe's Natural Hair Salon in Chicago, IL
How would you describe this look?
Ahkivah is a regular client who's natural hair is tightly coiled and about 4-5″ long. She was looking for a long, soft but edgy look for an upcoming wedding she was attending.
We chose a sew in installation as the protective style, and for this client, we like neutral colors in the brown family to bring out the natural brightness of her skin.
Any advice for someone considering it?
When considering a style like this I would recommend an extensive consultation with your stylist to determine what route to take to achieve the desired style without damaging the hair.
Weave with Side Part
@simplyslayed_
This blonde bob is the perfect way to go if you want a bold and light color without getting your hair damaged. With this sweet style, you won't need too much effort to look amazing every day!
Q&A with style creator, Kayleigh Carter
Licensed Cosmetologist / Owner @ SimplySlayed Hair Studio in Atlanta, GA
---
How would you describe this look?
I would describe this look as a blonde balayage bob! The BBB! The entire look was a win for myself and my client! We had been transitioning from dark to light for a few months and got the final look we were looking for.
Any advice for someone considering it?
I would educate them on the process of transitioning from dark natural hair to blonde. It is not an overnight process. To maintain the integrity of their hair, it's important to do it responsibly. Although they may be excited about having a new do, it typically takes around 3 sessions to achieve this look!
Sew In Weave
@the_jacobyb
Q&A with style creator, Jacoby Beasley
Stylist @ Jacoby B Sola Salon Studios 29 in Dallas TX
---
How would you describe this look?
This look is pretty feisty considering how blunt it is while staying in its natural state. I love it better when it's cut above the shoulder, so you can capture the bluntness of it. I like this look with or without color. Here, she wanted a few highlights, and that made the style stand out even more! Love it.
Any advice for someone considering it?
I suggest getting quality hair that does well while being in its natural state – not too curly but just right. We used raw curly hair from Jritzy Hair Collection. Those with a longer neck, slimmer face, this look is for you! If you are on the go and don't have time to style in the mornings, this style is perfect. Water and a moisturizing conditioner in a spray bottle will be your best friend.
Short Pixie Cut Sew In
@akothdoris
Q&A with style creator, Doris Akoth
Weaveologist @ Hawi and Hera Beauty Creations in Nairobi, Kenya
---
How would you describe this look?
This look is a funky pixie modern cut that is stylish. The greatest thing about it is the mixing of colors which brightens the face and keeps one awake and present.
Any advice for someone considering it?
Look at the shape of your head and face. This style suits oval face shapes. Your lifestyle also has to complement the look! When I talk of lifestyle, I mean your dress code and your make-up have to be on point to bring out the look. It's suitable for young women.
Stacked Bob
@a4_ava
Round up your hair and give it layers with this cut. You'll instantly become the talk of the town!
With an Undercut
@d3_afrobeauty
Your already chic and cool curly weave only needs one more thing – caramel highlights! Now, you're ready to rock n roll.
28 Piece Weave
@missquitamae
You have a lot of room to play around with this short weave set. Curl it, color it, style it however you want, achieving a different look every time.
The Jerry Curl
@mrdontezlove
Prop this hair on for an instant change! The effortless curls in this Jerry weave makes it easy to make a statement with less styling.
Ideal For Round Faces
@_elanathompson
This short bob weave closes in on the wider areas of the face, making a more elongated shape for round faced girls.