Top 29 Short Blonde Hair Ideas Right Now
Natural Short Blonde Bob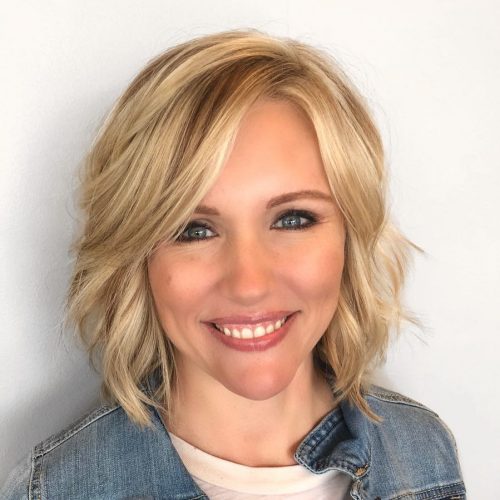 The most popular short haircut for women with natural blonde hair is a neck-length layered bob.
This lovely short blonde bob hairstyle can be flattering on any face shape, depending on how you style or highlight it.
Blonde and Burgundy Blend for Short Hair
Blonde and burgundy blend for short hair is great for women who want to try out red tones. To get this color, ask your hairdresser for some red-toned color all-over and a bob haircut.
Caramel Blonde Bob with Bangs
A caramel blonde bob with bangs has softer, warmer tones that look stunning on short hair. The rich tones contour the face with the bangs while the short length gives softness to the entire face. The color looks natural like it's your tone, giving an added glow to the skin. Add few-dimensional highlights to give a natural look to your tresses.
Short Blonde Thin Hair
Short blonde thin hair looks super cool with a bob length cut, giving a fuller structured baseline to the hair. Try adding some blonde highlights to contrast against your natural color to give dimension and texture to finer hair, this makes the hair pop and appear thicker.
Asymmetric Blonde Bob for Women Over 60
An asymmetric blonde bob for women over 60 is a trendy and youthful cut. The peaked layers around the face provide lightness to the overall appearance.
Curly Blonde Hair for Older Women
Curly blonde hair for older women is a great way to blend any gray hair. It adds a subtle facelift to show off the natural texture. It's a low-maintenance approach for women without having to step foot in the salon once a month. Pro Tip: Try Be-Curly Curl Enhancing Lotion by Aveda to create frizz-free waves. Style it with a diffuser on low heat and with low intensity to form the perfect waves.
Platinum Blonde for Short Hair
Short platinum blonde hair with a chin-length bob is a trendy short hairstyle right now.
This high-maintenance blonde color suits cool undertones perfectly and will need the right home care routine.
Honey Blonde Ear-Length Bob with Bangs
A short honey blonde ear-length bob with bangs can look edgy with a choppy fringe and a lot of texture.
This blonde messy bob also has a soft, graduated undercut at the nape that shows some off some textured bits at the neckline.
Choppy White Blonde for Fine Hair
A short white blonde layered bob with bangs with texture is lighthearted and fun!
This layered, short blonde hair with bangs works well for women with fine and limp hair.
Silver Blonde Pixie Cut with Long Side-Swept Fringe
Silver blonde hair color with a short pixie cut is one of the trendiest short blonde hairstyles this season!
For an easier time styling short hair with long, side-swept bangs, ask your stylist for a razor cut on the ends.
Warm Blonde A-Line Bob Cut
This warm blonde A-line bob is a chic short haircut.
It's a cute blonde style for any blondes who likes a shorter cut but still wants it to look effortless.
Dirty Blonde Pixie for Very Short Hair
A dirty blonde layered pixie for very short hair is an edgier blonde inspiration.
The dimension on this short blonde haircut is stunning with a bit of texture.
Light Blonde Hair Color for Short Blunt Shag Cut
Here's a light blonde short shag haircut that is very modern! The wavy style offers movement, so a classic bob won't look too flat. This short shaggy cut is great for ladies of all ages, too.
For this blonde short hair cut, use Kevin Murphy Resort.Spray and an H2d iron to add beachy waves.
Blonde Pixie Bob
This blonde pixie bob short cut features subtle layers at the back to create instant volume and shape.
To keep the blonde tone, use purple shampoo when washing your short locks.
Layered Ash Blonde Balayage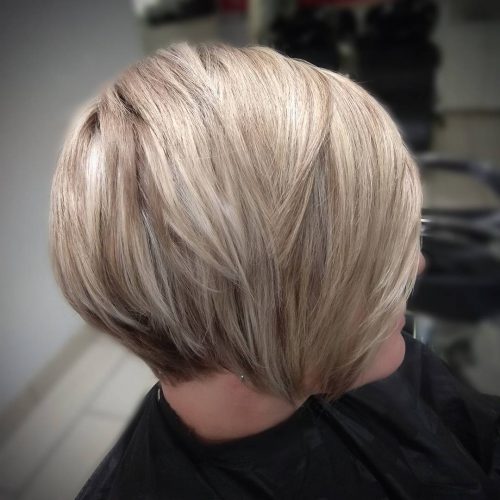 A short layered ash blonde balayage bob is sexy and has lots of texture and movement.
The must-have product for any blonde hairstyles is a silver shampoo to prevent brassy tones and keep your silver-blonde cool.
Textured Soft Blonde Lob Cut
A blonde lob cut is a great short haircut for women with fine hair. The length will give fine hair a fuller-looking appearance.
A short hairstyle for women with blonde hair should have a little sea salt spray to emphasize the color's dimension.
Chin-Length Icy Blonde Bob Haircut
A chin-length icy blonde bob haircut is a stunning way to add blonde on short hair
Short blonde haircuts like this accentuate the jawline and also flatter a fair skin tone.
Beachy Champagne Blonde Wavy Bob with Shorter Layers
A short champagne blonde wavy bob is fresh, tousled, and lived-in.
This wavy blonde bob has shorter layers that get rid of extra bulk from thick hair. This type of short blonde hairstyle has lots of wearability with all the texture built into the cut.
Brown Angled Bob with Blonde Highlights
This modern short angled bob with blonde highlights is toned to create more dimension to your blonde coils.
Short hair with blonde highlights are great because it can be adjusted in length to suit any hair texture and any face shape.
A-Line with Sun-Kissed Blonde Beach Waves
An A-line bob with beach waves on short sun-kissed blonde hair gives a very lived-in feel.
Ask your stylist about adding a bit of a shadow to your roots for a dark to light blonde color effect that enhances its short bob cut, creating a trendy A-line blonde hairstyle.
Textured Sandy Blonde Blunt Bob
This sandy blonde blunt bob with blonde babylights is gorgeously textured.
This short blonde hair was done on finer hair texture.
One-Length Cool Blonde Bob
A short one-length bob with cool blonde highlights and soft undercut is super chic. The tones are sure to give straight hair a nice dimension.
This blunt blonde bob does require maintenance about every six to eight weeks for both haircut and short blonde highlights.
Beige Blonde Tousled Bob
This beautiful beige blonde tousled bob with soft, loose curls on a jaw-length haircut looks amazing.
Keeping dark roots with a blonde will help your short hair grow out seamlessly.
Dark Blonde Undercut Bob with Bangs
A dark blonde undercut bob with bangs and lots of internal short layers is best for finer to medium hair.
Blonde hair for short haircuts can still be styled in braids, waves, and even cute messy updos.
Buttery Blonde Pixie
A buttery blonde pixie cut with a tinge of yellow looks great on pinkish undertones.
Side part your short tresses and comb flat for a preppy cropped bob.
Light Golden Blonde Crop with Bangs
A light golden blonde crop with bangs is perfect for naturally wavy or curly hair.
The texture will enhance the layers of this chop and its bright blonde color.
Brown Blonde for Women Over 50
This blonde hairstyle on short hair has the perfect shade of brown blonde for women over 50.
The dimension on this blonde voluminous bob looks amazing on a chopped crop.
Strawberry Blonde Pixie
Short hairstyles such as a strawberry blonde pixie is perfect if you're making the switch to blonde and want a shorter chop.
The darker color at the base with a lighter shade at the ends creates an incredible red-blonde hue for a more textured effect.
Super Short Razored Blonde Bob
A super short razored blonde bob is easy to style and would only require a trim every two to three months.
Look creator Katherine Pope of Dublin says it works on any hair density. It adds volume and layers to thin hair and also removes extra bulk from thick tresses.
To create this bob, Pope says, "I chose a textured 45° angle cut. The hair is naturally straight, so the texturing part gave the look some volume where it's needed it."