12 Cutest Short Curly Bobs for Curly Hair Girls
Short A-Line Curly Bob
@hairondisplay
Your ginger waves will surely flare up with some styling mousse and bangs on the sides with this chin-length curly bob haircut. Thick curly bob hairstyles are best with layers.
Short Bob with Curly Bangs
@vanessayvonnehair
A short curly bob with bangs is best for women who want to hide a long face or large forehead.
This curly hairstyle mimics a messy look that is super chic this year.
Short Curly Angled Bob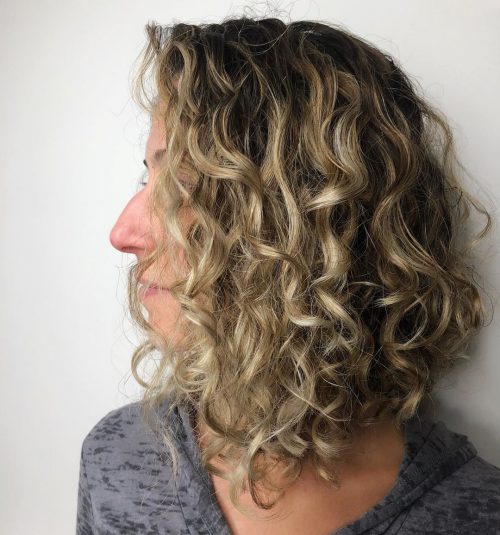 @jennpompandproper
A short bob pairs perfectly with an angular cut and curly ends.
Angled bobs haircut become popular lately and it's a great way to draw more attention to your natural curls.
Short Sew In Bob for Black Hair
@the_rose_affect
Curly sew-in bobs for black hair are easy to have as either a weave or relaxed hair.
This instant curled bob that is asymmetrically parted will give you the most natural look in a flash!
When considering a curly side part bob, a curly bob sew-in will will help frame the face and provide more balance.
Short Weave Curly Bob
@gracehairworld
A curly weave bob is a great way to protect your natural hair and temporarily change up your curly bob styles.
For a younger vibe, try a middle part curly bob like this one.
Short Asymmetrical Curly Bob
@justina_1908
When considering short curly bob hairstyles you'll need to factor in your face-shape.
Getting an asymmetrical bob is a great way to balance wider faces.
Try creating a deep side part curly bob for a more modern, fashion-forward style.
Curly Layered Bob on Short Hair
@hairinnovationswestport
Curly layered bobs give women with thin hair more volume.
To style this layered curly bob, add a texture spray and then scrunch your curly ringlets up for well-formed curls.
Layers on a short, curly jaw-length bob are beautiful even more for women with long-shaped faces.
The Curly Pixie Bob Cut
@tashdollars
The curly pixie bob cut creates a natural look for a curly-haired girl. Hairdresser Natasha Vranic of Royal Oak, MI used a slide-cutting technique for this chop. "This makes the curls pop and adds graduation that holds the shape," she notes.
A short bob haircut for curly hair like this works for any hair type. "It's great for thick hair wanting to see some movement and texture. It's also amazing for fine hair that wants to appear thicker and fuller," Vranic explains.
Short and Curly Stacked Bob
@salonday_withj
Q&A with style creator, Jordan Sturm
Hairstylist @ Hair Passion Salon in Greenwood, IN
How would you describe this?
This is a gorgeous short curly stacked bob with highlights and a lowlight to give the hair dimension.
Short curly bobs are great for thick hair because it's easier to maintain shape and allows you to keep the length around your face. A short stacked bob for curly hair looks great on all curly haired women.
What's your best advice?
This jaw-length curly bob hairstyle is great for women with curly hair who are looking for short curly haircuts that have a style and little edge to it.
A short bob on curly hair is the perfect hairstyle if you want to have less hair to deal with but still want to have hair around your face.
To style and define curling waves, put in the Quiet Calm Curl Control to help define curls while adding hydration. If you have naturally curly hair, then it's important to make sure to hydrate your curls to get a frizz-free style. Naturally curly bob cuts can and will frizz on you without the correct produc
Short and Curly Choppy Bob
@ashleahthornton
Q&A with style creator, Ashleah Thornton
Stylist & Colorist @ Ian McCabe Studio at Union Market in Washington, DC
---
How would you describe this?
This trendy short and curly choppy bob is lived-in and soft with a solid silhouette.
The round shape of this short bob cut for curly hair blends femininity, which is essential when cutting your curly bob hair short because there's usually that concern that you won't look "pretty" anymore.
What's your best advice?
The curls will vary on a short haircut and that's okay! Sometimes they're tighter around the hairline or straighter at the crown, but the imperfections of it make it unique to you and chicer than if it were super glassy and molded to your head.
When you use the correct products, curly hair is lower maintenance than straightening or blow-drying it.
How to style a shorter curly bob:
1. Use NYC Curls Curl Cleanser followed by the NYC Curls Conditioner.
2. Keep the conditioner in your hair and detangle it with your fingers and set each curl, keeping the hair wet.
3. After you absorb some of the water using a microfiber towel, layer the NYC Curls The Curl Gel, making sure not to scrunch the hair too much.
4. Dry the hair and then diffused the roots until it's 100 percent dry.
5. Lastly, fluff the roots with your fingers.
A Very Short Bob for Curly Hair
@hairbygunny
Q&A with style creator, Gunny Hastings
Hairstylist @ Reverie Salon in Chicago, IL
---
How would you describe this?
This very short curly bob cut will never go out of style.
This bob is modern because of the way it's cut to enhance the beautiful curls and have more of a round shape.
Adding curly bangs makes it unique and gives the curly short bob more personality.
Not many women dare to go with ear-length bobs because they open up facial features much like pixie cuts but curly tresses to help.
My favorite thing about this curly bob cut and style is the total embrace of the natural curls.
You want to avoid a triangular shape that tends to happen when someone with curly hair gets a traditional short bob haircut.
What's your best advice?
The product is going to be important for women with curly hair considering a bob.
You'll want products that have a good mixture of moisture and hold to keep curly locks in place.
Add moisture to keep the curls hydrated and healthy but enough hold to help define the curls as well.
If you're considering a curly hair bob with bangs it's important to keep in mind that it's most likely going to need to be styled every morning. Curly bob haircuts can be slightly high maintenance.
Curly Inverted Bob with Short Bangs
@liwei_nekderx
Try a curly inverted bob with short bangs to amplify your finer curls. Curly inverted bob with bangs gives off a beautifully crafted shape where the curls stack upon each other so the hair looks wider and fuller. Those with natural curls need not worry about getting some bangs. They look fantastic on a curly bob haircut as the tendrils fall lightly over the forehead and add softness to a stronger face shape.