Top 15 Short Inverted Bob Haircuts
Short and Messy Wavy Inverted Bob
@meganjanco_roshambohairstudio
A short inverted bob haircut can flatter longer faces. Hair color is important for movement and subtle blonde highlights are magical here
Getting an earth color balayage intensifies the wavy texture of this tousled bob.
By adding super short, stacked layers with waves, you'll get a gorgeous inverted bob cut.
Short and Choppy Inverted Bob
@e.r.a.beauty
A choppy, inverted blunt bob cut is perfect for women with short straight hair.
The multiple layers around the head and more at the nape give this kind of short bob a gorgeous shape.
Inverted Bob with a Short Undercut
@dasilva_hair
A short inverted bob with an undercut is becoming a popular hairstyle for women in their 20's.
Adding a disconnected undercut to a bob is great for women with thick hair to thin it out a bit.
Having the longer length at the front and short at the back of this bob really shows off the undercut.
Add a shine spray for a polished shorter hairstyle.
Short and Layered Inverted Bob
@demetriusschool
If you love your classy long bob but want something extra, then try this short, layered inverted bob. It can also be called an inverted pixie bob.
(See this year's hottest layered bobs and pixie bobs)
The inverted short layers at the back give texture to the solid platinum blonde color.
Getting an inverted bob cut with the graduation with straight hair at the front can balance the look.
Inverted Bob for Short Curly Hair
@p__didit
A short curly inverted bob where it's long in the front and short at the back is perfect for naturally curly hair.
Adding a blue ombre when your hair is short is a great way to make this inverted A-line bob hairstyle pop.
(👉See more curly bobs)
Short Inverted Asymmetrical Bob
@hair_by_marlo
This short inverted haircut can be transformed and edgy with an asymmetrical bob.
A bob cut short makes several things stand out.
The lengthier front strands, side part, rounded bob, and undercut make a cool inverted cut.
Modern Inverted Bob with Layers
@mianfitnessmandy
This short inverted bob with layers features a short back.
This will help your hair appear fuller by having a longer front and more internal layering.
This stacking creates a short haircut with a vintage charm.
You can include shorter strands for a traditional bob to appear more modern and polished.
Short Bob with Bangs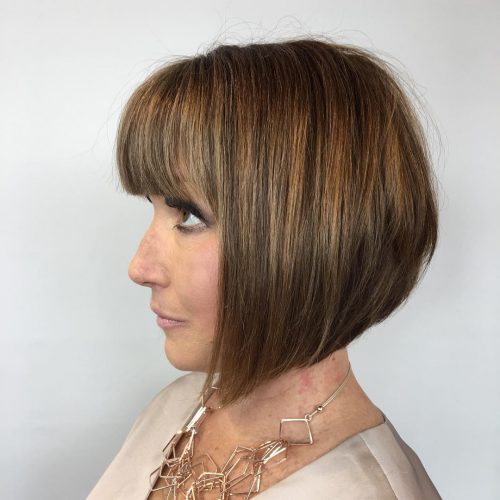 @catfacedoeshair
A short inverted bob with bangs are flattering for women over 40 and can provide and age defying effect.
Full rounded bangs on a neck-length short cut will keep this type of inverted bob lively and bouncy at any angle.
👉See more short bob haircuts with bangs.
Inverted Very Short Bob with Undercut
@karmabeautybar
A very short inverted bob haircut is perfect if you have very short straight hair. An angled inverted bob with an undercut is also an option.
The graduated, short layers at the back give more shape to short-length bobs that are inverted. Adding an undercut creates more movement.
Short Reverse Bob with Fringe
@meucabelocurto
This is the best inverted bob on short hair for women with thin hair.
The tapered back with long fringe at the front will add more volume on top for a short reverse bob.
Textured Inverted Bob for Short Thin Hair
@salondisorelle
The graduated cut of this short, textured inverted bob add more body to your hair. If you prefer shorter bobs this one might work because the front is longer than most.
Balayage a rusty brown color to make the bob even more gorgeous and sleek inverted cut quite short.
Inverted Bob for Short Fine Hair
@haarwerk_holzkirchen_weyarn
This short inverted bob hairstyle is very simple to handle.
If you have short curly hair, you can dry your hair naturally with some sea salt spray to get a very cool and easy texture.
If you're looking for short haircuts that are inverted, it's very easy to individualize the bob.
With this jaw-length bob haircut, you can individualize is in several ways. You can: change length on the sides, the part, add a fringe, cut it asymmetrical or blunt.
To style an inverted bob for short thin hair, blow dry it with a big round brush. Then apply I Want Body Texture Spray from Eleven to create some volume in the front and on the top.
Inverted Bob for Short Thick Hair
@snowconehead
This is a popular inverted bob on short hair with a tousled wavy texture.
It's really an effortless short concave bob cut.
A shaggy inverted bob haircut for thick hair will always lay right. You can do a wash and air dry or blowout with some curls put in.
A shorter inverted bob is perfect to expose your neck and rock your natural wave.
Another great thing about this short style is that an inverted bob can be modified to suit women with a round face.
Chin-Length Blonde Inverted Stacked Bob
@claudianinivaggistyles
Go for a short inverted bob style, stacked with clean lines for a classic look.
Adding highlights to a short stacked inverted bob can create some colorful movement.
A chin-length cut into a reverse bob works for women who are ready to go short but still want to keep some length.
This is also a great shorter length inverted bob cut for women with fine hair.
A blonde inverted bob on short hair suits every face shape by adjusting the length and layers.
To get this short inverted hairstyle, simply blow your hair with a round brush or wide paddle brush. Finishing off with KMS Hair Play Playable Texture for the next-day hair feeling!
Short and Angled Bob Inversion
@kristaswaby_hair
Shorter inverted bob styles are classic.
This is the perfect short inverted bob cut for girls who want an easy to style look for any occasion.
Shorter bobs that are inverted are perfect with wash-and-wear with some texture spray.
This layered bob with a short inversion is complements round, oval, heart and long face shapes.
The trick is to cut it into the correct length and angle.
The key to new short inverted bob hairstyles is the length, coloring, and styling involved. This helps match it to individual faces and styles.