15 Short Haircuts For Asian Girls You Gotta See
Trendy Short Bob
@phatlyzn
The best haircut for an Asian girl is a trendy short bob, coupled with choppy baby bangs. It fits all Asian girls of any age. This jaw-length french bob draws attention to the wearer's flawless skin.
Short Haircut for Thick Asian Hair
@familyhair_ashmorecity
This really short layered haircut is the unspoken evidence that ladies can rock men's cuts, as well. Stylist of Family Hair Studio from Ashmore City, Australia, did a balayage coloring technique using foils to add glowing ash, golden and platinum blonde highlights on this short haircut for thick Asian hair.
With Side Swept Bangs
@alexandria.greco
This short Asian woman hairstyle with side-swept bangs is the perfect one for Asians. This short cut on a dark hair and with subtle texture is the underrated interpretation of simple and beautiful.
Cute Short Haircut for Asian Girl
@ebichan0206
If you're wanting short hairstyles for Asian women, opt for middle part bangs arranged softly like this to open up the eye area. Perfect for any cute, artsy gal!
Short Messy Pixie
@mikerovstylist
Achieve this short messy pixie by creating layers that would peek out of your head, recreating a graphic anime character look. Red highlights add a punk effect to the already cool style.
Curly Bob
@hairsoho_176
Frumpy styles like these are made famous by Japanese cute girls wherein thin strands are curled and arranged in a messy manner. The bed hair, complete with front bangs, makes the curly bob look fuller, adding weight and size to your whole look.
On Straight Hair
@sozo.hair.international
Straight hair can either make or break your whole look. For limp looking hair, layers and tapered ends work best since these give volume and texture that is much needed for your hair type.
Short Layered Haircut For Asian Girl
@t____ru
Asian weather can be a bit fickle, so your hairstyle should fit whether you may be experiencing it. This short layered cut is the ultimate all-around hairstyle for the modern Asian girl, and you know it!
Short Haircut for Asian Square Face
@phatlyzn
This short haircut for Asian's square face is a genius idea to lessen the exposure of your beloved jaw. The combination of textured waves and side-parted lob goes along well with the dark-rooted brown hair color.
Short Rounded Bob
@dangdanghair
The best way to describe this short rounded bob is the Marylin or the Gwen. They're both iconic women who people instantly visually know. This is a bold, sexy, and classic cut was created by cosmetologist Aivi Dang of Metairie, LA.
"The best advice I can give someone considering having this Asian short haircut would be to think about it long and hard. This is not just a hair change, this will be a lifestyle change," says Dang.
"It's high maintenance, it's costly, and it can be dangerous. You should see a specialist for this kind of service. You should know the maintenance that comes along with a service like this. That includes your follow up appointments, your aftercare products, and the care that is going to being involved in your new everyday styling to maintain the integrity of this look," she adds.
It's a bold and beautiful look, but anything extremely eye-catching will come with extreme care.
Inverted Bob
@jessyjinstylist
Hair artist Jessy Jin of Vancouver, BC created this internally layered, soft inverted bob with graduation. "I like this because the internal layering really helps for hair to hug around the head and not looking too bulky. It gives a more soft and feminine look," explains Jin.
Jin likes to prep this cut with beach wave spray (L'Oreal Pro) while it's wet. "Blow-dry with hand in all different directions, then when the hair's only 20% wet, I start to dry everything forward so it hugs around the neck nicely. I find if you get the right internal texturing and good cut, this cut can be styled without too much round brush blow out," she adds.
Once you are fully dry, put a tiny bit of Deplish (L'Oreal Pro) on your hand (a dot). Rub it well so you don't see a clump and just tousle the hair with your hand to give a nice, soft texture to it. If you need any shine, a little Ringlight Spray (L'Oreal Pro) will do!
Sometimes a little highlight can really enhance the texture and give more volume. It's something to consider if you want short Asian hairstyles for women.
Short Haircut For Asian Round Face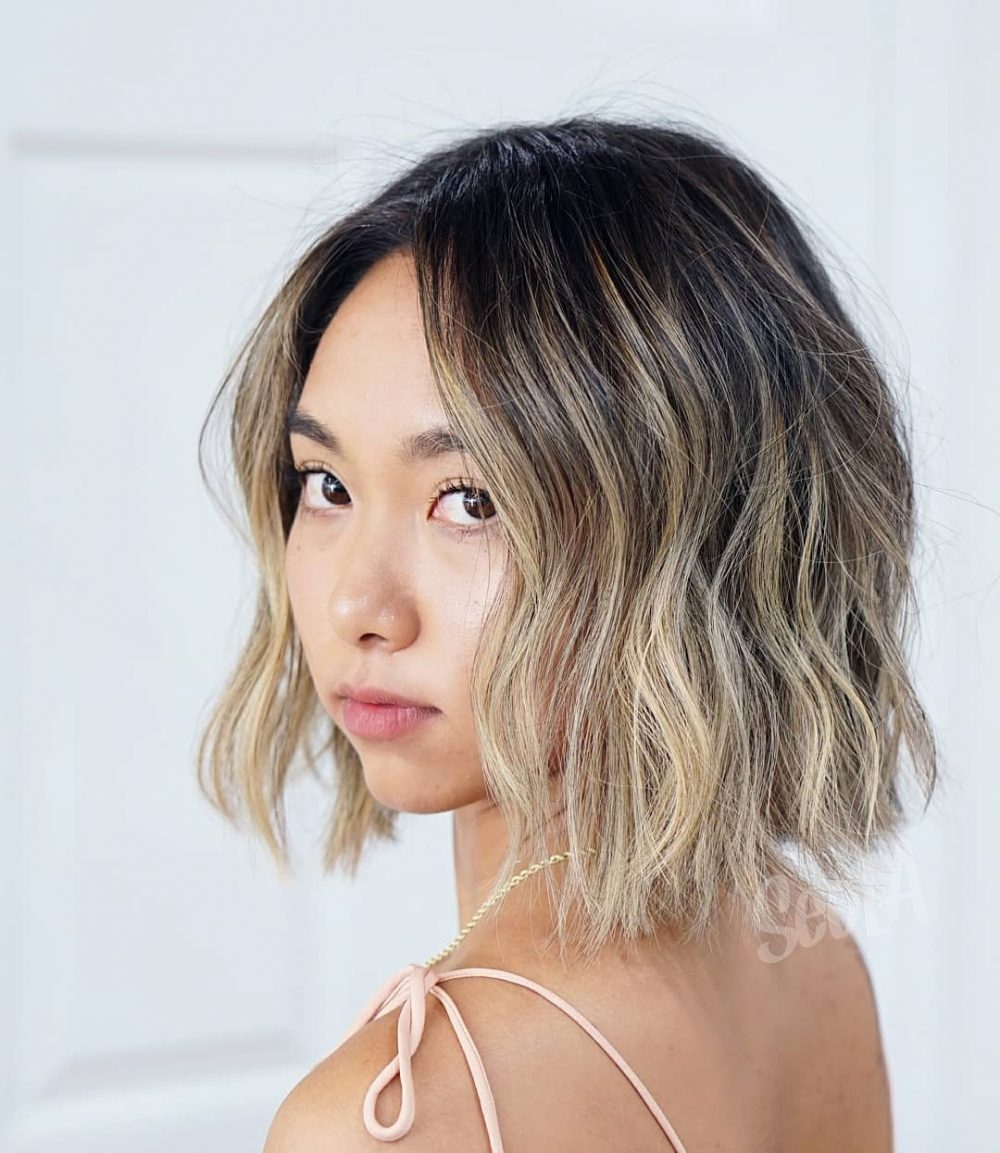 @seolahair
It is a neutral blonde color and textured haircut. It was created by specialist Sarah Kim of Los Angeles, CA.
"For the cut, it is a blunt haircut with textures," explains Kim. "It still gives women enough weight overall to make a neat and sharp looking bob but also with a texture that gives the client a lot of movements."
Kim recommends this cut for women who want to hide their big chin (it makes shade around the face frame, so it doesn't show much of the chin).
"Usually, thin hair doesn't get volume a lot so it is better to be short and textured to maximize its volume," she adds.
Short Cut with Blunt Bangs
@kristinn.oli
This short cut with blunt bangs was cut by owner and hairstylist Kristinn Oli of København, DK. "There is no force here. Lay the shape, work with the bone structure, and the hair will sort the rest out," explains Oli.
While this is a relatively low-maintenance shape, it requires getting it cut every 8-10 weeks. After that, the weight will shift and become heavy.
When styling short haircuts for women from Asia, Oli recommends you use heat protection, smoothing balm, and finishing oil when blow-drying the hair. "After that, either a low sheen spray or non-sticky wax spray, and a bit of hairspray never hurt anyone," he adds.
Very Short Haircut
@hairbymermzs
This is a super cute pixie with an edgy design in the back! It was created by hair stylist Ashley Armour of New Orleans, LA. "This look is easily wearable and has low maintenance with lots of styles. I love that it is long enough to curl as well," she explains.
This style is super low maintenance and great for women who want a big change. It's short, but there is still enough room to play with the top of the haircut. If you're considering short hairstyles for Asian girls like this, you'll also save time styling your hair.
Armour recommends investing in a good styling product. "Either use a good fiber paste, dry spray wax, or some pomade. The fiber paste can help you hold it down and keep a certain style as well as the pomade. Dry spray wax will give you that edgy messy look," she adds.
Boyish Shag
@kosuke_hashiguchi
"This boyish shag has a side view silhouette and hair flow," says barber and stylist Kosuke Hashiguchi of Hiroo, TYO. "I cut the volume while keeping the neckline along the neck. The styling is done by putting the hair on the back of the ear and showing the cut lightly," adds Kosuke.
"I used a straightening iron, and the hair ends are slightly rounded. Then, I used hair cream to make it shiny. This cut is compatible with straight hair and loose, wavy hair," he explains.