27 Medium Length Hairstyles & Haircuts for Square Shaped Faces
Textured Lob Haircut with Beach Waves for a Square Face
@hairbysammcook
Remove some length from your long hair and choose a textured long bob to complement your square face shape. The middle part creates a face-framing effect that also helps to soften a strong jawline and other facial features. When matched with beach waves, it looks similar to Keira Knightley's iconic tousled lob for square faces and can actually draw attention.
Shaggy Messy Lob for Square Faces
@leventkilic0
A shaggy messy lob for square faces is a good option, as it provides balance to the features. Long, chin-length models are also good for highlighting the look of your square cheeks.
Medium Choppy Wavy Cut for Ladies with Square-Shaped Faces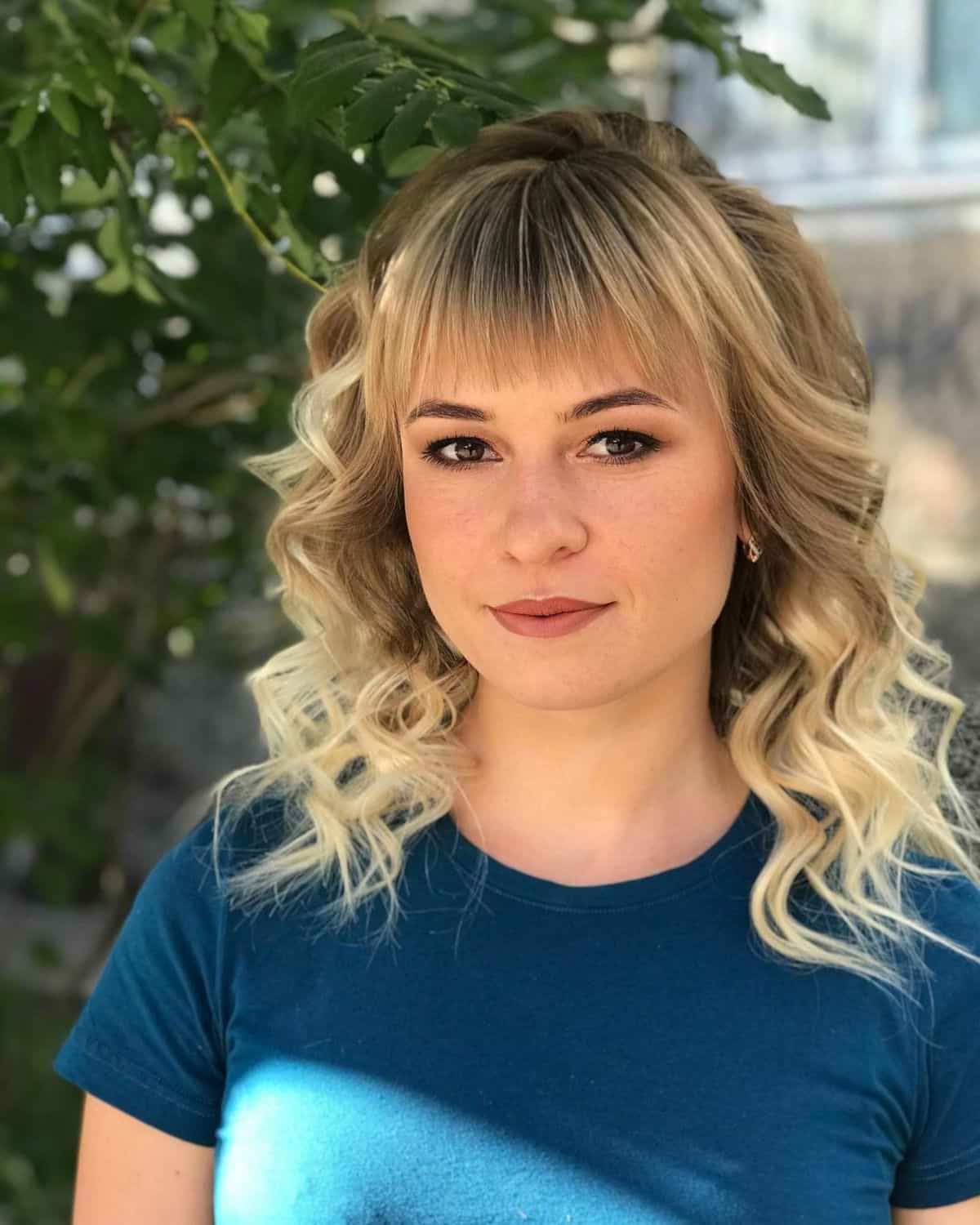 @nikitenko_elen_
A medium choppy wavy cut for ladies with square-shaped faces adds volume to your hair and also smooths out your facial lines. The fringe also helps to give smoothness and delicacy to the face.
Sleek Hair on a Medium-Length Cut
@miavmyslenkach
Ladies with square faces who are looking to slim their jaw, sleek hair with textured layers are the perfect way to slim your face and neck. Added fringe or face-framing bangs will be your best friend!
Medium Messy Layered Hairstyle to Flatter Square Face Shapes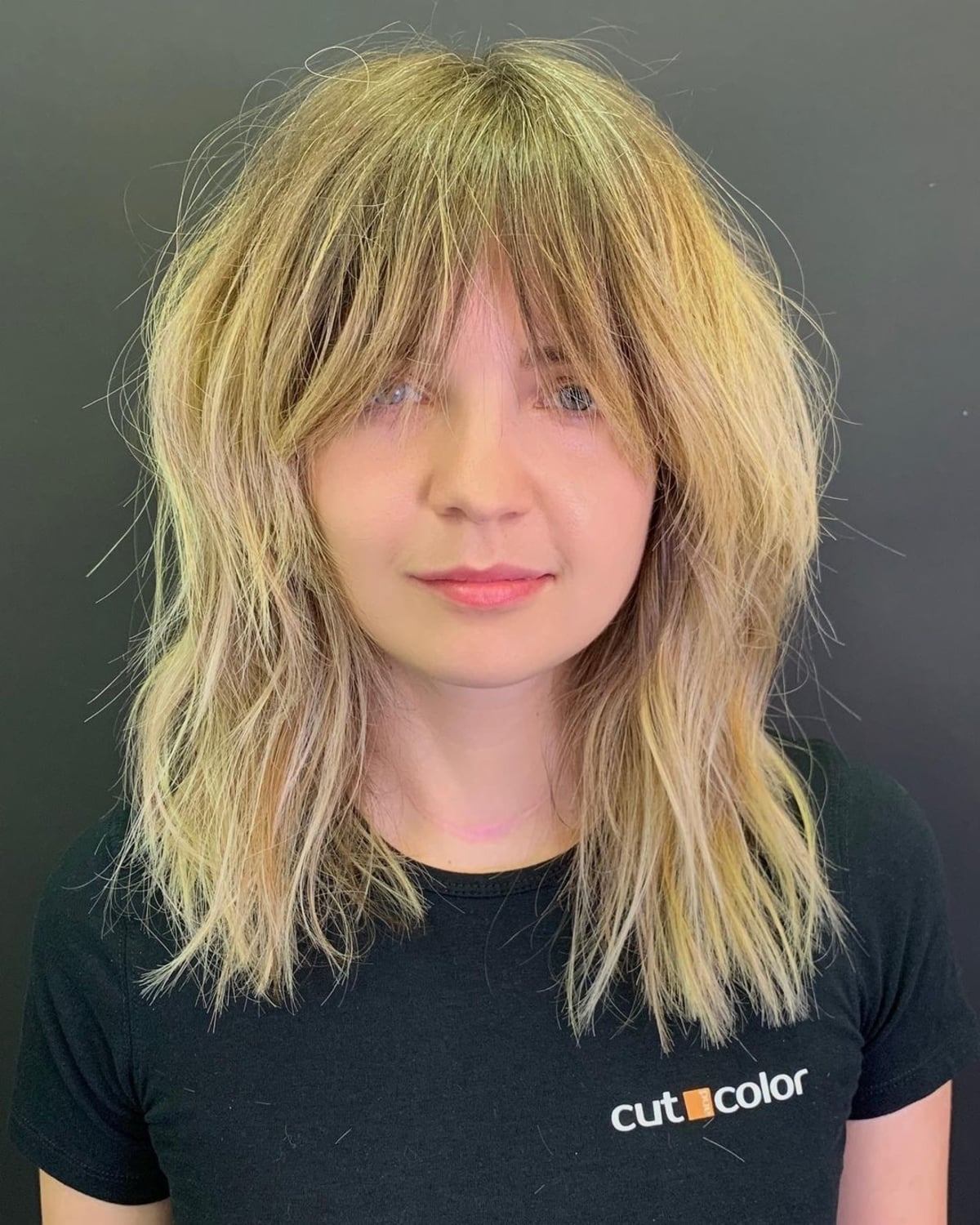 @academy_cutandcolor
Textured layers are ideal for medium length, messy hairstyles as they flatter square faces. Layered haircuts with fringe cut the jaw, slim the neck, and create height and volume in the crown.
Red Shoulder-Length Hair for Square Face Shapes
@elane_lei
Jazz up a medium hairstyle with bangs for your square face, then add a shade of red to flatter your fair skin tone. The length where it hits the collarbone is perfect to have that versatile haircut. This straight medium-length hairstyle is easy to style and fun to wear!
Seamless Layers for Mid-Length Hair and Square Face Shapes
 @brianaguilarhair
This mid-length shape with seamless layers was created by stylist Brian Aguilar of Newport Beach, CA. The cut looks great with soft waves, adding body and movement to the hair. "I love this shape because it has movement without the appearance of a lot of layers," states Aguilar.
This haircut is great for women who want to venture into a new style without much commitment for upkeep. "Medium-length layered haircuts are easy to style and can be put up with ease if needed," he adds.
Peach Ombre with a Deep Side Part for Women with Square Faces
 @christinehaweshair
This mid-length style is a deep side part for women with square faces and was created by Christine Doughty, salon owner of Hawes Hair Salon in Del Mar, CA.
"I love adding a texture product to dirty up the hair and give it a fun, messy texture. The Kevin Murphy Bedroom.Hair spray is one of my favorites," she states.
This deep side-parted medium hairstyle with magenta to peach ombre is sure to work well on fine hair.
Mid-Length Razor Cut with Long Bangs and Short Layers
 @rachel_knox_hair
"This is a modern take on a classic look and mid-length cut," says Rachel Cicerone, a master stylist in Knoxville, TN.
"We'll refer to it as a mid-length razor cut with long bangs that suit both sides of the face," she says. "What's great about it is it also works perfectly on any natural texture of a thicker hair type."
"I decided on a razor because it allowed me to carve shape and remove weight on her thick, heavy hair," she adds. "We added plenty of short layers (both internal and surface) around her face and throughout the hair to create movement and fluidity." This helps provide volume at the top and crown to bring balance to a square jawline. This cut can be styled polished or lived-in with a bit of texture.
The length will work on almost any female. Keep in mind that if your hair texture is finer, the razor can be aggressive on your delicate locks so it's better to use shears.
To style, Cicerone suggests you use a leave-in product to smooth the cuticle and protect it from heat. "I used Davines All In One Milk. For volume, I sprayed Davines This is a Sea Salt Spray at the roots, top, and crown. I completed the look with a large to medium-sized round brush," she explains.
Simple Medium-Length Hair for a Square Face
 @meg.breanna
This medium-length hair for a square face was created by hairdresser Megan Vargas of Visalia, CA.
"The haircut gives her the bounce and versatility you would find in a shorter style, and the length in the front gives the illusion of a longer mid-length cut. It's the best of both worlds," she explains.
This look is ideal for women who don't mind spending a little extra time styling. The hairstyle is very simplistic, but you can spice it up with heat styling and products!
When it comes to styling, Vargas advises, "keep in mind the larger your iron is, the larger your curls will be. If you want a textured beachy look go with a smaller iron and smaller sections."
Textured Collarbone-Length Blunt Lob Hairstyle for Square Faces
 @hairby_terri_ble
"I would describe this look as a textured lob for a square face," explains cutting specialist and style creator Terri Holian of Modesto, CA. "My favorite thing about this look is how you can still have the clean, blunt ends with all of the texture happening on the surface" she adds.
This medium wavy cut makes a flattering hairstyle and it can really go either way. You can put in some light styling cream or mousse and let the hair air dry for an effortless look, or style it for more body and texture.
If texturized correctly, this look can work for women with thick or thinner hair. Overall, this cut can be worn by anyone with simple adjustments to the length and amount of texture!
Warm Honey Balayage on Side-Parted Mid-Length Hair
 @wildflower__beauty
This Olivia Wilde-inspired warm honey balayage on mid-length hair was created by stylist Sarah Hibbs-Williams of Hendersonville, TN. "I love the way the movement of the colors flow and define the different dimensions and depth within the hair," she says.
This trendy haircut for square face shapes is easily customizable. Hibbs-Williams explains how she styled this haircut. "I used Amika Wizard to add a nice healthy shine to the blow dry, then finished the style with loose waves curled with an Amika 1 1/2-inch Chameleon wand. We added Puff Me at the root for a slight lift, then finished with the Amika Texture Spray for the waves."
Lived-In Medium Hair for a Sharp Jawline
 @courtney_joy_hair
This lived-in hair on a medium-length haircut was created by hairstylist Courtney Carrara of Wilmington, NC.
"Next day, lived-in, freestyled hair is always my goal. I like for the style to complement the face but accentuate the jaw, cheeks, and eyes. Instead of taking sections and curling one in toward the face and the other section away, I take full horizontal sections toward the face to accentuate the jaw. It softens that area just right," she explains.
The next horizontal section would go away from the face, beginning to form our "next day" shape and showing off those cheekbones. "I continue the toward/away horizontal sections until the bangs area. I like for the fringe to all go away from the face to make sure we open up those eyes," she adds.
Slightly Angled Blunt Cut for Shoulder-Length Hair
 @prissyhippiebeautyshop
This blunt, shoulder-length cut with a slight angle to it was created by hairstylist Holly Painter of South Hill, VA.
"My advice for a woman considering this blunt cut would be to go for it," says Painter. "Bangs are a bit of a commitment, so that is definitely something to consider. To style the look like this, you will need a 1 1/4-inch curling iron and a lightweight hairspray for hold. Apply the hairspray on damp hair before using the heat-styling tool."
Medium-Length Lob for a Square Face
 @manemisfit
"This medium layered haircut for a square face is super low-maintenance. Long bobs are great because they are shorter and playful, yet you can still wear a low braid or ponytail," says hairstylist and style creator Ely Gurrola of Encino, CA. "As hairstylists, we always try to be one step ahead for our clients to revamp their hair," she adds.
Gurrola advises, "Always have a thorough consultation with a game plan so you know what to achieve overall in a look that is customized for each woman's face shape and lifestyle."
Soft Lived-In Curls for Shoulder-Length Hair
 @kaylaglenn30
"These mid-length soft, lived-in curls a la Angelina Jolie accentuate the energy of the hair, giving the light a chance to radiate throughout," says hairstylist Kayla Glenn of Acworth, GA.
Glenn explains her normal routine when a woman sits in her chair, "I start each lady off with 21 Benefits by Pureology. This product adds shine, controls frizz, and provides heat protection. Then I add MoroccanOil Volumizing Mousse for flexible hold with movement."
Modern Next-Day Hair for a Square Face Shape
 @reghanc
"I would describe this look as modern, mid-length, next-day hair," says hairstylist Reghan Campbell Rojas of Kailua Kona, HI.
"My favorite thing about it is all the texture and detail in the cut. The whole cut was done on dry hair, making it easy to go in with heavy point cutting to get those seamless internal layers," she explains.
To recreate medium layered haircuts for square faces, you need a curling iron and texture spray, states Campbell Rojas. "My favorite product to get that disheveled, undone look is L'Oreal Professional Tecni Art Wild Stylers Next Day Hair. I also love R+Co Badlands Dry Shampoo Paste to help get some nice volume at the roots. My favorite curling iron is BaByliss Pro Nano Titanium Curling Iron 1 1/4-inch."
Razored Mid-Length Hair with Bangs
@davidwbullen
A razored mid-length haircut with bangs is stunning on square-shaped faces as it creates volume and evenness all around. The layered, tousled waves create texture, which is perfect for fine hair.
Classic Curls for Square-Faced Women
@roxanastefann
Classic curls look stunning on ladies with square-shaped faces coupled with a carefully chosen haircut. Square faces look best with well-rounded layers, added texture, and soft curls.
Perfect Medium Length Hair for Killer Cheekbones
@joaquimferrazz
The perfect medium-length hair for killer cheekbones is attainable only when a variety of layers are incorporated into it starting from the cheekbones and tapering down below. Ladies with square-shaped faces will want to avoid haircuts with sharp, blunt ends and opt for a softer, more layered style.
Copper Curls for Shoulder Length Hair
@leslieann_hairstylist178
Cooper curls for shoulder-length hair are a beautiful cut for a curly hairstyle on square faces. Get layers starting around the cheeks to soften your features. Curly bangs really help frame the face with no harsh lines.
Textured Side Swept Bangs for Square Faces
@renzizgheib
Girls with a square face shape need a textured haircut with side-swept bangs. Side-swept bangs tend to be shorter than regular bangs with more texture and cut at more of an angle.
Chic Mid Length Shag for Square Faced Women
@ashleenormanhair
A chic mid-length shag is a stunning haircut for square-shaped faces. Textured layers, middle part, and side-swept bangs perfectly offset the squareness and can slim your face beautifully.
Medium Layered Cut with Side Swept Bangs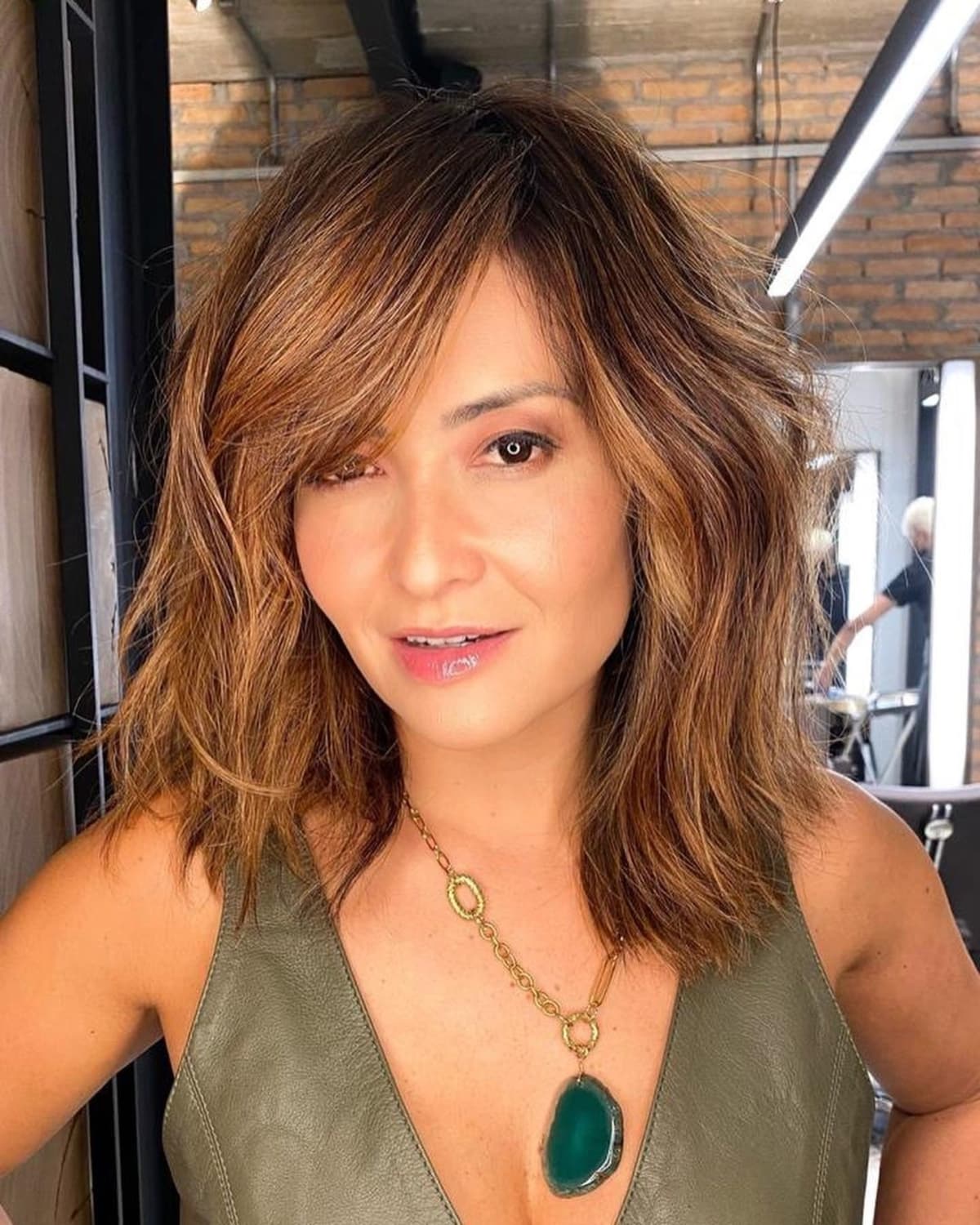 @rodrigues_ricardo
A medium layered cut with side-swept bangs is very versatile, looks phenomenal on all ages but requires tousled, voluminous waves. A medium hairstyle for a square face coupled with side-swept bangs is the winning combination. They simply frame your face, showing off its best features.
Shoulder-Length Wavy Hair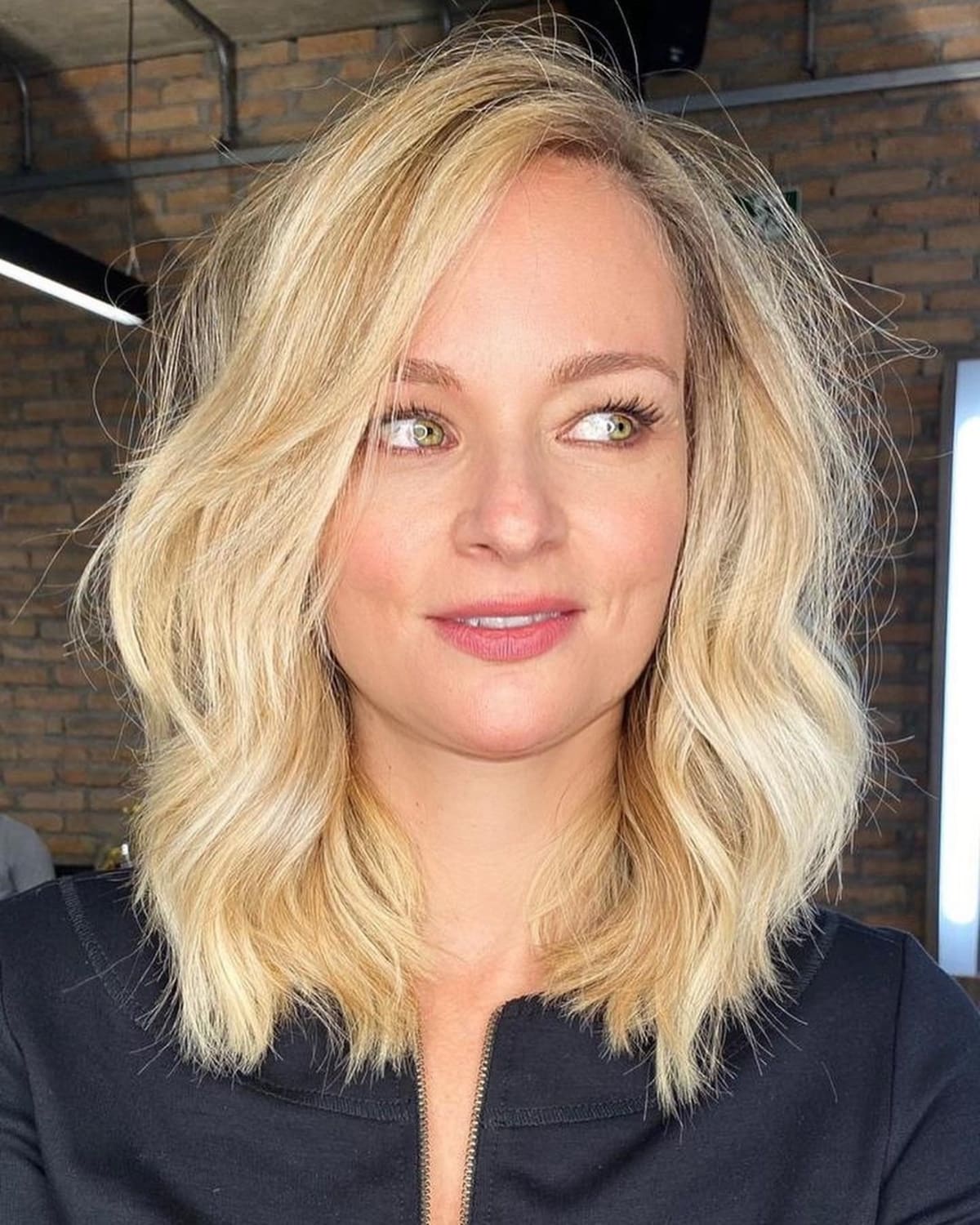 @rodrigues_ricardo
Shoulder length wavy hair is a stunning length to balance out a square face. The length is long enough to pass the sides of the cheeks, giving a slimming effect to the face. The waves create an in and out "S" shape which gives a softer feel to any sharper shaped face.
Effortless Medium-Length Up-do
@roxanastefann
Ladies with square-shaped faces can easily rock an effortless up-do if styled correctly. Soft, side-swept bangs create the illusion of a slimmer face shape, which is why they are perfect for square face shapes.
Mid Length Bob Cut and Square Face
@yukistylist
The mid-length bob haircut is absolutely gorgeous on square faces as long as they are layered. Avoiding sharp, blunt bobs that hit right at your linear jawline is essential as it would only accentuate the square shape of the face.