32 Cutest Prom Hairstyles for Medium Length Hair
Half Up Twists
@yuki198212
A hairdo that is fit for royalty and waiting to be crowned! This classy updo gives you a soft romantic vibe that will give you the confidence to ask anyone for a sweet dance.
Simple Mid Length Waves
@michelle.eileen.hair
An effortless and fun hairstyle for carefree girls out there. This style lets you show your true wild personality with these rough and textured waves.
Medium Length Curls
@hairbarsalon_studio
There's nothing wrong with wearing your pretty hair down on prom night. In fact, it's a sexy confident look that will look absolutely stunning on any gown you wear.
Chignon Bun
@sarah_harrington__
Q&A with style creator, Sarah Harrington
Hairstylist & Makeup Artist @ Sarah Harrington Makeup Artist & Hairstylist in Brisbane, Australia
How would you describe this look?
This style is the classic chignon. To modernize the style, I have softened the sides and placed some twisted pieces on top of the bun. This style is certainly one of my favorites. Classic but modern and can be worn for any style of event, it's a style that will never date.
Any advice for someone considering it?
The classic chignon is a perfect style for medium to long hair and perfect for a wedding, formal, or special occasion event.
To create this style all you need is a hair tie, a few pins, a teasing brush, and a hair straightener. Best products would be sea salt or texturizing spray, serum, texturizing dust and hair spray. It's very quick to create but such a statement hairstyle!
Simple Down Do with Curls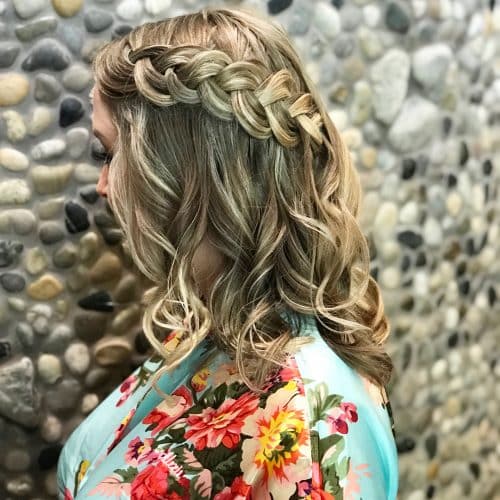 @salon.nine
Q&A with style creator, Madelaine Griffin & Sarah Kelly
Co-owners / Co-creators @ Salon Nine in Erin, ON
---
How would you describe this look?
You can't go wrong with any type of soft braid and a relaxed curl. This look is timeless and is complimentary of any outfit. It's not too done up to work with a more casual look but it can also be super dressed up without competing with a more glamorous style.
Any advice for someone considering it?
Try to find inspirational shots that are a similar hair color to yours. Braids and up styles on a brunette look completely different than on a multi-tonal blonde. This look works best with hair that can hold a curl relatively well because the softer curl can fall out if your hair is pin straight regardless of how much hairspray you use. To lock this look in we used Aveda's air control while prepping and working with the hair. To help combat any frizz we finished the style off with Aveda's control force.
Prom Hair Comb
@amandagreen_hairloomsalon
Q&A with style creator, Amanda Green
Stylist @ Hairloom Salon in Oxford, AL
---
How would you describe this look?
This is a "timeless classic." Soft curls never go out of style. They can be easily dressed up for a more formal look or dressed down for a casual undone look. My favorite thing about this look is the simplicity.
Any advice for someone considering it?
Invest in a good curling iron and sea salt spray! A 1 1/4 inch iron is going to be your best friend!
This look is super simple to recreate. You will want to curl bigger sections of the hair for a softer look. Alternately, curl your sections so the curls will not collapse into each other. Always allow the curls to cool down before you run your hands through your hair. Lastly, use a sea salt spray to give your hair a little texture. This will help for a longer lasting style.
If you're looking for a little more glamorous look, clip some of your hair back with a beautiful hair comb.
Twisted Half Updo
 @coralie_fournier_
Q&A with style creator, Coralie Fournier
Hairdresser @ Salon Bliss in Montréal, QC
---
How would you describe this look?
I would describe this look, as the "master key" of updos. A lot of clients ask for this style when they are going to a party, wedding, prom, or engagement.
I love this look because it goes as well with a dress as it does with pants. It's a very versatile look.
Any advice for someone considering it?
To create this look, I started to curl and attached them to the side one by one. I did a loose twist on each side without wanting to place the hair perfectly.
I used a texturizing spray to hold the sides and a regular spray for the rest.
Versatile Waterfall Braid
 @norelisdeanpersonalstylist
Q&A with style creator, Norelis Dean
Personal Stylist in Orlando, FL
---
How would you describe this look?
I love braids, but what I love most about the waterfall braid is its versatility. You can wear it on a casual day out, or even to your wedding.
If wearing this look for a wedding, you can easily accessorize it with some rhinestone bobby pins, baby's breath, or small flowers.
Any advice for someone considering it?
This look is simple and effortless looking. I personally prefer it with loose curls, but it can also be done with straight hair and will look great!
As for products, I usually just use hairspray on each individual curl except the top ones that you will be using for the actual braid (that way it will be easier to manage), and all over the hair at the end.
Elegantly Simple
 @carms.b
Q&A with style creator, Carms
Hairstylist / Colorist / Educator @ The Cutting Edge Salon & Day Spa in Feeding Hills, MA
---
How would you describe this look?
I would describe this look as classy, elegant, and sexy. My favorite thing about this look is its simplicity. Less is more! She will not regret this look 20 years from now when she looks at her photos.
Any advice for someone considering it?
For this look, I prepped her hair with milk_shake Dry Shampoo for lift at the roots. We then curled with a 1 3/4-inch curling iron, spraying each section with milk_shake Medium Hold Hairspray.
This style is great for all types of formal events and all medium length hair types. It's that versatile! This style is ideal for strapless dresses.
Youthful & Fresh
 @hairbypeta
Q&A with style creator, Peta Doulis
Hairstylist @ Strands of Colour in Sydney, NSW
---
How would you describe this look?
The first thing I think about when I see this style is youthful and fresh!
My favorite thing about this style is how the waves just flow effortlessly and free. The fishtail braid adds a playful and fun feature to the overall look, but without taking away from the simplicity of it.
Any advice for someone considering it?
This style is fantastic for all lengths, but especially for those who want texture and movement without their hair looking short from the shrinkage of curls. Waves will maintain the length of your hair, whereas curls will make it look shorter. This look is suitable for all hair types and textures, but especially those with fine hair as the waves will add volume and fullness.
Braids are massively on trend, so don't be afraid to enhance your style and express your personality! Be sure to use a flexible hold hairspray to encourage effortless movement and add some texture dust for added texture and separation.
Timeless Classic
 @dannielle_robeson
Q&A with style creator, Dannielle Robeson
Stylist and Boutique Manager @ Vanity Belle Beauty Boutique in La Jolla, CA
---
How would you describe this look?
This look is a timeless classic. I love that it's so effortless, but still very elegant.
Any advice for someone considering it?
This style is perfect for any hair type and length. It offers lots of versatility with how much or how little hair you decide to pull back. Consider adding a trendy braid or doing some twists to really give it a unique touch.
If your hair doesn't hold a curl well, I recommend adding a few clip-in extensions to help lock the curl in for a style that will last through the night.
Formal Curl
 @hairbycristie_
Q&A with style creator, Cristie Farrugia
Stylist @ Hair By Cristie in Long Island, NY
---
How would you describe this look?
I would describe this look as a formal curl that creates a natural but timeless hairstyle. I usually call it the fancy waves! The fancy curls are defined to create a stunning look for a big event.
My favorite thing about this look is that it will never go out of style. It's a timeless look will still look good years from now when you're looking through a photo album.
Any advice for someone considering it?
My advice to achieve this look is knowing and using the proper products. Lots of volume powder and texture spray helps with this style. My client has very thin, fine and flat hair. This style is perfect for someone who is always wearing their hair down and doesn't want that over the top updo, but still wants to look formal.
Start out with a blowout with major bounce and volume, then finish with a texture spray. I like to use AG Tousled texture spray because it's light but gives it that perfect amount of grip. To curl, use a large curling iron (1 or 1 1/4-inch) and pin each section into a barrel curl while it cools and sets. When you let them down, you'll have a glam curl.
Now part the hair to the side and tease at the root. For added volume, use a volume powder on the root. I use Big Sexy Hair Powder Play to get that volume we all love. Finish the look off with some hairspray. This hair can last two or three days with a perfect wave!
Braided Mohawk Topknot with Curls
 @hairbykaileesav
Q&A with style creator, Kailee Savorgino
Hairstylist @ Shine Salon and Dry Bar in Hampshire, IL
---
How would you describe this look?
This is a braided mohawk topknot with messy, undone curls. It's subtle, yet very trendy, and not your traditional half-up style.
I personally love the braids and how they are bloused out to look fuller. Also, the braids keep hair from falling into your face while dancing the night away!
Any advice for someone considering it?
My first piece of advice would be to not wash your hair the day of. Upstyles are always best on second-day hair. This look can be done with most hair types. If you have finer hair, I suggest using a texture spray to help give it more of an undone and full look. I used Amika Un.Done Texture Spray and Amika Touchable Hairspray.
This style is definitely for someone who doesn't want a traditional prom style. It's perfect for someone with a little edge!
Texture Queen
 @catchajody
Q&A with style creator, Jody Stephens DeSouza
Master Stylist @ LeBliss Salon & Spa in Louisville, KY
---
How would you describe this look and what is your favorite thing about it?
This look is fresh and romantic. My favorite thing about this look is the texture of the whole style. The waves, the color of the hair and the braid add a very unique texture which creates an overall beautiful hairstyle.
What tips or products do you recommend to recreate this look?
My tips to recreate this look would be to first section and curl the hair going away from the face on both sides of the head. Using a 1 1/2-inch curling iron and Redken Hot Sets, spray each section and curl the hair for a nice hold. Next, use Pureology Piecing Sculpt to take the section of the hair that will be French braided and work a bit of that product in to help tame it.
Start the French braid, working off the part and creating a semi-loose braid. Once you are done braiding, you can make it even looser or wider by reworking the braid and lightly pulling itm working from the bottom to the top if needed. Use Pureology Strengthening Control Hairspray to help keep it all in place.
What type of client would you recommend this look for?
I recommend this look for all face shapes, leaving or taking away the soft pieces around the face to help accentuate the features of the client. Shoulder length to long hair would work best and medium to thick density of hair is ideal.
This style would work nicely for any formal event, semi formal, homecoming, or holiday party.
The Roaring Twenties
This vintage inspired flapper style hairdo is super fashionable and cute! Slicking your hair over into a curly side ponytail or two creates an ultra dramatic style that will be a definite head-turner at your prom. Love these styles that help keep hair up and off of your face so you can really dance the night away.
How to Style:
1. Spray your hair with a flexible to medium hold hairspray and comb through.
2. Part your hair deeply to one side and then gather the top half of your hair into a side ponytail right above your ear.
3. Grab the bottom half of hair to the side and secure into a ponytail right under your ear.
4. Curl your ponytail and pin them up to create that fullness on the side of your head.
5. Spray again with hairspray to lock in your look and keep flyaways at a minimum.
Recommended Products:
Any type of udpo needs to stay in place so make sure it does with a product like Fudge Skyscraper Medium Hold Hair Spray. The hairspray gives great medium hold and brushes out easily at the end of your night.
Best Faces Shapes and Hair Types:
Round, heart, or square shaped faces would work great with this old-timey hairstyle. If you have an oval face just leave some bangs down to help add balance. Medium length hair is great and thick wavy hair is best.
Tip(s):
The key to playing up a time period or certain era is to really work your accessories. Do some research online about the era you are going for and then make the look happen with fun pieces of jewelry and vintage makeup.
Copper Curls
Shine on the dance floor with these gorgeous copper curls. The mirror-like finish on this hairstyle is so nice it almost glows. Full thick bangs are worn forward and to the side which keeps the look from looking to juvenile. Small bouncy curls are worn down to the shoulders to show off your length and they will add lots of movement when you're on the dance floor.
How to Style:
1. Use a one inch sized curling iron to create the smaller curl tendrils.
2. Grab your flat iron to smooth the bangs forward and then flick them to the side. Take small sections of the bangs when you iron them so it's easier to manage.
Recommended Products: When you are done styling your hair mist on Moroccan Oil's Glimmer Spray. It has tiny mirror like bead droplets that will really infuse your hair with shine!
Best Faces Shapes and Hair Types: This curly hairstyle would look great on square shaped faces as well as oval and round. Wavy thick hair is best for this hairstyle though you could create a variation with thinner, curlier hair.
Tip(s): Start adding shine to your hair while you're in the shower. Use Citré Shine shampoo and conditioner to maximize that soft silky feel.
Soft and Romantic Half Up Half Down
@klarissa_autelier
Tied at the mid-section with a pretty floral accessory, this beautiful braided hairstyle is the perfect way to keep you strands away from your face.
Easy Boho Braid
@lovelylocksbm
A beautiful dark to light ombre hair decorated with a simple loose weave would look enchanting under the glittering stars.
Retro Raver
Tired of wearing your hair either straight or curly? Try something new for your prom by flipping your hair out. This works great for medium length hair that has lots of layers. The result is extremely flirty and fun and you're sure to have some great "dancing queen" moments.
How to Style:
1. Start with clean, dry hair that is parted down the middle.
2. Section up your hair into a ponytail, leaving a small section (about an inch high at your neck) down to iron.
3. Use a one inch up to an inch and half sized curling iron to roll the ends of your hair up to create the flip. Don't hold the iron on your hair too long or you may get it to loop too much.
4. Flip out the entire section and then keep dropping down sections of hair to flip strands out.
5. When you have reached your temples, stop flipping and simply grab the remaining hair and pin back. You can tease your crown a little bit if you want some height and then smooth hair back and pin for that cute, half-up look.
6. Use your fingers to gently brush through your flip to break up the ends so they don't look too stiff.
Recommended Products:
Before ironing, spray on some Garnier Fructis Style Straightening Mist / Flat Iron Protector. It will help keep your hair from frying as you apply heat and also infuse incredible shine to your locks. Follow up with Garnier Fructis Style Hairspray to keep your cute flip all night.
Best Faces Shapes and Hair Types:
This hairstyle could work on all face shapes depending on how you style your bangs. Leave them down if you have a long forehead or a more oval shaped face to help add balance. Pin them back if you have a shallow forehead and a shorter face shape. Straight to wavy textured hair is ideal for this look.
Tip(s):
This playful hairstyle would look awesome with blunt bangs or swept side bangs. Ask your stylist what type of bangs would compliment your face shape best.
Classic Updo
@nicoledrege
Tuck those ends into a cute low knotted bun to get a real elegant and sophisticated finish.
Curly Romantic Updo
The loose curls swept back on her head make this style one for the romantics at heart. Loose pieces in the front make it even more wistful.
How To Style:
Prep hair with a volumizing and styling product then blow dry.
Clip away the front bangs section you want smooth, then use your natural curls or a curling iron to create random curls throughout the rest of your hair.
Break curls apart using your fingers then start pinning them in the back center part of your head. Don't try to make it perfect or you'll lose the softness of the style. If pieces from the front fall out, leave them out.
Smooth through the bangs using a flat iron on low heat and pin them back softly.
Spray the finished style with a medium hold hairspray.
Recommended Hair Products:
Kenra Platinum Boosting Spray-Foam 17 is a fabulous lightweight all-over volumizer to give your hair more "oomph".
Best Face Shape and Hair Type:
Square shaped faces look great with these long sweeping bangs and layers around the face. Straight to wavy hair that is medium to thick is ideal.
Tip:
For added sparkle, use bobby pins with a little bling on the ends. Don't try and use them for the structure of the style, just to dress it up a little bit.
Chic Chignon
It's simple and elegant, this low updo with a little bun. Pale warm blonde is a great combo for this style, but any hair color would look fabulous. You'll never look back and feel like it's outdated – this one is classic!
How To Style:
Using a styling product, smooth all hair back toward one ear like you're going to put it in a low ponytail, then roll it under to create a little chignon shape that you can pin underneath. Your hair may not be long enough coming from the other side, so tuck those ends under and pin them out of sight. Braids are a perfect solution for the "too short" pieces!
Spray the entire style with an extreme hold hairspray.
Add your accessory right behind the ear.
Recommended Hair Products:
Sebastian Liquid Steel is a concentrated styling product that will give a fierce finish to your hair. Note – DO NOT combine this product with any hot tool/blow dryer/heat of any kind, per the manufacturer's instructions
Best Face Shape and Hair Type:
Hair that is straight naturally would be easiest to work with to create this super sleek style. If you have slight wave to some curl that can be flat ironed with minimal frizz you can try this look out as well. Round shaped faces would look best with this simple, pulled back hairstyle.
Tip:
The flower accessory makes it sweet, so if you're not that type, try adding a broach for drama or something more organic for the outdoorsy feel. A whimsical bow would be perfect, too! Look for something original and that suits your personality.
Unkempt Beauty
There's a little bit of sugar and a whole lot of spice in this 'do! Pulled straight back from the face, the dramatic updo will have jaws dropping. It's gorgeous! Curls in the back make it not too severe, but the slick hair in front says you're fearless.
How To Style:
With completely prepped and dried hair, curl the back part of your hair using a ¾" barrel curling iron. Use your fingers to pull the curls apart a little bit and make them look more full.
Add backcombing to the top and crown sections of your hair, then smooth over the top
Using a comb, smooth hair from the top towards the back and pin it just below where you want the top of the curls to be.
Slick hair from the sides back to the center back part of your head. Secure with a vertical row of bobby pin X's, like you would for a French twist, but do it the same for each side keeping the distance between the two sides about 1½-2 inches apart.
Use bobby pins to pull curls over the top of the bobby pins holding the sides and top back, and pin them loosely down. Using pins that are close to your hair color will help them disappear into the style.
Finish your updo with a mist of firm hold hairspray.
Recommended Hair Products:
Super Clean Sculpting Gel gives you maximum hold for extreme styles with high shine.
Best Face Shape and Hair Type:
Round or heart shaped faces would be best for this pulled back updo. Medium to thick amounts of hair that is on the wavier side is best. Your natural wave will help add softness to the look and keep it romantic.
Tip:
Curl hair in the back first while leaving the front part smooth. It will make your life easier by cutting down on your styling time since you won't have to curl nearly as much hair!
Edgy Roll
This smooth and fabulous low-set chignon is set off perfectly with a soft full bang. The pale blonde color is breathtaking and makes the style seem airy.
How To Style:
Start with dry, smooth hair. Run a flat iron on a low setting through it to polish and work out any bumps.
Comb hair over to one side and put it in a clear binder right above your hairline behind your ear.
Take the top part of the ponytail and hold it straight up, then pin it and let the ends fall down over the bobby pins.
Backcomb the bottom section for more fullness, then smooth the top section over the bottom and pin the ends underneath.
Spray the finished style with a firm hold hairspray.
Recommended Hair Products:
Sebastian Shaper Fierce is an ultra-firm hairspray that will work on any hair type for extreme styles.
Best Face Shape and Hair Type:
Oval shaped faces are best. The long dramatic bangs help balance out long faces. Straight hair that is on the thicker side is ideal. Fine hair won't be able to achieve that full bang effect.
Tip:
For those prone to fine hair, which results in a tiny little bun, you can use filler hair to make the chignon fuller. Clip-in or loose fillers (if you've got the skill), doesn't matter. The effect is the same: amazing!
Flirt Alert
Short and sweet, this wildly sexy style suits almost any type of prom dress. Loose messy curls pinned up to make hair appear shorter look simply perfect, especially with the golden highlights running through them.
How To Style:
Use small hot rollers or a small barrel curling iron to create curls in the bottom 2/3 of your length.
Add backcombing to the back, crown and top, then smooth over a little bit so it doesn't look too much like a nest.
Use your hands to rough up the curls and fuzz them out just a little bit. Separating them first with your fingers also helps give you more bulk (amazing trick for those with finer hair).
Using bobby pins, randomly pin curls loosely around the bottom portion of your head. You shouldn't need a ton of them.
A flat iron is perfect for smoothing bangs over and cleaning up the front to make the style classy instead of sloppy.
Mist with a medium to strong hold hairspray.
Recommended Hair Products:
Sebastian Re-Shaper Hairspray is fabulous for adding texture without shine and it won't make your hair feel stiff.
Best Face Shape and Hair Type:
Most face shapes can pull off this adorable updo. Remember to keep in mind that if you have a long face, bangs are best to help with framing. Wavy to curly textured hair would rock this hairstyle. 
Tip:
Texture makes a huge difference in a style like this one. You want to rough your hair up a little bit so things don't look too perfect or planned. The beauty of the style is in the effortlessness and simplicity of the design. Don't over think it and try to make things 100% symmetrical or even. Just let it take shape naturally and go with it!
Messy Chignon
Two-tone color is highlighted even more with this fun and original updo. Added braids lend more texture while the messiness of the chignon keeps the style playful and unique. The bump up top can be anywhere from small to huge, depending on the person rocking it.
How To Style:
Create the bump on top by using volumizing products as well as backcombing. The trick for getting outrageous volume in your bump like this is to hold hair forward (towards your face) while backcombing. The more forward you hold the section you're teasing, the crazier your volume will get. Smooth over the top of the backcombing to cover the craziness inside and give yourself a soft looking finish
Pin the backcombed section right above the spot you're going to put the ponytail.
Slick hair back into a sleek ponytail centered right on the occipital bone (the part of the back of your head that sticks out the most), and carefully include the ends from your bump. Secure with a strong binder.
Depending on your personality and personal style, create texture in the ponytail using a hot tool or by enhancing your natural texture. Crimpers are fun to get that fuzzier look.
Braid the small sections you want to stand out in your style and secure the ends by either backcombing them or using a clear binder.
Use a firm hold hairspray to lock it in.
Recommended Hair Products:
Hot Tools makes a great small crimper that's professional grade.
Best Face Shape and Hair Type:
The best face shape for this style is the confident face! Regardless of the shape of your face, if you have the attitude and personality to pull it off, go for it. Best hair type is fine to thick density, any texture.
Tip:
Not a fan of braiding but like the look? You can purchase pre-braided hair extensions for not a lot of money at a beauty supply store. So many color options allow you to find one that will closely match your hair color or you can find a contrasting color to make them really pop! Other fun texture ideas are feathers or metallic strands.
Twisted Updo
If good times are what you're after, this is the perfect style for you! The random pieces twisted and layered from all over the head create an outrageously fun hairstyle fit for any party girl. Highlights help define the twists better.
How To Style:
After prepping hair, section out the front and bottom in the back.
Start out with the section of hair in your crown area and create little mini French twists, then pin them so the ends are hanging down freely. Make sure you keep an eye on the overall size of the design on top with loose ends. If you let it spread too far out, it will lose the design effect and just look like a mess.
Take sections from the back and layer and twist with the hair that's already pinned up.
Repeat with the hair from the front and sides, bringing it back to the design at the crown area.
Smooth the ends with a flat iron if you need to, then spray finished style with a medium hold hairspray.
Recommended Hair Products:
Glitter, glitter, glitter! If you're going to have a fun style like this one, why not make it sparkle too? Tons of glitter products are available including glitter spray, glitter bows, loose hair glitter (regular glitter works too!), glitter clips, glitter bobby pins, glitter sticks, glitter twist pins…
Best Face Shape and Hair Type:
All faces except heart shaped would do well with this sweet updo hairstyle. Fine to thick density with smoothable texture is ideal.
Tip:
If you're a glam girl too, don't be afraid to drop some glitter or fun jeweled pins throughout the style. Colored glitter is a fun way to dress the style up, but keep it to a confined area instead of just dowsing your head in it. Same goes for the gem pins. Too many looks overly busy, but a subtle small amount will reflect the lighting and draw more attention to you.
French Twist with a Twist
This is a newer, cleaner version of the most popular prom hairstyle of all time: a bundle of curls at the back of your head. The difference is the softness of the hair smoothed to the back and the texture of the curls cascading down. Soft side swept bangs also help bring the style up to date. Add subtle highlighting to add dimension and visual interest.
How To Style:
After prepping hair with styling products, use a medium barrel curling iron to create vertical or horizontal curls through the back of your hair.
Section off the front and sides of your hair and smooth the rest of your hair to the back. You can either put it in a ponytail if you want to cut back on the amount of bobby pin weight and speed the process up, or you can use only bobby pins instead of a ponytail and have more control over the final shape of the style with more length available for styling.
Smooth the front and sides back and pin next to the ponytail or underneath the curls if you've used bobby pins exclusively.
Run your fingers through the curls to separate them a little bit, then pin them according to the finished shape you're looking for.
Use a flat iron to smooth your bangs over then mist hair with a medium hold finishing spray.
Recommended Hair Products:
Nexxus Versastyler Artistic Designing Lotion 10 is a fabulous prep product that will help improve the look and feel of your hair without any stickiness or flaking.
Best Face Shape and Hair Type:
Oval, subtle round, square or long face shapes can attempt this fun hairstyle. Fine to thick density with smoothable texture that holds a curl is the ideal hair to have for this look.
Tip:
There are so many different ways to create curls! For stiff ribbon curls, spritz each section with hairspray before curling, then leave the curl alone once it's done. For softer curls (like the curls in the photo), use a styling crème when prepping hair and after you've curled the hair, use your fingers to separate and soften them. You can get a really fun texture of curl by wrapping hair around the outside of the barrel, too!
Curly Cutie
This super simple style looks great but isn't complicated in any way. The fun easy curls aren't overly messy, but they aren't stiff and boring either. Smooth front pieces help keep it from looking dated.
How To Style:
Prep hair using a styling mousse or gel, depending on your hair's needs.
Use a medium sized barrel curling iron to curl the hair on the back of your head once it's 100% dry.
Add a little backcombing and/or volumizing product in the top and crown areas, then smooth over the top and pin a section from the top off to one side.
Use a flat iron to smooth your bangs if you need to.
Mist the completed style with a medium to firm hold hairspray.
Recommended Hair Products:
Round shaped faces and heart shaped faces would looks stunning in this curly hairstyle. Square shaped faces could rock this look, too! The curls help fill in around the neck and create softness around the face. Naturally wavy hair that is of medium thickness is ideal for this prom style.
Best Face Shape and Hair Type:
Round shaped faces and heart shaped faces would looks stunning in this curly hairstyle. Square shaped faces could rock this look, too! The curls help fill in around the neck and create softness around the face. Naturally wavy hair that is of medium thickness is ideal for this prom style.
Tip:
Freshly trimmed hair looks 100% better than not. That just-trimmed look can't be faked. Ridding yourself of the dead ends lifts off dead weight that kills your style and gives your hair a more lustrous look. Don't be afraid to get a little trim in the week before the dance! You can ask for a scalp massage, too. Might as well indulge a little!
Mod Chignon
A little bit retro, a whole lot of style. This low side bun is fabulous for the haute couture lover. It's clean and classic without being boring.
How To Style:
Backcomb top, back and bottom of hair to create all around fullness.
Smooth hair over the top and over to the side you want the chignon on (keep in mind your jewelry – if you're wearing earrings that will get stuck in it or a necklace that can get twisted up in it, adjust where your bun sits to accommodate). Secure hair in a binder.
Take small to medium sections of the ponytail and twist them up like miniature bun, then tuck the ends under before bobby pinning underneath.
Repeat that step until all hair from the ponytail is used.
Run a flat iron on low setting through your bangs to polish them up then spray entire style with a firm hold hairspray.
Recommended Hair Products:
Oscar Blandi Olio Di Jasmine Shine Spray will give your tired locks a boost of sheen.
Best Face Shape and Hair Type:
Any face shape would work and the straighter your hair is the better. Subtle wave that can be flat ironed super sleek could work, too.
Tip:
Always make sure you hairstyle compliments the style of your dress. This style is ultra modern to pair with a straight lined dress.
Red Carpet Style
Charlize Theron, ever the style icon, has the most impeccable hairstyles on the red carpet! Classic clean shapes with a soft romantic touch make her hairstyles the envy of every style savvy female. Her pale blonde hair adds an ethereal effect while the silver headband finishes the style off with a little extra sparkle.
How To Style:
Prep hair by putting in loose waves with a larger barrel curling iron after hair has been prepped.
Brush through the cooled off curls with a natural bristle brush then secure in a binder off to one side.
Use bobby pins to keep the ends tucked in once you've rolled the ponytail under. Wrap the ends of the ponytail around the binder so it's hidden.
Place headband or other accessory in your hair and finish it with a fine mist of medium hold hairspray.
Recommended Hair Products:
For those who need frizz and flyaway control, try Oscar Blandi's Pronto Instant Glossing Cream. It also gives a great shine and provides heat protection. Did I mention that it's Paraben and DEA free?!? Bonus!
Best Face Shape and Hair Type:
The best face shapes for this hairstyle would be heart, round, and square. The best type of hair to have would be fine to thick density with at least a little bit of natural texture.
Tip:
For a similar style statement, go with a headband (or other hair accessory) that compliments your hair color (Charlize's is silver to go with her pale hair). What makes this brilliant is that she's got a great accessory that she is wearing instead of it wearing her. The worst thing you can do is make your style all about a hairpiece (or other accessory) when it should really be about you looking your best!
Choosing your prom hairstyle can be so much fun! Dont forget to think about more than just the dress. Style your hair around your personality instead of trying to match up with the dress. If it's your authentic style, the rest of the pieces will naturally fit together.