18 Best Layered Hair with Bangs for 2023
Shoulder Length Layered Haircut with Side Bangs
@yubeautyloungeak
The ash brown to gray ombre complements her side-swept fringe that accentuates her fair complexion and pretty facial features. These are versatile long layers with bangs that work best on fine, medium, or thick hair types with a straight to wavy texture.
Fringe with Feathered Layers for Thick Hair
@justlaila
We're loving this feathered long haircut with bangs that is so charming and easy to create. Those soft long pieces give a feminine '70s themed look that suits any hair color and density.
A-Line Bob with Short Layers for Thin Hair
@rikkirunswithscissors
A vibrant red hair only deserves to be shown off with a gorgeous cut like this sharply angled short haircut with bangs that are layered. Super edgy and perfect for any setting – business or casual.
Wavy Hair with Long Layers and Thick Bangs
@queenofswordsbk
Q&A with style creator, Elma Siljkovic
Hairstylist & Owner @ Queen of Swords in Bushwick, NY
How would you describe this look?
This is a natural, air-dried long layers with bangs. The greatest thing about it is that the styling is low maintenance because it's all her real hair texture, no irons. I cut the length, put in shape, and took off the weight for this client using a dry haircutting technique. Her old balayage looks new even after the haircut.
Any advice for someone considering it?
Embrace the hair texture nature has given you and approach your hair care and styling rituals that enhance your natural beauty. Most of my clients in NYC are on the go, wash and wear type of people. For something like this, I would use alcohol-free/sulfate free products. Specifically, I used Deva Curl No Poo, One Condition, and the Light Defining Gel. Deva Curl has a range of products for all hair types (like coarse or fine hair).
I would find a stylist who has experience cutting and styling with natural texture so they can help guide you on how to use the product line (or any other curly product line for that matter). Natural wavy/curly hair is not a one size fits all and you need a stylist who gets it!
Medium Layered Bob With Bangs
@tashaxdeeva
Q&A with style creator, Tasha Pinheiro
Stylist @ Deeva Hair in Kitchener, ON
---
How would you describe this look?
This is a hipster chic medium layered bob with bangs. During the consultation with my guest, I really got to know her – which is just as important as getting to know her hair – and her vibe really sent me Zooey Deschanel meets Ramona Flowers (from Scott Pilgrim vs. The World). She also works in a very corporate environment, so it needed to work in a professional setting as well.
The best thing about it is how effortless it is for her. We embraced her natural texture because she's a low maintenance girl, and the cut really works with that. It allows her to wash, throw in a little product, and go, but it really looks like she's put in some effort.
Any advice for someone considering it?
Someone considering this look, first and foremost, needs to consider their own texture. If your hair is pin straight but you want this sort of tousled style, it's going to require time dedicated to curling in order to achieve it.
If your hair is super curly, you need to consider that either you're going to have to embrace curly bangs – which I love, but I know isn't to everyone's taste – or you're going to have to take the time to smooth them out all the time. Whether you want to spend that time comes down to your own lifestyle to determine. Only you know whether those things are too much of a commitment or not.
Regardless of your texture, in order to have a layered cut with this much definition, you need to be willing to use a product, so always consider whether that's something you're open to doing.
Long Shaggy Hair With Middle Part Bangs
@melanie.s.stylist
Q&A with style creator, Melanie Stipdonk
Master Hairstylist @ Pomme Salon in Kelowna, BC
---
How would you describe this look?
This is a long layered shag haircut with a curtain fringe. What I love about this cut is how easy it is to style and how the fringe softens the roundness in her face. She appears longer and helps her to look taller.
Any advice for someone considering it?
The best face shapes for this cut is any face shape! The secret is deciding where you want the fringe to fall in order to bring out the best features such as cheekbones or lips. This cut can also be used to elongate a round face or shorten an oblong face, soften a square face or balance a heart-shaped face.
This cut is extremely versatile and can be air dried for a fun beachy look or blown out and/or curled for a soft flowy look.
The best products for this style are salts sprays for a nice full crown, curl creams for juicy tamed curls, and oils for frizz control and shine.
Layered Bob with Fringe
@alinazadehair
This medium-length layered haircut with bangs that is generally low maintenance yet still look great. The lob is waved at the ends which accentuates the lovely blonde highlights and those feathered layers.
Short Layered Hair with Blunt Bangs
@heartwoodhair
This short-medium layered hair with bangs is a casual lob with a thick straight fringe. These undone waves and layers are a great and easy way to mix this simple look up.
Curly Layered Haircut with Long Bangs
@jessicaevelym
Curly layered hair looks truly beautiful when layered in the right places and styled with bangs. These add more volume and definition to those curls that will surely give you a noteworthy look.
Choppy Layers with Wispy Bangs
@chiyukihair
This chic bob features layers and a messy wispy fringe that make fine hair seem voluminous and textured. The stylish asymmetrical cut also creates movement for the whole look.
Face-Framing Long Layers with Long Bangs
@dawnbradleyhair
Q&A with style creator, Dawn Bradley
Stylist @ Dawn Bradley Hair in Calgary, AB
---
How would you describe this look?
These are textured long layers with bangs. I love the framing the fringe gives around her face while still flowing into the rest of her hair seamlessly.
Any advice for someone considering it?
Make sure you have enough hair for layered haircuts like this. I have fine hair myself and don't have enough hair around my face to achieve this look without ending up with some sort of mullet. This is awesome on someone with med-thick hair that has a little bit of texture or natural wave in their hair. To achieve the look with the fringe, you will need to round brush them, so do ask your stylist to give you a mini tutorial to help you do this at home.
Medium Length Hair with Choppy Bangs for Women Over 40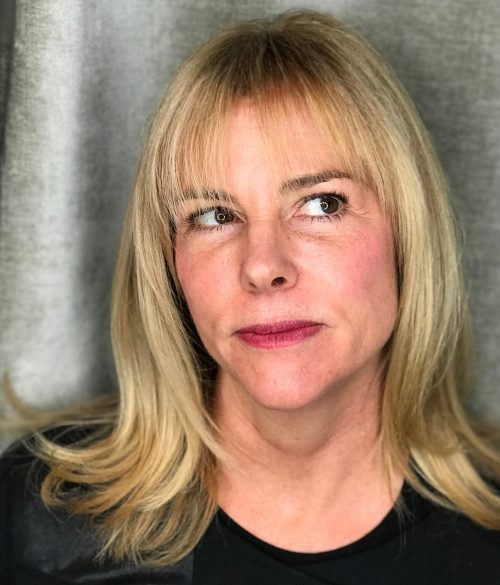 @luismiguelbujia
Q&A with style creator, Luis Miguel Bujia
Owner / Lead Creative Director @ Stylists At North in Alexandria, VA
---
How would you describe this look?
The haircut is a classic French shoulder-length layered haircut with bangs that softy frame the face. I chose a French technique because we planned on doing balayage with her base color to create a more flexible movement.
I used Kevin Murphy Antigravity on her roots and Shimmer Shine on her ends. I then did a French blowout with boar bristle brushes.
Her bangs are heavy with a lot of texture. We didn't cut them straight across because her face is pretty square, so we left the corners a bit longer giving it a rounder shape.
Any advice for someone considering it?
It will take some styling but with a perfect volumizer for your roots and moisture or shine product for your ends, you'll get the perfect blowout.
This will look gorgeous on straighter to wavier textures. If you have a rounder shape face, you may want to consider a straighter fringe. If you have a square-shaped face, definitely go for a softer more rounded fringe.
This is an amazing look for the woman on the go who doesn't mind spending 10-15 minutes on their hair. It looks stunning down with its bouncy layers. If you pull it back, you can definitely give yourself some beautiful drama with fringe and layers around your face.
Medium Layered Haircut with Side Swept Bangs
@fiftyshadesofbalayage
Q&A with style creator, Grace Corradetti
Master Stylist / Balayage Expert @ Purnama Style Lounge in Kelowna, BC
---
How would you describe this look?
For this look, we were both feeling like we wanted a boho vibe. My favorite way to create lived-in layers is focusing more so on the interior of the haircut using a "back cutting" technique creating movement and shape without the boxy square shape that can leave you with harsh lines and a less desirable grow out.
Her fringe was pulled from where her natural part lies creating fluidity and symmetry. I always follow the center line of the iris to create a perfect balance with the face.
Any advice for someone considering it?
With her balayage placement, I focused on what the sun would do to her hair. Adding thicker pieces of balayage throughout her fringe, I start with a very thin backcombed piece that went into a wider section also allowing for a more smooth grow out.
Layered hairstyles with this cut and shape work fabulously well on the square jaw and longer forehead. Not to mention, bangs are way cheaper than botox!
Medium-Short Bob with Micro Bangs
@samkanehair
A medium-short bob with micro bangs brings out a cute and avant-garde result! With a length that stops at the shoulders, hair becomes easy to style and maintain. Amp it up with waves to create natural lift and shape. A shade of a bright copper tone won't hurt the appearance of a medium-short layered haircut with bangs.
Neck Length Bob with Straight Bangs
@lynniekjones
Here's a neck-length bob with straight bangs that adds a fresh edge to your appearance! This layered hair with bangs is a modern tousled bob with textured fringe. The combo of the chop and the blonde shade makes it appear very elegant. Layered hairstyles can, no doubt, accentuate gorgeous facial features.
Shaggy Layers with Curtain Bangs
@jade.lauren.hair
Q&A with style creator, Jade Lauren
Hair Stylist @ Salon Seven Twenty in San Antonio, TX
---
How would you describe this?
Shaggy layers with curtain bangs are sultry and feminine, but flirty at the same time. The bangs also give this cut that perfect vintage touch.
What's your best advice?
This shag cut is perfect for the girly girl who wants to dip her toes into the shag life & add some aesthetic to her style.
For styling use all cult & king products because the line was created for this type of cut. You can air dry, hand style, or use heat tools with their products. Plus, their natural ingredients are amazing for your hair.
This shag is all about manipulating the hair to do what you want, which is why this works best for wavy textures.
Long Bob with Layers and Short Bangs
@yukistylist
A long bob with layers and short bangs is an easy-to-maintain hairstyle that's fun to wear. This cool hairstyle with layers and bangs are way better when amped up with enough amount of texture. Baby bangs on a long bob give an edgy style and a fresh-looking finish.
Q&A with style creator, Yuki
Dry Cut Specialist & Educator / Owner @ Gavert Atelier in Beverly Hills, CA
---
How would you describe this?
This long bob with layers and short bangs has a ton of volume and movement. Also called a textured lob, baby bangs really suit a texture style. Style it with a curling iron and use Dry Texturizing Spray by Milbon.
What's your best advice?
This style is good for women who don't want to spend too much time styling their hair. This long bob with layers is ideal for women wanting volume and movement in their hair.
Long Layered Haircut with Bangs
@manemisfit
Try a long layered haircut with bangs for a 100% glow! Such a chic long layered haircut with bangs is easy to style and looks sleeker on a straight mane. It features a longer fringe, parted in the middle, to frame the face and create a French-inspired vibe. For added dimension, feel free to ask for a balayage, too!