31 Gorgeous Prom Hairstyles for Long Hair
Long Prom Hair Downdo With Jumbo Curls
@avalonhairdesigns
These dreamy super long huge waves will surely take you to the spotlight on your prom night! An easy yet super beautiful hairstyle just waiting to be crowned!
Vintage-Inspired Long Half Updo
@allurebyjacqui
This sensational picture-perfect hairstyle will absolutely make everyone's jaw drop with its sleek side bangs and wavy ends that are so full of volume. Leaves you feeling like a princess all night!
Braided Side Pony
@jennymitch242
A side-braided loose ponytail is perfect if you're planning to dance all night long! This style keeps your hair glamorous throughout and off your face for a fresh look.
Soft and Romantic Updo
@deelushhair
Q&A with style creator, Danielle Sainty
Freelance Hairstylist @ Deelush Hair in Sydney, AU
How would you describe this look?
It's a big relaxed bun with volume and texture throughout the top of the style finished with wispy pieces around the face for that perfectly undone look. The more relaxed the better! I love this look as it's uncomplicated but super pretty!
Any advice for someone considering it?
This effortless-looking hairstyle is great for warm nights and showing off dress details, as it keeps your hair up & out of the way. This style suits all hair lengths, and you can also add in hair extensions if you want a fuller looking bun. I personally love this textured – perfectly imperfect hairstyle as it's a perfect way to showcase balayage and ombre highlighted hair.
To create this look, blow-dry the hair with a styling aid (I used a liquid texture spray). Then add dry texture spray throughout the hair to give the hair some 'grip', section out the sides, backcomb to the middle section and take into a low ponytail, then back pull out through the top to give a 'textured' look. Backcomb the ponytail to increase volume, then smooth it out and pin it to one side to the head then pull it back across to the other side and pin in to create to bun shape. Take the sides in next twisting them slightly to create some detail, overlap, and pin into the bun, leaving a few delicate ends out around the bun. Leave some hair out around the face to frame, and use a medium or firm hairspray to set the look.
Modern French Twist
@behindchloeschair
Q&A with style creator, Chloe Tomalak
Hairstylist @ J Russell Salon in Palm Desert, CA
---
How would you describe this look?
This look is the bohemian French twist. It's a modern update on the classic French twist. It has a loose romantic feel as opposed to the structured classic.
Any advice for someone considering it?
Have a free spirit. It's an undone twist with lots of curl and pieces down around the face. Make sure to use a workable hairspray for a little hold but lots of flexibility.
Prom Hair With Swept Up Curls
@rachellehmua
Q&A with style creator, Rachelle Araujo
Hairstylist and Makeup Artist in Boston, MA
---
How would you describe this look?
This look is a romantic half up half down hairstyle. My favorite thing about this look is the volume. I was able to achieve it and the extra touch that braids add.
Any advice for someone considering it?
To be able to get the volume they would need, I recommend this hairstyle to a client who has below the shoulder length hair or longer, as well as thick hair.
This look is great for someone who loves to have their hair down but, also would love to have components of an updo. Make sure to have lots of bobby pins and add some hairspray so that your hairstyle will stay in place all night.
Long Braid Bump
@hairbykristenball
Q&A with style creator, Kristen Ball
Freelance Bridal Stylist and Hairstylist @ Dellaria Salons in Boston, MA
---
How would you describe this look?
This style is a slightly messy low updo look, with French fishtail braids on the sides.
Any advice for someone considering it?
This style is quick because it doesn't need to be curled beforehand. Like any updo, it is easier to do on hair that has not been just washed, ideally second-day hair.
The braids are a good way to tame thick hair, as well as give the illusion of thickness to thinner hair. They will also keep your hair out of your face for dancing.
The bottom half is actually just a messy bun. I like having a few loose pieces, the texture looks great in photos.
The only product necessary is a light hairspray at the end, and it is always good to keep extra bobby pins, in case anything comes loose.
Elegant Half Up Style
@kimmisbeauties
Q&A with style creator, Kimmi D'Arrigo
Associate Stylist @ Skin Deep Salon in Totowa, NJ
---
How would you describe this look?
This look is elegantly classic. Our inspiration picture was a 50's hairstyle.
Any advice for someone considering it?
I would recommend volume and texture products for someone with as much hair as she had. The products will help to hold the volume at the root, so it's not weighed down by the sheer amount of hair. A lightweight hairspray is helpful for those pesky flyaways.
Edgy Topsy Long Prom Fishtail
@cosmo.chlo
Q&A with style creator, Chloe Warne
Licensed Hair & Makeup Artist @ Ulta Salon in Lincoln, NE
---
How would you describe this look?
I would describe this look as a mermaid pony that can be dressed up or down depending on the look desired. My favorite thing about this hairstyle is the ribbon effect it gives the hair and the shape in which it reminds me of a mermaid's tail. Fishtails have become very popular prom hairstyles for long hair.
Any advice for someone considering it?
This style is best achieved on someone with medium to long hair that has one length or long layers. This style can be achieved on any hair density or texture. This look is edgy but also feminine and can be worn by all ages.
Tools I used: comb, rubber bands, brush and a few bob pins Products I used: Medium hold hairspray Redken 18, Shine spray Redken 02.
Throwback With a Modern Twist
@sweetteasehair
Q&A with style creator, Hannah McNeill
Cosmetologist @ Captivate Beauty Services in Castle Rock, CO
---
How would you describe this look?
This look is one of my favorites that I have done! This look can be worn for a romantic gala, an elegant wedding, or even an extravagant night out. The mixture of pin curls and knots give it a throwback look into the 50s with a modern twist.
Any advice for someone considering it?
If you are looking for an upstyle and have very dense hair, this look is for you. The curls tend to build on one another and the more hair you have, the larger the curls.
For those trying to achieve this look, look for any colors that pop or stand out more and use those for the top pieces to be displayed. This will really enhance the formation. Also, use lots of hairspray!
Flower Child Prom Hairstyle
@hailey_monique
Q&A with style creator, Hailey Fullmer
Future Professional @ Paul Mitchell The School Ogden in Ogden, UT
---
How would you describe this look?
I would describe this look as a flower child-inspired half up half down hairstyle. My favorite things about it are the different textures and vibes that all of the braids give off!
Any advice for someone considering it?
Before styling this, make sure your hair is not freshly washed, but not too dirty as well. Having it just in between the two will give it that messy, undone look you want when wanting a boho hairstyle.
I think this hairstyle is perfect for anyone who is into more of the hipster and boho styles, meaning that they are okay with more of a messy and undone look!
Elegant Half Up Hair
@beautyxashlyn
Q&A with style creator, Ashlyn Engledow
Hairstylist / Makeup Artist @ La Bella Beauty Lounge in Waco, TX
---
How would you describe this look?
This half up hairstyle is simple, yet elegant! The two braids on either side give it just the right amount of detail without going overboard, and the relaxed curls give it the just right amount of texture.
My favorite thing about this is the simplicity of it all. Sometimes less is more, and in this case, I'd have to agree!
Any advice for someone considering it?
The best thing about this hairstyle is that it's so versatile! Everyone can pull off their own version of this look.
This client had super thick, straight hair. After I curled each piece of hair, I sprayed the curl with Redken's Control Addict 28 Hairspray to secure the curl before moving on to the next section. After curling the entire head, I teased the top of my client's hair to add volume, then added a very loose French braid on either side of her head.
The most important product to have when trying to achieve this style is hairspray!
Flowing Twisted Prom Half Updo
@lizkalipi
Q&A with style creator, Liz Kalipi
Hairstylist / Barber @ Statements The Salon in Woodbridge, VA
---
How would you describe this look?
This is an elegant half updo with a twist. I like that it is seamless and that there is no disconnect. It has a perfect flow.
Any advice for someone considering it?
We shampooed the client and applied volumizer throughout the hair to create a foundation, then we applied a volumizer from root to end and blew dry the hair with a 2-inch round brush for volume. We then curled the hair by taking one-inch sections and lightly spraying a finishing type hairspray to each section before curling. When curling the hair, each section is curled in a different direction to create movement. When curling around the face we curled the hair away from the face to create a smooth finish.
For the half updo, I took the section at the crown and teased at the base only, pulling the top section from temple to temple back. We used a boar bristle brush and using a light shine spray to smooth the hair. On the side of the head from the temple, we took a one-inch section of hair on both sides and pulled them back to where we bobby pinned the top section, making sure to spray each section with smoothing spray and hairspray to polish each section.
We twisted the hair much like tying a shoe lace, then pinned at the base to secure the twist. We took the next section and did the same until we reached the ear, then re-curled hair to make the look uniform but with a natural elegance. Finish off with shine spray and hairspray to secure the style.
In regard to products, we used the Surface Awaken Therapeutic line which includes a lightweight shampoo and conditioner to really clean the scalp in preparation for our special occasion style. I used Aquage Uplifting Foam as a volumizer and Aquage Beyond Shine Spray and Aquage Finishing Spray to smooth and secure style.
Any face shape and any hair type can achieve this look. There is no limit to face shape or hair type. Anything is possible!
Half Up & Half Down Long Hairstyle
@the_braiding_boutique
Q&A with style creator, Kelly Batten
Founder / Head Stylist @ The Braiding Boutique in Brisbane, Australia
---
How would you describe this look and what is your favorite thing about it?
This is a simple yet elegant style. I love how her hair sweeps back off her face into a sophisticated half French roll that the loose curls soften to make a much more romantic look. This is the perfect look to make a girl feel like a princess on her big night.
What tips or products do you recommend to recreate this look?
When creating this look yourself, always use a heat protecting spray before curling your hair to ensure your gorgeous strands stay happy! Backcombing at your crown will create not just volume, but a fabric to hold the pins in so they don't slip out during the day or night.
Layering hairspray (spray, smooth, spray, repeat) as you smooth out the half French roll will tame all of those pesky flyaways!
If you are looking for prom hairstyles for long hair that is more free flowing the whole night, the half updo style should definitely be in contention.
What type of client would you recommend this look for?
Another thing I really like about this style is that it's versatile. It works on pretty much everyone! If you feel it's too sharp around your face, just leave out a little more hair to frame and soften the look.
Long Romantic Ponytail
@lesalonhair
Q&A with style creator, Anna Lowrey
Senior Director @ Le Salon in Armidale, NSW
---
How would you describe this look and what is your favorite thing about it?
I love this look because it never goes out of style. Any look that has soft texture and a boho feel is what I love to create.
This ponytail is smooth on the bottom half so it looks professional, and the top half has been placed over loosely to allow the top to remain soft with some height.
A ponytail might be classic, but anyone can pull this off just by changing the smoothness and position of the band.
What tips or products do you recommend to recreate this look?
For the best pony, the most crucial step is prepping the hair by blow drying it into the right shape with a setting spray. Here, I used Bumble and bumble Thickening Spray. Blow dry all the hair back at the front, get heaps of volume at the crown, and pull the hair up at the back. This way the roots will all sit in the right direction and ensure the pony is bump free.
I do my ponytails in two sections and the first one incorporates the bottom half and the crown. I then tong the hair that is out and the hair in the first ponytail. Tong the hair in the pony in all different directions so it doesn't sit in one big twist. Tong the front half back off the face, then pull some pieces out around the face to customize.
I like to finish the curls with a texture spray like Redken Blown Away to make the curls fat and textured.
What type of client would you recommend this look for?
Curly ponies work on medium to long hair and the positioning of the band should be placed to best suit your facial features. I recommend ponytails to girls who like their hair back off their face, those who have a lot of detailing on their dress, or or those with heavy feature jewelry to balance the overall look.
Double Braided Bun
@n.starck
One is not enough, so make it a pair! This double braided bun is a long hair updo perfect for any elegant-themed events. The plaits look fuller on thick and platinum blonde tresses.
Modern French Twist Prom Style
@adatabaku
Here's a modern French twist prom style that suits your glamorous gown! The movement in this look is beautiful, with the matching wavy strands from the hairline. The combination of brown and blonde shades seems satisfying and unbeatable.
Q&A with style creator, Ada Tabaku
Hair Stylist @ Ada K Beauty in Naples, FL
---
How would you describe this look?
My favorite thing about this updo is how effortless it looks. A hairstyle that is classic, polished, and for every woman who wants an elegant chic style.
Any advice for someone considering it?
Go for it. It's perfect for the girl who has medium length hair and wants to put it up and thinks she can not. I'm here to tell you that the French twist allows that. Since this style has been around for ages, you can also make it super modern by adding texture to the style, leaving cascade pieces of hair around the face. Separate the hair with your hands, so it isn't so smooth.
The possibilities are endless with this look. Don't forget your hairpins and hairspray are super important to keep this gorgeous style lasting all day.
Lovely Fishtail Braid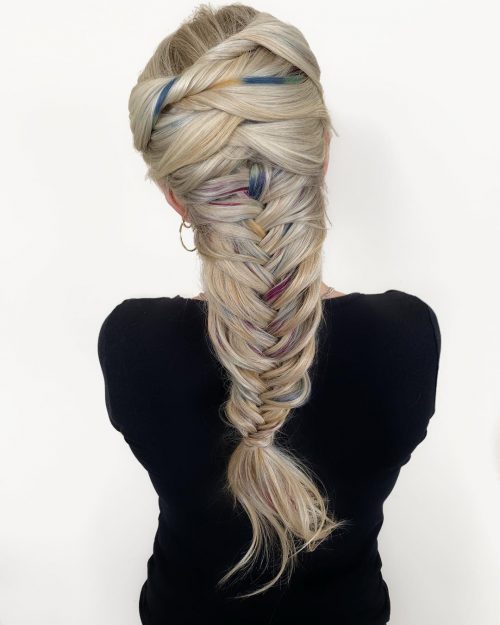 @thehairstylish
Secure long hair with an intricate braid. You'll always feel supreme wearing fishtails!
Stylish Boho Chic Pony
@theupstylegirl
Put your rich brunette strands up into this textured, effortless ponytail! A look that's ideal for a wild night.
Princess Inspired Half Updo
@inspobyelvirall
A simple half up, half down natural-looking princess upstyle like this will get you every guy lining up for a dance! Accessorize with a cute bow for a touch of sweetness.
Gorgeous Braided Bun Updo
@coriesimperlerhair
Better try this gorgeous braided bun updo for such a divine finish! It's the type of style which you must get if you are blessed with bronde tresses. Long, thick hair creates a natural-looking texture, which completes your prom night outfit. You can also add wavy face-framing pieces for a softer touch.
Simple Chignon
@wivifalthair
Ideal for your thick, long hair that appears very smooth on a blonde shade! This simple chignon is twisted to complement the loose waves of your tresses. Letting some strands of your locks to hang around your face adds a softer touch to this entire low chignon.
A Delightful Dutch Braid
@hair.by.olivya
A delightful Dutch braid will grant your dark, long locks a sweet and sassy appearance. Looking sleek with this trend, you'll be enjoying the night with your friends.
A Heavenly High Bun
@petrabila2
Topping off your loosened updo with a pearl hair accessory can create such a heavenly high bun. Strands hanging from the sides and nape area let your style have a more relaxed and softer finish. If you have dark brown locks that melt into a blonde hue, these then make everything extra elegant than ever!
Cute Rope Braid
@blissfulbeauty365
Feel and look beautiful on your prom night with this cute rope braid. Looking shiny on long light brown locks, this is about to give you a significant amount of confidence. Complete the look with texture and face-framing pieces for a softer finishing touch.
Q&A with style creator, Elle Bliss
Hairstylist @ Salon Cheveux in White Bear Lake, MN
---
How would you describe this look?
This look is whimsical and boho! It's perfect for any occasion. My favorite thing about this look is that it is a little different from your typical updo. It's super elegant while having that awesome texture to it.
Any advice for someone considering it?
If your hair is too long, it simply will not work. This look will work best for clients with collar bone length to the middle of the shoulder blades. Fine to medium thickness will be perfect for this style. You will need to use some products that will provide texture, such as texture sprays or dry wax sprays. This will create that piecey, textured look.
Easy Braided Ponytail
@kononova_stylist
A loose hairstyle makes a casual feel unless a texture upgrades your blonde, wavy locks. This easy braided ponytail looks extravagant in its own way. With additional face-framing waves, you got to have confidence in this upcoming prom!
Q&A with style creator, Anna Kononova
Hairstylist & Makeup Artist @ in Vladivostok, Russia
---
How would you describe this look?
This look is soft and pretty, and it's perfect for various occasions! It's the best choice for bridesmaids, young ladies having a date, or even a farewell party.
It's not a typical version of the ponytail, as it has two side-going fishtail braids. A classic updo gets more interesting with these braids, and that's why I love this look very much.
Any advice for someone considering it?
I think this hairstyle can be worn by girls with any dress style!
I curled softly my client's hair with a 28-mm curling iron then braided the upper part and finally fixed the ponytail with two bobby pins and one elastic. I would advise to use medium hold spray to make the style airy and flexible.
Low Bun Updo
@kononova_stylist
Add flair to a down-do hairstyle by showing off your wavy, brown locks. Streaks of platinum blonde will outline the movement of your waves, too! Face-framing strands and hair jewel are vital details to finish the whole low bun updo.
Q&A with style creator, Anna Kononova
Hairstylist & Makeup Artist @ in Vladivostok, Russia
---
How would you describe this look?
It's the most requested updo not only from my brides but from all my clients. It looks so amazing and difficultly elegant. That's why it's the best choice for the most important occasions such as a wedding.
Any advice for someone considering it?
I would advise wearing this style with off-shoulder dresses in order to show a beautiful back-neckline. I also like creating some loose curls that contour around the face to focus on the bride's pretty makeup.
I curled the hair using a 25-mm curler or sometimes a 32-mm if I want the curls softer. To create more volume and extra texture, I love to use Osis Volume Up. It's also important to add grip to your roots, so use pins to make the hair stay in place.
Naturally Curly Half Up Half Down
@thehaircompanysidney
Let your natural hair texture be your best feature! Flaunt your long, blonde mane with braids for extra glam. Wear this naturally curly half-up, half-down style, and make the prom your special night.
Long Beach Waves
@tee.hair
These textured long beach waves are looking so extra! The movement is random, which also creates a romantic edge on a half-down hairstyle. The metallic shade of rose gold balayage is one reason you'll be the queen of the night.
Fishtail Braids
@rebecca.murphy.beauty
These fishtail braids on natural copper hair are too glorious to handle! The half-up, half-down style carries out a boho vibe, which fits your long, wavy locks. Wear this look at the prom, and you'll win the heart of everybody.
Messy Braid Bun
@beautyandgracetally
Simply romantic! It's the texture that makes this messy braid bun all flowy and graceful. Your dimensional blonde is sure to complete its soft, chic finish.
Q&A with style creator, Krysta McLaughlin
Salon Owner / Hair Stylist @ Beauty and Grace Hair Parlour in Tallahassee, FL
---
How would you describe this look?
I love the look of this braided bun! It's loose and tousled and has a slightly undone look to it. I love that it looks effortless like you just casually tossed it up without putting much time into it. Plus, braids are so on-trend right now and just add interest and texture into every look!
Any advice for someone considering it?
This look would be more easily achieved on slightly dirty hair. Add a little dry shampoo at the root for extra volume and dry texture spray on the mids and ends for a little roughness and texture. If you have longer or thicker hair, expect a larger bun which is still beautiful just a slightly different look. For loose tendrils around the face, you'll need to have some light layering around your face, generally around collarbone length or shorter.