36 Hottest Long Shag Haircuts to Try This Year
The Long Razor Cut Shag
 @melanie.s.stylist
"This is a modern longer shag meets Brigitte Bardow haircut," says master hairstylist Melanie Stipdonk of Kelowna, BC.
"What I love most about this layered razor cut, and razored shags in general, are all the cute and sexy bits that are carved and personalized around the face," she adds.
This shaggy long hairstyle will look great in an easy, swept-up messy bun with all the fringe left out.
Long shag hairstyles are very versatile and can be worn with natural, air-dried texture, or blown out with volume in the crown and curled with an iron.
The best products to use for a natural air-dry are a saltwater spray for gritty, bodifying texture, and a curl cream through the ends.
For blow-drying and hot tools, use volumizers at the roots and heat protectors for the mid-lengths and shaggy ends.
Bronde Long Blunt Shag with a Middle Part
@salsalhair
Blunt cut ends and handpainted hues make this long length bronde shaggy haircut super feminine and oh so trendy.
Strawberry Blonde Shag for Long Thick Hair
@emmatrottierhair
This timeless long shag on sweet strawberry blonde hair has a modern take.
Remember to use the best color-safe products to keep the hair vibrant and shiny under any kind of lighting.
Long Red Shag with Bangs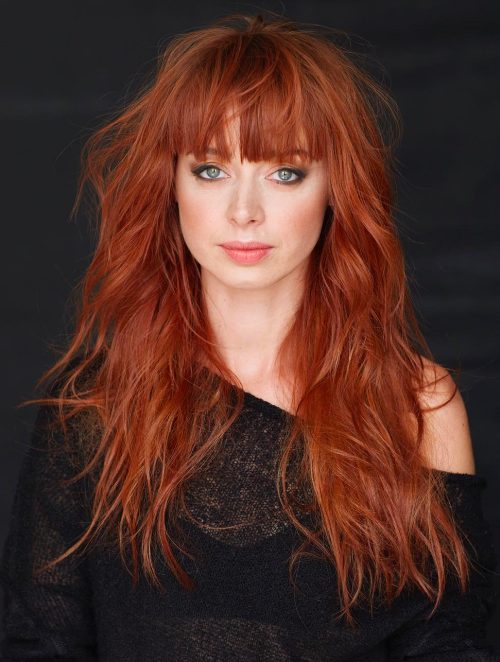 @hairstorystudio
Take your long hair to the next level with a vibrant red hue and long shaggy layers for days.
Center Part Choppy Shag
@ashleenormanhair
A center part choppy shag is the cut for the win. Long shaggy haircuts are great for round and square-shaped faces. Razor cut for the ultimate shag with choppy cuts. Round brush back or throw in some barrel waves to compliment the layers.
Textured Shag for Long Wavy Hair
@jameyonmelrose
This long textured shag hairstyle is effortless, beach hair and was created by senior stylist Jamey Meyers of Los Angeles, CA.
The best thing about this shaggy long cut with layers is that it is meant to embrace one's natural wave/curl. It's not for those who enjoy a more polished look.
"I love salt spray on finer textures (Davines salt spray) and a texturing cream on thicker hair (Davines invisible serum),"  says Meyers.
Dark Cherry Long Shag with Bangs
@golddust.hairlounge
A dark cherry, long shag with bangs is the perfect take on a modern shag. Curtain bangs and soft waves away from the face works with all face shapes with the right length of bang and layering. Really carving out the texture to soften the ends gives it the modern shag style.
Long Shaggy Layers for Thick Hair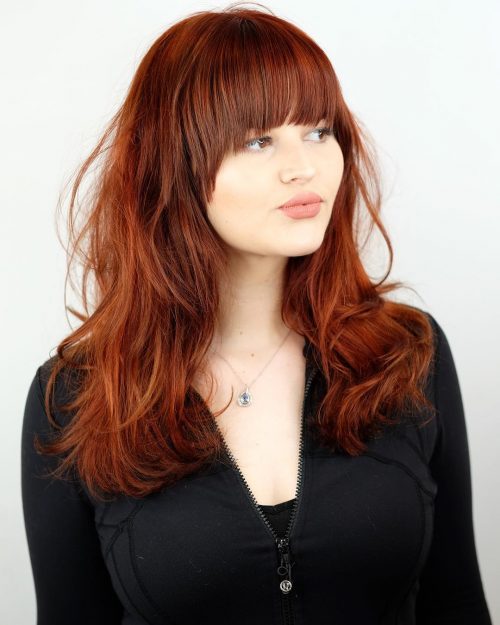 @michelle.sun.shine
This super fiery hot modern long shag haircut is so on-point with its shag-fringe combo.
For long shags, add long feathery layers and straight-cut fringe to add movement and texture all over your hair.
Let's not miss this beautifully done vibrant red hue that suits pale skin and cool undertone. Long shaggy hairstyles for thick hair work well with all face shapes.
Long and Shaggy Cut for Round Faces
@hannahperezhair
Long and shaggy for round faces works best with loose waves and a lot of texture. The softness of the style is what complements the fullness of a round face shape. This long shag hairdo looks chic, feminine, and somehow edgy. Plus, it works on any hair type.
Long Choppy Style with Long Curtain Bangs
@salonsassafras
A long choppy style with long curtain bangs opens the face and accents facial features. This hair idea is from stylists Jennifer Golden and Sophia Deininger. "For a fine hair type, the razor cut technique was ideal," they mention.
The stylists also added a heavily layered fringe to such a shaggy long cut. "The long curtain bangs on long shags create beautiful texture and movement around the eyes and cheekbone," they state.
Long Curly Shag with Bangs
@alex.does.my.hair
This is a long curly shag with bangs, perfect for pulling off a major transformation. It enhances a curly mane's volume, allowing it to appear bouncier. Adding in a curly texture can result in an effortless style. Try applying a combo of moisturizing curl cream and control gel. Those products can redefine the natural curls.
This long curly shag with bangs is a modern take on a classic 80's shag, on natural curly hair. According to Designer Alex Moffitt of Bloomington, IN. "Most of the layering is focused around the face from the bangs, to the face frame. The layers, while not seen in the picture, are longer then your typical shag layers. They stop at the shoulder to maintain weight throughout the cut," adds Moffitt.
Natural curly girls wanting this cut, the biggest thing to think about is your lifestyle. Are you willing to use products like curl creams or gels to amplify your curl? Will it bother you to have to refresh your hair in the morning if your curl or bangs lay funny after full nights sleep? Is it important to be able to pull your hair out of your face with out much effort?
Shag for Long Straight Hair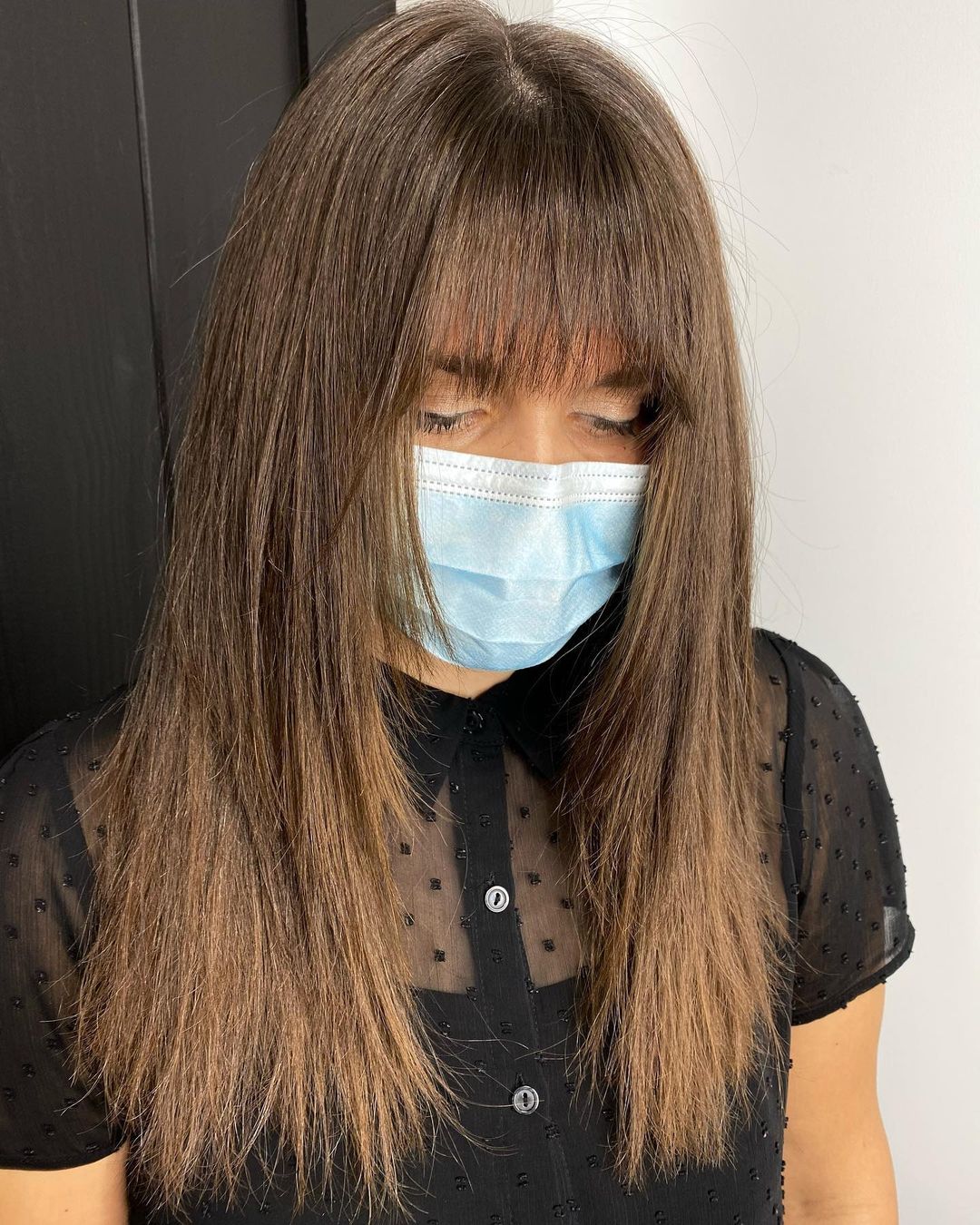 @melissas_manestudio
Here's a shag for long straight hair that brings out a framing effect around the face. Featuring bangs, this hair idea offers a younger-looking image. Shaggy long hairstyles are versatile. They can be worn messy or sleek.
Long Shag with Bangs
@timm.morrison
A long shag haircut with bangs and lots of choppy layers creates super long textured layers that look great on naturally blonde hair.
This long shaggy cut is super low maintenance when you go natural all the way with your color and hair type.
Perfect Shag for Long Thin Hair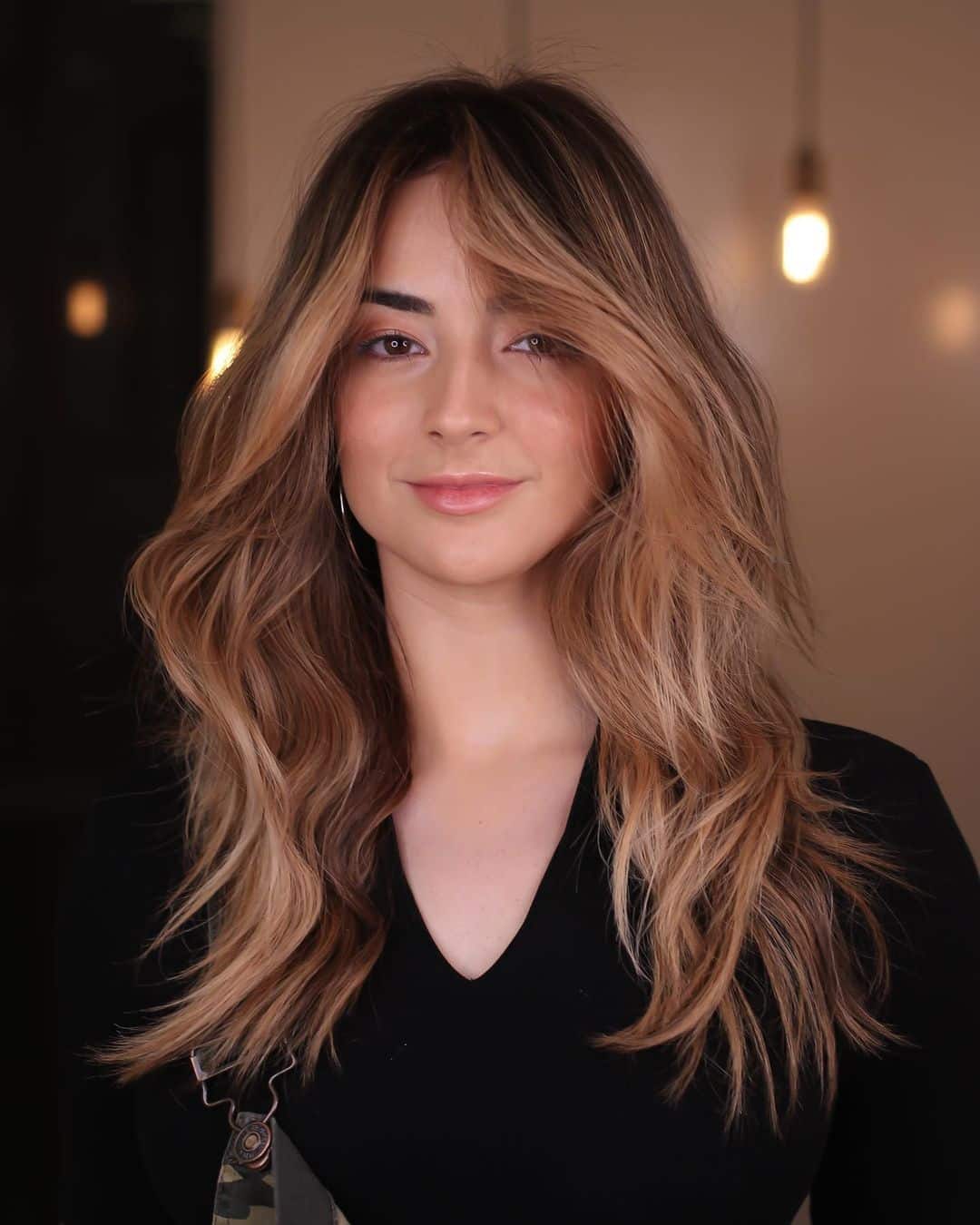 @g_deodato
Ask for the perfect shag for long thin hair, and transform into a goddess real quick! Fine, thin locks could look flat, and no one wants that. So ladies, opt for a chop that offers layers like this long shag haircut. No need to chop too much hair off. Intensify the style with soft waves for a very feminine vibe. This shaggy hairstyle with long layers is so fun to pull off!
Long Shaggy Bob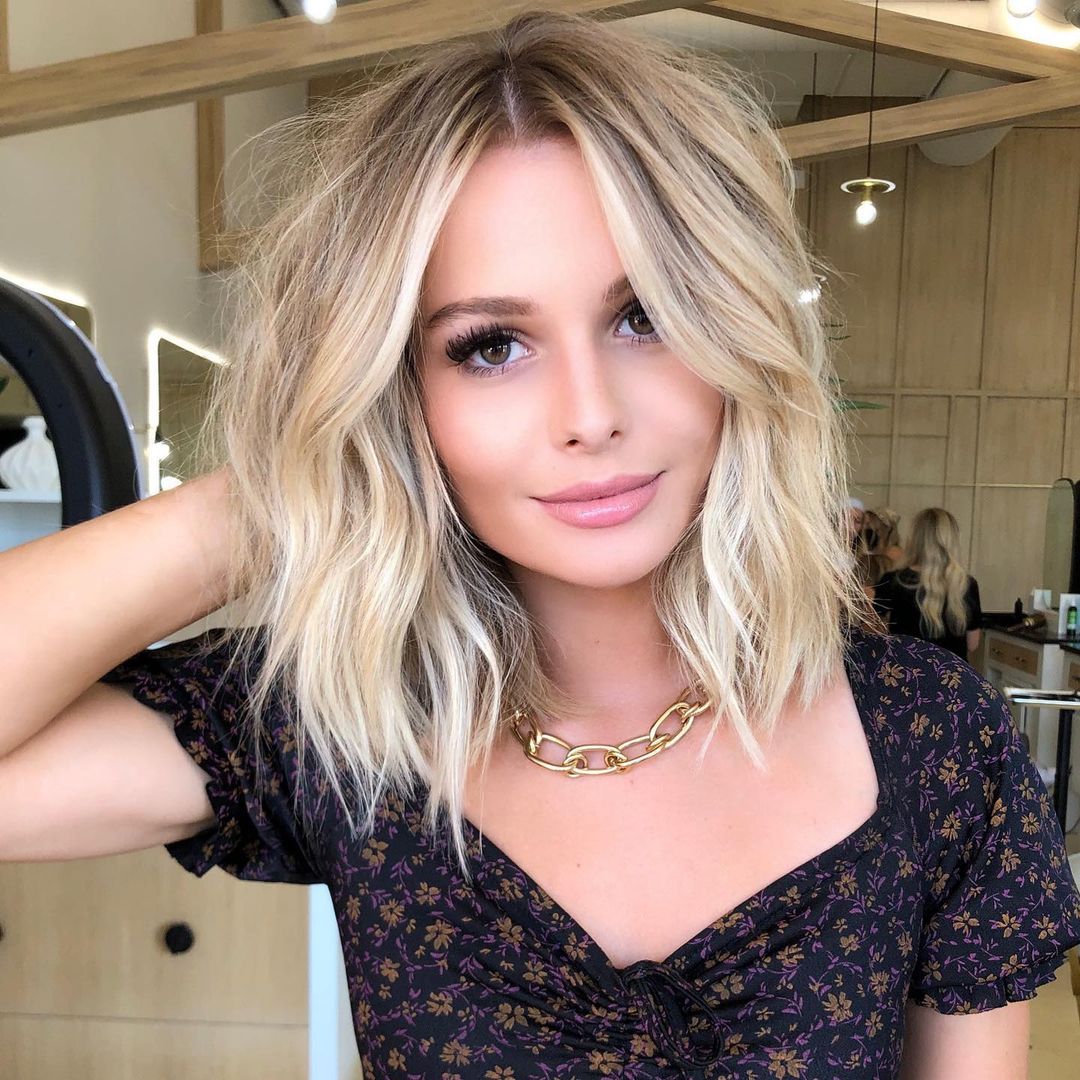 @hairby_chrissy
This long shaggy bob is great for achieving a beachy vibe. It looks way too stunning with loose waves and texture. It's also a plus if the hair has a bright blonde color. This lob is easy to style, so women with a busy schedule will love it.
Long and Shaggy Choppy Layers
@g_deodato
By wearing these long and shaggy choppy layers, you'll be ready for a night out. This long haircut, when merged with a wavy style, creates a next-level glam. The best part about long shag hairstyles is how they can be customized. Consider the hair texture and face shape to see which shag is best for you.
Long Brown Shag with Side-Swept Bangs
@vswaynos
Flaunt a long brown shag with side-swept bangs for a flattering hair trend that suits most ladies. This haircut features a lot of layers to carry out extra volume and movement to tresses. Long, shaggy hair also serves as a source of weight relief for very heavy hair. It's the chop that makes the hair appear weightless. When drying it, use a diffuser to protect its texture.
Long Choppy Cut with Shaggy Layers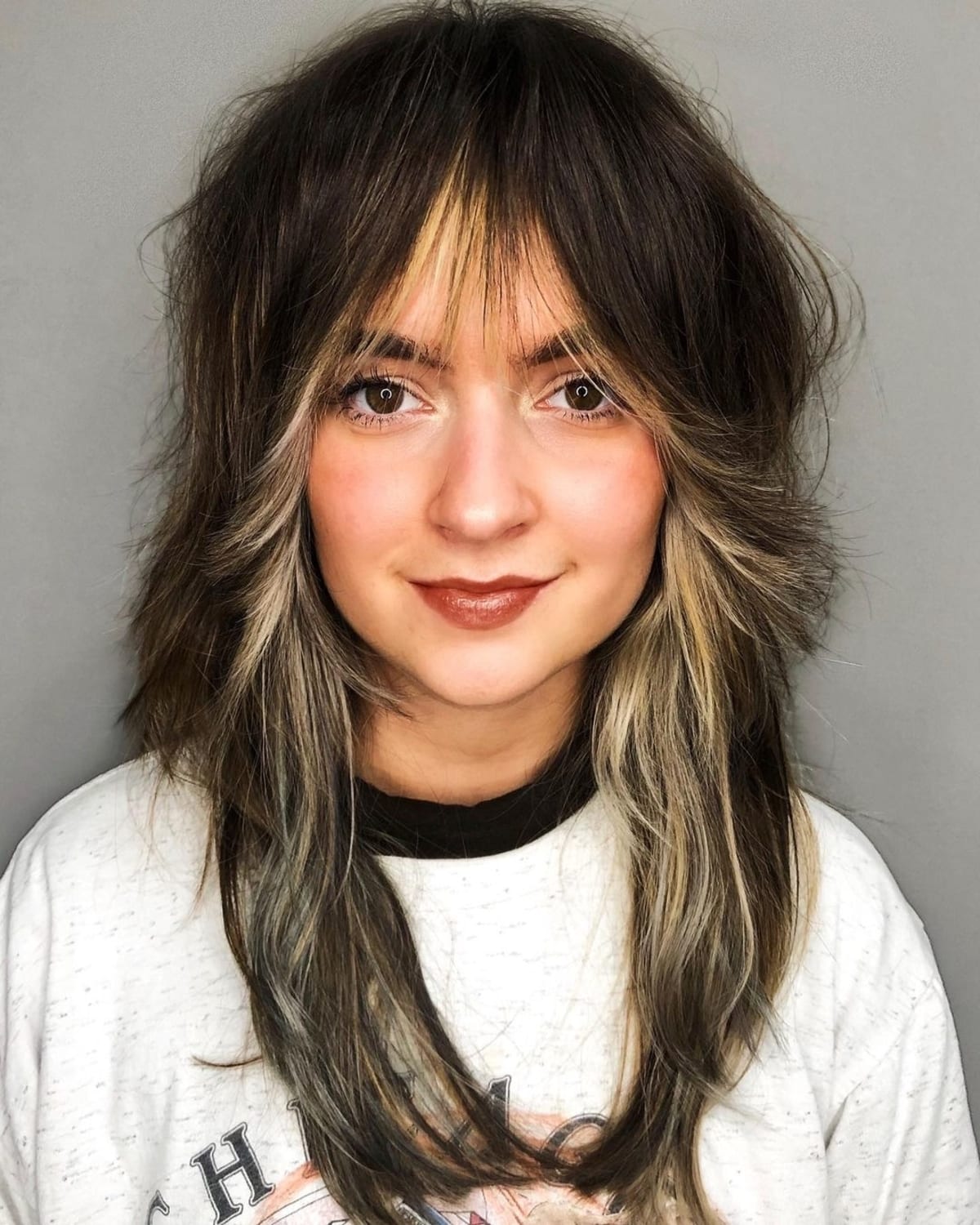 @rachelwstylist
A long choppy cut with shaggy layers is a good choice for those who want an edgy style. Shag hairstyles for long hair create softness throughout the hair with lots of texture and layers around the face that look amazing curled back with a round brush or iron. The long shag haircuts highlight the cheekbones and eyes, adding symmetry to the overall appearance.
Cute Center Part Shag for Long Hair
@g_deodato
This is a cute center part shag for long hair. Modern and very flattering—these long shaggy layers are to die for! A shag for long hair is perfect for women with thick, coarse hair looking for lightness and flow. If you enjoy letting your long hair do its thing with little to no effort, this razored shaggy haircut is for you.
Long Hair with Shaggy Layers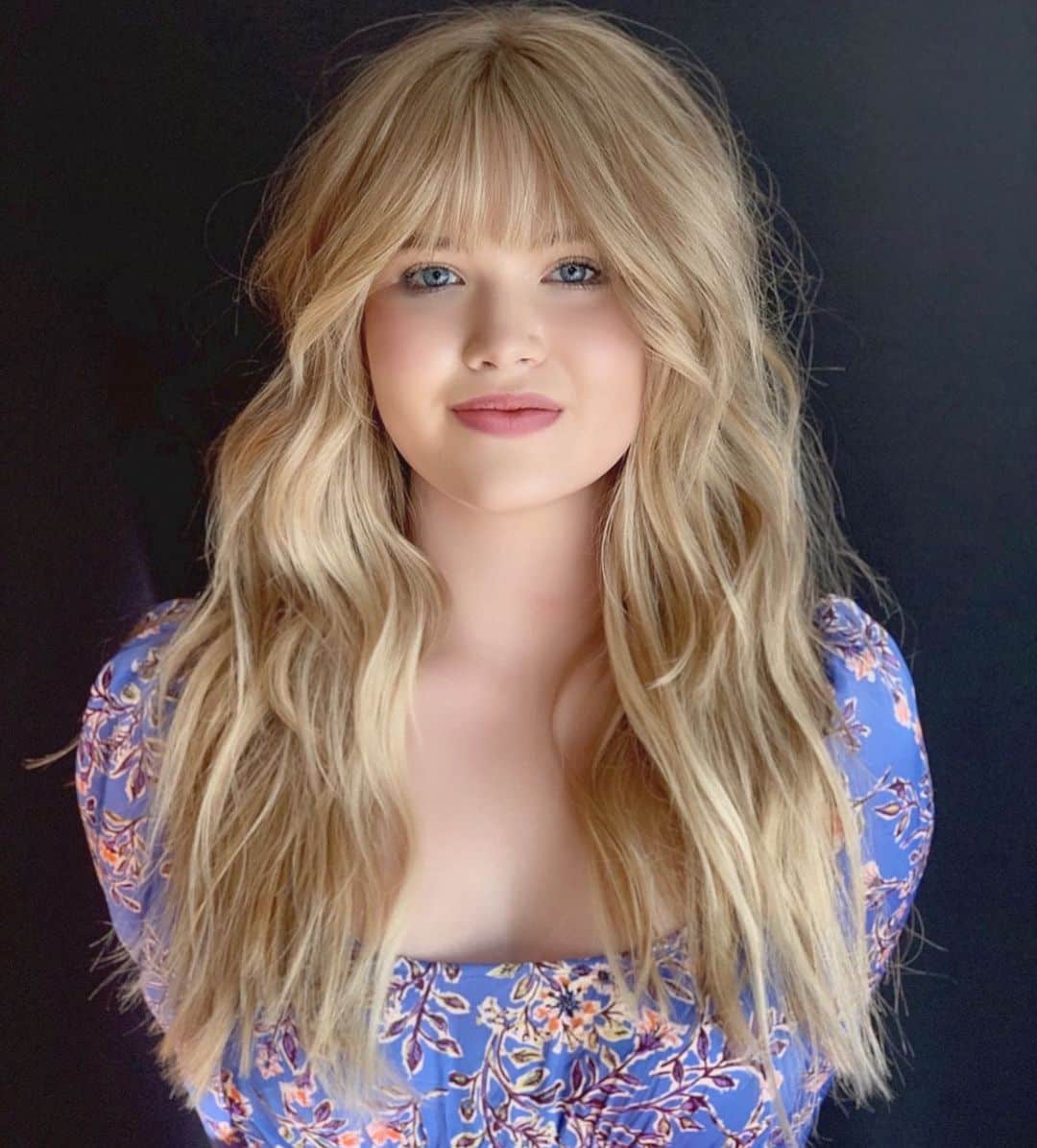 @chestershouseofhair
Long hair with shaggy layers makes a pretty hairstyle that boosts a feminine vibe. Such a classic shag is a very wearable long hairstyle for every woman. The layers are customizable, and can suit a specific face shape and hair type. This long layered shag cut is best with waves. To finish it off with a younger-looking edge, add a few pieces of fringe.
Long Choppy Shag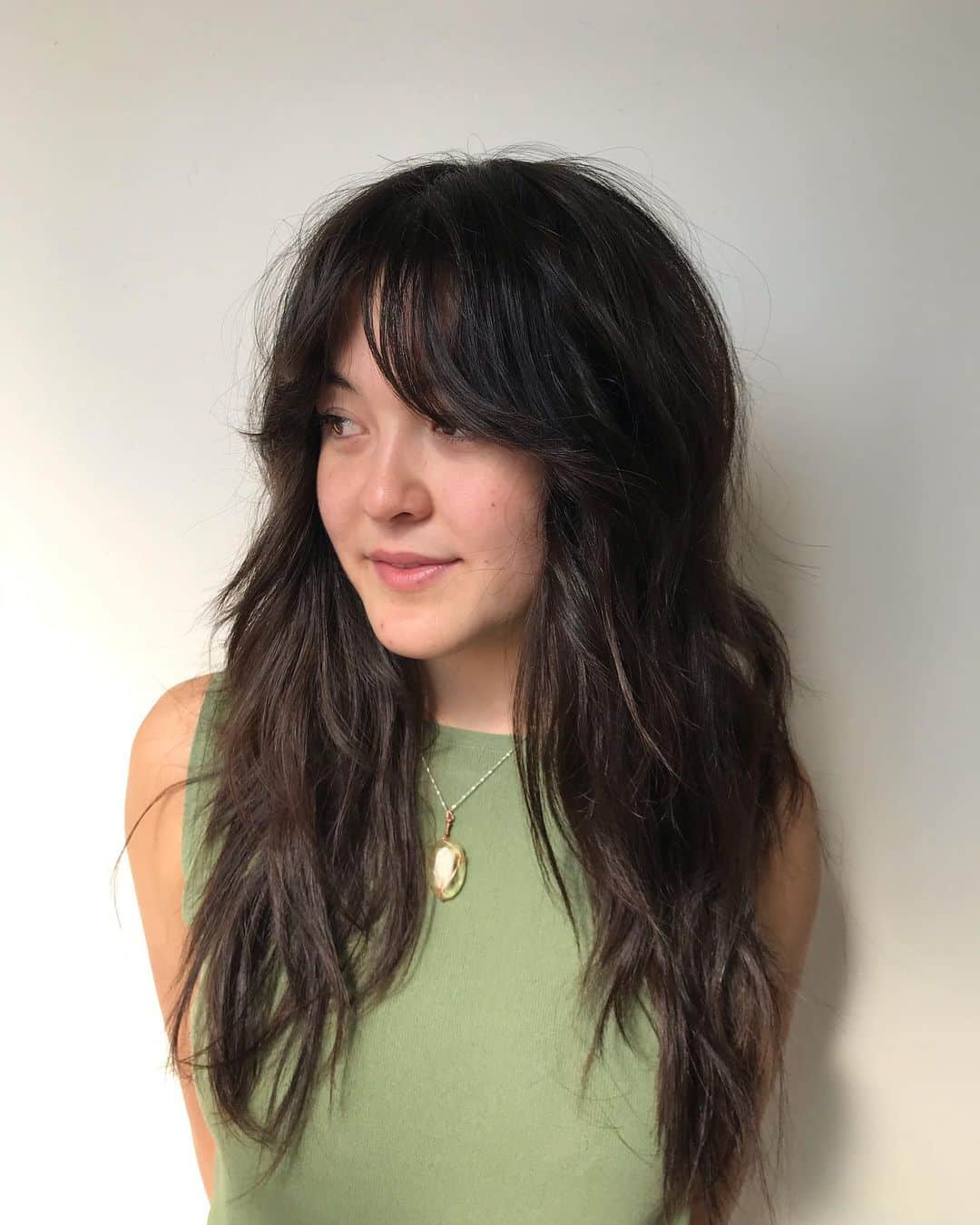 @cuthair.dieyoung
This long choppy shag is a very versatile look. It was created by Jhonattan Moraza, a hairstylist in San Diego, CA. "Long shags are for women who want to keep length but want natural volume and movement in their hair," says Moraza.
This choppy shag cut will suit any face shape. You don't have to spend too much time styling it. Use sea salt products such as Davines. Once you get out of the shower, apply your sea salt and use a diffuser like Dyson. If you have extra time after you diffuse your hair, you can throw some random curls in for an edgy look.
Long Choppy Layers
@mollybakerhair
Explore the beauty of a long shag with choppy layers. This hair trend looks super cute and can make any lady an eye-catcher. A choppy long shag haircut like this adds a generous amount of texture to thin locks.
This long shag with choppy layers was created by craft hairdresser Molly Baker-Hubbard of Wooster, OH. "This is a full, razored shag haircut inspired by 1970's Stevie Nicks," says Molly. This is the world's easiest cut to wear and can bring out all your natural waves. The face-framing, soft layers open up and accentuate cheekbones. This cut can last for months, taking on different shapes as weeks for by.
Texture/styling was created using New Wash Undressed. This long shag was hand-styled with a low air diffuser to enhance the natural waves. The more you massage it the more volume you get.
Long Wispy Shag with Blonde Highlights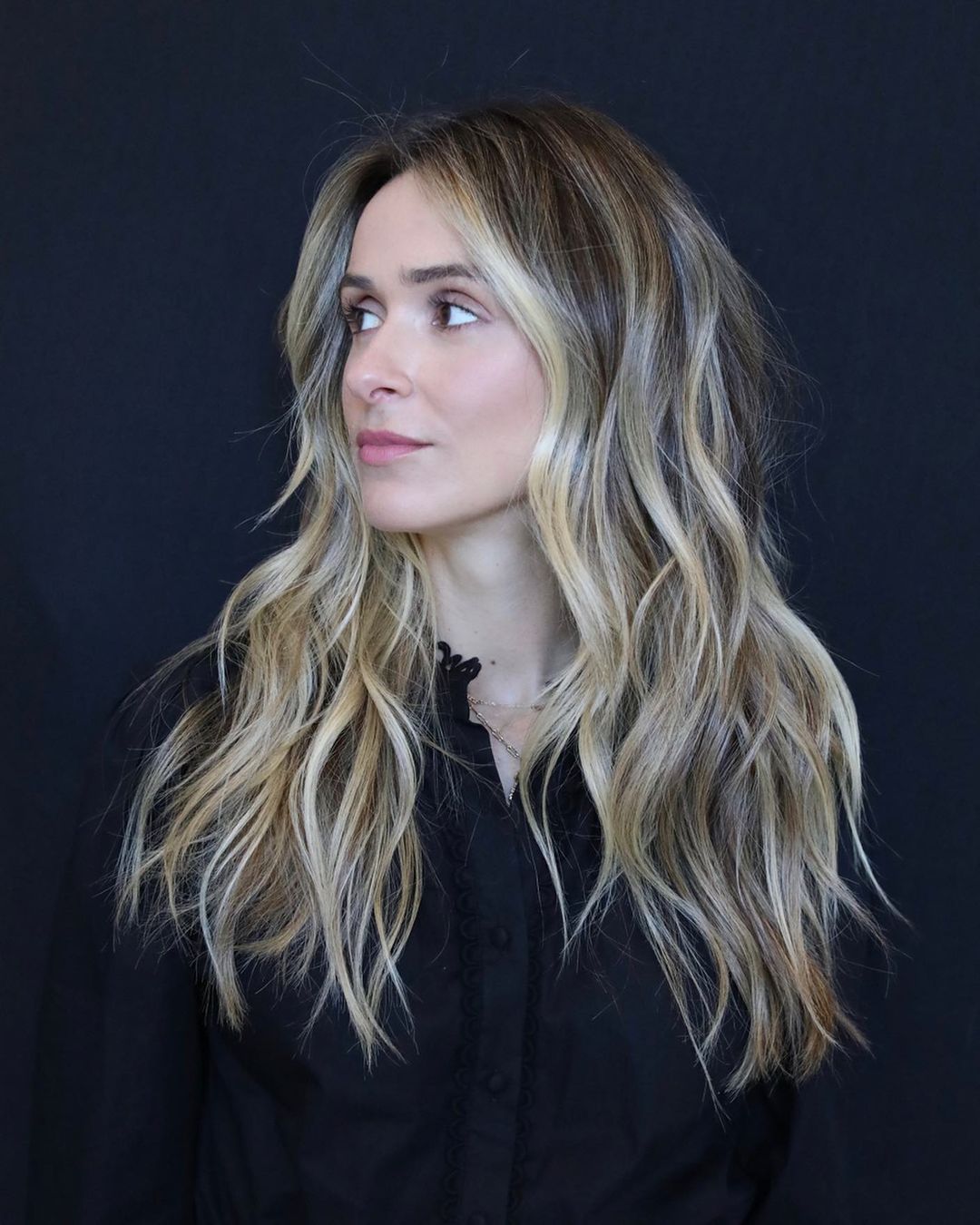 @anhcotran
This long wispy shag with blonde highlights screams gorgeousness! It has a more modern vibe—thanks to its rich dimension. This long wispy shag haircut has an effortless, lived-in feel. A razored shag gives softness and creates that perfect "grown in" look that everyone loves. This layered chop is the easiest to copy for women with naturally wavy hair. Finish it off by adding a dab of curl cream to boost its texture.
Long Wavy Shag with Wispy Bangs
@skipdoeshair
Try a long wavy shag haircut with wispy bangs that will create and add movement while retaining length. Style your long wavy shag haircut with fringe with a 1 ½'' barrel curling iron and texture with a texture powder like Evo Haze. Choppy long shag cuts add movement to the hair, and overall, long shag hairstyles are super trendy right now.
Long Shaggy Hair with Curtain Bangs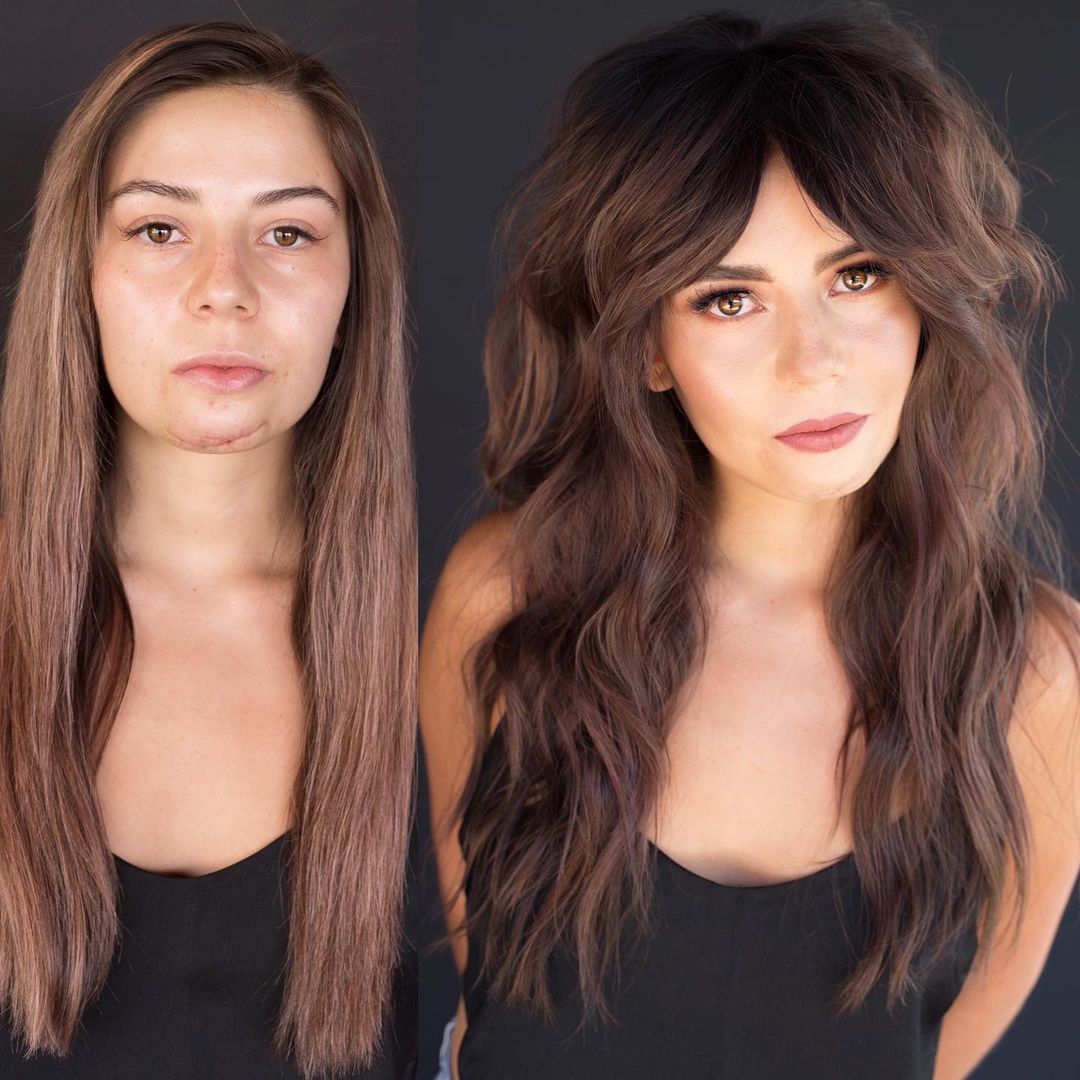 @ashleenormanhair
Pair long shaggy hair with curtain bangs for an extra dramatic look. This shaggy layered hairstyle is best with a lot of waves and texture. With a messy shag, you can manipulate the long layers that are framing the face. This makes it easily suitable for many face shapes. Before getting a fringe, it's best to consult a stylist.
This long shaggy hair with curtain bangs features round layers. It was created by hair educator Ashlee Norman of Los Angeles, CA. It has a square perimeter, which helps it not seem like a mullet.
"A long shag is a great style for almost all women," explains Norman. "It works best if you have any natural wave or curl because the layers remove the weight. Doing so allows the natural texture to form. If you pull most of the hair up into a ponytail or high bun, the long fringe and side bits give it a style and frame the face."
Face Framing Long Blunt Shag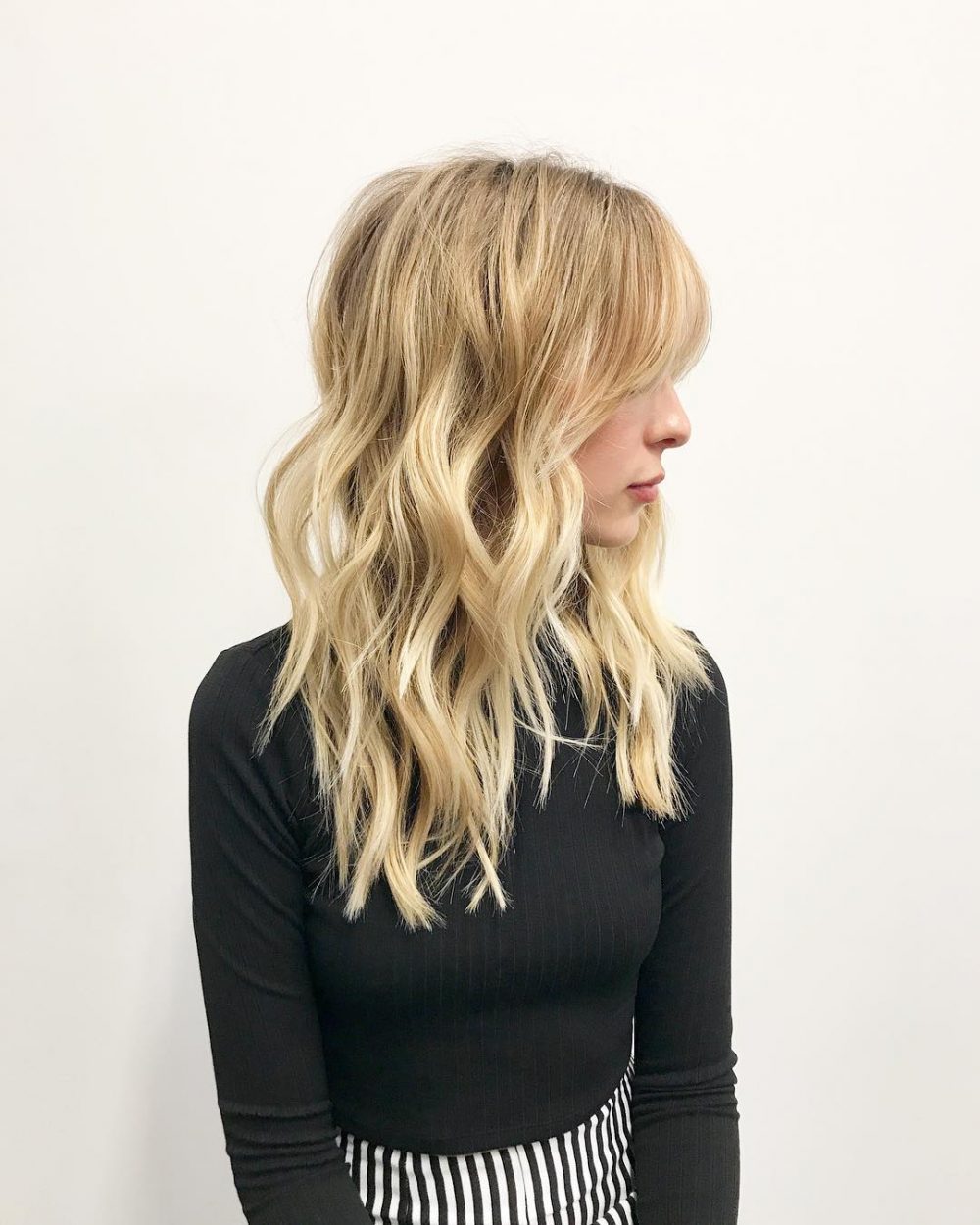 @_missmarilyn
"This long blunt shag frames the face perfectly and using this technique in the layering gives movement and body," explains stylist Marilyn Lizardo of Beverly Hills, CA.
When considering shaggy long bangs and face-framing layering, says Lizardo, consider your facial features to see what should be enhanced and/or softened.
Go-to products for this style are a few spritzes of Davines Sea Salt Spray and some drops of Davines Oi Oil to give the hair some texture and definition on the jagged ends!
Long Choppy Shag with Blunt Bangs
@jhair_stylist
This long choppy shag with blunt bangs looks soft on square and heart face shapes. The beachy waves go well with the sleekness of the fringe. To achieve the same killer style, use Brooklyn Bombshell Blowout Spray. Mist an Un.Done texture spray to enhance the tousled effect, too. The finish can make a statement that impresses everyone!
Choppy Long Layers with Disconnected Fringe
@alysia.carmen
Choppy long layers with disconnected fringe is a modern long shag haircut. It's low maintenance and shortening the layers and the fringe keep it disconnected.
Beach Waves Messy Shag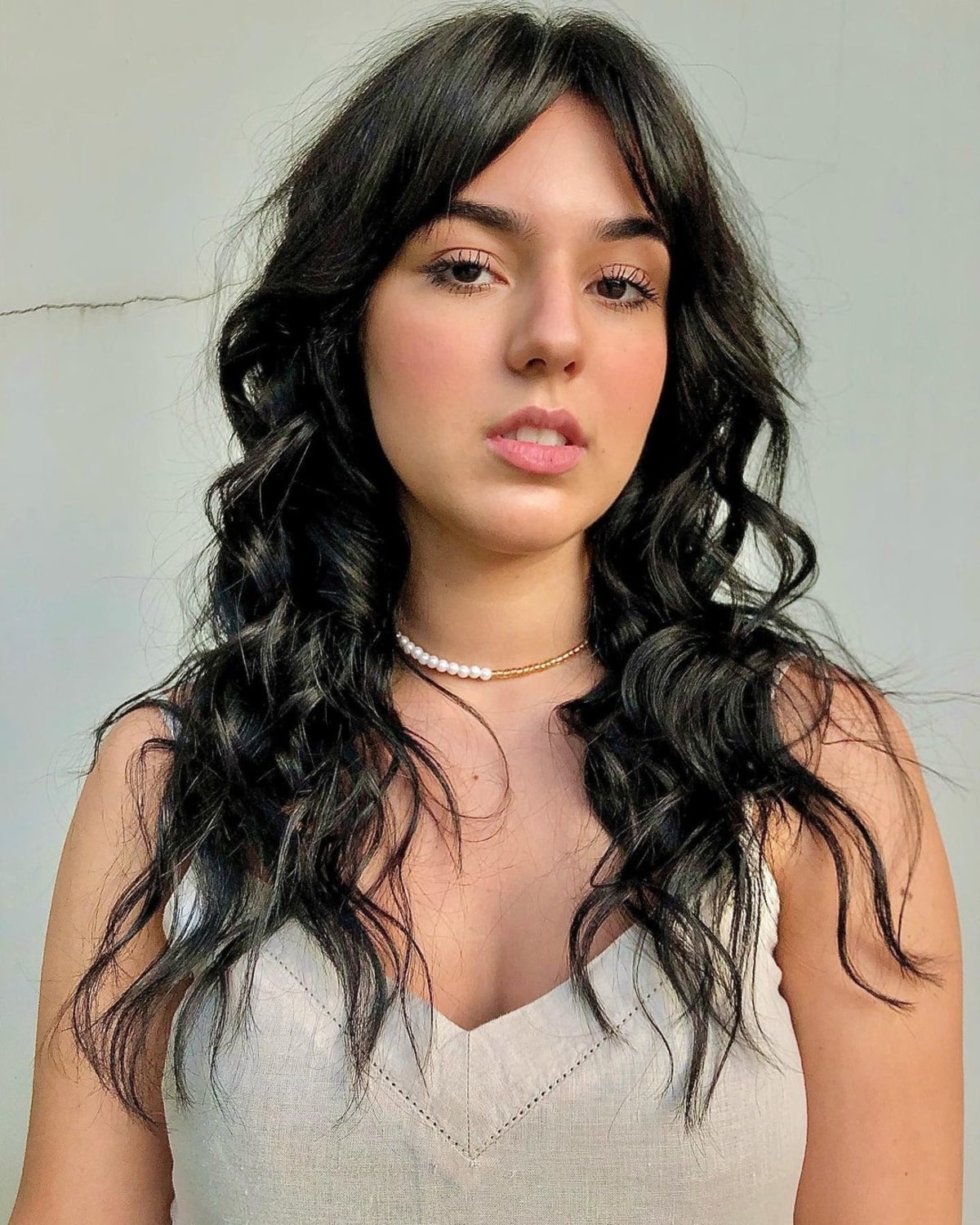 @fernanducruz
A beach waves messy shag looks beautiful with choppy ends, giving lightness to the long shag haircut. Try to use salt spray for more movement.
Medium-to-Long Feathered Shag with Bangs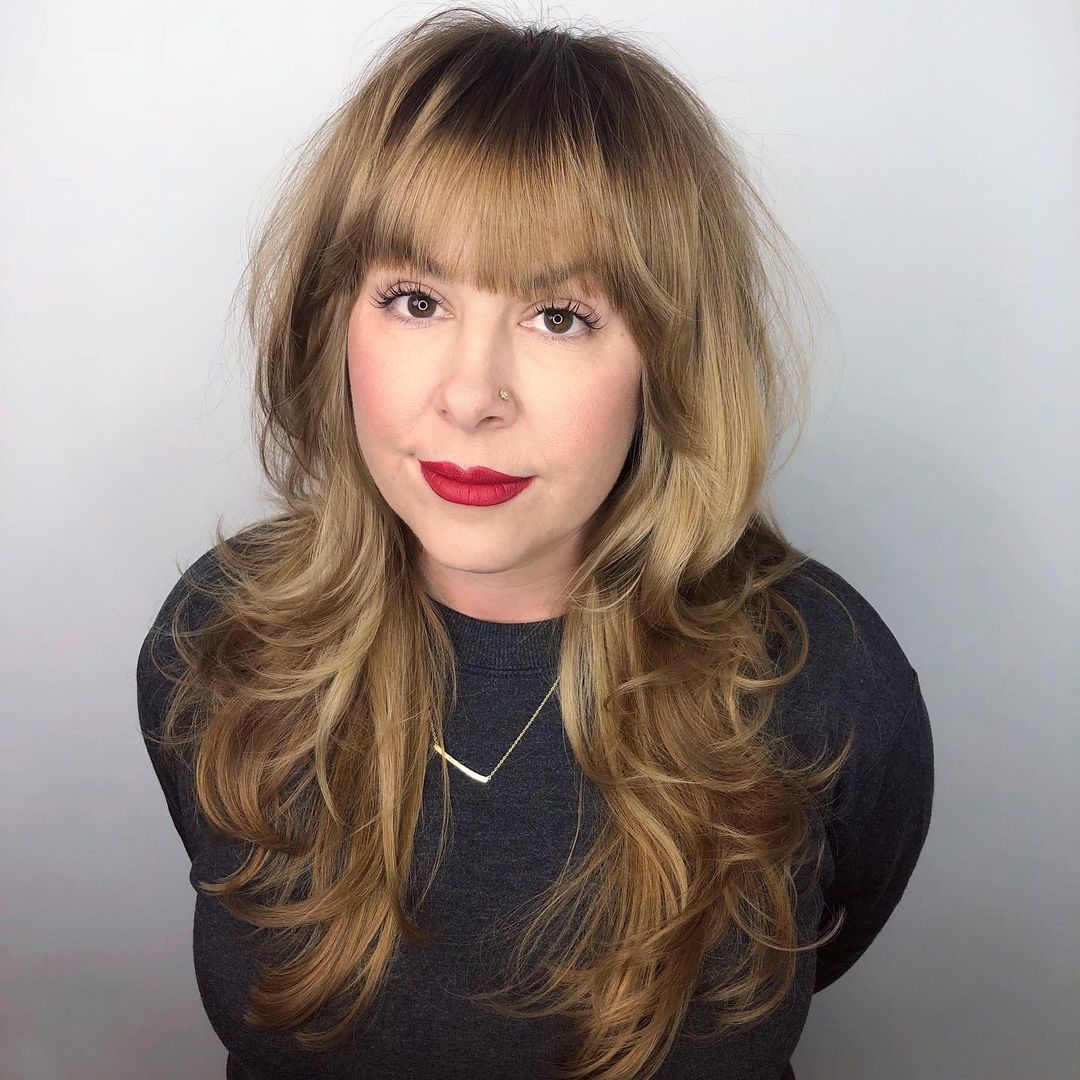 @madison.n.williams
Gotta try a medium to long feathered shag with bangs, especially if you have fine locks. The long shag reigned supreme as the trendy '70s and '80s hairstyle. In fact, it never left the trend list. Now that it has a modern touch, a long shag is much more feminine and versatile. And, the best thing about it is it suits women of all ages!
Cute Long Shag for Fine Hair
@lisa_pipsqueekinsaigon
A cute long shag for fine hair looks so much better when full of texture. Here's a sample of such a chic haircut made by stylist Lisa Robertson from Australia.
To choose the best bangs for this feathered shag, Robertson advises to be mindful of your face shape. "The layers create a square look and you want the weight of the fringe to be a smaller part of your face to widen it," she adds.
Textured Ombre Shag for Thin Hair
@charltonhairsalon
It's best to wear a textured ombre shag for thin hair. A shag for long thin hair has a natural, lived-in shape that creates movement. When styling shags, use volumizers, powders, and spray waxes or pomades. They help emphasize movement and volume. Before getting the look, consider the maintenance. Long shag hairstyles often require upkeep.
Choppy Light Brown Shag with Side Swept Bangs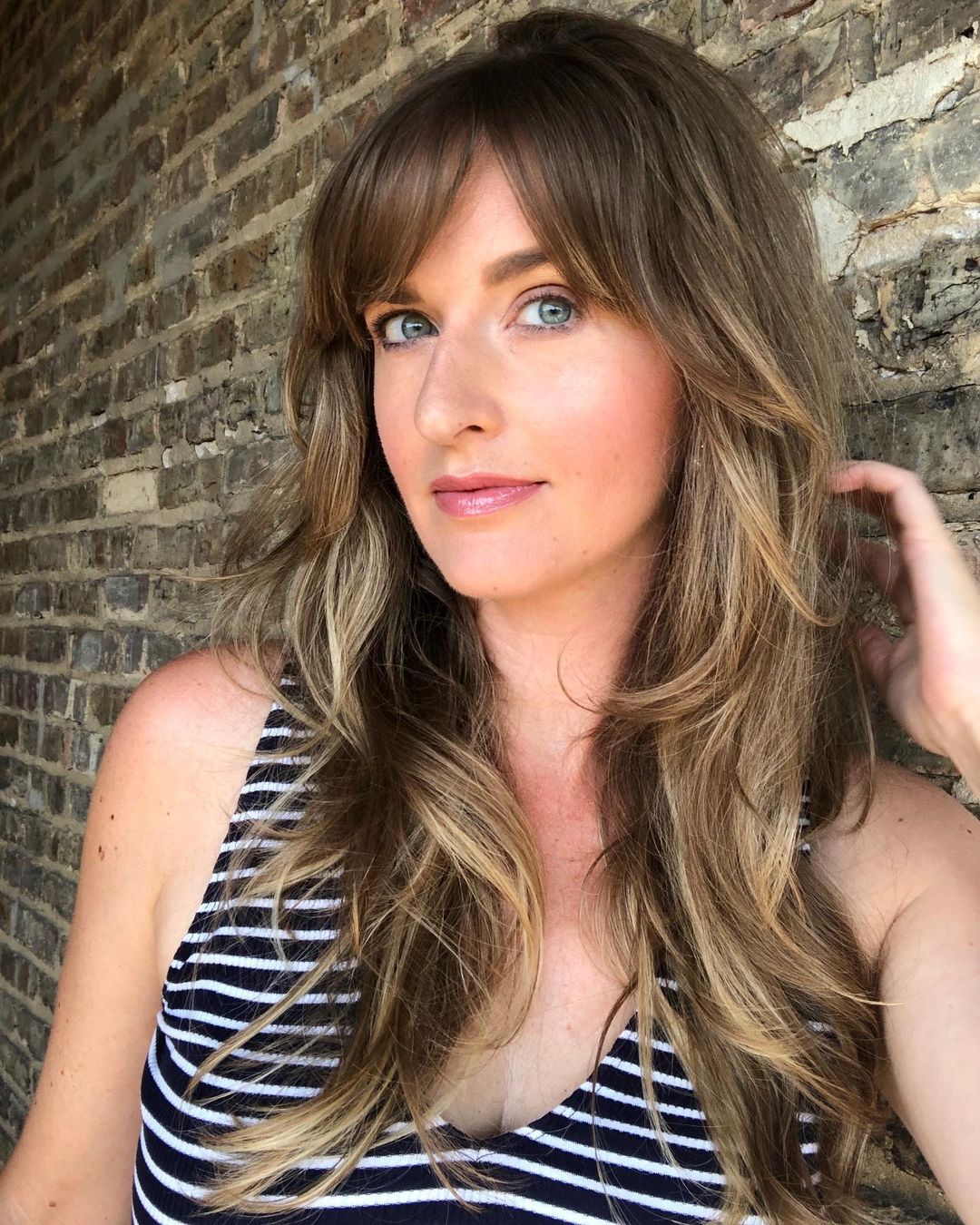 @beautyby_amandaclaire
A light brown shag with side-swept bangs is an appealing option for babes with warmer skin tone. Added hints of blonde can show off the layers better. This long choppy haircut can be edgy with a little waxy product. Or maybe give it a blown-out style using a large round brush for a more polished finish. But, if aiming for effortless texture, simply air-dry the mane.
Lived-In Long Layered Shag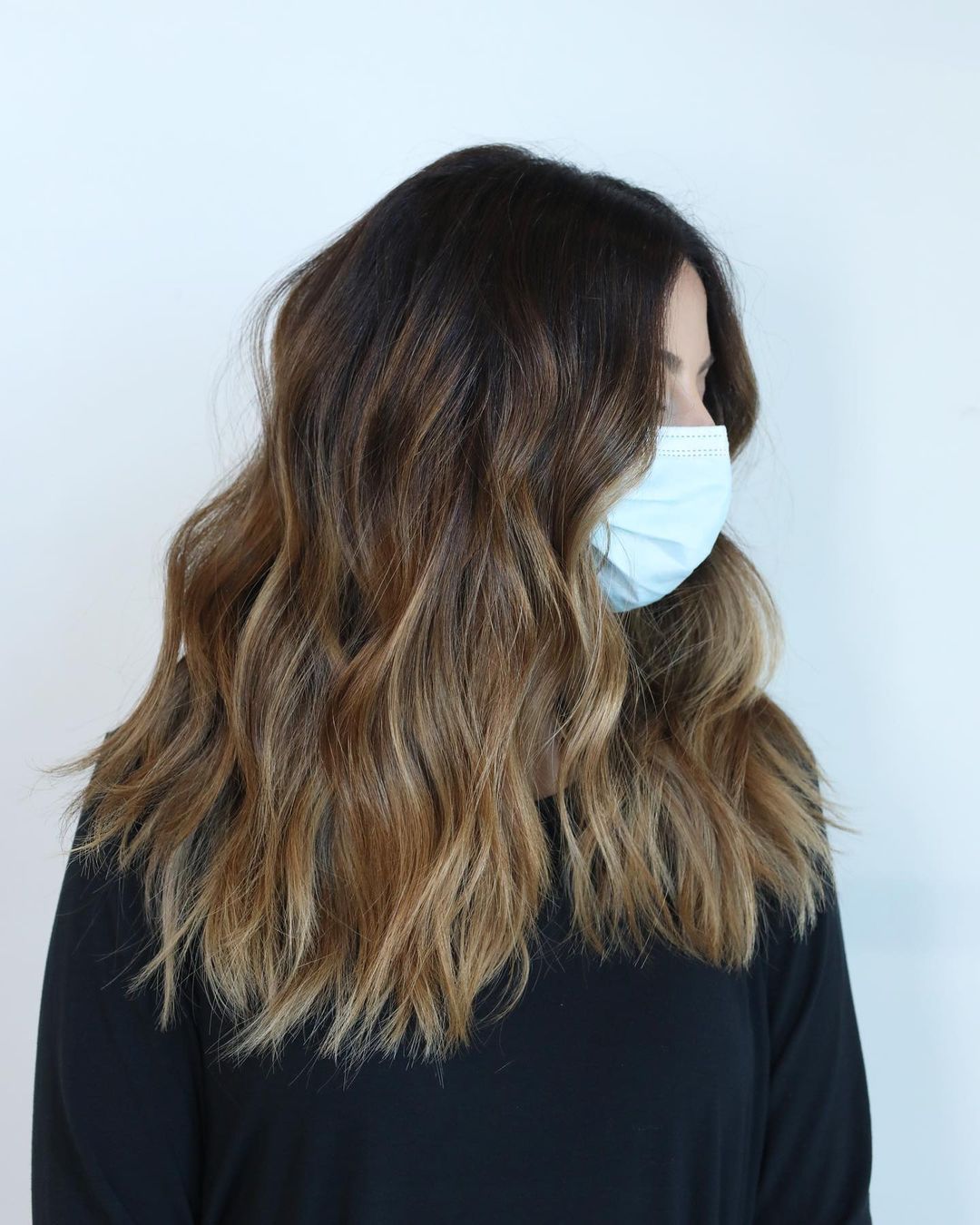 @anhcotran
Pull off a lived-in long layered shag and own that effortless beauty! This long shag cut has lived-in layers. This is the style that Anh Co Tran originally mastered and coined. A shaggy style is ideal for hair with a fine density. It gives maximum movement without creating frizz from over-layering. Enhance the texture with soft waves to give it extra body.
Copper Shaggy Cut and Color
 @alissasmithhair
Check out this updated trendsetting textured chest-length long shag hair that looks so feminine and carefree! It's a classic and easy way to add dimension and volume to long locks with a single shade.
A texture spray or paste on towel-dried hair works best. Either let the hair air dry or blast it upside down with dryer, squishing hair in your hands as you dry.
Save your favorite long shag haircuts from these photos and show them to your hairdresser at your next appointment. Don't you just love long shag hairstyles for women?
Long Razored Shag with Baby Bangs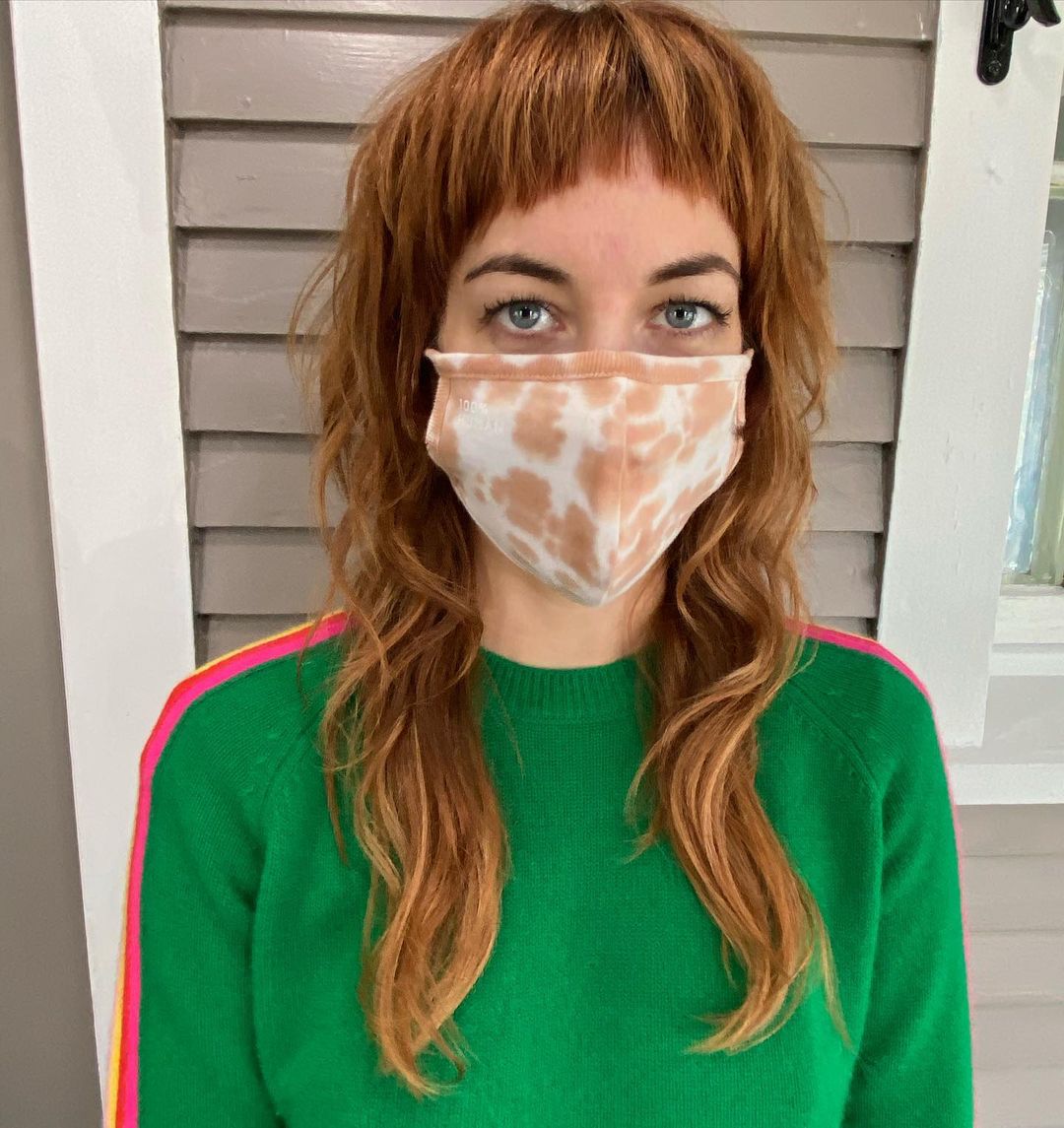 @erin_nelson_doh_
Look at this long razored shag with baby bangs—marvelous! It radiates a playful style, which is fun to wear. This long shag hairstyle isn't complete without the bangs. A micro fringe goes well with it, for sure! For stunners who want an edgy but soft and modern look, this shag hairstyle with bangs is worth trying!
This long razored shag with baby bangs was created by hair stylist and salon owner Erin Nelson of Chicago, IL. "This hair cut rides the fine line between a shag and a shullet, leaning towards being more of a shag," explains Nelson.
A Shullet is a hybrid of a mullet and a shag that leans towards being more of a mullet. There is a pretty big spectrum of shags out there, the options are endless!
Less is more with styling this razored shag with bangs. Use products that are made with no synthetic ingredients or toxins and also cruelty free. Try Organic Chemistry Curl Cream and Afterword Organics Texture Spray. Apply the curl cream to towel dried hair from mids to ends first. Then all the way through to the top.
Use texture spray in the root area, in the crown, and into the bangs. Then, using your hands, gather and scrunch the hair into the shape you want to see. Finally, diffuse the hair low and slow. A good shag should only need 2 haircuts a year with a couple clean ups in between and or just bang trims as needed," adds Nelson.