24 Prettiest Light Brown Hair with Highlights
Curly Light Brown Hair with Highlights
@tinabrown_swank
We're in love with this short brown hair with reddish and lighter highlights, styled and cut in a messy angled curly bob. The mixture of ash brown, blonde, and red shades is adorable.
This light brown curly hair with highlights makes a trendy style that offers so much dimension, transition, and movement all over!
Full-Head Light Brown Highlights
@tayloredlocks
Full-head light brown highlights create subtle softness, dimension, and tone down previously lightened hair. Light brown is the perfect lowlight choice for blondes that want a subtle change. Adding lowlights makes hair shinier and can help maintain the integrity of the hair.
Chestnut Brown Hair with Light Auburn Highlights
@frizerskisalonup
Try chestnut brown hair with light auburn highlights to spice up your look. The auburn highlights on this rich chestnut brown base color will turn heads! Enjoy this fiery color all year round.
Chunky Blonde Highlights for Brunettes
@hairbyhaileyclark
Chunky blonde highlights for brunettes are great for women who love some contrast to their current hair hue. To get this color, ask your colorist for some chunky ribbons of blonde to go with your light brown hair.
Cool Blonde Highlights with Dark Roots
@paintmeprettyct
Cool blonde highlights with dark roots, a perfect hair hue for women looking to go a little more low-maintenance with seamless transition. This method helps the blonde on the ends pop out a little more. Tip: Ask your hairstylist for shadow root and bold face-framing pieces.
Honey Brown Hair with Face-Framing Highlights
@hair_by_cindy_
A honey brown hair with face-framing highlights will help brighten the eyes and face while keeping the tresses dimensional and low-maintenance. Use purple shampoo in-between salon visits to keep color from looking brassy.
Subtle Beige Highlights for Brown Hair
@coresalonnj
Subtle beige highlights for brown hair are the perfect low-maintenance color you're looking for. This color can be perfectly paired with any skin tone. The blonde will pop with this gorgeous base color. Styling your hair with some beachy waves will show off your dimensions!
Light Brown Hair with Bronze Highlights
@hazel.jaydoehairperth
Light brown hair with bronze highlights can create richness in the hair's overall appearance while having tons of dimensions. To keep hair looking richer and less dull, use color-safe products and avoid applying purple shampoo.
Caramel Blonde Highlights for Brown Locks
@lunaemma_hair
A caramel blonde highlight for brown locks is a perfect shade for women to try out. Warmer skin complexions suit caramel tones enhancing a healthier glow and a sun-kissed finish.
Walnut Brown Highlights
@marcbelmontestylist
Walnut brown highlights are beautiful on a level 2-4 base. Lifting the hair to a level 5-6 and toning it with a light beige brown will give a beautiful reflection to the dark hair. A low-maintenance color option for those with naturally brown hues. Make sure to use a good shampoo and conditioner recommended by your hairstylist to ensure fully hydrated locks.
Medium-Length Hair with Ash Blonde Highlights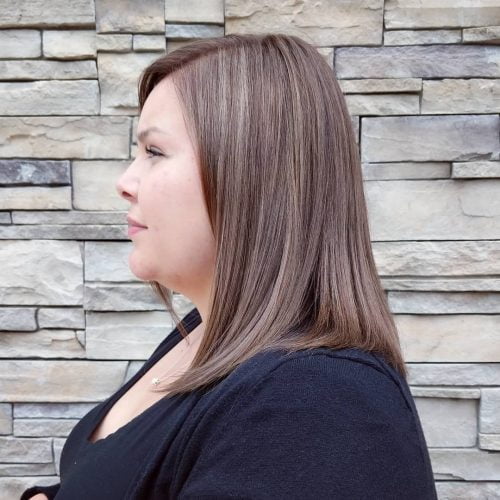 @donnadstylisthairsalon
Cool-toned ashy highlights are a sure way to brighten and add shimmer to your hairstyle. The contrast with the rich mocha chocolate hair enhances fair to neutral complexions.
The dimension in this ashy brown hair with thin highlights works wondrous on a sleek and straight texture.
Light Reddish Hair with Auburn Highlights
@analis_devacurl
Thick, defined curls look gorgeous on mid-length light brown hair with auburn highlights. They add vibrancy to the whole auburn look!
This light brown hair color with highlights has pieces of copper tones that suit warm skin tones perfectly.
Ash Brown Hair with Honey Blonde Highlights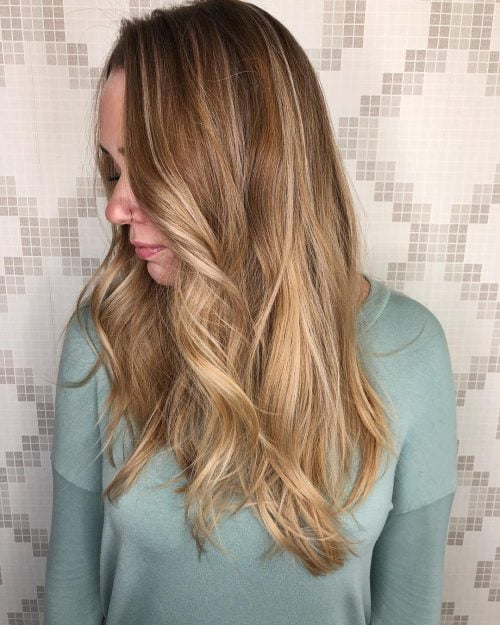 @shawna.hines
Warm honey highlights can accentuate and breathe life into lighter ash brown hair. This gives you a brighter and lighter blonde balayage.
This bright, ash brown natural color on hair with honey accents really suits cool skin that has pink undertones.
Short Brunette Hair with Platinum Blonde Highlights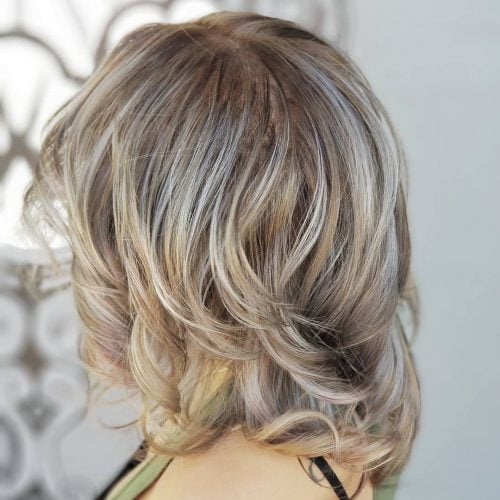 @look_within_studios_msubia1
This light brown hair with blonde highlights hairstyle for short thin hair is this layered long bob. The short hair was painted with platinum highlights for a dimensional ombre vibe.
Light Chestnut Hair with Sun-Kissed Highlights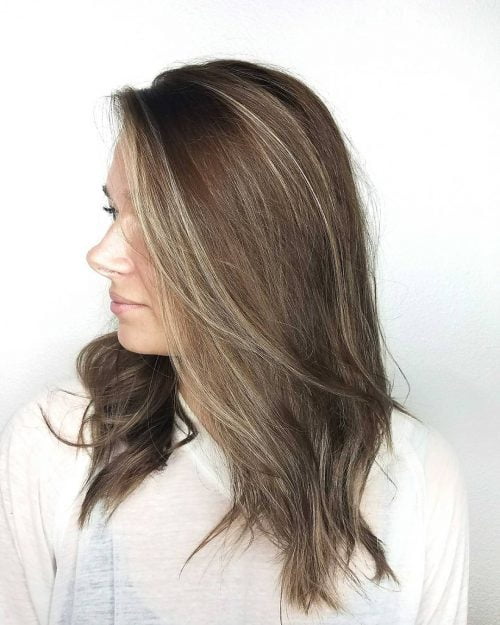 @chezneynicole
These light sun-kissed strands give contrast to light chestnut brown hair. Such hair colors make the headpieces look brighter. Plus, you can have thin blonde highlights placed near the face for a framing and slimming effect.
Light Brown Straight Hair with Blonde Highlights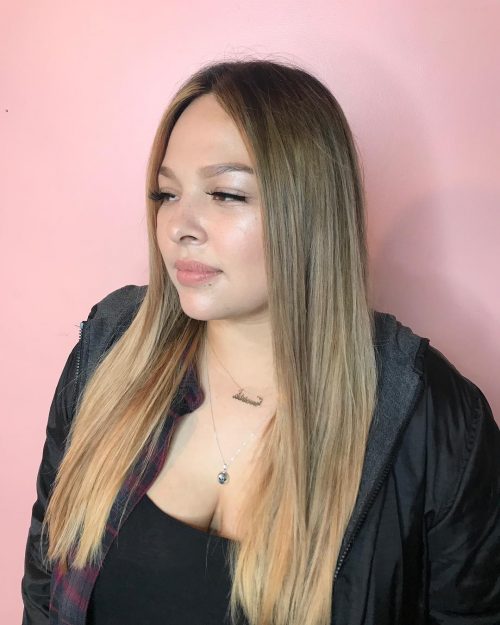 @neighborhoodsalon
This natural light beige blonde ombre melts from the dark roots down to long bronde strands. This soft and low-maintenance brown hair with light blonde highlights can work with any hair length.
Honey and Mocha Brown Balayage
@aprilatmy.lab
Consider the honey and mocha brown balayage for a natural brunette shade while effortlessly looking lighter. It requires minimal upkeep as it gives a seamless grow-out.
Stylist April Yardley of England used a different method of foiling for this color. She states, "I did a backcombing for depth at the roots and slicing for the brightness around the mid-lengths and ends. The mixture of slices and weaves created a beautiful dimensional effect."
Then, Yardley glossed it all over using Schwarzkopf to create the perfect honey mocha tone.
Warm Brown Hair with Caramel Highlights
@hairbyminamoall
It's a lighter shade of warm brown/caramel natural color with caramel highlights hairstylist Mina Moallaei of Tuscon, AZ created. Ends are curled to give hair soft movement and texture.
The hair color was level 6 mocha-brown, so Moallaei decided to lift the hair 2 levels lighter with a soft warm tone. "I think light brown hair with caramel highlights are a good choice for women of any age with a fair skin tone," she adds.
Long Brown Hair with Purple Highlights
@cristina_gav
with purple highlights is soft and subtle. These were created by hairstylist Cristina Gavrila of Romania. "The purple highlights give perfect dynamic to brunette hair, creating movement and depth," she notes.
This mocha hair with purple highlights can be flattering for different types of hair. Also, it isn't a time-consuming hairstyle, and you can straighten it, curl it, or even leave it natural.
Gavrila encourages you to use products specially created for dyed hair to prevent color fading. Use heat-protecting, if you are using curling iron, straightener, or even the blowdryer.
Red Highlights on Light Brown Hair
@lovely.lady.locks
Red highlights on light brown base create a nice and dimensional auburn hair color. "This auburn bob is fun and trendy, while still looking professional," says hairstylist and colorist Brittney Kofoed of Arlington, VA.
She notes, "I love that her base color is a nice ruby red and that there is also copper and rose gold ribbons in her hair. Using balayage highlights helps the hair transition smooth and curly!"
For this short light brown hair with highlights make sure you use salon quality hair care products at home.
Kofoed loves Aveda's pigmented Madder Root (red) conditioner. "Using only once a week to keep your bright reds gorgeous and vibrant. Red hair color can work on all women," she adds.
Golden Brown Hair with Dark Highlights
@molliezeehair
This highlighted golden brown hair with waves was created by stylist Mollie Zee of Langhorne, PA.
"These balayaged highlights on light brown hair are for girls who want to add a little brightness. It's also low-maintenance," says Zee. "Plus, it can be customized with face-framing to accentuate your best facial features. You'll have a beautiful grow out."
Honey Hair Highlights with Light Brown Lowlights
@by_jessbrown
These bronde babylights (lowlights) on long brown hair are a natural and subtle way to add some brightness to brunette hair. They were created by cosmetologist Jessica Brown of Pleasant Hill, CA.
Brown recommends ombre blonde highlights to all of her darker and deeper-haired girls. She notes, "especially if looking for a subtle change without altering the state of their shiny hair. Going blonde can totally change the texture of your hair."
"Personally, light brown hair with highlights and lowlights like this is pretty low-maintenance," she adds. "On average women with natural color like this don't need a touch-up for about 10-12 weeks. So if you're on a budget this is a great way to transition into an added dimension without spending a ton of money."
Wavy Hair with Champagne Blonde Highlights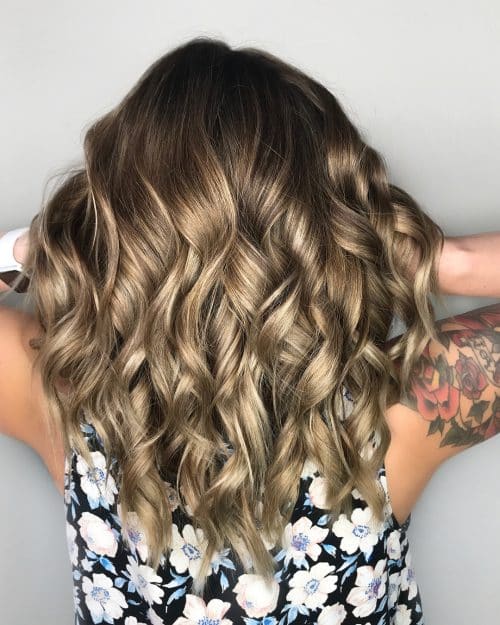 @chandra_porter
This wavy hair is a timeless ash bronde balayage with blonde highlights and darker roots. It was created by stylist Chandra Porter of Tempe, AZ.
With a wavy cut like this, Porter says you can wear it straight, curled, braided, or natural. "My favorite style for these blonde highlights is a nice bouncy wave," she notes.
These balayage highlights are for natural brunettes who want low-maintenance upkeep. The initial appointment will be a bit longer and more pricey but it will pay off in the long run. You'll easily go 6+ months without needing to get your pieces lightened again.
Chocolate Brown Hair with Silver Highlights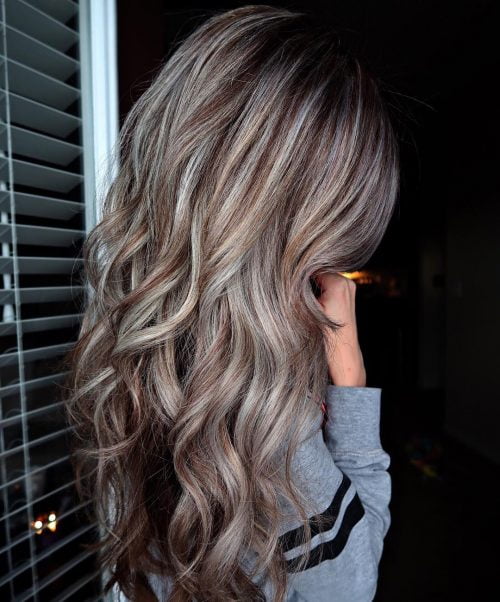 @hairby_arci_
This light milk chocolate brown hair color with silver highlights hairstyle is simple. It was created by hairstylist Arijana Arci of Louisville, KY.
"Half of the hair is natural brown, a number 5," Arci explains. "I used the top section, side sections, and back (temporal bone) for highlights with 40 developer."
She adds, "it's better to have at least a little bit of your natural hair color when you mix light chocolate brown hair with highlights—whether in silver or blonde hue. Styling with waves or straightened will make your balayage highlights look more natural."