12 Prettiest Brown Ombré Hair Color Ideas You'll See Right Now
Subtle Brown to Purple Lilac Ombré
@kimstylesme
This brown to purple ombré balayage is sure to make everyone's head turn with its smooth transition and soft finish. It works beautifully well with light to medium brown hair.
Short Brown to Red
@hairshaftbelle
This features a stunning combination of chocolate tones dipped in sweet cherry ends that looks great on any hair length and texture, straight or wavy. Certain shades work better with each other ad create an interesting combination.
Natural Brown to Caramel
@savvyhairdressing
If you're the natural-loving type of women, you can avoid harsh transitions and still get a marvelous ombré like this even on straight hair. This can also disguise any regrowth you'll have making it a really low maintenance style.
Golden Brown to Auburn Bob
@izzyhairstylist
Flaunt your vibrant red brown ombré hair under the sun this season with this wavy long bob with choppy ends. This auburn shade with golden brown ombré will look most adorable on light to medium skin tones.
Light Brown to Ash Blonde
@xcellentbeautysalon
Straight and long is the best way to go if you wanna show off your shiny metallic ash blonde to light brown ombré hair. Simply style using a flat iron for a sleek and elegant finish.
Espresso Brown to Blonde for Short Hair
@theladyofhair
This chin-length tousled bob is proof that you can rock a blonde and brown ombré hair color no matter the length of your tresses! Take advantage of the definition that this high-contrast color melt brings by putting in a lot of texture through layers and waves.
Cappuccino Brown to Copper for Straight Hair
@malcolmmurphyhair
This gorgeous long straight hair with a blunt cut and a center part really makes the ombré pop. The darker cappuccino brown on top blends beautifully into a lighter copper color. All of a sudden I'm craving a warm cup of coffee! Transitioning from much darker shades to much lighter shades can have a fantasy effect.
Mocha Brown to Pink Long Bob
@tigereye.priscilla
Pink hair is always pretty especially when melted with a soft brown and a layered wavy shoulder-length cut. With this brown to pink ombré, women can keep their natural color and not worry about that awkward grow-out phase. Pink shades are very unique and not everyone will want this color but for those that do, rock it!
Chocolate Brown to Rose Gold for Medium Length Hair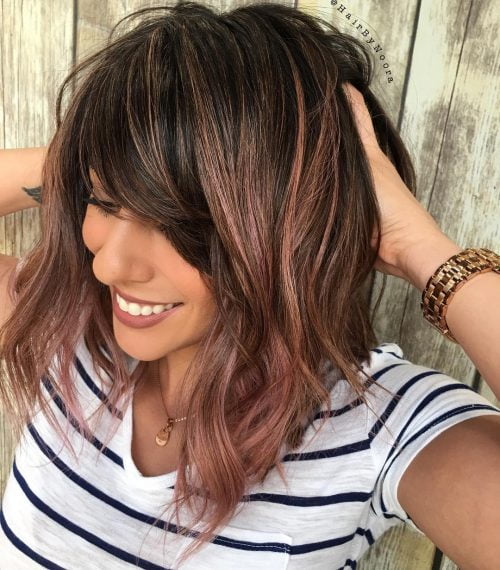 @hairbynoora
Going for a fashion color is certainly not impossible for dark rich chocolate brown ombré hair color, leaving you with a noteworthy shade of rosiness without losing your natural color. Pair it with a medium length haircut for easy and versatile styling. Rose gold shades are still the hot trend when it comes to hair color.
Black to Dark Brunette
@hairbyskylak
Keep it low key with subtle light brown to dark brown ombré waves on your long layered mane. With long ombre hair like this, you'll have endless ways to style and play with this beautiful color.
Chestnut Brown to Silver Lob Cut
@maddiebbaldwin
Q&A with style creator, Madison Baldwin
Hair Extension Specialist / Colorist @ Artistic Cutters Salon & Spa in Greenville, SC
How would you describe this look?
This is the mushroom brown to silver ombré. Although the name isn't pleasant, that's what we call "the new brown." It's a very ash brown ombré with some silver notes. We did a blunt cut to achieve fullness and used a 1″ curling iron to achieve these waves. This could be considered a variation of bronde.
Any advice for someone considering it?
If you're going to invest in a good cut and color, always invest in good professional products!
One of my favorite products is Moroccan oil. I can't keep the color protect spray or dry shampoo on the shelf. The dry shampoo feels like you've just washed your hair (no residue) and it smells amazing and comes in dark or light. For this look, you'd want the dark one.
Keep your hair smelling and looking fresh!
Toffee Brown to Grey for Long Hair
@hairbyshaylynn
Q&A with style creator, Shay Marley
Cosmetologist @ Hair by Shaylynn in Roy, UT
---
How would you describe this look?
I'd call this look a smokey brown to gray ombré with a long and textured haircut. When possible I love using a natural dark brown hair color as their base or roots, so that way it's a little less maintenance for them.
Any advice for someone considering it?
Fashion colors such as gray or silver are more maintenance than a natural color. At-home maintenance and product use are crucial in keeping the color vibrant.
I always recommend turning down your heat and make sure you are always using a thermal spray. When determining if the client is a good fit we have to consider what shape their hair is in.
Since I'm putting lightener on the ends of the hair which tend to be the driest, we have to take extra precautions to keep the hair in its healthiest state. Fashion colors are not for someone who isn't prepared to take extra steps in there getting ready routine.
This color isn't for everyone. In order to get the hair to show the correct tone, you have to achieve a really pale blonde, which could take multiple sessions to achieve.