21 Flattering Short Haircuts for Oval Faces
Cropped Cut for Long Oval Faces
@anaa.favaron
Having an oval-shaped face is a blessing from the skies! The very versatile shape takes on any short hairstyle very well. Like this spiky pixie undercut, longer faces experience a flattering effect thanks to the strategic side-swept bangs.
Neck-Length Hair for Round Oval Faces
@chrisjones_hair
Enhance those rounded edges with a wavy style. This short bob on an oval face shape has long strands that help emphasize a more elongated feature, achieving a well-balanced look.
Medium Short Cut for an Oval Face
@kaduoficial_
Ladies with the oval shape of the face will kill any fashion style by having this medium short cut on an oval face. The faint but voluminous waves create an illusion to make a face seems skinnier. One can always be party-ready when pulling off a hairstyle like this.
Short Inverted Bob for Thick Hair and Oval Faces
@beauticole_
Q&A with style creator, Nicole Ruiz
Hair Stylist @ Rae Talbot Salon in Castro Valley, CA
How would you describe this?
This is a textured, short A-line bob cut. It can either be a clean, structured bob with a simple classic blow out. Or it can easily transform into a more organic, tousled finish.
This airy bob was achieved using a variety of slide cutting and deep point cutting.
To finish off this bob, a natural wave was enhanced by using hands to mold the waves in place. This was done while the hair was blow-dried with little to no brush action.
What's your best advice?
Styling is always going to be a factor. Whether you have short hair for an oval face or a certain hair type, the result of your daily style can't all be relied on your haircut alone.
The shortness in the back provides easy styling and easy maintenance for a busy lifestyle. While having the length in the front provides a flattering angle for an oval face shape.
Try products by Kevin Murphy. Pre-wash with Maxi. Wash to remove any previous build up on the hair, following with Young.Again.Wash, which is an ultra-rich and moisturizing shampoo to revive brittle hair.
For conditioning, use Young.Again.Rinse. It has an ultra-rich consistency to smooth the hair and to add extra fatty acids and proteins to rebuild the hair.
For wet products, try Anti.Gravity. It's an oil-free spray that adds volume and reduces oil build-up from the scalp. It removes static and helps control the hair weightlessly.
Finally, for dry products, try out Touchable, which is a lightweight spray wax that helps mold the hair for ultimate texture.
The Best Short Cut for Oval Faces Over 40
@beth_haus
Q&A with style creator, Beth Jarvis
Hair Stylist @ Haus Salon in Minneapolis, MN
---
How would you describe this?
This short haircut is versatile and flattering. This haircut is perfect for girls with oval faces. It feels short and sleek while at the same time, being youthful and feminine. It's a great shape for adding fullness and volume to fine hair. Soft swept bangs are a great way to bring attention to the eyes and cheekbones.
What's your best advice?
Anytime you're going shorter with a cut; you're looking at cutting it more frequently – you should consider that when deciding on a length.  This oval face haircut was quickly blow-dried with Oribe's Maximista Thickening Spray at the root. Then finished with a little Oribe Dry Texturing Spray to add volume and hold without being too stiff.
Short Pixie Bob for Straight Hair and Oval Faces
@mariedee_hair
Q&A with style creator, Marie Fleuristin
Hair Stylist @ The Cherry Blossom Salon in Atlanta, GA
---
How would you describe this?
This is a grown-out pixie or shaggy pixie. This short hairstyle for an oval shaped face is very versatile.  You can put it in the back of your ears to expose your beautiful facial features, or you can wear it wet for that trending wet style.
For clients with thick hair (like the one pictured), ask for a razor cut to add softness around your oval face, and for your hair to be wispy.
What's your best advice?
This haircut for the woman who is tired of keeping their hair in a ponytail and looking for a change. This can be worn wavy, wet, blow-dried, and messy depending on the texture.
One thing to consider is the curlier the hair, and the more prep is needed to achieve this short hair for oval faces. If you have thick hair, your stylist will need to cut it using a razor, scissors, and thinning sheers.
Apply some light products after washing and then follow with a paddle brush and blow dryer. Air dry it a bit first for at least 70 percent dry, then proceed to use a flat brush.
Short Wavy Hair for Oval Faced Women
@angelaloveshair
Have you ever been thinking that the mix of an oval face and wavy hair can give a pretty and decent style? Fix your gaze on this and give yourself enough time to be mesmerized. This messy-like waves on a neck-length bob cut and jet black hair color prove that simplicity can turn into elegance in no time.
Short Hair for Black Woman with an Oval Face
@mahrithemaven
Oval face shape is a known versatile shape, and black ladies out there having this face shape can rejoice as much! A versatile face shape combined with rich colored skin is the perfect combination of exploring various styles and looks.
Short Haircut for Fine Hair and Oval Faces
@danielle.hairstylist
Q&A with style creator, Danielle Mears
Hairstylist @ Tangles Hair Salon in Cold Lake, AB
---
How would you describe this?
This short cut is so versatile! The styling opportunities are endless, as you can wear it smooth and sleek (like in the photo), messy and full of volume, styled as a pompadour, or pieced out and choppy!
It's cut with a 45° graduation on the sides (up to the temples) and back (up to the occipital bone), leaving the top section out. The undercut is to ensure there's more volume on top and less on the sides. The top is it shorter in the crown area to longer at the fringe area, allowing for an A-line effect!
What's your best advice?
This style is great for women with an oval face shape, who has fine hair.
Depending on what you're going to do will alter the product you put in it. Use mousse and some form of smoothing cream or oil. For more volume, blow-dry with a brush to help get the hair off the scalp. If you want something sleek, then smooth out with a flat iron. If you wanted messy with volume, curl your hair with a flat iron or curling iron. If you want it a bit pieced out, put some wax or pomade through to break up your hair.
Short hair for oval faces is super easy and fast to do. If you're looking to go short, make sure you are prepared for it! Hair is a wonderful thing; it always grows back.
The Best Curly Hair for an Oval Face
@mouseybrowne
Q&A with style creator, Tara
Dry Haircutter @ Mousey Browne in Sydney, Australia
---
How would you describe this?
It's a lip-length bob on waves. It's a versatile short bob shape that can work for many different hair textures. You don't have to commit to having a part with this look, as it's designed to be flipped from side to side all day long.
What's your best advice?
This short hairstyle for an oval face can be easily styled with a leave-in conditioner. Use a sea salt product on damp hair left to dry naturally, then flip around. It's great for women with an oval face wanting a low maintenance style with a wow factor.
Very Short Cut for Women Over 50 with an Oval Face
@epikasalonandboutique
Q&A with style creator, Michelle Velez
Hair Stylist @ EPIKA Salon and Boutique in Clermont, FL
---
How would you describe this?
This short cut for oval faces is a feathered pixie with curtain bangs. It features a soft texture and the fringe.
What's your best advice?
Try Bumble and Bumble Thickening Spray at your root to give you hair body and lift. Then use the Bumble and Bumble Thickening Mousse to hold the shape when you blow-dry.
This cut is great for women with an oval face who has fine-textured hair because it lays so nicely.
Super Short Cut for Plus Size Oval Faces
@stephydoeshair
Q&A with style creator, Stephanie Daniel
AVEDA Color Coach & Master Stylist @ Stephanie Daniel in Richmond, VA
---
How would you describe this?
This is a classic pixie cut for oval face shapes using modern barbering techniques. This cut is for women wanting a low maintenance cut that requires styling to be fast and easy to take care of. It has an androgynous quality while still being soft with no harsh lines.
What's your best advice?
Take your hair type into account when picking short hair styles for oval face shapes. How much time and energy are you willing to devote? The hair type shown is straight, fine, and medium-density with no definitive part. Styling is relatively quick with a light hold gel and pomade for definition after it's fully dry. Just 5-10 minutes tops from wet to styled!
Short Pixie Cut
@courtneyxcentrichair
Here's a short pixie cut to carry out an exciting spice to your style if needed. The chop has layers, which add height to the hair, making it not appear flat. This short pixie cut is one of those short haircuts that complements oval faces best.
Sassy Haircut on Short Hair
@healthyhappywifelife
Such a sassy haircut on short hair never fails to flatter oval faces. This is a pixie chop that offers short hair an exciting and low-maintenance style. Strands on top are longer, so this short and sassy haircut works with any hairstyle. Use wax or cream-based product for easy manipulation when jazzing the hair up.
Jaw-Length Bob for Oval Faces
@gina_thecultivatedcurl
This jaw-length bob for oval faces appears adorable at any angle! It's a short haircut with layers that can accentuate a wavy hair texture. The neck-length chop is ideal for women with oval faces who love a trend that's easy to manage and style.
Q&A with style creator, Gina Rodriguez
Owner/Stylist/Curly Hair Artist @ The Cultivated Curl in Fair Oaks, CA
---
How would you describe this?
This jaw-length bob for oval faces features an undercut in the back. This allows the angle of the shape up to go higher without creating an extreme angle on the back of the head. Showcase your natural texture with a simple aloe vera based gel, water, and a diffuser.
What's your best advice?
Choose styles that fit your lifestyle. Talk with your specialist about your oval face and whether or not you want to highlight it or hide it. For this bob, mist water between wash days to achieve these results.
Short Bob Cut with Bangs
@salsalhair
Pulling off a short bob cut with bangs is sure to offer a darling image. Women with short hair and oval faces will love the style. This is a classic short bob with a blunt type of fringe and layers, inspired by a modern french style. It's the best haircut and length for straight locks that need fullness and texture.
Short Blonde Hair
@kanebowenhair
Enjoy this short blonde hair and get that classy finish. It has a shadow-rooted blonde hue that demands minimal maintenance. The haircut, meanwhile, still needs a trim every 4-5 weeks. This middle-parted short hairstyle is best on oval face shapes.
Short Layered Haircut for Over 60
@jeanniejachman
This short layered haircut for over 60 is an actual gem! It's a short hairstyle that can be called a shattered bob with shorter layers. This type of short bob haircut is best for fine, straight hair and oval-shaped faces. It's such a fine, sassy short layered haircut for women over 60!
The Pompadour Short Cut
@brittwiththegreathair
This is the pompadour short cut that manifests a bolder and more alluring vibe! Shorter hair suits petite features; thus, an edgy short cut looks so much better on oval face shape. To recreate the style, use a matte paste to keep the pompadour in place all day long.
Q&A with style creator, Brittany Caldeira
Hair Stylist @ Hair by Britt in Ansonia, CT
---
How would you describe this?
This pompadour short cut has a fun edgy mohawk fade. To achieve this pomp, the hair was 4 days unwashed and had loads of dry shampoo, tease and hairspray.
What's your best advice?
This pomp is recommended for which hair, but all women can wear it if they know how to style it. Practice styling as often as possible.
Medium to Short Cut for Fat Oval Faces
@hillarykeene
This medium to short cut for fat oval faces is better if side-parted to create a flattering angle. A short haircut with a side-parted style will draw attention away from the symmetry of a round face shape. Perk up its glam finish by painting the tresses with a platinum blonde hue.
Chin-Length Haircut For Thin Hair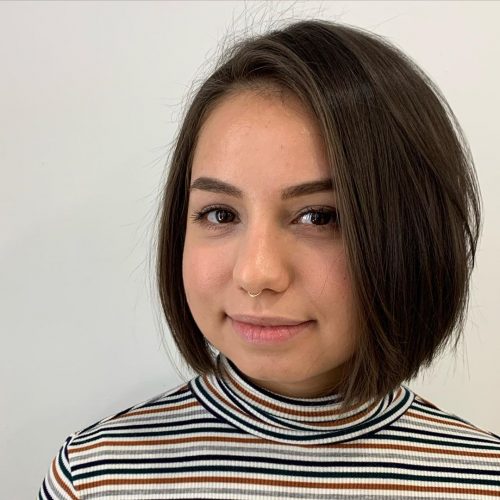 @denisemstylist
Here's a chin-length haircut for thin hair to give it an illusion of a fuller edge! For an instant volume, a side part style is key. This haircut suits women with round and oval face shapes. Opt for this cut if you want to hide the symmetry of your face.
Short Bob Haircut for Oval Faces
@hairfairy.yeg
A superb short bob haircut for oval faces can complement and frame the face shape very well. Like this one! The chop and the length add an illusion of extra width to the face. Due to the versatility of the oval face shape, this short bob cut can be worn with or without bangs.