17 Best Short Hairstyles for Women Over 50 With Glasses
Short Hair with Long Bangs
@mattiaflora.foryou
Own this short hair with long bangs for a younger-looking haircut, especially if you're a woman over 50. These bangs are to accentuate the eyes, so make sure to wear your best glasses. If wanting to experiment with hair colors, a pastel pink hue is fun to try on.
Long Pixie with White Hair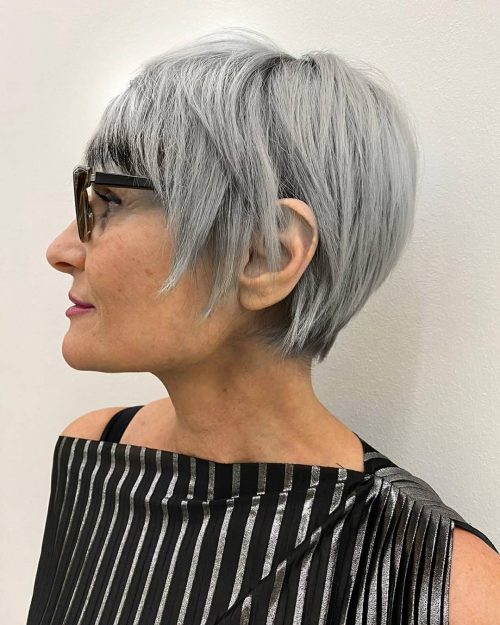 @fabrihairdesigner
Show off your healthy locks with a chic short bob with tapered ends. Women over 50 with glasses who have white hair can now use their natural color as an asset.
👉 Get more ideas of short pixie haircuts for ladies in their 50s
Chic Super Short Cut
@zauberfee_52
This super short haircut is for women in their fifties who love to express themselves. It can also be helpful for women with glasses who have thick texture or even if they are fine-haired.
A woman of any age can do this, and coincidentally as women over 50 age, they look more youthful with pixies or shorter vs. trying to have a hairstyle that pulls down their features!
The fact that every woman over 50 says, "I wish I could do that" when, in fact, they could if they would consult with an experienced hairstylist when considering this.
Perfect Short Crop for Fine Hair
@apriltoccohair
Ideal for fine hair, this lovely jaw-length short cut results in a dazzling hairstyle when colored with subtle and dimensional copper. Look creator April Tocco used Shu Uemura's Color Luster shades reviving balm conditioner. According to her, it keeps the blonde color from fading, refreshes blonde highlights, deeply nourishes and adds vibrancy to hair. There is no chemical reaction or modification of permanent color.
Flattering Short Hairdo for A Round Face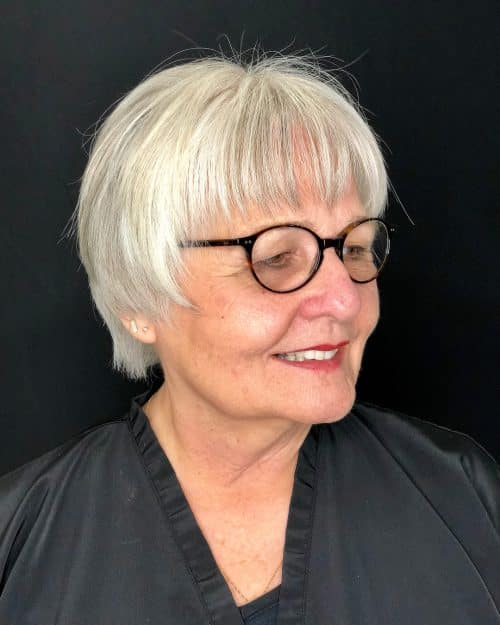 @hausoflazaroff
A cute and soft pixie is a great short haircut for women over 50 with glasses. It creates texture that complements the rounded facial features. Plus, it looks chic with natural grey hair.
Short Bob with Thick Hair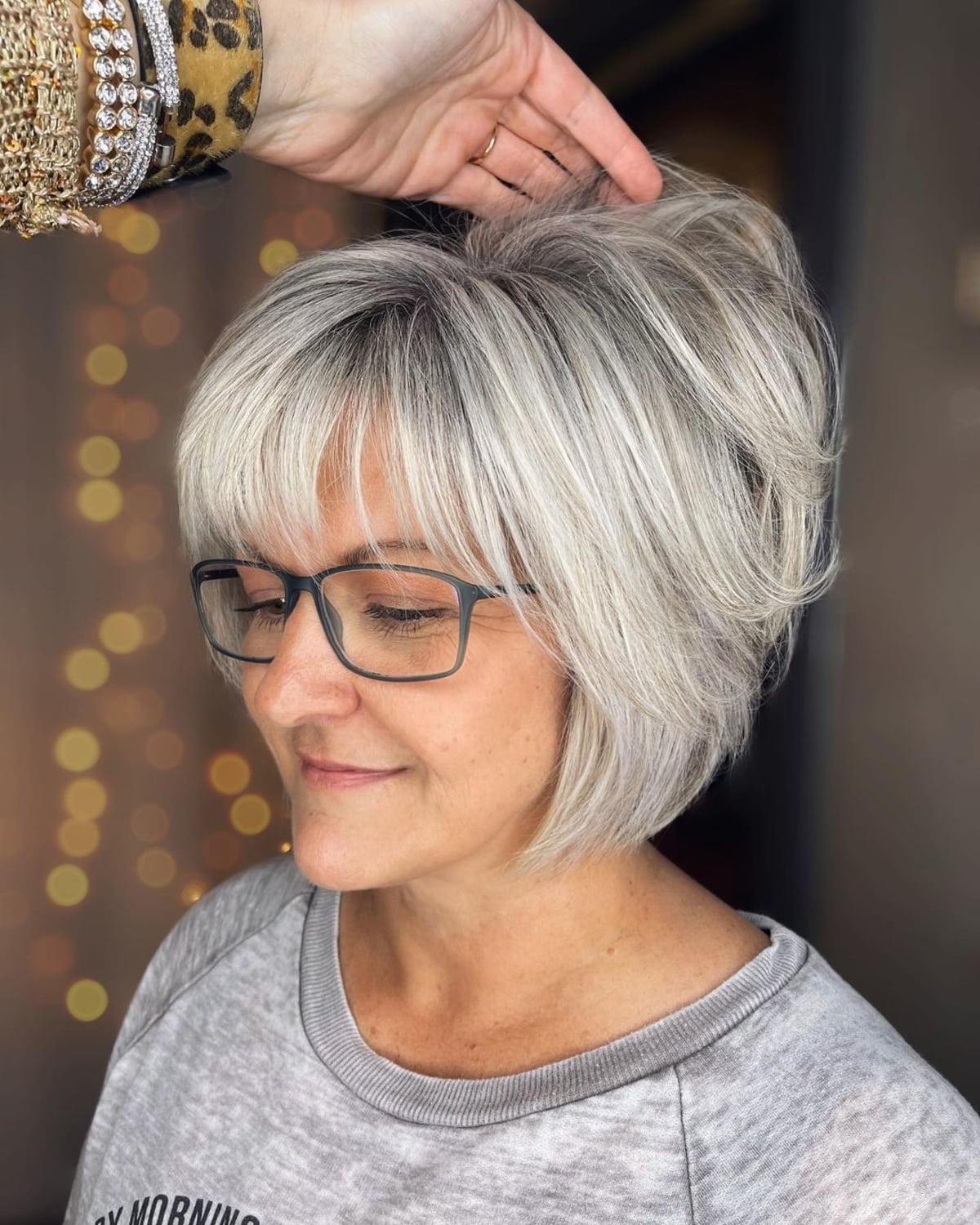 @thepouthouse
Older women who have thick hair, short bob is perfectly suited for those with thick hair. This haircut is a short cut with medium layers that gives your tresses some bounce and swish. The soft face-framing compliments those who wear eyeglasses as well. Style with a metal barrel round brush to achieve soft waves.
Short Layered Hairstyle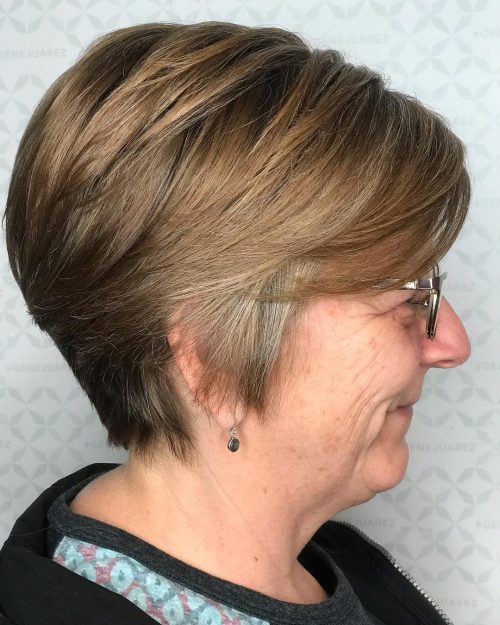 @_beautybybellamae
Long strands cut into layers create more volume on a layered, short haircut. Adding a side part is the perfect way to highlight your facial features in your 50s with your glasses and eyes even more accentuated.
Textured Pixie Undercut For Thin Hair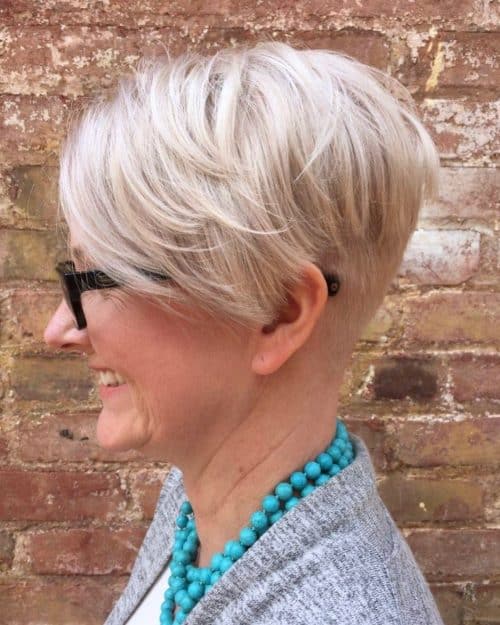 @thenathanaltman
This short layered crop style doesn't take away attention to your other facial features. Its simplicity is what makes it perfect, even for thin-haired ladies over 50 who wear glasses. Texture and layers are what you really need, and this short hairstyle has it.
Youthful Hairstyle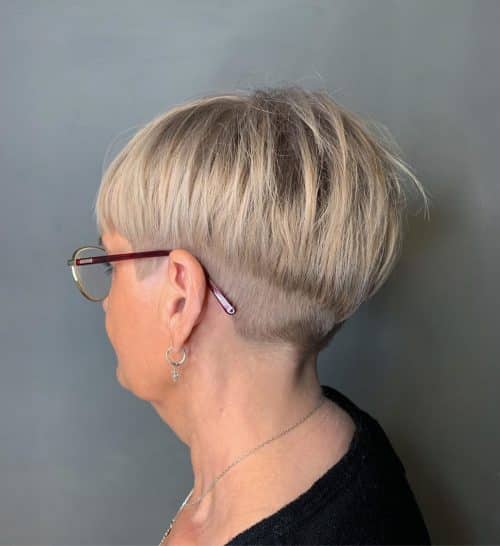 @salonghalda.fo
The bob undercut is a short, youthful hairstyle. The undercut starts right where the frames of the glasses lie, which shows off the beautiful color of the frames.
The Messy Bob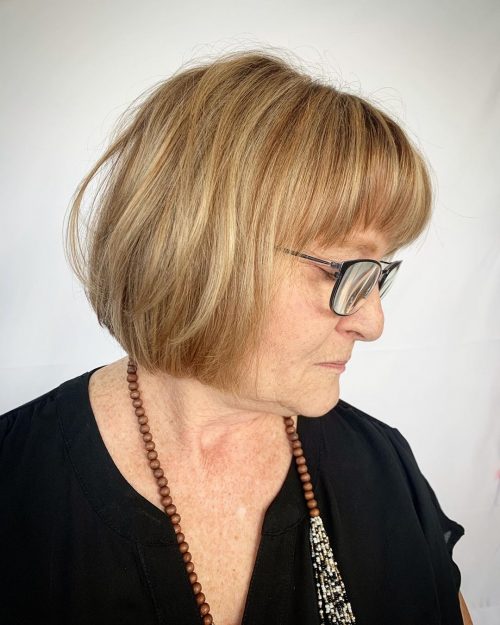 @thecreativehairdresser
Short hairstyles for women over 50 with glasses will look more youthful and chic when layered and cut at chin-length. If you have thin hair, the layers will help your hair appear fuller.  If you want your glasses to be more subtle, go for a hairdo that goes past your ears.
Very Short Hairstyle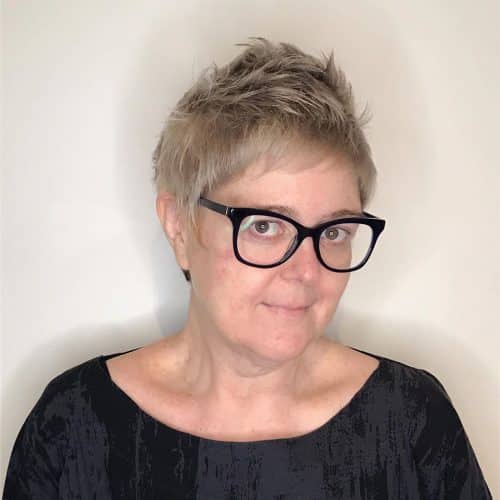 @sarahlebelandcrowe
Very short hairstyles like this are convenient for the modern 50-year old. Ladies in their fifties love this perfect spiky top style!
By style creator, Sarah Mitchell
Senior Stylist @ Lebel and Crowe Salon in Brockton Village, TO
This modern pixie cut has lots of texture. Sort hairstyles like this are known for their versatility. You could wear it fun and textured or quite classic and pretty.
A lot of people think that short hair can only be worn one way, but the beauty of this cut is that it can be worn in two very different styles. Playful and edgy (like in the picture) or in a more classic style – think of Audrey Hepburn or Mia Farrow as reference.
The key is to have lots of softness around the face. You could achieve this by incorporating a piece-y, textured fringe and length around the ears. This keeps the haircut from looking too masculine.
Many women over 50 with glasses love this short haircut because they can wear a great pair of earrings and/or glasses and they become a focal point.
To style:
– Invest in a good texture cream or hair paste like Kevin Murphy's "Freehold" styling cream or the R & Co's "Control" flexible paste.
– Rub a dab in your hands and apply it to the crown area of your head.
– You can wear it messy and playful or apply less and wear it more classic.
– When you have hardly any left in your hands, go through and piece out your fringe area, showing off the texture of the cut.
If you have very thick hair, you will need to ask your stylist to remove extra weight and add more texture.
Short haircuts require you to visit the salon more often to have your hair cut and shaped. This may be something to keep in mind.
Sassy Short Pixie Hair Cut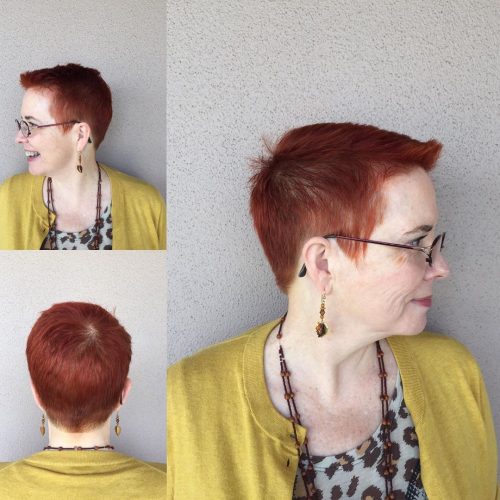 @samazinghair
By style creator, Sami Copley
Hair Stylist @ Salon Zuberenz! in Lynnwood, WA
---
This is a very short pixie cut customized for women with strong growth patterns in their hair. It can have a soft or strong look. I love that it shows she is strong and sassy with a flair for color that contrasts well with glasses.
This short cut is perfect for any 50+ woman who wants a fun hairstyle without fuss in the morning. It does require a visit to your stylist every five weeks to keep it looking smart and fresh.
Short Bob Hairstyle
@wayne.french.77
By style creator, Wayne French
Barber / Stylist @ Bohemia Salon in Mount Pleasant, SC
---
This short hairstyle is a fun, deconstructed short stacked bob with glasses.
It is cut with diagonal forward lines at the perimeter with chunky, razor-cut layers that are versatile enough to either angle forward to frame the face or flip out and partially back as the model demonstrates.
This ear-length haircut is great for fine, straight hair as pictured but also is really fun for natural curls for a completely different look.
It's important when to consider short hairstyles for over 50 with glasses that you consider your lifestyle and time.
Women 50 plus benefit from having lots of styling options to fit their lifestyle. Styling can be done with a blow dryer and round brush or flat iron, depending on the client's preferences. A matte paste was used to accent the movement of the layers without the hard hold of hairspray, but some women may prefer a stronger hold.
Chin Length Hair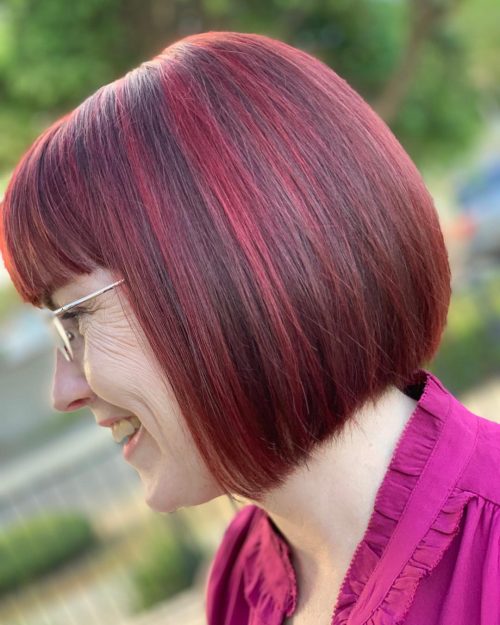 @nwhair
By style creator, Noel Smith
Hair Artist @ Magnolia 3 Salon in Davis, CA
---
This is a chin-length angled bob with blunt bangs. It's a great way to keep short-medium haircuts more modern for women with fine hair and glasses.
Asymmetrical Bob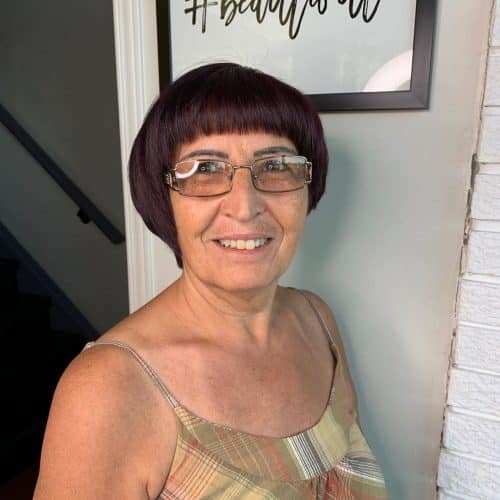 @farrahshapiro.hair
By style creator, Farrah Shapiro
Hair Stylist @ Valentino's Grande Salon in Whitby, ON
---
Asymmetrical graduated bobs with bangs are the modern meets classic for a short-length haircut. This one is playful yet chic to match the eyeglasses.
Maybe you've been getting the same classic bob haircut for years and desire a change, but not a drastic one or you desire a big change and have been thinking about it for months. This short hair cut is very suitable for a woman over 50 in the workplace, and many professionals ask for asymmetrical bobs.
For older ladies to maintain this creative cut, it is recommended to rebook every four to six weeks. Suitable face shapes are oval, heart, and long faces. Although, you can still rock this short 'do with a few minor tweaks if you do not fall into the face shape categories above.
For a smooth, touchable, and stronghold, I recommend using three products. Apply Goldwell Ultra Volume Glamour Whip 3 and Goldwell Just Smooth Thermal Spray 0 on damp hair and finish off with number Lamaur Vita/E Hairspray.
For blow-dry tips, start with setting your fringe if you have a stubborn fringe that likes to split, blow-dry side to side with a comb. Then, go in with a round brush for extra volume. Use a Denman brush for the graduation in the back and dry side to side using the round of the head to achieve a blowout look. Lastly, use a round brush for the sides and top.
Adding color is great step to take before going all gray as you can play with the right fashion tone that will lead to your silver or grey hair. It also looks great with some cool eyeglasses as an extra accessory!
Curly Hairstyle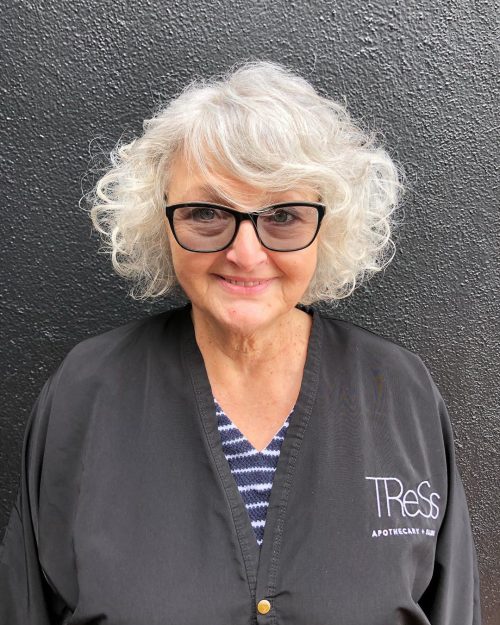 @laurenfinleyhair
Q&A with style creator, Lauren Finley
Hair Stylist @ Kenneth Brown Salons in Newport Beach, CA
---
This is the perfect short haircut for women over 50 who embrace their naturally curly hair instead of fighting it.
All you have to do is put some product in and go. Layering and personalizing curly hair is super important for it to lay right. Any heaviness can make the shape collapse in certain areas.
This is a perfect short hairstyle for women over 50 who have glasses and do not want a lot of styling maintenance. It will give you a more youthful appearance. The key is the right product to enhance the curl, take away the frizz, and to keep the volume.
With Salt and Pepper Grey Hair
@zoesparkshair
By style creator, Zoe Sparks
Hair Stylist @ Kiss and Makeup Salon in Spokane, WA
---
This is a great short textured A-line bob cut for older women over 50. The versatility of this haircut is great if it is styled curly and messy or smooth and sleek. It's also so fun and sass.
Cute short hairstyles for women over 50 with glasses that are relatively short in the back require a touch-up haircut every 4-6 weeks if you want to maintain the shape! As far as styling, it depends on your natural hair texture, but it can be straightforward to style depending on what hair product you use.
I would recommend a curl cream if you have some natural curl in your hair. If you wanted to wear it smooth, a leave-in heat protectant and a flat iron would do correctly!