26 Fantastic Medium Blonde Hair Color Ideas
Honey Blonde on Shoulder-Length Hair
@honey.comb_hair
This honey blonde on shoulder-length hair is one great inspiration.
This color is perfect for natural blonde hair by adding in some beige blonde highlights on medium blonde hair.
Shoulder-Grazing Choppy Blonde Balayage
@westend_hairstudio
Shoulder-grazing choppy blonde balayage is perfect for clients that are looking for a low-maintenance look. To get this look, ask your colorist for a partial balayage with an in-depth dimension.
Medium Blonde Layered Hair for Women Over 50
@katiecofferonhair
Medium blonde layered hair for women over 50 is a smart combination. The softness of the cut and color creates a youthful and edgy vibe. To get this look, ask your hairdresser for medium blonde highlights and a short textured bob.
Blonde Balayage Highlights for Medium Curly Hair
@cachoss_maravilhosos
A blonde balayage highlight for medium curly hair is a great choice to spice up your curls. Balayage looks amazing on curly textures. It softens the highlights and does not look super chunky to streaky by painting strategically throughout the hair. Medium blonde hair with highlights can look like a honey dream and looks gorgeous on warm skin tones. A great hairstyle for all the low-maintenance gals.
Mid-Length Blonde Hair with Rose Gold Hues
@teacupmermaid
Mid-length blond hair with rose gold hues is one of the most universally flattering new trends for women. From platinum to brunette, there is a shade for everyone.
Mid-Length Blunt Blonde Cut
@savannahhawthorne.extensions
A mid-length blunt blonde cut is a great cut for women with medium to thick hair. Add some lived-in highlights to create texture and dimension and bold face-framing pieces that will enhance facial features beautifully
Creamy Blonde on Collarbone-Length Long Bob
@combandpaint
This long bob medium hairstyle with a lighter shade of blonde is as pale as creamy blonde waves on collarbone-length hair.
Adding a shadow root blonde into the blonde with soft waves adds volume and lightness to the entire hairstyle. When recreating medium blonde hairstyles, use a curling wand for easier manipulation.
Mid Light Ash Blonde Hair
@jennamachingo
Women with blonde hair can go towards a medium hue with a light ash blonde hair color.
Anything medium blonde is a great color to flatter light or tan skin tone and will frame your facial features.
Platinum Blonde on Medium Hair
@johnsalondallas
This medium-length textured cut is perfect for thin hair and adding platinum blonde will flatter your medium complexion. Its cool tone looks so pretty with a blowout style. Sleek medium-length blonde hairstyles like this work wonder on natural straight tresses.
Icy Blonde on Medium-Length Hair with Beach Wavy Style
@theblondesbrunette
This icy blonde on medium-length hair will make you love the balayage and ombre.
Depending upon the health of your medium-length blonde hair, both coloring methods work great the beach waves.
Medium-Length Layered Cut with Light Blonde Hue
@monikbeautysalonynails
Try this medium-length light blonde hair if you want to go brighter this time.
Works for any hair length, shadow root will secure depth to the color of your choice.
The layered chop on shoulder-length blonde hair is ideal when you wish to remove weight from your hair tips.
Collarbone-Length Dark Blonde
@hairbyjasmine.g
Medium brown with collarbone-length dark blonde hair is one of the best options if you want to style in beach waves.
If your tresses are healthy and hydrated enough, this dark blonde wavy lob will look so shiny on you.
Medium Ash Blonde Balayage
@hairbykatelynmarie
This gorgeous shade works on dark blonde hair with a shoulder-length lob cut.
Slay a medium ash blonde balayage that looks like a cooler blonde with depth.
Complete the style by adding waves to your tresses, and leaving the ends straight.
Medium-Short White Blonde with Darker Roots
@urbandyebar
This medium-short white blonde hair with darker roots has a depth that helps the color to bring out a dimension.
Shadow root in this icy medium blonde balayage will make the process of growing out your hair the least of your concern.
Adding texture and waves to create movement is what makes this shaggy medium bob perfect for women with fine hair.
This hair with subtle shaggy layers is one of my favorites here!
Medium to Short Strawberry Blonde
@livt.hair
A dark-rooted medium to short strawberry blonde hair is a beautiful medium shade of blonde.
These medium tones will boost your fair skin complexion, and of course, your glam.
Beachy and messy-looking wavy hair and texture are what add excitement to this whole trend.
Shoulder-Length Warm Blonde
@joyahairdesign
A shoulder-length warm blonde hair color that suits your smooth, thick hair!
This started as a golden blonde for warmth and fades into a lighter blonde shade.
This blonde is the perfect shade that's guaranteed to flatter fair skin tones.
Dirty Blonde Color for Medium-Length Hair with Beach Waves
@kkhair.co
Here's a dirty blonde for medium-length hair for such a classic look!
The colored dimension is undeniable and will turn out fantastic on your beach waves with a dark blonde base.
When considering medium blonde hair, stay away from the unwanted brassy tone by using a purple shampoo.
Mid-Length Bright Blonde
@__hairbynicole__
This mid-length bright blonde hair color will give you the dimension of your dreams!
The combo of babylights and highlights, done by balayage, form emphasis and depth.
A creamy blonde hue looks flawless on textured, wavy locks.
Golden Blonde Highlights for Medium Hair
@katelynn.polishdstudio
If you want to try a little blonde for a change, then start with some gorgeous golden blonde highlights for medium hair.
Blonde highlighting with foilayage and a root melt creates an intense shade that pairs well with voluminous waves.
Medium Blonde Shag for Older Women
@mclainecraig_hairandbeauty
The medium blonde shag for older women never fails to carry out a lived-in and very youthful vibe. Hair trends like this are what Tennessee-based look creator McLaine Craig loves to do.
For this particular cut, Craig used shears for a crisp and feathered effect. "I detailed it out dry with texturizing shears. Then used deep point-cutting for softness and removing bulk," Craig adds.
Medium-Long Cool Blonde
@janinawillgren
Perhaps by your next color appointment, you'll find it's time to switch to this medium-long cool blonde hair color for a whole new blonde hairstyle.
You can keep it a bit longer and blend with your natural roots for a more low-maintenance shade of blonde.
Dishwater Blonde on Mid-length Hair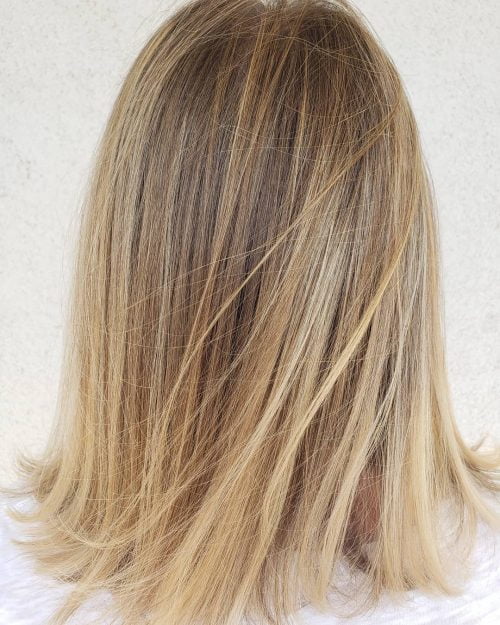 @artandsoulhair
If you want to go blonde, then this medium cut with a tone of blonde to caramel is perfect.
With a base of medium brown and a lovely caramel blonde shade gives it a sun-kissed hue.
Shoulder-Length Silver Blonde Lob
@marisaaohio
This bold hue is blended gray with darker blondes strands that look great on medium hair.
Dimensional blonde shoulder-length hair with a silver tint looks best as the tones accent one another.
Medium-Length Blonde Ombre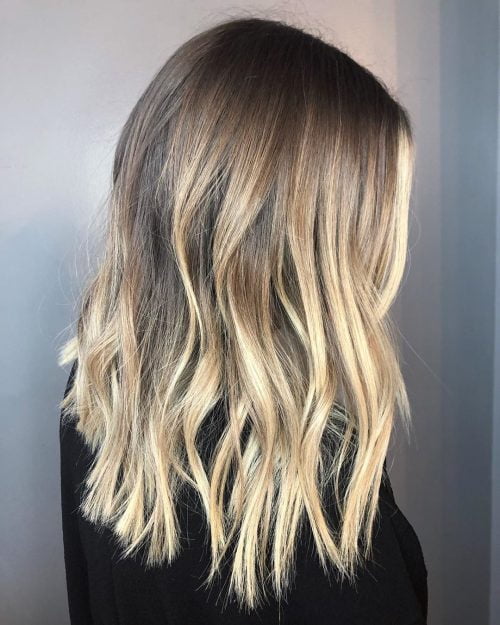 @hilawee
The beauty of this medium blonde ombre is that you have enough tresses to style it.
The brown-blonde blend with a touch of honey with loose waves will emphasize naturally blonde ends.
Medium to Long Rich Blonde with Curtain Bangs
@geiovan_styles
If you want to try a blonde, then this medium to long, rich blonde hair color is perfect! The long curtain bangs are a bonus and they look cute and edgy.
Mid-Length Sandy Blonde on Straight Locks
@klipplust
This mid-length blonde hair color has verged on sandy blonde.
If you're thinking you might dye your hair blonde on your straight, medium hair, then this is for you.
So there you go! What do you do next? Save the picture of your favorite blonde hair color and show it to your hair colorist at your next salon appointment.