The Top 29 Short Sassy Haircuts of 2021
The Perfect Sassy Pixie Haircut
@zunigaelyssa
This short sassy hair is a pixie cut by hairstylist Elyssa Marshall of Houston, TX.
"The cut creates a classy, soft yet edgy look," says Marshall. "With this type of hair texture, this cut makes for a short and easy style. This sassy short pixie cut is soft and feminine-looking."
If you're thinking about getting a shorter cut, you can pull off this cute short style. Confidence and the way you carry yourself can make or break any hairstyle.
Short Sassy Cut with Feathered Layers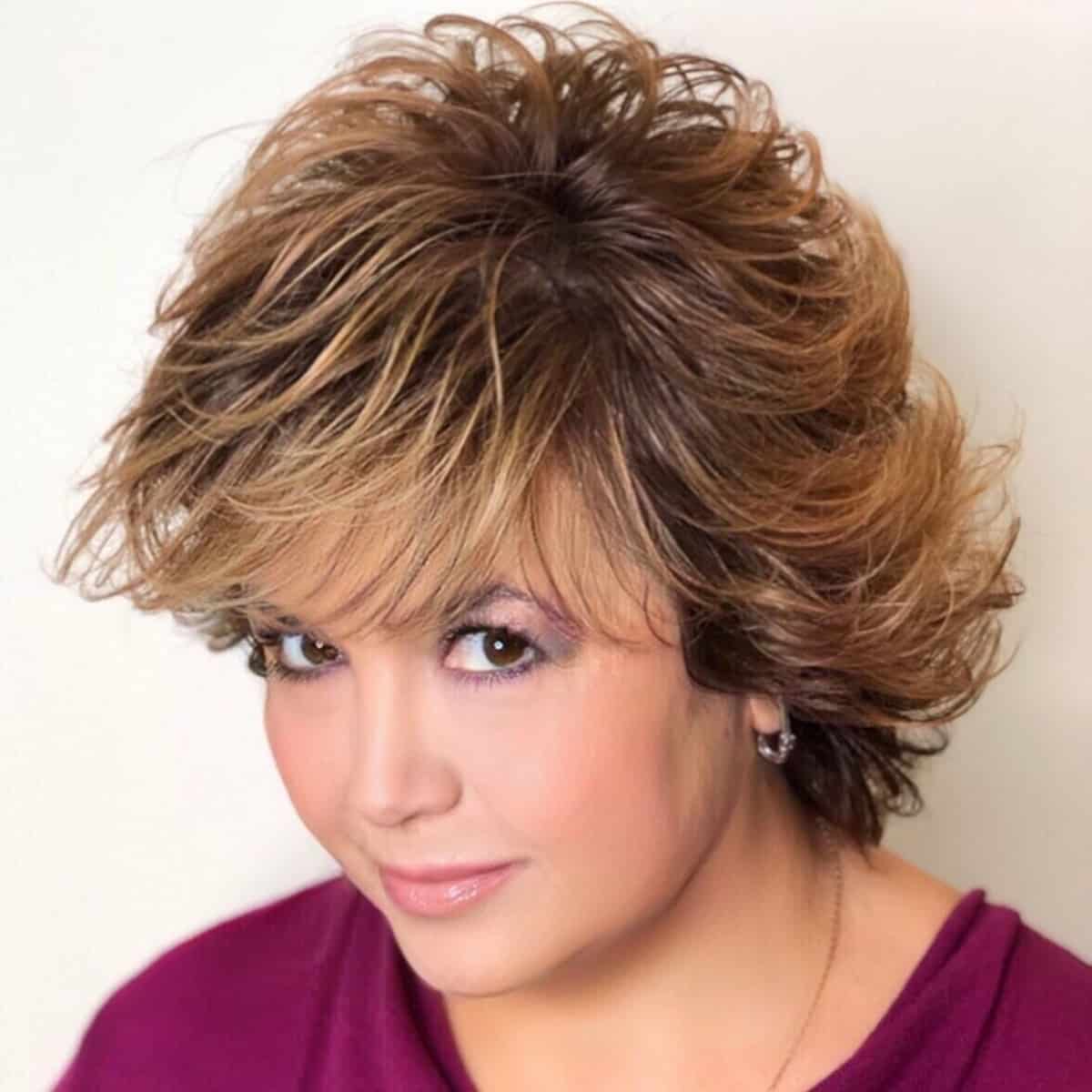 @uskova.tatiana.official
A short sassy cut with feathered layers looks beautiful when brushed with volume and pointed ends. To achieve the voluminous effect, consider hair mousse as your best ally.
Sassy Shag Haircut on Medium Brown Hair
@alyssah_doeshair
A sassy shag haircut on medium brown hair is the cut you'll need to take your bob up a notch. The shorter layers create texture and movement and create the shag. A sassy shag is also easier to style than a traditional bob. No round brushing needed, just blow dry or air dry with a texturizing product.
Sassy Pixie with Undercut
@oksanagromysheva
A sassy pixie with undercut can be styled with a gel or a pomade. This is to keep the sides low and to preserve the contrast between the lengths, which is key to the sophistication of this cut.
Sassy Asymmetrical Hairstyle
@oksanagromysheva
A sassy asymmetrical hairstyle is a haircut that's slightly longer on the top to help lengthen the face. It is composed of a long fringe. This acts to frame the eyes which further helps in adding a romantic touch to the all in all appearance.
Sassy Stacked Bob on Ombre Hair
@styled_by_carolynn
Try a sassy stacked bob on ombré hair for your new style. The stacked bob and darker roots are beneficial because they grow out well. Trips to the salon might be every 8-10 weeks, instead of every 4.
Sassy Angled Haircut with Blonde Balayage
@shmoakin_hair
A sassy angled haircut with blonde balayage is all the rage. The shorter back with a longer front gives it a beautiful profile. Messy waves are created by curling with an iron leaving the ends out, giving it a lived-in feel. A blonde balayage compliments an angled cut nicely, giving it a natural color.
Choppy and Sassy for Women Over 70
@alexfantasyhair
Choppy and sassy for women over 70, this is a fun and tousled look. Ask your stylist for a graduated nape and some messy layers. Style with a round brush and a flat iron if needed.
Flattering Short Cut for A Round Face
@bormannjr
A flattering short cut for a round face works well with layers through the crown to draw attention up. Sassy short haircuts are sure to be sassier when you flick out the ends using a curling iron and some wax texture spray or hairspray. Add side-swept bangs to help soften the round features.
Sassy Textured Bangs for Long Faces
@belximenes
These textured bangs for long faces can create chic short sassy hairstyles, plus they visually reduce the length of your forehead. This fringe also adds some width to narrow face shapes.
These types of bangs soften the face due to the texturizing cut, which pairs well with short sassy haircuts. This creates an overall lighter modern style.
Textured Bangs for Long Faces
@_lyssacolors
This is the best short sassy haircut for grey hair! Jazz it up with a side-part and long bangs. Ladies with thin tresses look so chic with this style.
This short sassy hair with long bangs has a really subtle and cool tone that provides a relaxed vibe, perfect for women with fair skin.
Perfect Sassy Cut for Women Over 60
@hairbytaylorking
"Silver and sassy," is what the hairstylist Taylor King of Swank Salon in Springfield Missouri calls this short and sassy pixie cut. This works best for older women over 60 with short hair.
Sassy and Short for Seniors
@teresathehairstylist
For senior women a sassy and short hair cut can be just what you need. Ask for a textured pixie that is longer on the top. Maintenance will be about every 4-6 weeks on a style like this. Style with Kevin Murphy "Bedroom Hair" for piecing out the texture.
Cute and Sassy Cut with Bangs
@belximenes
A stylish and sassy cut with bangs works beautifully on women who want to embrace some texture in their hair. Short and sassy haircuts can enhance natural waves.
They produce natural volume from the great placement of layers. Try adding some light textured bangs to your short cut to soften the style.
Short Spiky Sassy Haircut For Black Locks
@shmoakin_hair
Rock a short spiky sassy haircut with a black shade to take finer hair to its maximum fullness. When cutting the hair short, it'll ensure your hair looks thicker.
To keep it sassy, keep some textured length on top of the structured sides. Enhance with a little paste and be creative with the styling to bulk up your hair instantly.
Short & Sassy for African-American Women
@stylesbykeeys
This short hairstyle for African-Americans looks too good to be true. The side-swept bangs plus the texture effect create a sassy and short style many African American women find appealing.
Short Curly Sassy Haircut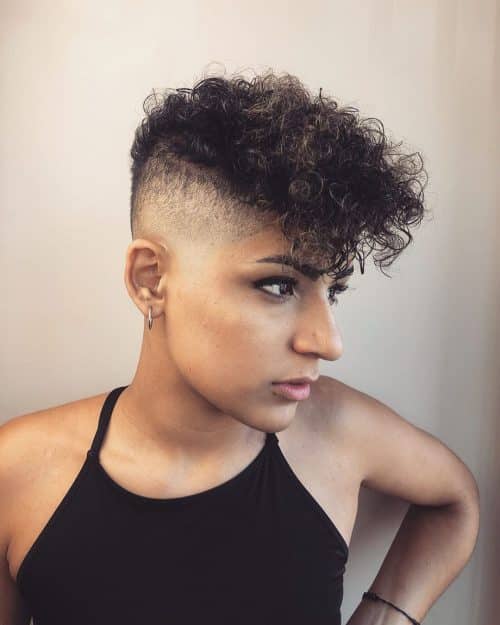 @josemithebarber
This short curly sassy haircut features an afro fade, great to embrace and flaunt a natural hair texture.  The textured curls in this sassy style are undeniably gorgeous!
Stylish Textured Sass for Short Wavy Hair
@beautybymacib
Textured sass for wavy hair always provides an amazing style. Textured waves and a graduated cut boost the volume and body of the hair. Definitely sassy vibes right here!
Jaw-Length Short Sassy Haircut
@danae_edwardsandco
A jaw-length short sassy haircut is the ultimate edgy hairstyle. Perfect for ladies with thicker hair who want a sassier, short hair cut.
Short Sassy Pixie Haircut
@romeufelipe
Consider a short sassy pixie haircut if you're a woman with hair on the finer side because it blends from short to long around the crown. Style short sassy cuts with Box-O-Bollox by Evo for added and a refined texture.
A Sassy Short Bob for Thin Hair
@hairby_jumcakes
A sassy short bob is the best haircut for thin hair if you're looking for a fairly low-maintenance style. Cropped hairstyles are equally beneficial for adding extra body to your thin hair.
Short White Undercut Bob Hairstyle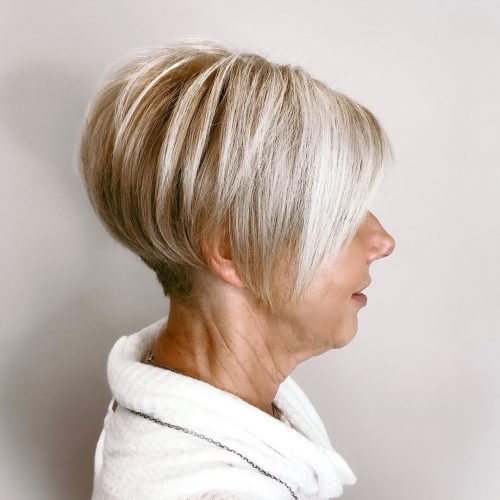 @kaileedoeshair
This white undercut bob haircut makes trendy styles that are perfect for older, sassy women and women who want a low-maintenance look. Adding longer layers in the front compliments one's face.
Looking for something different rather than a straight-across bob? "Ask for an undercut underneath and added texture on white-blonde hair. This sassy short hair easy and quick to style," says hairstylist and colorist Kailee Foidart of Kenora, ON.
"Edgy cuts like this are versatile on all types of hair. You can wear it curly or round brush to have more volume. Root lifters will help give more volume in the crown. You can tuck it also to give it a different style," she adds.
Flattering Dark Brown Short Cut for a Round Face
@raenikole
The dark color on this sassy short cut is a rich chocolate brown chosen to bring depth and warmth to her complexion. It was created by master stylist Rae Steele of Covina, CA.
"Use organic hair color that contains ingredients that aren't as aggressive on the body," says Steele. "Ask your stylist to cut face-framing layers and redistributed your hair so that the cut can grow out gracefully. Sassy short haircuts should last about four months."
This cut doesn't require much, but if your hair is straight, then there is a little more that is needed on your end. Face-framing bits are universal because they're completely tailored to you. Work with your hairdresser to find where your face frame should begin and how it should connect with your ends.
Steele recommends you try HairStory Studio's hair balm and Rahua's salt spray. "Apply the leave-in cream first, then the salt spray," she explains. "Use the salt spray mostly at the root and lightly mist all over. If your hair is a little on the straighter side, opt for texture dust that should be applied when the hair is dry. To beef up fine hair, try Hairstory Studio's powder. It allows for strand separation, which looks amazing."
Short Sassy Layered Bob Haircut
@yorkhair_
"The sassy layered bob has textured, shorter layers and mid-lengths that are so versatile. This short sassy textured bob is great because you can wear it straight or messy and tousled," says stylist Sylvia York of Senoia, GA.
If you want something that grows out easy, try doing a few balayage pieces around the face and top half to brighten things up, but keep it looking very natural.
This haircut is designed for all types of hair. All of the lengths can vary, which is why it's so great. Mid-lengths work if you do not want to go too short. If you're a woman with thick hair, removing all of the weight can help the hair move and give you body. If you have the opposite of that, then you probably need more help in the styling department.
For styling, York says, "adding in a thickening spray from Bumble and Bumble will help as well as adding a salt spray or even mousse. Bumble and Bumble have a spray that has both. It's called Surf Foam Spray. If you add in the thickening spray as well as the surf foam, you're set. Just blowdry and curl if you like and finish off with the Dry Spun from BB, and you'll be thrilled with how good it looks."
Short Blonde Sassy Haircut
@beautyby.er
This is a woman's short cut, also known as a sassy pixie cut. It was created by hairstylist Erinn Salewski of Frisco, TX.
"Sassy haircuts for short hair, most of the time, are something you have to style," says Salewski. "You can't just wake up and go. Use a texture spray when the hair is wet and then sometimes use a light paste to hold the hair in place the way you like it."
The Best Sassy Bob Cut for Fine Hair
@shmoakin_hair
The best sassy bob cut for fine hair is all about the texture, giving a new lease of life to your locks.
Textured layers work great on finer hair. Especially if the overly layered hair needs to keep weight. Be bold and take the length to your hairline for the ultimate short and sassy bob hair cuts.
Short Natural Sassy Haircut
@daveydidmyhair
"For this short sassy women's haircut, height is needed at the crown to complement a strong facial structure. This takes a shape that could be perceived as square and rounds it out a bit," says barber and stylist David Matthew of Petersburg, FL.
This is a short shaggy pixie. "I'm a razor-cutter by nature," says Matthew, "and this hair texture is the ideal canvas to put that tool to its best use."
He explains, "a razor creates a soft taper to the ends of the hair rather than a blunt end, which a scissor would create. With coarse, dense hair, it gives the hair some room to live and breathe. Beyond that, it allows a haircut to bloom into different shapes as it grows out."
With short hair, salt spray is a must. Try R+CO's Rockaway because it provides muscle without stiffness. Layering on a light styling cream or pomade gives a little separation to achieve a lived-in quality.
Sassy Bob for Thick Hair
@shmoakin_hair
Rock a short sassy bob for thick hair for super low-maintenance styling. Thick hair on a shorter bob cut can be a lot to wash and style. So, lifting up the length to something more maintainable will knock minutes off your morning routine.
Add some layers to lighten the weight. The layers also encourage a little texture. Finish this short and sassy bob off by spraying some salt spray, scrunching, and leaving to air-dry.
An Edgy Cut for Women Over 50
@hairgallerycairns
"For a short sassy cut like this, ask for an edgier, yet feminine finish," states salon owner and master stylist Kirsty Seden of Australia.
"This is a modern adaption of the old school bowl cut. It requires minimum effort when styling. Plus, it frames a feminine face, high cheekbones, and petite jawline perfectly. To soften the graduation, ask for a strong weight line around the edges," she explains.
To style, Seden recommends you use a small amount of Schwarzkopf Miracle 15, "which creates enough mold-ability, texture, and grit in the hair."
She adds, "you can run straighteners over the ends only, not thoroughly, just enough to sharpen it and finished with a little bit of Schwartzkopf Powder Cloud, In humid climates, this stops the humidity affecting your style throughout the day and can be reworked to suit."
This style would complement a more petite face shape, with a narrowing jawline from the cheekbones with a nice rounded head shape in the back. If you have multiple or strong crowns, you would need to be careful to leave plenty of length around the crown.