17 Trendiest Pixie Haircuts for Women Over 50
Asymmetrical Pixie for Gray Hair
@amandapaints2468
Here's proof of how versatile the asymmetrical haircuts are! This is a stunning asymmetrical pixie for gray hair like yours. Waves create movement while making the layers more emphasized. It looks trendy, and sure, can grant you a younger-looking edge.
Feathered Pixie for Fine Hair
@melissafaith_hair
Show off your chocolate brown locks with more flow and texture than anybody else's! Looking so astonishing, here's the ideal feathered pixie for fine hair like yours. The outcome is guaranteed to look classic and remarkable on you.
The Perfect Pixie for Thick Hair
@japa_salon
The perfect pixie for thick hair is here! For a lovely woman like you who has thick hair, soft layers will remove the bulkiness from your look. Added bangs to embellish your brown locks make the entire cut more feminine and relaxed.
Classy and Long Pixie
@iveysalon
Here's a classy and long pixie chop for you to wear in your 50s. The result will be stunning by adding a bit of texture to your golden blonde tresses.
Simple Pixie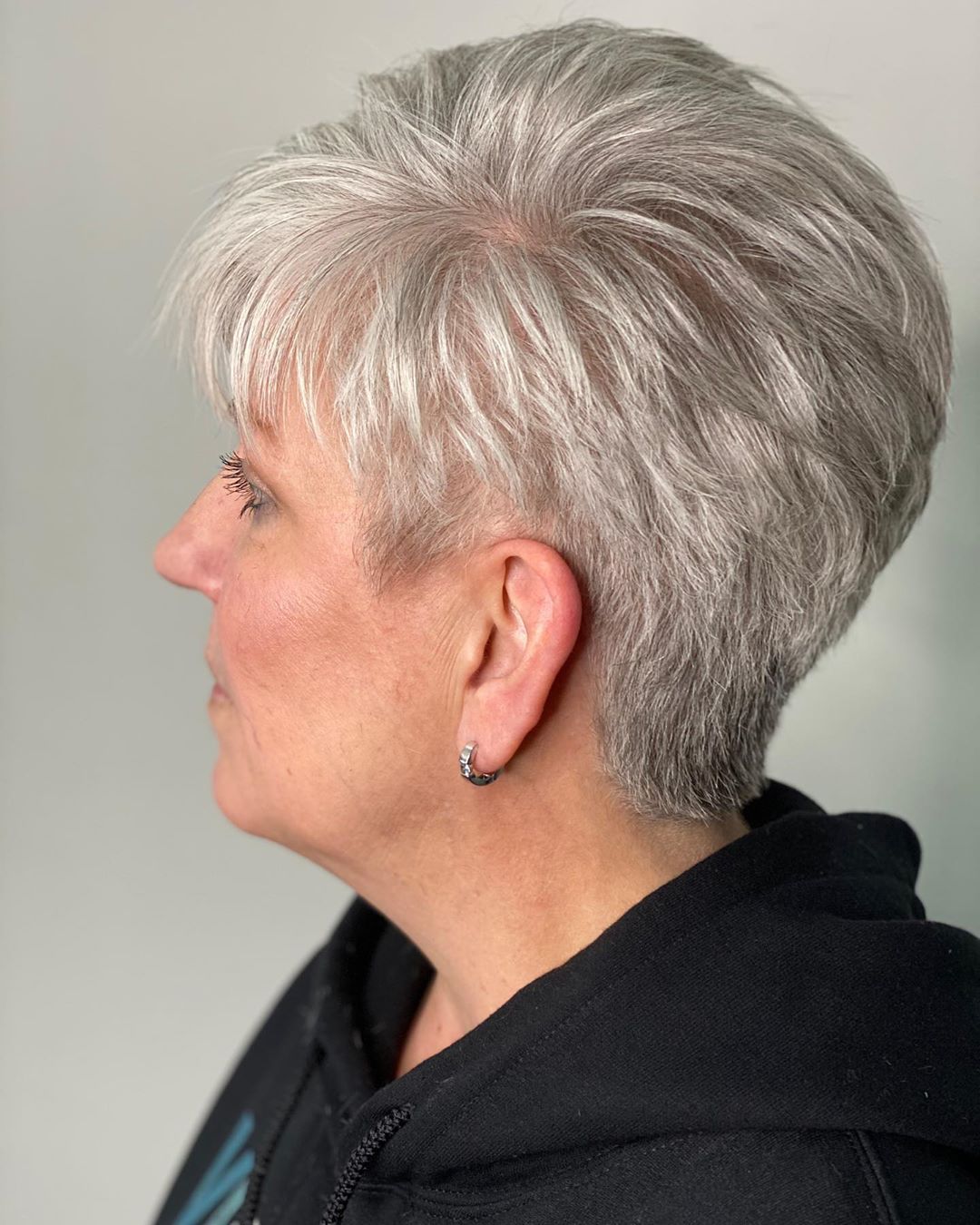 @salonsynergy.me
Turn a simple pixie cut into an extra exciting one. Opting for more layers means achieving a more voluminous and textured look. And yes—you can flaunt your silver-white blonde locks in this chop. May the color be natural or not, you would still look astonishing after all.
Super Short Pixie Cut
@reflexhairstyling
Cool and sassy! This super short pixie cut is sure to bring out more of your edginess. The chop isn't the only one that feels breezy, but its icy blonde shade looks fresh, too.
Straight Pixie Haircut
@thepurcellrooms
Dazzle everyone who sees you with this stunning straight pixie haircut for women over 50. As a blonde beauty who's in your 50s, the volume and texture it offers certainly fit your shade.
Grey Rounded Pixie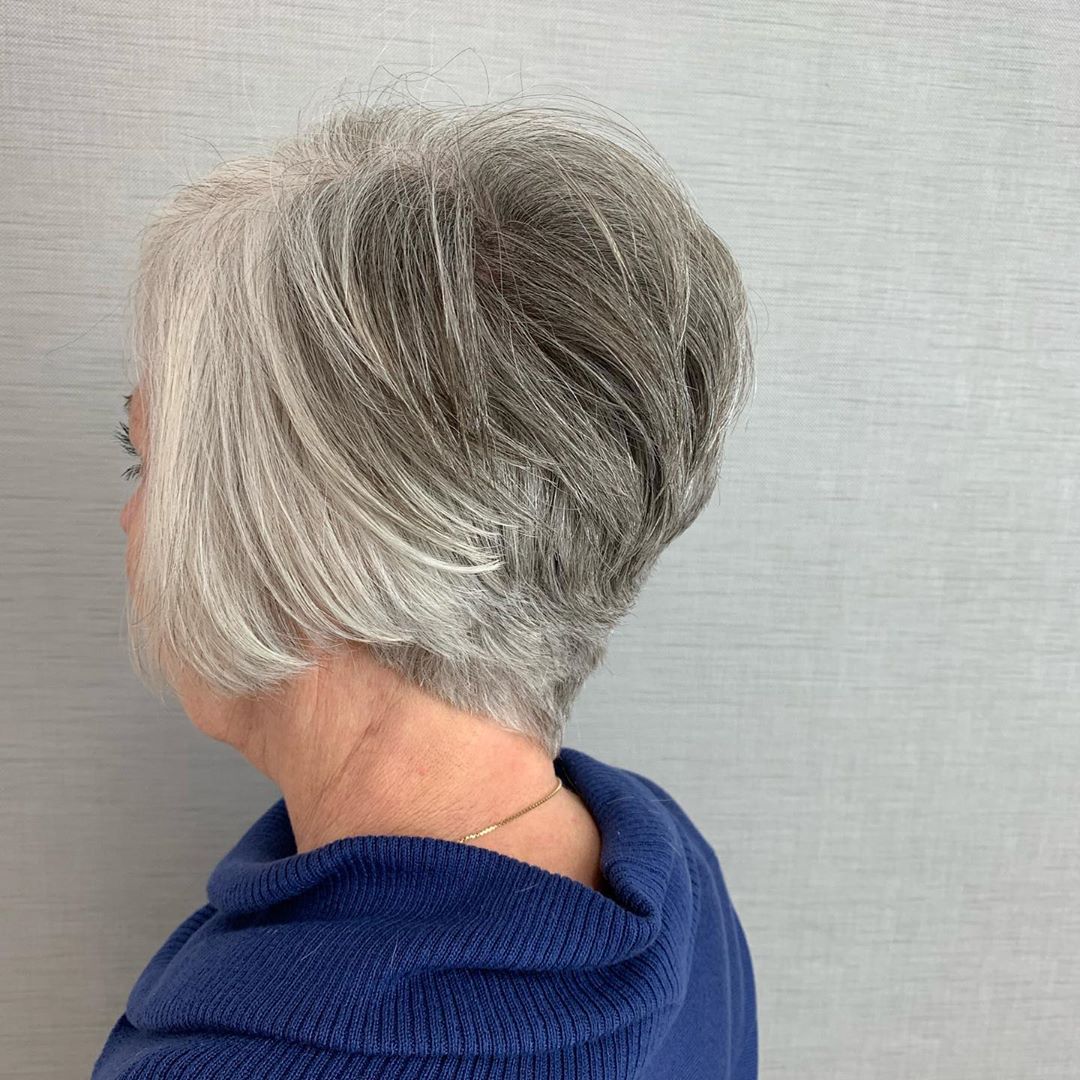 @michelledoesbeauty
To provide you with a unique look, here's the grey rounded pixie cut for women over 50 that has a v-shaped cut at the nape area. With the right amount of layers at the back of your head, its result will be voluminous, for sure. This also appears excellent with money pieces to frame your face and give you a more radiant outcome.
Pixie Cut with Long Bangs
@maureenshairsalonanddayspa
This is for a woman over 50 who, like you, prefers to keep her look simple and sophisticated! Notice how this pixie cut with long bangs works great on dense tresses. A deep black shade of locks plus this stylish cut gives a fuller-looking finish that you'll adore.
Textured Pixie with Glasses
@hairbymeghanspears
Wear this textured pixie with glasses, and look beautiful every single day! It's the cut and style that will give your blonde locks an appearance of glamour, no matter what. This look proves how shorter hair never fails to bring out a volume even without effort.
Flattering Bronde Shaggy Pixie
@hair_by_anisa
Who says you can't rock a shaggy cut in the form of a mullet? This flattering shaggy pixie looks elegant on women over 50 with a golden bronde shade of hair! Layers form a natural volume, giving your look more life than usual.
Pixie with Side-swept Bangs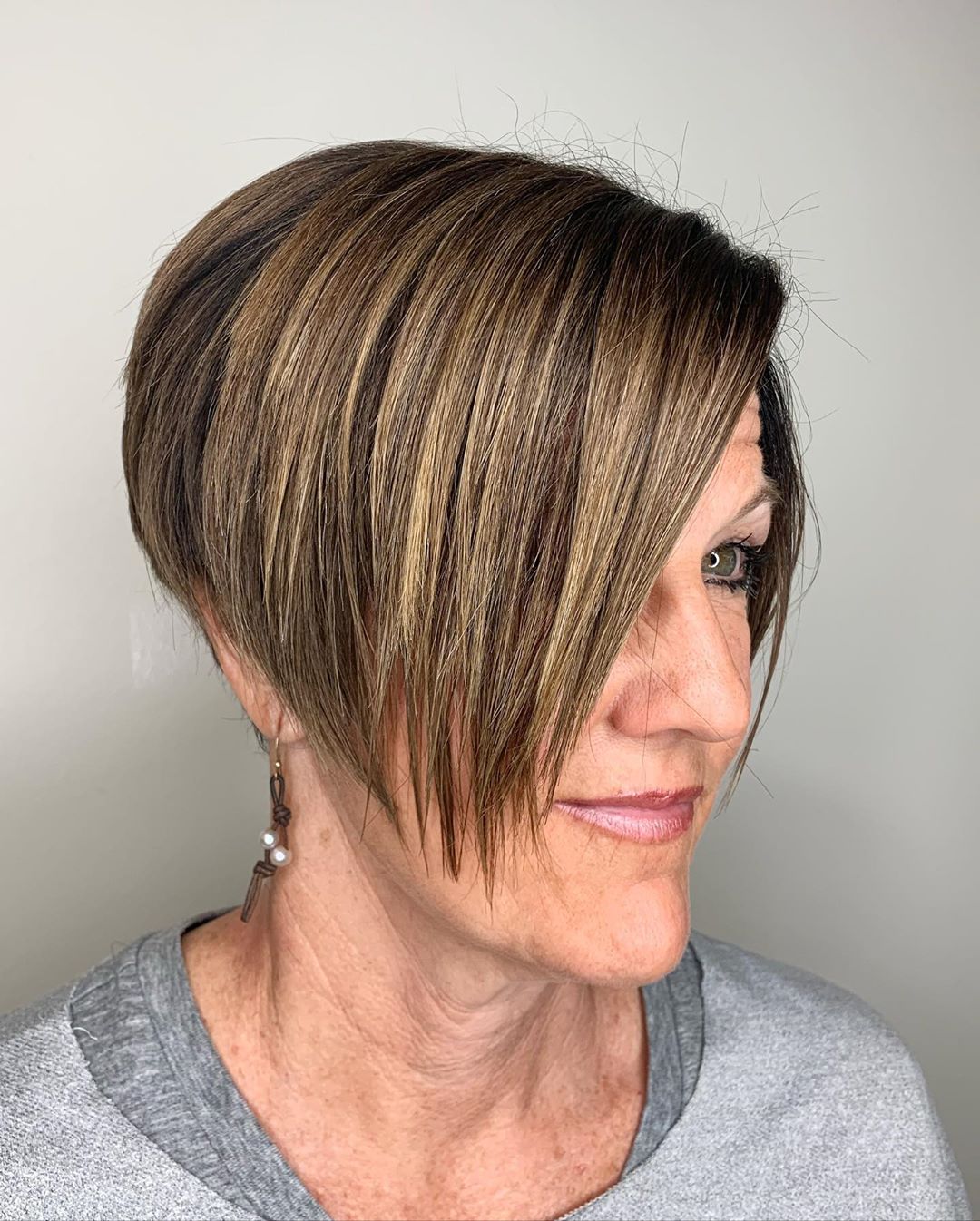 @colorbyaubrey
It's edgy, dimensional, and above all, makes you younger-looking! This pixie with side-swept bangs and undercut can give you all these things. Is there anything you could really ask for? Go for blonde highlights when you need something to add shine to your dark tresses.
Choppy Pixie for Thin Hair
@jeanphilippesalon
There's always a pixie haircut that looks astonishing on whatever hair type you have in your fifties. Take this gorgeous choppy pixie for thin hair as an example. Achieve this textured style, and that's how you stand out. If you have the natural shade of platinum, you'll rock this look without a hitch.
Messy Pixie for Thinning Hair
@nicolebrunzhunt
Texture always adds fullness to locks, so here's a messy pixie for thinning hair if this is your case. Looking lovely on a platinum blonde, it's the trend that brightens up your face.
White Pixie Bob
@hair.by.blairmae
For a stunner who's in her 50s, you can rock this white pixie bob by throwing in a much-needed texture. It features an undercut because the typical haircut isn't just for you. Your natural sassy vibe is what will complete this entire style, for sure!
Youthful Layered Pixie
@cutnj
Q&A with style creator, Lauren
Stylist @ CUT artisan. hair. design. in Flemington, NJ
How would you describe this look?
This long razored pixie cut is very easy to style – just scrunching some texture paste in the top to style will make it look super cute. This cut also looks great with one side tucked behind the ear for an effortless look.
We have been growing out Suzanne's natural silver color for a while now by highlighting her old red color out and toning it to a silvery color to match her natural color.
To make it easier for her to style, we recently cut her hair even shorter into a real pixie cut.
Any advice for someone considering it?
It's easier to grow out the natural color of your hair when you cut it shorter.
Going from having long hair to a pixie cut is definitely a big change but it can be a lot easier (less blowing drying time and less hair to wash). You will also want to get your hair cut more often to keep the shape. This cut would look good blown out and straightened as well as scrunched with a little paste or mousse and messy. Suzanne has coarse straight hair, so this cut might look slightly different (but still super cute) on someone who has curly or finer-textured hair.
Silver Razor Pixie Cut
@schylerdoeshair
Q&A with style creator, Schyler Janner
Stylist @ Bona Terra Salon in Kansas City, MO
---
How would you describe this look?
This pixie hairstyle is something that would look great at any age or hair type. It's soft, edgy, and above all modern without looking too "try-hard". Also, it's a great way to transition to silver and cut off an old unwanted color!
Any advice for someone considering it?
I would really consider the details you want to see specifically before sitting in the chair. Ask yourself, do I want the sides clipper cut, how do I want the side-burns to lay, what sort of bang am I comfortable with. Most pixies require some sort of pomade or clay/wax to finish, and your hair type will determine what kind of product you'll need. Ask your stylist what they think is best.