27 Chic Short Hairstyles for Women Over 50 with Fine Hair
Jaw-Length Wedge Cut with Blonde Highlights
@reneerossi3
Looking for short hair styles for women over 50 with fine hair? This jaw-length wedge cut creates natural-looking volume, ideal for women over 50.
Blonde highlights and lowlights, meanwhile, form a dimension that gives a gorgeous effect. Though it looks cute with thin density, it also works perfectly with thick hair as the cut removes extra bulk from the back area.
Neck-Length Layered Bob with Short Back
@abetterwayattaras
A neck-length layered bob with a short back is perfect to keep hair off the neck and shoulders. Adding in a soft swoop bang and stacking in the back gives plenty of hair bounce.
Short Bob with Long V-Cut Layers
@abetterwayattaras
A short bob with long V-cut layers is a must-try if you would like your hair to seem thicker. The long layers brushed away from the face are very uplifting and complimentary for older women. It's fairly easy to maintain it by just styling it with a brush, blow dryer, and a bit of mousse.
Angled Bob for Fine Locks
@madisondidmyhair
An angled bob for fine locks provides modernity for those with visible gray hair. It is important to provide an extra layer of moisture to both gray and white hair, as they have a greater tendency to dry out.
Short Asymmetrical Bob on Thin Hair
@hairbytristamae
A short asymmetrical bob on thin hair is the perfect choice to achieve a fuller-looking appearance. Adding curls throughout the hair when styling creates even more volume.
Short Layered Hairstyle with an Undercut
@nikitenko_elen_
Sassy short hair with an undercut and short layers can definitely cause heads to turn. Fine, thicker-haired women benefit the most from undercuts as they want to remove the extra bulk. Most undercuts are a couple of inches up from the nape of the neck, but depending on hair density, can go as high as halfway up the back of the head.
Short Wavy Inverted Bob
@inkfishhairandbeauty
A short, wavy inverted bob is in between a traditional bob and pixie cut. An inverted bob styled with tousled waves is beyond sexy and requires extra layers and texture. Inverted bobs tend to look best on 50-year-old women with oval face shapes.
Jaw-Length Layered Short Cut
@hairbyjanetbiggers
With the right face shape, a cut hitting right at the jawline can be gorgeous. With finer hair, adding in shorter layers toward the top of the cut adds fullness where a woman with fine hair normally wouldn't have it. Also, using a thickening cream before blowdrying definitely helps add fullness.
Beautiful Short Layered Pixie
@hiusstudio3
Short and sweet haircuts with soft layers never go out of style – just like this beautiful short layered pixie. Slight stacking in the back creates fullness while keeping the hair around the face longer, still gives it the look and feel of a longer cut.
Gray Pixie for Older Ladies
@cindyhstyles
A grey pixie for older ladies never goes out of style. Shaving the sides and back help a pixie cut lay better especially when a woman may have lots of cowlicks. Creating piecy-ness with texture within the cut and also with product help spice up a shorter hairdo.
Stacked Bob Short Hairstyle for Older Women
@joyfullhairbcs
A stacked, short bob hairstyle is ideal for older women. The precisely cut layers and short undercut allows for the weight off your neck – but can still be worn curly, wavy or striaght! A stacked bob can be very easy maintenance as well.
Short Curly Hairstyle on 50-Year-Old Women
@morethancurls_
Short curly hairstyles are so versatile and are beautiful on 50-year-old women. A curly hairstyle can be fun, easy maintenance, and look best when cut on dry hair which allows for better shape. Multiple layers help create volume, dimension, and definition all in one.
Shorter Feathered Bob with Bangs
@salvador_salon
This shorter feathered bob with bangs makes one of the stunning hairstyles for older women that requires nothing but texture.
You gotta love this haircut with short feathered layers, as well, since it's versatile. Painting short hairstyles for fine tresses with a blonde hue can blend well with your white strands, too.
Very Short Layered Cut with Bangs
@wisphairartistry
For a woman over 50 with fine locks, a razor chop offers edginess to short hair cuts. It's a very short layered haircut with long side bangs, which works best with slight volume and subtle texture. Blend in your greys with an ash blonde tone for a sassier edge.
A Chic Textured Long Pixie for Fine Hair
@friseurteamkonig
If you're over 50-years-old, don't hesitate to have chic short hair! Display your copper locks with this textured long pixie haircut. Extra volume on short haircuts for older women will create a younger-looking style in no time.
Short-Medium Cut with Brow-Skimming Bangs
@kalijoneshair
Short hairstyles for older women will give your look a bit of freshness. Try this short-medium cut for ladies in their 50s that works great with a full fringe.
These front bangs are perfect for women who want to hide a prominent forehead. The shag will also complement a blonde balayage on short black hair.
Neck-Length Messy Shag Hairstyle for Older Women with Soft Curls
@pastout
This neck-length shag is a great example of how to show off a messy-textured haircut for older women in their early 50s with fine hair. The short textured hair style is sure to enhance natural hair texture with a curl pattern. The money piece on blonde locks is guaranteed to lighten up and frame the face, too.
Super Short Pixie Cut on Dark Tresses
@stylistjoey
The elegance that the pixie cuts and other short hairstyles for fine tresses can manifest is too strong, but sure, you can handle it.
With pops of golden blonde plus grey, your dark tresses will look bold in this super short pixie cut. Razor cuts also soften the edges and lines for a more youthful look.
Sassy Choppy Crop for Extra Fine Hair
@naz_persianfusion
No one suits this sassy textured pixie better than a 50-year-old woman with fine hair. The razor-cut technique makes this short choppy crop possible, and it's perfect for dark tresses.
Ear-Length Textured Bob with Bangs for Wavy Hair
@leone.pease
This ear-length textured bob with bangs will enhance your fine, wavy tresses. The razor cut secures detailed yet soft layers, creating further volume and shape for the waves. Whether you have a natural ginger hair color or not, this cut will suit you.
Cropped Cut with Layers for Fine-Haired Women
@sara_hair_gallery
What a sophisticated chop for ladies in their mid-50s with fine hair! This cropped cut with layers gives your fine locks movement and texture. The medium golden blonde shade adds to the look's stylishness, which is ideal for any event.
Very Short Silver Pixie with Side Bangs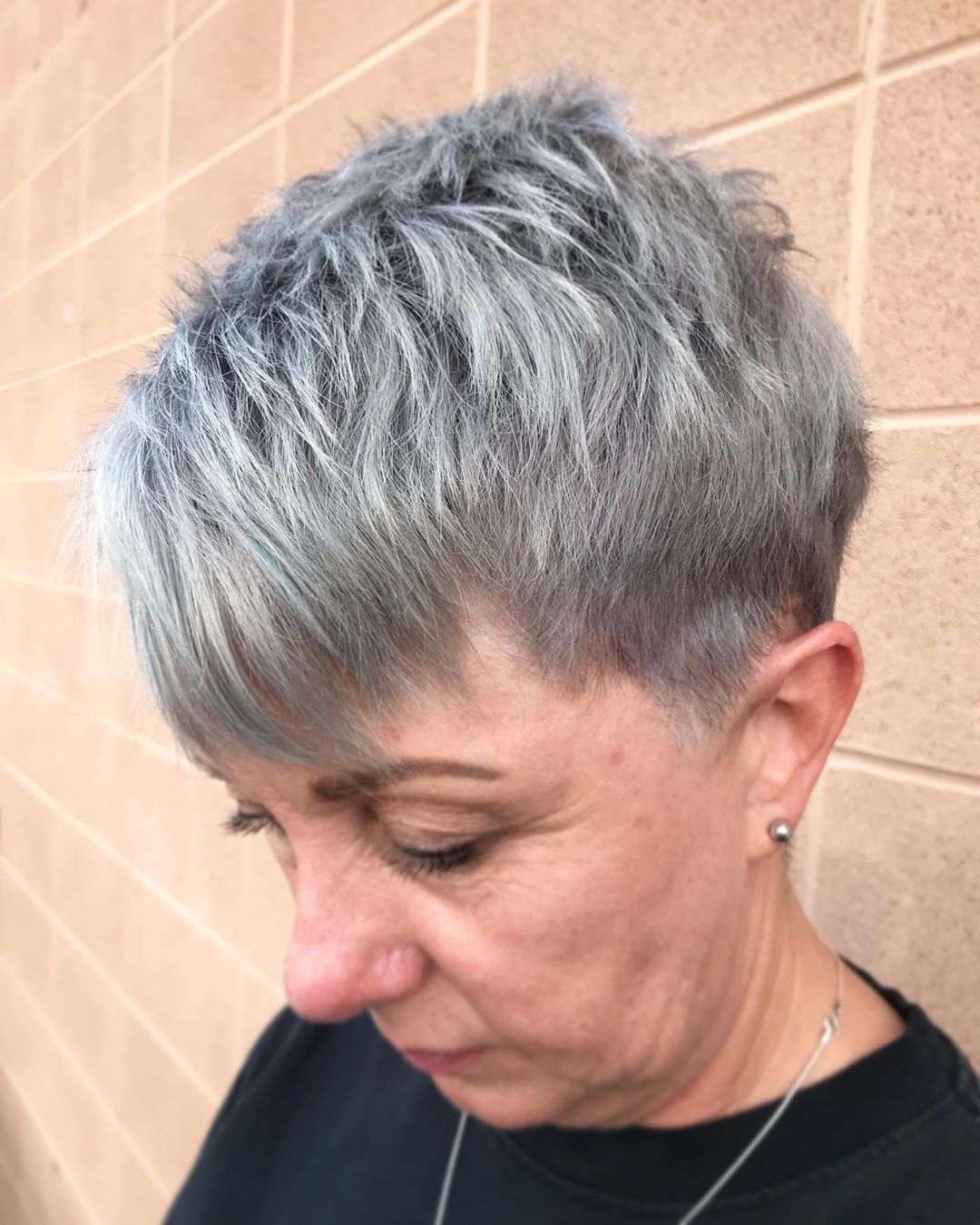 @likeawilddflower
Display your stylish silver mane by wearing a very short silver pixie cut with subdued side bangs. If you're trying to give your fine, gray hair the volume it needs, ask your stylist to add texture to the top of this short cut.
Chin-Length Layered Bob with Volume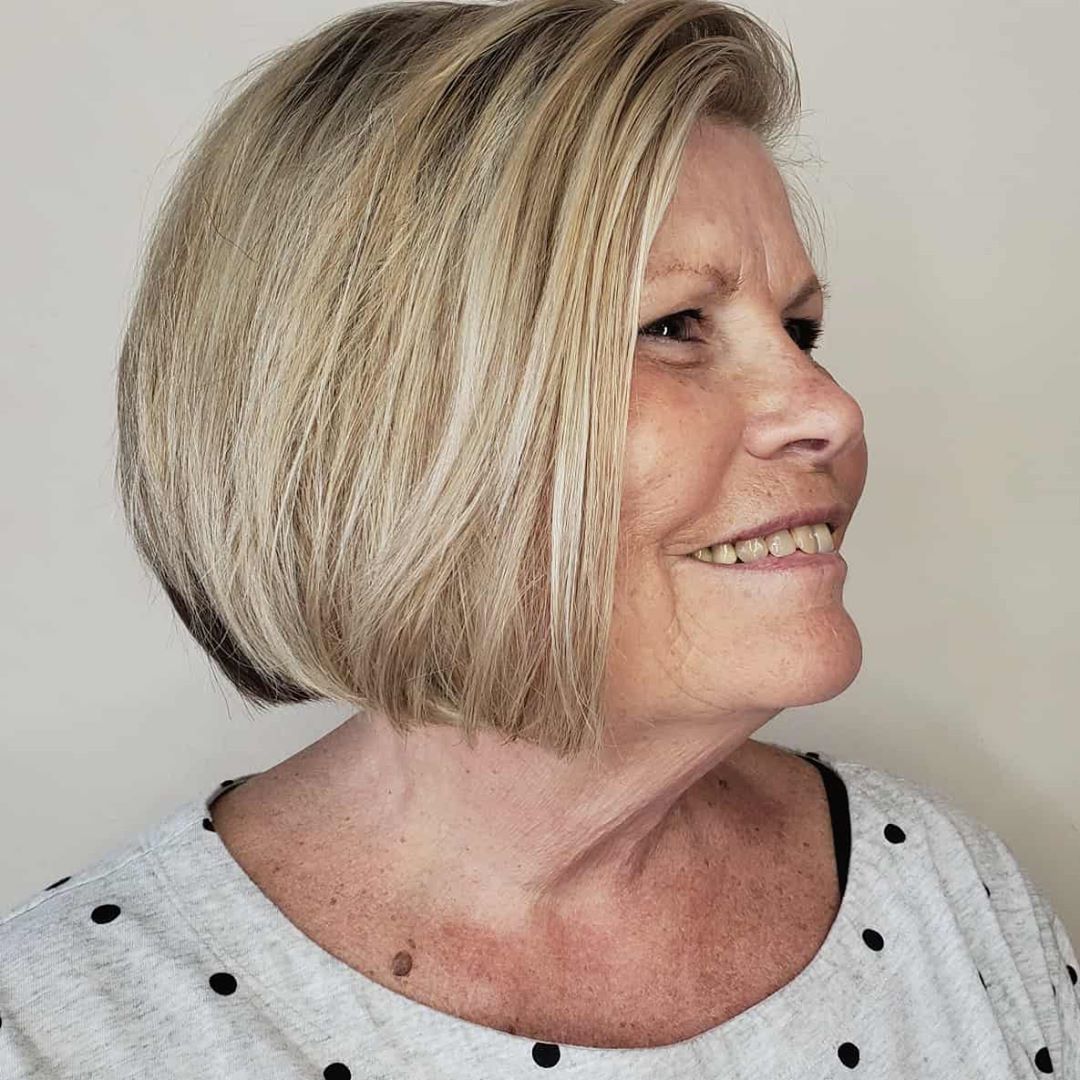 @kellilynnaveda
A chin-length layered bob hairstyle offers a youthful vibe in so many ways! Thanks to the volume, your strands from the roots will stand tall – as if they are full of life. Style your blonde locks with a subtle texture to display your dark roots and create a dimension within your short and layered hair.
Shorter Pixie Bob Hairstyle for Women Over 50
@lentinihair
A salt-and-pepper shorter pixie bob cut will always look great on fifty-year-old women with white and silver hair. It's easy to style and will allow you to expose your silver-grey strands with elegance. With this gorgeous hairstyle, no more 'bad hair day!'
Short Shaggy Bob with Bangs for Women with Fine Locks
@sonia_hairstory
Having thin and delicate tresses is a blessing, so flaunt them with flair! Get a fresh neck-length cut and adopt a short shaggy bob with bangs. The texture will bring out a fun vibe to any mature woman.
👉 See more photos of short shaggy bobs
Short Bob with Choppy Layers
@angstoghair
A short bob with choppy layers is versatile, easy to style, and perfect for fine hair. It maximizes volume and weight, says Georgia-based haircut specialist Angie Stogner.
"The baseline perimeter was created with a true bluntness to build weight and fullness. I layered throughout to give lift and movement," Stogner states. "Adding a soft, piece-y fringe was also for an extra younger-looking style."
Medium to Short Haircut with Bangs
@hairbykatelyn_greer
This low-maintenance medium to short haircut with bangs is a beige blonde sleek modern bob that works great with straight hair. Hairstylist Katelyn Greer created this short cut and loves how the fringe frames the face.
"Bangs are definitely a commitment," says Greer, "especially on haircuts for women over 50 with fine hair."
A bob haircut is great for women wanting style, without all the maintenance. Greer notes that this women's short hairstyle "doesn't require a lot of styling – just blow drying it under with a round brush and running a straightener through it will do the trick!"