15 Flattering Bob Haircuts for Women Over 50
Straight Blonde Bob with Glasses
@imagequestbeth
For a lovely woman who's in her 50s and can never leave her specs at home, you must go for this bob! This straight blonde bob with glasses will make you stylish from any angle. Its bright shade does a superb job at helping the natural grey strands to blend in. For an additional touch that grants you a fresher look, never ever miss having subtle bangs, too.
Flattering Asymmetrical Bob with Bangs
@katcolourist
Of course, you can enjoy an attractive short, uneven bob hairstyle when you reach the 50s! This flattering asymmetrical bob with bangs allows you to have an eye-catching look. It features shorter layers to achieve volume, plus the long side bangs for a youthful edge. Find satisfaction from its unique dimension when you fuse blonde highlights and lowlights.
Stacked Bob Hairdo
@mxmhair
Consider opting for a jaw-length stacked bob hairdo that's flattering on ladies aged 50. When styling, apply a mousse to your honey highlighted hair for added volume and texture.
Simple White Bob with Bangs
@salongatto
This simple white bob with bangs is the perfect haircut to flaunt your grey locks with flair! The solid shade is full of glamour, working well on fine tresses. Keep the length right at the jawline to also maintain the hair's shape, fullness, and volume.
Salt and Pepper Pixie Bob
@planetenfrisor
A pixie bob on a fifty year old is a great cut that's not too short, yet can still pull off a bob. This lovely salt and pepper pixie bob is easy to style that it only needs a dab of texture for a finishing touch. It has some pops of grey and silver hues, creating a high contrast dimensional look. Now, that's how you embrace your natural grey hair color.
The Round Bob
@simplystyled.bydawn
Here's a round bob that's looking flattering on a woman over 50 who is going for a classic look. It's a chop featuring gradual layers for such a dashing edge that doesn't require too much styling.
The Layered Bob for Fine Hair
@salontrionh
This stacked and layered bob is perfect for women over 50 with fine hair. The layering and stacking will bring out more volume and fine locks. The more stacking you add, the more lively it turns out!  Its stunning and sassy outcome works best on a length grazing the jawline and a chop offering bangs.
Wispy Bob for Thin Hair
@bettydoeshair
Women in their 50s tend to struggle with thin hair and a wispy bob is a great cut to consider. It's always fun to explore a new look, so don't be scared of a big chop and trying out a blonde balayage. This is the ultimate wispy bob for thin hair of a 50-year-old stunner. Aim for this wavy look by opting for a razor cut, adding details to this neck-length hair.
Silver Textured Bob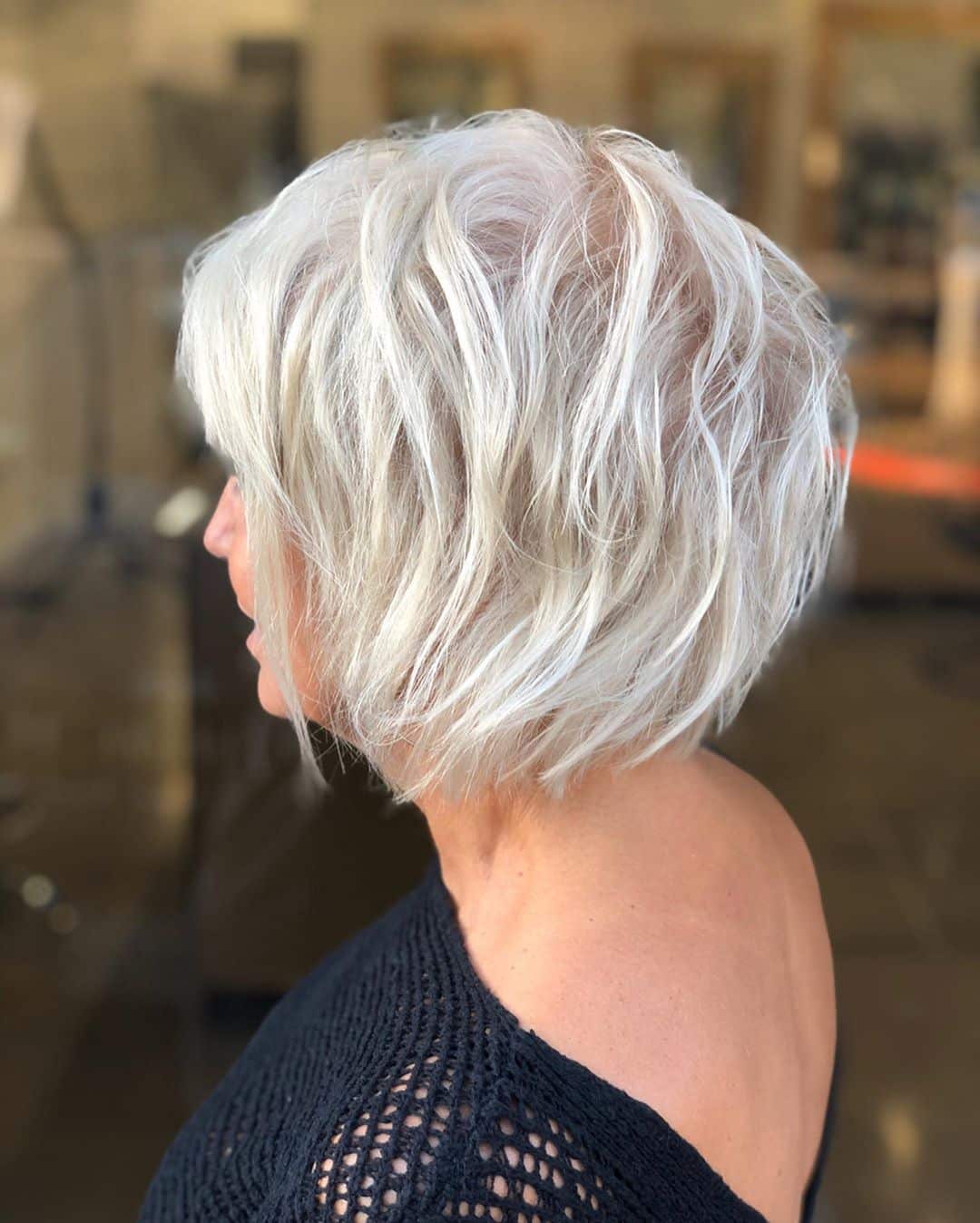 @melmattison
If you're a woman over 50 with fine hair, consider choosing this textured bob. The more vibrant it is, the more youthful it looks on you! For your love of short hairstyles, this is the ever stunning silver textured bob that you must wear. The secret to getting this nice and cool movement is both dryer and diffuser. And, lock the moisture onto your strands with leave-in conditioner and volumizing lotion.
Medium Length Wavy Bob
@kirsty_hairstylist
This is the perfect medium-length wavy bob hairstyle for growing out longer hair in your 50s. Your smooth, thin tresses will need more texture and dimension, so go for this look. A brunette balayage and color melt will provide you what you ever needed and more!
Shaggy Bob with Bangs for Fine Hair
@salonazfar
Opt for a shaggy bob with bangs hair trend that surely grants you an ageless stylishness. This shoulder-grazing shaggy bob for fine hair is all about sophistication. If you have the golden tones of blonde and are ready for some layers and bangs, this style will suit you perfectly.
Feathered Long Bob
@hairbyelisharene
When choosing a bob haircut in your 50s, a feathered bob is still a trendy choice.  This is a lovely shoulder-length feathered long bob that screams volume and movement. Here's a tip—don't let your blonde locks fade its vividness, so use a purple shampoo.
The Graduated Bob
@cerigeorgehair
Q&A with style creator, Ceri George
Hair Stylist @ The Beauty Lounge in Failsworth, MCR
How would you describe this look?
This is a modern-day bob with easy maintenance, and the layers really complement this look. The shape coming into the back of the neck sets the look off with the length being longer round the front. It really shapes the face, and as the hair is thick, the shape takes a lot of weight out to reduce drying time and makes it easier to style at home.
My favorite product is the Revlon 10-in-1 spray that acts as a leave-in conditioner and helps reduce humidity. It smoothens the hair and makes it last longer. I finish off with the Wella reflections oil to add smoothness and shine.
Any advice for someone considering it?
As the hair can't be tied up, you do need time in the morning to be able to style the hair. Blow-dry and straighten it. It's not practical for women with a busy lifestyle, although once done, it looks amazing.
A Youthful Short Bob
@meganej_hair
Q&A with style creator, Megan Longmore
Salon Owner / Senior Hair Stylist @ Opal & Rust in Kirkland, WA
---
How would you describe this look?
This look is a short textured bob. It's a great haircut and style for any woman over 50 wanting to grow out a pixie cut or just wants a change but doesn't want to go too short. What I love about this look is the versatility in styling options and how a shorter style like this can bring out personality and confidence!
Any advice for someone considering it?
For clients considering this bob style, it's a great way to make a statement while still being soft and professional! It's great for anyone with fine to medium hair types and clients who love playing with visual texture in their haircuts.
I recommend using styling products like spray wax, texture spray, or a volumizing spray or cream! You can apply a volumizing product and blow dry for soft volume or add some texture with flat iron curls and use a spray wax for that beachy look! With simple steps, this style is versatile, easy, and fun!
The Inverted Bob
@ashleym_hairr
Q&A with style creator, Ashley Marury
Hair Stylist @ Spa 801 in St. Petersburg, FL
---
How would you describe this look?
This bob cut is sleek, timeless, and very easy to style.
This is always a great go-to cut when you just don't know what to do with your hair anymore. It's virtually effortless to style (if cut right to the client's texture and wave pattern if there is any).
Also, make sure you do your homework about the stylist cutting this because they are quite challenging.
Any advice for someone considering it?
I often do this bob cut on women who live a very active lifestyle whether it be new moms or moms with young children, women who like to wash and go, women who love to work out a lot or spend a lot of time outdoors, and most of all something simple but looks like a million dollars.
Depending on your hair type, I like to blow dry with a bit of a root booster, and my personal favorite is Redken's velvet gelatine!