15 Hottest Short Bob Hairstyles For Black Women
Weave Bob
@iconicedgebeauty
If you like a new hair transformation to your usual weave, try this jaw-length bob cut. The thickness plus the delicate layers on this weave bob create a classy round shape.
Very Short Bob
@deliciousdom12
A classic look, this very short bob hairstyle for black women showcases poise and elegance and in a very convenient way as well. Here, you can manage your edges beautifully while showing off various glittered accessories. Short natural hairstyles like this are super hot right now.
Curly Bob
@zax_hair
This dark curly bob is the short hairstyle and cut to complete your whole elegant look. It is styled on a frontal lace wig, which appears very natural and classy as ever.
Blonde Bob
@glamurkitty
Black women are usually seen with braids on their hair, but little did we know, they can slay blonde bob, too. This short bob cut features natural healthy hair that does not need weave just to look pretty.
Braided Bob
@ann_braids
Braided short bob hairstyles for black women are a great protective style. Add spice to your round bob by merging it with box braids. This plait style short bob locks or braided bob flawlessly maintains the shape of the hair that emphasizes the face by the framing effect.
Cute Bob
@_jsantanastyles
When it comes to cute short bob haircuts for black women, this blunt bob cut is perfect. It might be the most uncomplicated style and cut any black lady can get, but this is one of those that can be partnered with any clothes. This shiny hair that falls straight down to neck never goes out of what's trendy.
With Round Face
@dolluphairsalon
Sporting a short bob cut with a round face can be a little tricky. Good thing this bob appears to elongate your face with longer locks upfront and a thicker, rounder backside.
Feathered Bob
@blessedatvanity
Using a hairdryer, you can now brush back your top layers to create this feathered look. Your short bob strands now look extra fly!
Thick Stacked Bob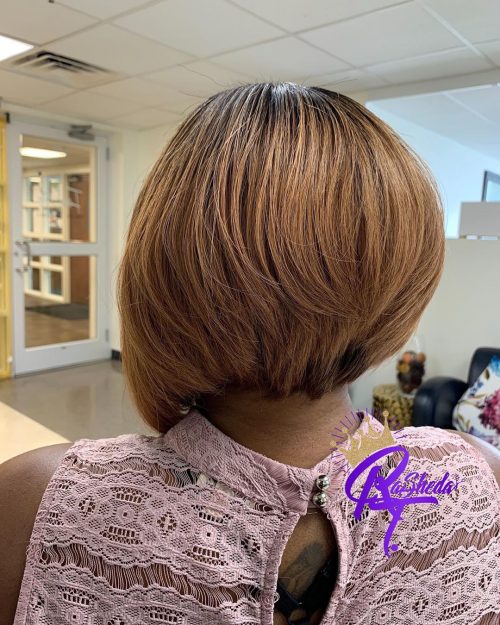 @rasheda_t
Short bob cuts this bouncy is worth obsessing over! Get it done by chopping up layers at the back to get the stacked look.
Natural Looking Bob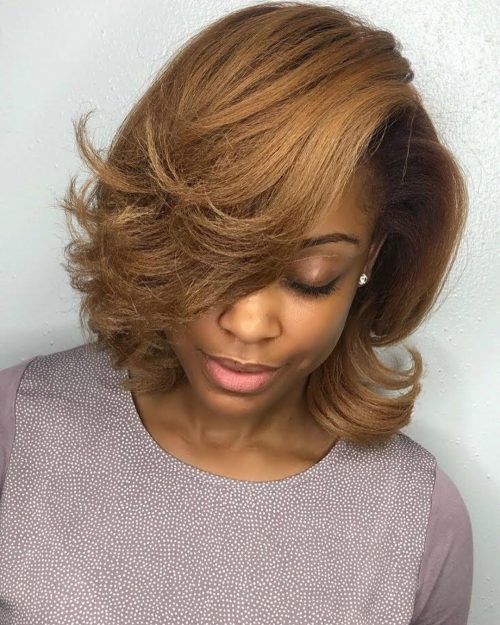 @rasheenacharles
Most short bob hairstyles for black women aim to make the look natural even though they're not. The caramel locks look lovely on the short curly bob, flattering African-American women.
With Side Part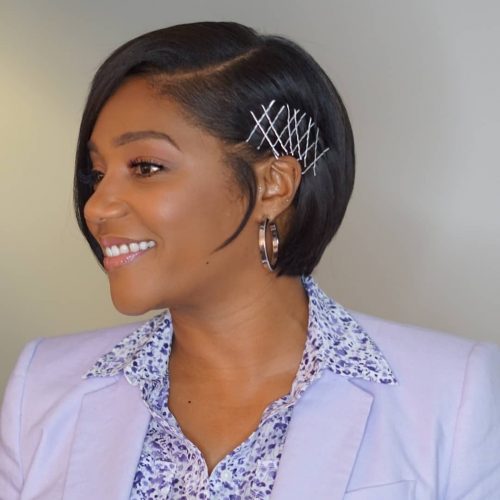 @sosheargenius
Q&A with style creator, Annagjid Taylor
Salon Owner / Hair Stylist @ Deeper than Hair in Philadelphia, PA
How would you describe this look?
This is a simple short bob with a side part. I just jazzed it up with some trendy bobby pin art. I used matte silver pins that went along with Tiffany's buttons on her blazer perfectly! Hairpins and hair jewelry are really in right now, so it's fun to take advantage of the look!
Any advice for someone considering it?
When considering changing to a bob for short hair, it's really important to pick the style and length that's good for you. In Tiffany's case, it's nape length, so it won't be easy for her to throw it back in a convenient ponytail when needed, and we do need ponytails no matter if it's for working out, running to the market, or switching up hairstyles.
I love bobs in all lengths. The first time I cut mine, I decided to start with a lob (long bob) and then chopped it up as I went along. By month 3, I cut it up to my nape and had layers to make it full of volume. Something about the perfect short cut gives you bold confidence that other hairstyles don't.
You also have to consider textures because the shorter it is, the more maintenance it will require. If you are a natural in rocking your curls or coils, you have to be aware of the shape you choose that will look good both textured and straight if you make the switch from time to time. Those that keep it straight would possibly use a lot of heat, so try to keep that under control to make sure the hair stays healthy while you enjoy your cut!
Make sure to use the best, high-quality shears to achieve your look. I love my shears from HerStrandzOfHair.com, and I highly recommend them. Make sure to use a good heat protectant as well, like Satin Shield from DeeperThanHair.Com. Also, get a good flat iron and whatever kind of final touches you want to add to stand out from the crowd!
Bob with Bangs
@thebstandsforhair
Q&A with style creator, Beatrice Galiot
Hair Stylist @ Styles by Beatrice in Plantation, FL
---
How would you describe this look?
This look is a fringed, short blunt cut bob. I like everything about this look in its totality – you have the jagged bangs with a blunt cut. A blunt cut is "to mean what you say/go to the point with no excuses," while the jagged cut is like saying, "I play by my own rules/confidence."
Any advice for someone considering it?
Short bobs for black women like this are what I consider to be a signature style, so you can't be afraid to own it. The upkeep is very low maintenance, and I suggest bangs during fall/winter because the hair against your forehead will be less irritant. You can wrap it and tie it down with a scarf or put it in a hair bonnet easily. Extra hair product from what has already been used is unnecessary.
For Over 40
@salonstudio32
Q&A with style creator, Tamika Nelson
Hair Stylist @ Salon Studio 32 in Louisville, KY
---
How would you describe this look?
This short bob haircut is a modern way to wear a classic style, all while protecting your natural hair! Our guest is rocking a custom colored unit complete with a sleek tailored A-line bob.
My favorite thing about this look is that it's timeless and versatile for any African-American woman.
Any advice for someone considering it?
There's not one way you couldn't wear this style. Soft waves – you got it. Topknot – you bet.
Middle Parted Bob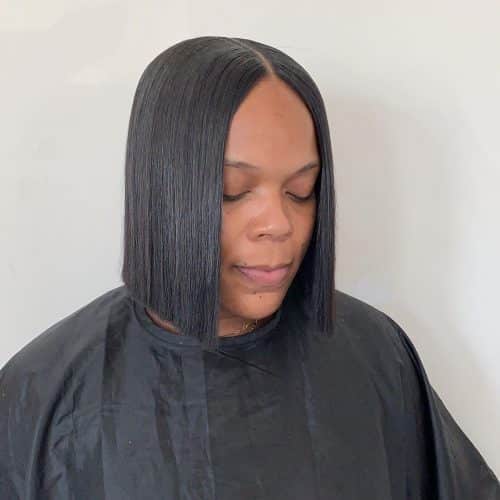 @knkhairstudio
Q&A with style creator, Keyanna Byrd
Hair Stylist @ KNK Hair Studio in Philadelphia, PA
---
How would you describe this look?
This shorter bob is very chic and sleek. My favorite thing about this look is the cut. It's super clean and also edgy.
Any advice for someone considering it?
This look works out for just about any black woman. It could be an everyday look, or it could be your going-out look. Whatever you prefer, this look brings so much chicness and edge.
This style doesn't need a lot of product added to achieve the style. I feel like this is for everyone, as it brings so much personality out after getting up out of the chair having this cut.
Layered Bob
@hairbydanniell
Q&A with style creator, Danniell
Salon Owner / Hair Stylist @ Salon Kj D'nell in Chicago, IL
---
How would you describe this look?
This look is a tousled, beachy-wave textured look. My favorite thing about this short bob cut for black women is that even though it's very tousled and textured, it brings a lot of softness and femininity to your overall look.
Any advice for someone considering it?
This can be a very work-appropriate look, but when needing to change it up a bit, keep a travel-size holding spray on hand so that when it's a happy hour or after-5 outings, you can tease, spray, and go!