29 Perfect Short Undercut Bob Haircuts for Ladies with Thick Hair
Short Shaved Undercut Bob Haircuts
@zinoveva_elena
No wonder this short shaved undercut bob is able to steal the spotlight! Fine-haired women can make this chop their best friend. Paired with a side part, the style gives hair a maximum volume. The result creates a fuller-looking edge!
Short Layered Undercut Bob Haircuts for Women Over 60
@drea.doeshair
A short layered undercut bob haircuts for women over 60 takes away bulk to help the hair lay flat and for it to be styled easier. Short layers will give you body through the crown. If you keep the length around the jawline you can barely tell there's an undercut. You will need to cut your hair every 4-6 weeks to maintain the shorter style. The undercut layers will bulk out if you go too long in between.
Undercut Layered Bob Haircuts for Women Over 50
@nikitenko_elen_
An undercut layered bob for women over 50 allows for volume, fullness, and easy maintenance. A layered bob haircut is perfect for ladies with thin hair to create a fuller look and add extra texture.
Super Short Undercut Bob Haircuts
@kadindediginkisasacliolur
A super short undercut bob offers a sultry vibe with it. Think back to Victoria Beckham with a heart-shaped face and tiny bob. This cut hugs the jawline to show off your facial features. An undercut on one side of the hair can either be shown off by tucking your hair behind your ear or simply untucking it. Versatile enough for the professional and for the ones who like to play with their style. Can be worn straight or wavy.
Undercut Bob Haircuts for Fine Hair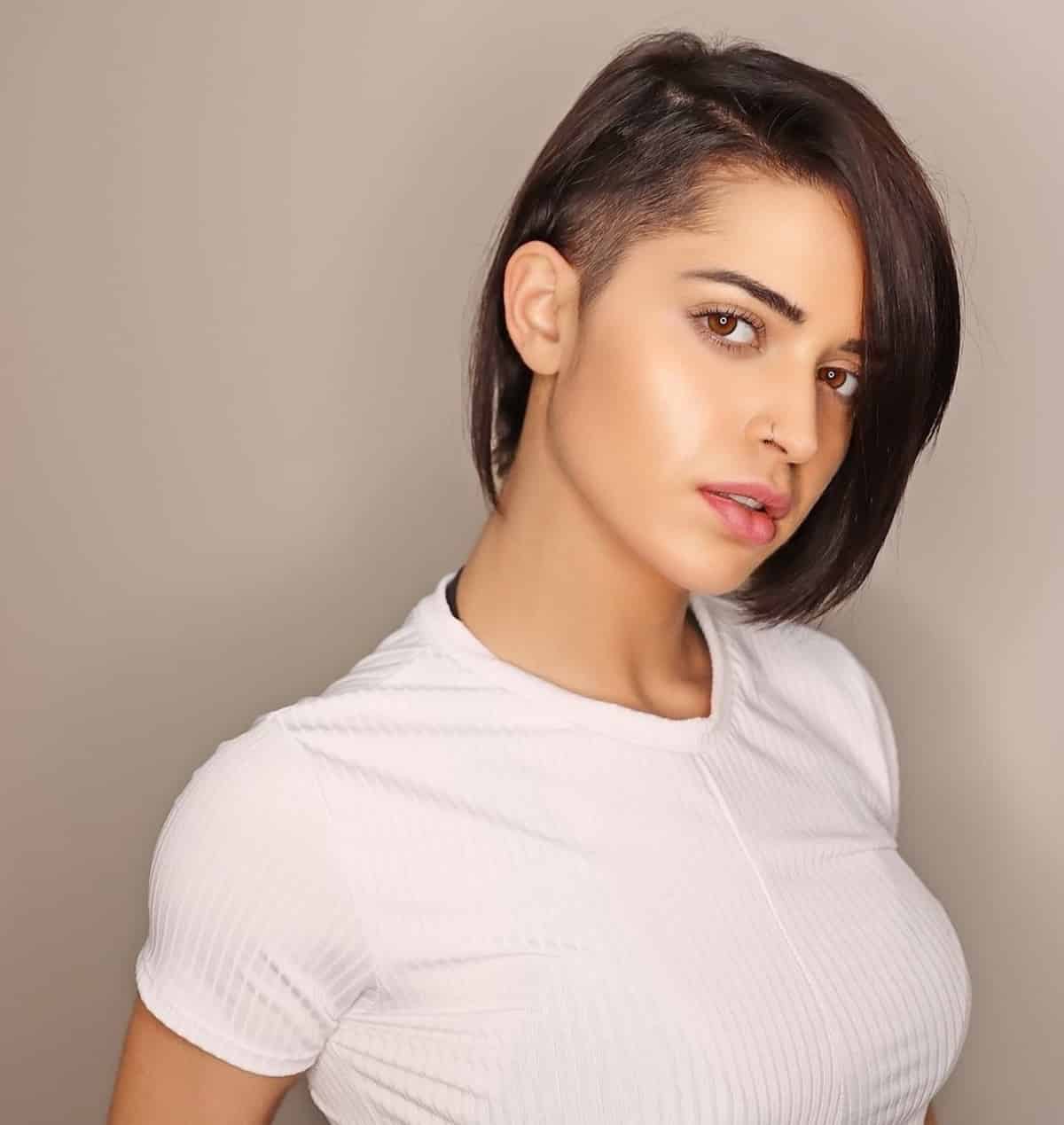 @alexandrade_hair
An undercut bob for fine hair can still be achieved. You may think an undercut that takes away a lot of weight is the last thing you'd want to do for fine hair. Pair it with a classic bob with a blunt cut to keep the weight in check. Part heavier on one side for fullness and do the undercut on the finer side of your hair.
Disconnected Bob Haircuts with an Undercut
@gracie_hill_hair13
A disconnected bob with an undercut is the smart choice if you want to provide some height to your hair. Undercutting the side of the hairline gives a strong impact on your appearance emphasizes the height of the side parting. The disconnection allows for shorter lengths to give impactful volume while maintaining the length throughout the jawline.
Blonde Bob Haircuts with a Hidden Undercut
@hiuskissoulu
Blonde bob with a hidden undercut is an edgy choice for a cut. A beige blonde base for depth added with light blonde highlights is a gorgeous color for pink skin tones. If you fancy a hidden undercut, ask your stylist to shave the front section of your ear. That way, you can tuck your hair behind your ear to show it off or pull the hair over to completely conceal it.
Undercut Shaggy Bob Haircuts
@nikitenko_elen_
An undercut shaggy bob looks spectacular on a square-shaped face. This is achieved by rounding out the hairline edges and softening the fringe. Another way to do it is by focusing on layers in the back and the length around the face.
Undercut Layered Bob for Women Over 50
@jennifer_jmalonestudio
An undercut layered bob for women over 50 is well-suited for those looking forward to updating their regular bob. Cutting an undercut in the temple area is very liberating. Defy your age and make a statement. by trying out this cut. Maintenance wise you will need a trim every 3-4 weeks to keep this style looking its best.
Undercut Bob for Short Fine Hair
@emilyandersonstyling
The undercut bob for short fine hair works to the fullest extent. This cut allows the hair to have a rounded shape. It offers root volume, which looks natural. It becomes edgier when painted with an icy blonde shade, too.
Short Undercut A-Line Bob Haircuts
@shirleyleonghair
Looking at this short undercut A-line bob, the first impression it makes is daring. The way how the undercut peeks is such a gorgeous tease. This textured haircut may work on any hair texture, but straight hair works the best.
Very Short Undercut Bob
@tonyross_salon
This very short undercut bob is the image of high fashion. It's neat, blunt, sleek, edgy, and unique—these aspects are what make it eye-catching. It even grows out very pretty. For dark tresses, it would be great to mist a shine spray for more radiance.
Short Bobs with an Undercut Hairstyles
@nikitenko_elen_
Short bobs with an undercut hairstyles radiate chic and bold vibes. It looks like a modern, feminine haircut with a touch of edginess. Parting it on one side creates a lift on the roots, preventing the locks from appearing flat.
Undercut Bob for Short Thin Hair
@thathairgirl_salon
The undercut bob for short, thin hair does a great job at giving the tresses a bolder, full-bodied style. The shaved side is the part that makes it edgier than a usual bob. It turns to be an easy-to-style chop for women with sleek hair.
Ear-Length Undercut Bob
@nextreme.you
Classic! This ear-length undercut bob with bangs has a low-key vintage vibe. It seems like it was hailed from the old Hollywood setting that fine ladies are sure to love. A short undercut bob with bangs haircut works best on straight, thin locks.
Undercut Pixie Bob for Short Hair
@emilyandersonstyling
This undercut pixie bob for short hair is a gem! Cool and classy—this haircut gives any lady a more confident impression. It features shorter layers at the back to reinforce volume and body.
Short Undercut Bob for Older Women
@tanyusha_younusova
Yep—a short undercut bob for older women exists, and it looks incredible! Seniors are naturally edgy and sophisticated. So, they are one of the best types of people who can pull off such a haircut. It works on thin tresses as the shaved cut creates a soft movement. Hide gray hair with a light pink hue to bring it all together.
Chin-Length Undercut Bob
@tanyusha_younusova
Who's obsessed with this cute chin-length undercut bob? Any girl with a high-fashion taste will approve of this. This bob with an undercut nape area has a subtle, shaved part. It shows off the straight and flawless edge of the cut. The vibrant copper hair color is a plus, too!
Cropped Undercut Bob for Women
@jocilouhair
A cropped undercut bob for women does a few great things to hair. It gets rid of excess bulk, so dense tresses may appear thinner than usual. This type of cut is also a way to boost body and volume. Classy ladies—either younger or older—can have what it takes to pull it off.
Short Curly Undercut Bob
@nikitenko_elen_
This short curly undercut bob is a more modern and edgier take on a typical curly bob hairstyle. It looks adorable, vivid, and feisty. The shaved cut is what takes away extra bulk from a thick density.
Short Undercut Stacked Bob
@milenapui.stylestudio
This is a short undercut stacked bob cut at the nape of the neck. It was created by hairstylist Milena Pui of West Sussex, UK.
Pui believes the style is perfect for ladies who love a cropped cut. "Wavy, naturally curly hair, and straight hair will work with this style," she notes.
She goes on to explain, "having the undercut takes half of the styling away, which is perfect for ladies who don't like to take too long getting ready. To suit different face shapes, the front of the hair can vary in length. There's also a choice between the side or middle part, as well as an option of having bangs."
Short Stacked Undercut Bob
@nextreme.you
"This short-stacked undercut bob was indented to take on a classic and traditional cut. Only an edgy and modern twist was added," explains hairstylist Sofia C. Adams.
Adams goes onto say, "ask for the bob itself to be cut very short to ensure visibility of the undercut. The undercut was buzzed with clippers using a zero guard to create a stark contrast with the top. Though undercuts require regular upkeep, the top grows out evenly. And bobs with undercuts don't require haircuts as often as other shorter styles."
Given the nature of this bob hairstyle, it can be worn by several face shapes. However, it compliments an oval face the best. It's the best style for women with thick hair, as the undercut fade reduces the weight drastically. If your hair is extremely thin, Adams does not recommend this hairstyle.
She recommends washing your hair with R&Co Atlantis followed by a quick towel dry. "For a wispy/natural look – Apply R&Co HiDive Moisturizer and blow dry or air dry. For a slicked back look & dash Apply R&Co Motorcycle Gel and brush hair back," she adds.
Undercut Bob for Short Thick Hair
@prissyhippiebeautyshop
This is an undercut bob for short, thick hair that makes it thinner than its usual density. Who else is obsessed? When parted on one side, it shows off the appearance of an asymmetrical cut. The finish looks edgy and sophisticated at the same time.
Short Undercut Bob with Shaved Side
@amadoamadosalon
This short undercut bob with a shaved side is bold. It's perfect for ladies with a pretty strong impression. It's also an ideal haircut for fine tresses. It brings out volume and roundness around the head.
Short Undercut Asymmetrical Bob
@tanyusha_younusova
This short undercut asymmetrical bob is straight-up fire! It displays boldness and boosts confidence. There's a neat asymmetrical line that makes the entire style super edgy. It looks more stunning when parted to one side, creating an illusion of a long side fringe.
Jaw-Length Undercut Bob
@talknheads
This is a jaw-length undercut bob for thick hair. The shaved side is what gets rid of the excess bulk. It softens the texture and reduces the density. In case hair needs more volume, part it to one side.
Short Asymmetrical Undercut Bob
@nikitenko_elen
Opt for a short asymmetrical undercut bob to pull off a sophisticated, edgy hairstyle. This haircut is for fine locks that need a rounder, full-bodied shape. For added movement, ask for a few shorter layers in the back.
Short Undercut Bob Hair for Women
@chrismaddox_hair
This short undercut bob hair for women is on the aggressive side. "Short bob undercuts remove bulk and thickness," says hairstylist Chris Maddox of Greenville, SC.
"The undercut should be kept up with, so the short bob design looks crisp," he notes. "When the undercut grows out, it takes away from the cool factor of the style."
Short Undercut Pixie Bob Haircuts
@torrie.mpls
This short undercut pixie bob haircuts is an inverted pixie cut with length in the front. It was created by hairstylist Torrie Rinehart of Minneapolis, MN.
"There's an asymmetrical undercut with a peek-a-boo moment on the left side," she explains. "The undercut scoops down under the occipital bone in order to build weight in the back."
This cut also shows a lot of facial features. The inverted angle on the right side does add a nice cheekbone defining moment.  Avoid this cut if your hair is on the lower density side. It needs a lot of hair to support the graduated shape.