22 Coolest Undercut Hairstyles for Women Right Now
Ponytail Undercut Hairstyles with Geometric Tattoo Design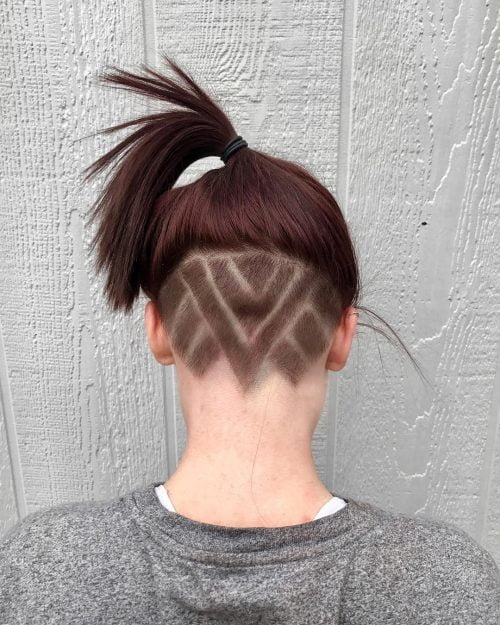 @cosmobygabrielle
If you want a less-committed look with a super edgy touch then this ponytail with a shaved undercut women's style is the way to go! A high shave on the nape of your neck like this allows you to be creative in choosing any design you want! This geometric undercut hairstyles is a great option for ladies looking for something edgy and unique to wear.
Bowl Cut with Undercut Hairstyles and Zig-Zag Design
@hair_makeover_by_niky_
A bowl cut with undercut and zig-zag design is the go-to cut suited for style enthusiasts. A lot is going on with this haircut. The bowl shape has a ton of texture to create an edgy style, pieced out with some wax paste. Ask your stylist if they are comfortable with cutting designs and clipper work.
Edgy Diagonal Undercut Hairstyles
@hair_by_benji
Rock an edgy diagonal Undercut Hairstyles to add a sharp boldness to finer short hair. A short sharp undercut gives a strong shape to the profile enhancing the shape of the cut. The razor short sides contrasts against the disconnected length on top, which increases fullness.
Short Asymmetrical Undercut Hairstyles for Older Women
@nikitenko_elen_
Rock a short asymmetrical undercut for older women to transform into a younger, slimmer you. The undercut is not only fun to wear, but it opens up the face. It creates depth and contours the face for a slimmer appearance. The asymmetry adds to a youthful feel by adding volume and width to lift the facial structure.
Feminine Undercut Hairstyles for Long Hair
@hairbyamilee
This long hair undercut with a shaved side has so much versatility in styling! The best part is you can't tell it's there when you part in from the other side.
Side Swept Undercut Hairstyles with Pink Ombre
@katierosehair
Women's undercut styles are the perfect trend for any season! An under shave plus an edgy brunette to pink ombre on a pixie can totally give you that cool girl vibe! Wait no more and join the club of cool undercut women by adopting this hair idea.
Mandala Undercut Hairstyles Design on Short Hair
@angela_skullptures
Women with an undercut can still keep it feminine with an intricate floral side design. The coolest thing with having short hair and a shaved side is that you can personalize it however you want!
Side Part Undercut Hairstyles with Star Design for Rocker-Chic Women
@haritobarber
Mr. HB created this totally state-of-the-art hairstyle on a neck-length haircut with purple tips. When it comes to a female undercut, confidence is really all you need to rock!
Long Undercut Hairstyles with Flipped Ends
@camilakhairbeauty
These long undercut strands with shaved sides on medium hair put you on the safe side. You can easily change the parting of this shaved hair to hide or show-off your rocker side.
African American Undercut Hairstyles
@talentedmrcj
A high fade can accentuate long hair on top which can be versatile to style. A simple big twist or braid finished with a clean surgical line gives any undercut for women an edgy result with a hint of femininity.
V Shaped Nape Undercut Hairstyles for Long Hair
@j.figz
The V-shaped nape undercut for long hair makes an edgy style that's easy to cover for formal occasions. Jesse Figueroa from Colombia is the barber behind this versatile haircut.
To create the undercut, Figueroa starts with parting the space used for the design. He explains, "then, get a trimmer to mark the hard lines. I recommend Andis' Slimline Pro GTX. Lastly, use clippers to fade some parts of the design, giving it more depth."
Creative Triangle Nape Undercut Hairstyles
@ashleyscissorhandsxo
This look offers a little bit of edge underneath that sexy silver blonde color. It was created by salon owner and stylist Ashley Marie Cooki of Chilliwack, BC.
"An edge that you are able to hide," says Cooke. "Think "peekaboo" without the color. The blonde undercut hairstyle is my favorite because you get to pick a new design every few weeks!"
Cooke always likes to be honest and let women know that yes, although an undercut is wicked, it does require upkeep. "Think of how quickly your hair grows and the fact that you will have to touch it up every couple of weeks. I also remind women that the grow out process, once you decide you are done with this look, is exactly that, a process," she explains.
Short Shaved Undercut Hairstyles with Braid
@hairdonebymaarit
This short shaved undercut with a braid is a pretty cool bob. It was created by stylist and owner Maarit Piri-Dutton of Finland.
Piri-Dutton says you need to think a couple of things. "First, think about the thickness of your hair as this will the key how high the undercut should be. If you have very thick hair you can have higher undercut but with thin hair, it needs to stay lower to leave enough thickness for lengths," she explains.
"Second is your face shape, as this will help determine how long your hair should be. Cheekbone or jawline length hair suits oval, heart and round shapes, as it will enhance them. Under the jawline or even collarbone length gives the impression of a longer face shape," she adds.
Aztec Undercut Hairstyles Design
@bytifflin
"I was inspired by this top bun with nape undercut while watching Black Panther," says Tiffany Lin, an extension and color specialist in Pasadena, CA. "Undercut hairstyle ideas often come from movies. What inspired me to do this on my client was the fact that she reminded me of the character – strong, smart, and bold," she explains.
"To the person thinking about doing an undercut, definitely, understand that the grow-out process isn't all that fun," says Lin. "You'll definitely go through an awkward stage as it grows out but you only live once! A little bit of estimation you can do for yourself is that the average person grows approximately 6 inches of hair a year. It can be slightly high maintenance as designs grow out in approximately two weeks and hair in general needs to be maintained within a month."
Lin loves doing undercuts on two types of women. The ones that just can't stand their bulk and have tried just about everything to take their hair down in weight, and to the other woman that wants to express herself in a way not many other women do.
Undercuts with designs are so fun because they are like temporary tattoos. Every couple of weeks you can get a new look!
Undercut Hairstyles on Bob Cut
@tresses.by.nesses
This undercut bob is delicately edgy, and was created by independent stylist Ness MacKinlay of Ontario. "From the braid to the texture, to the undercut, every aspect was carefully chosen to give my client the option of a soft look or a sassy, rebellious look," explains MacKinlay.
"I loved every aspect of this braid and undercut hair idea," she explains. "I gave her a cut with lots of texture and freshened up her undercut. Right before she left, I wanted her to see that having a natural shade could still be as much fun, so I sprayed her hair with dry wax and added a small Dutch braid along the top of her undercut."
MacKinlay wouldn't recommend this bob with an undercut on tight, curly hair or on very thin, fine hair. The denser the hair, the easier it is to style and switch around from side to side.
Undercut Hairstyles for Little Girls
@gallery_of_hair
Get an undercut for your little girl to match her edgy personality! This one in particular was created by stylist Elona of Chicago, IL.
"For easy at-home maintenance, consider a conditioner with pigment in it, to brighten your hair color when it fades. If you are in an environment that might not embrace a wild look, consider a lighter or pastel shade. Keep up with the undercut regularly to keep this look fresh," explains Elona.
Hair Tattoo Undercut Design for Women with Braids
@hairmastertanya
"I carried out a pattern on the shaved nape and painted over the drawing for more contrast and brightness," explains Tanya, the barber and style creator of this undercut design.
"It should be noted that the drawing will only look stylish, contrast, and brightly only for several weeks. Then during the process of hair growth, the pattern will be washed away. If there is a desire to keep the hair tattoo, visit your stylist again," she adds.
"To create new designs, you must wait until the hair grows to a certain length," Tanya says. "Such patterns are recommended to women with long hair. A big plus of such hairstyle is that you can opt to hide it under the bulk of your hair."
Undercuts with braids are an excellent way to stand out from the crowd or not get lost in a crowd of identical hairstyles. It allows you to show uniqueness, singularity, and identity.
"This hair art allows you to self-express and shows your culture using fashion. Owners of braided and shaved hairstyles like this are usually very courageous and creative," she notes.
Trendy Undercut Design
@tim_czykhair
"I absolutely love everything about how undercut design turned out," says independent hairstylist Tim Gregorczyk of the UK. "We were aiming to create a trendy and low maintenance style, but something that made you take a second look and take notice."
"The hidden gem is the nape undercut with design," says Gregorczyk. "I've always kept it simple with undercut designs in the past and simple can be hugely effective.  When you look at it, you are instantly drawn to the design and flow of the undercut."
Nape undercuts can be a brilliant style to consider if you're after an easy low maintenance change of style.
As far as upkeep on an undercut, Gregorczyk says you would need to have it reshaped/styled every 3/4 weeks. "Other than that, they take no styling time needed. The fact you can wear the hair down, hiding an undercut, or wear it up showing it off, gives style options also," he adds.
Short Hair Undercut
@evgenia.gs
This convertible short undercut pixie was created by hairstylist Evgenia of Sherman Oaks, CA.
"The different lengths and textures throughout the hair give it a soft and edgy look. This boyish undercut is for someone who loves to play with their hair," she explains. "The best thing about this cut is that it allows you to create different looks without putting in all the extra styling hours into your morning routine."
Evgenia says that when it comes to the color of this short blonde undercut, it can be challenging and quite the maintenance, but it all depends on the base you are starting with.
This cut and color work best on medium textured hair, natural levels 5 and up. To create the most versatile styles, Evgenia's go-to is Kevin.Murphy styling products. "While the hair is damp I like to prep it with KM hair.resort to give it some hold and memory."
Rockabilly Undercut for Curly Hair
@lilybcuts
"This curly undercut haircut is the perfect style for the carefree, fun-loving kind of girl. It's the perfect balance of laid back with a dash of edgy-ness," says level 2 designer and stylist Lily Bustamante of Gurnee, IL.
"I love this cut with a flat iron curl and messing it up with a little 05 dry shampoo paste and 32 triple take from Redken," she adds. "Super easy but gives the look a little more texture and style."
Pixie Undercut with Shaved Lines
@morbidglam
"I would say that this is an undercut pixie cut with a long, side fringe that can give anyone a feminine, chic look," says stylists Lin Po and Victor Lomas.
There is also the option of adding a fading to the undercut. Along with certain angles, Victor Lomas added fading to add more dimension and depth to this particular, abstract design he created for the undercut.
This particular hairstyle can suit most face shapes, but going short is a big step. "Don't be afraid to ask your stylist for their opinion if this hairstyle will suit you and your lifestyle. Talking to your stylist will also help you with some challenges you face with your hair like cowlicks, hair loss, etc.," they state.
Upkeep is also of great importance, especially with the undercut part. They recommend coming in for a touch up with the fade every two weeks, and a trim for your fringe once every month if you plan on keeping this hairstyle for a while. "Designs can and will also grow out within a week and a half, but the fun part is that you have the option to rock new designs whenever you come in for a touch-up," says Po.
Don't believe the myth that when you go short, life will be easier. "Not every day will be a good hair day! Some days you can wake up and your hair will look in place and some days you'll need to put in the extra effort to make it look right. Pixie undercuts can look more stylish, classy, or even edgy when styled," they add.
Messy Undercut Pixie with Bangs
@sarahwall_industries
This messy undercut pixie bob with bangs is a really soft feminine undercut, keeping edge and class all at the same time. "Messy undercut hair ideas usually start with messing up the hair," says educator and stylist Sarah Wall of Australia.
"It's a really versatile style, allowing you to hide the undercut whenever you want, and swapping the sides for flatness or volume," she explains.
Wall says this haircut is great for women with really thick hair as the undercut eliminates half the hair. It's suitable for oval face shapes or round, as the sides being short will slim the face and the length on top will add volume to lengthen. "Hair type would be anywhere from curly to straight, and I would advise wearing the top longer if it is curly due to it springing up too short," she adds.
The product should be very minimum. Wall advises you to invest in some Label M sea salt spray to apply on the day you wash it, "as it will take away that fluffy just-washed look and will add soft texture and still allow movement."