24 Most Flattering Hairstyles for Round Faces
Soft and Slightly Graduated Bob Hairstyles for Round Faces
@arsentovmasyan
A soft and slightly graduated bob is a great haircut for round faces. The elongated shape creates a vertical line softening the shape of the face.
Jordin Sparks' Bold and Natural Curls
@nubiarezo
Jordin Spark's bold and natural curls are for ladies who want to embrace their innate curls. There are many different ways but a curly cut is designed to cut your hair dry and in its natural, curly state. This allows your stylist to cut your hair to best suit your face. For round faces, ask your stylist for a cut and style that will help give the illusion of a longer face shape.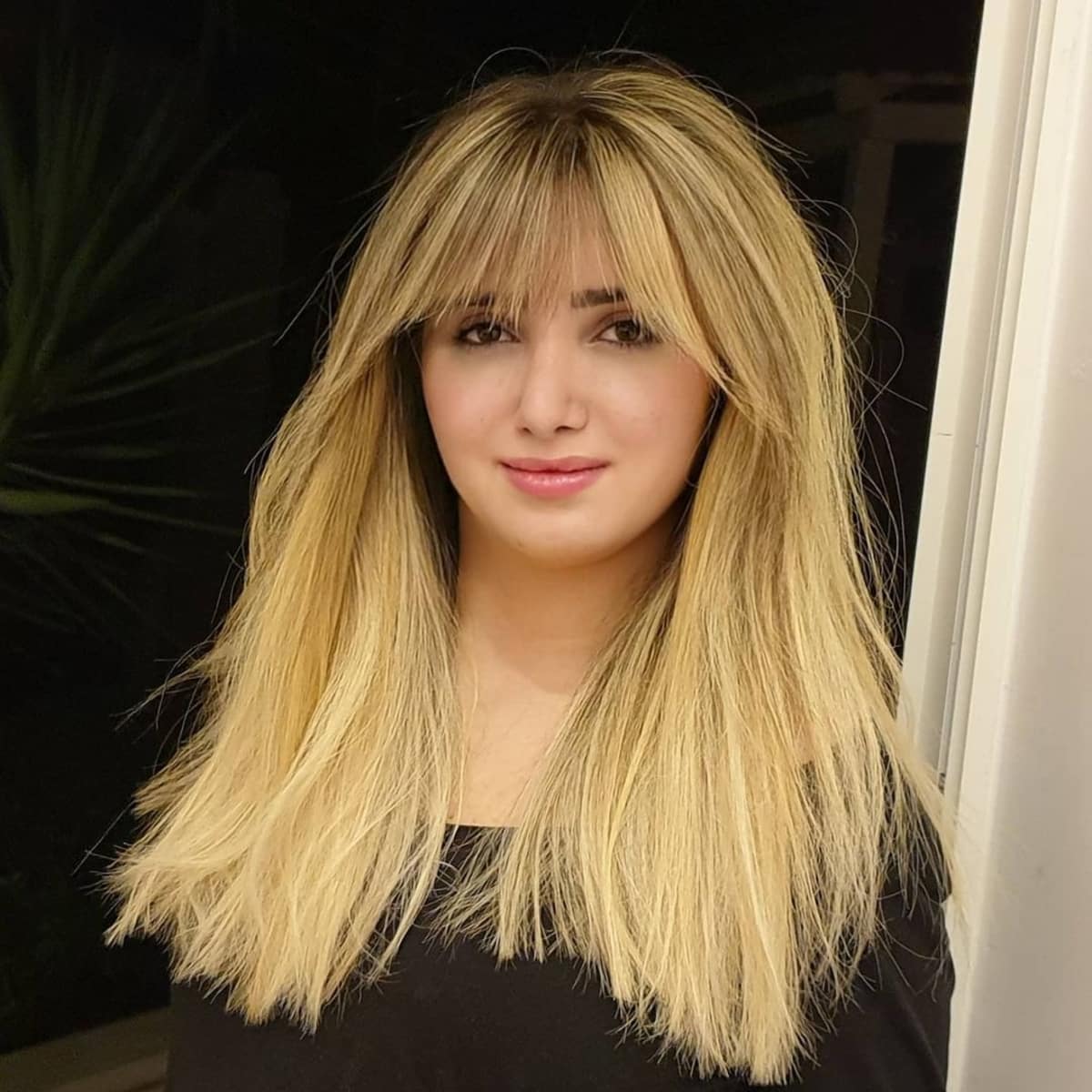 @relooking_by_renzi
Consider a long layered haircut to compliment a round face. Soft tresses around the face make it appear shapelier. Add cute curtain bangs to really set it off. As an added bonus, a long layered haircut grows out easily and will not require a lot of maintenance.
Cute Pixie Hairstyles for Round Faces
@beeblondor
Add a striking contrast to your soft round face shape with a bold short pixie cut just like A-lister Ginnifer Goodwin. Short haircuts like this are fun and easy to jazz up, and can make stunning hairstyles for women with round faces.
Short Curly Hair
@miamihairmel
Lessen the hassle of maintaining curls when you go with a sassy curly pixie cut that's perfect for round face shapes.
Getting some volume on top of your head with your natural hair texture will add length to your face.
Long Platinum Blonde with Bangs
@rachelwstylist
This is a boho chic haircut for women with a rounder face and thick hair. It was created by hairstylist Rachel Williams of Fayetteville, AR.
"The platinum blonde color sets off this look. This wavy hair is striking but still soft at the same time, and it goes beautifully with her skin tone," explains Williams.
"Long layers and bangs are great for her round face shape," she adds. "The bangs really pop and frame her eyes, and the long layers around her face lengthen the face."
To style, Williams used a one-inch wand in alternating directions and left the ends out to create the waves and height in the crown area. Then she styled it with the Oribe's Texture Spray for texture and volume.
Gorgeous Medium Length Waves
@karla.salonkiin
Gorgeous medium-length waves work so well to balance a rounder shaped face. The one-length style can sit below the collarbone, grazing the cheeks, to automatically balance a round face. However, adding waves to this style will add volume to the hair. The volume elongates the face and also adds a glamorous texture to this mid-length hair. Be inspired by celebrity Chrissy Teigen and copy the style now!
Collarbone-Length Middle Part Hairstyle for Women with a Round Face
@romeufelipe
The collarbone-length middle part has a slimming effect that ladies with round faces will love! These two styles go hand in hand. The middle part allows the hair to narrow the face. The collarbone-length keeps the hair grazing the sides of the cheeks. Don't be afraid the go for a messy center part to add some lift to the roots, too. Doing so creates one of the most flattering hairstyles for women with rounder face shapes.
Neck Length Choppy Bob
@hirohair
Try a neck-length choppy bob to slim down a face shape that is wider at the cheekbones. The lighter feel of the choppy length helps avoid the bob becoming too blunt and harsh, which looks stunning worn textured, and undone. Any woman with a round face could pull this off by having the length below the chin and keeping the front one length to graze the sides of the face.
Blended Face-Framing Layers
@sophie_shaghair
Blended face-framing layers bring a flow of shape, which can visually slim down your face. Face-framing a round-shaped face is effective due to its elongating effects. The layers that start under the chin allow for the length to skim the sides of the face. The flowing movement then curves around the jaw to add width below the face for balance.
Mid Length Beach Waves with a Center Part
@tegs_shaghair
Consider mid-length beach waves with a center part to really streamline your face shape. Try parting your hair in the center to compliment and elongate a round face. The hair sits symmetrically on either side, which narrows the cheeks. When styling the beach waves, aim for the curls to sit below the cheek to chisel in the cheekbones.
Long Layers with Glasses and Round Face
@tegs_shaghair
Choose long layers with glasses and a round face to get a contoured effect from the shape of your cut. The longer layers will sit lower than the widest part of your face, which will help balance your facial structure. Try a length that passes under the chin for a slimming haircut for women with round faces.
Short Hair with Blunt Fringe
@circlesofhair
Short hair with blunt fringe is a great way for rounder face shapes to add a little body to their naturally straight hair. Blunt bobs have no layers and can be worn on fine hair, too.
Graduated Long Bob Hairstyles for Round Faces
@tiagosn7
A graduated long bob compliments rounder-shaped faces perfectly. Keep the length near the collar bone with the longer pieces around the face. This helps elongate the facial features. If you have a round face, getting some over-directed layers also help shape the face beautifully.
Bouncy Long Hair with Volume
@abbeywolfloveshair
Achieve bouncy long hair if you consider one crucial factor—integrity. Hair must be healthy and shiny to rock an exciting hairstyle and cut. Long haircuts for round faces make the entire finish look natural and sophisticated. This long hairstyle is ideal for girls with a round face shape and a medium-textured mane. Hints of blonde strands create a better style as they go well with the waves.
Straight Bob
@iambrunosantanna
A straight bob for women with rounder face shapes will slim down your facial features. The sleekness of a straight bob contours the sides of the face to elongate your facial structure. Keep the length a little longer through the front to streamline this look.
Layered Lob Shag
@salsalhair
What a splendid lob shag! Create such a hair trend by pairing a long layered bob with some soft beach waves. It looks fun to wear, mostly because of the eye-grazing bangs. This haircut is perfect for any round-faced woman who wants a change but doesn't want to go too short.
Textured Layers for a Chubby Face
@hairshaftmigurl
Long textured layers for a chubby face are very flattering! They add extra spice to the entire style and gives the chubby round face shape a perfect balance. With bangs to cover the prominent forehead, this becomes one of the ideal and flattering haircuts for round faces. A long wispy fringe gives an illusion of more pronounced cheekbones, too.
Shoulder Length Lob with Side Bangs
@stylist_shannonbingham
Freshen up a lob with side bangs that can accentuate the cheekbones. Thanks to such a fringe, it makes any shoulder-length haircut or lob popular for round faces. It looks flattering and is easy to style.
This lob with side bangs is a mid length textured shape. It was created by salon owner and stylist Shannon Bingham of Omaha, NE. "The internal texture was created with slice cutting, without actually adding layers. Longer fringes at the front of the face add variation to the lob and enhances the round face shape," she explains.
She adds, "this side swept lob cut is a universal cut that looks wonderful on round face shapes. The hair was blow dried using natural texture. It was styled with Tigi Texturing Salt Spray and Tigi Multitasking Styling Cream, too."
Textured Lob with Bangs and Loose Waves for Round Face Shape
@timm.morrison
Go for a textured lob with bangs, and a round face shape is sure to benefit from it. This haircut with loose waves style is best on round faces because it creates a perfect balance. If you can't decide whether to go super short or long, opt for a length that grazes the shoulders or collarbone. It isn't too long to keep it fuller, yet not too short for versatility.
Long Layers and Side Swept Bangs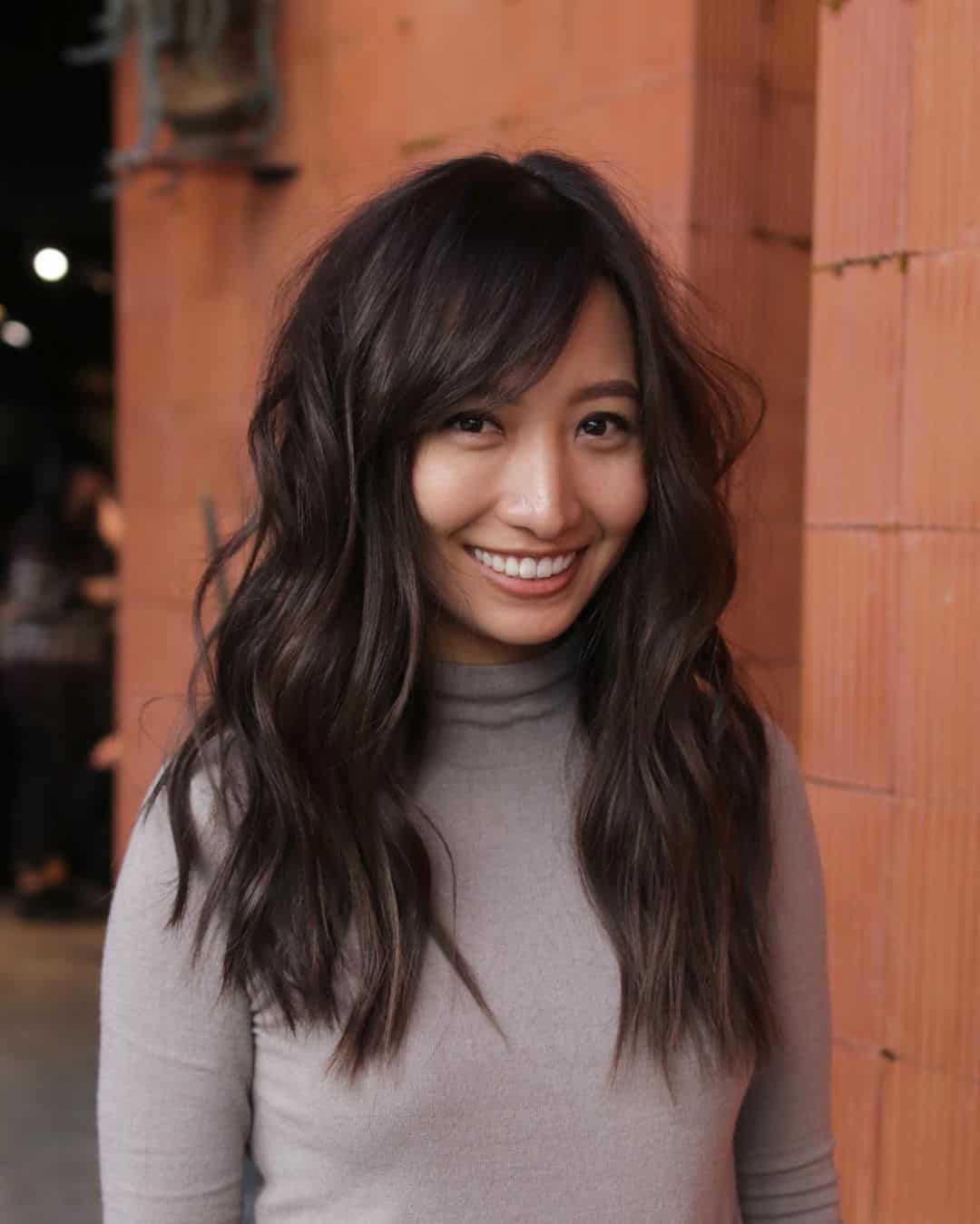 @hirohair
Long layers and side-swept bangs indeed complement one another! This type of fringe boosts the movement of the hair for added body. The layers also carry out extra texture to the chop. The structure of this hair idea with long waves frames and looks terrific on round faces.
Inverted Bob for Thin Hair and Round face
@jamillefreiitas
The best inverted bob for thin hair is the one that makes it seem thicker and fuller. Such a haircut is also perfect for a round face shape. The gradual layers around the face help to create an illusion of softness and length. If mane is naturally straight, it makes a flattering go-to style for round-shaped faces.
Razor Cut Short Bob Hairstyles for Round Faces
@freche.frisuren
This razor cut short bob is perfect for rounder facial features. The very subtle piece-y style is what makes it an ideal hairstyle for round faces. Opt for a razor cut like this to provide the ends with a little texture.
Textured Bob with Side Part
@risareyeshair
This gorgeous textured bob with a side part is easy to imitate. It looks soft and sophisticated, great for an everyday style. For a girl with a slightly round face or women with fuller face shapes, this piecey bob is suitable. Customize the movement of the waves to accentuate facial features. To boost the volume and texture with a more polished finish, apply dry shampoo.
"This textured bob is called a lob or a longer bob," says hairstylist Risa Reyes of Baltimore, MD. "It hits below the chin, clearing the shoulder, and has a bit of layering and a slight angle in the perimeter."
Reyes recommends you bring inspiration photos with you to your stylist if you're considering textured hair. "This is a great cut for women who want a low-maintenance style. Use Davines products, it's a dry texturized. It also help to expand the waves and define layering," she adds.