41 Popular Disconnected Undercut Haircut Ideas
Long and Casual Disconnected Undercut Hairstyle

Undercut by @kylelieberman
What's great about a long and casual disconnected undercut hairstyle is it can either be sleek or textured, depending on your mood.
The Popular and Original Skin High Fade Disconnected Undercut

Undercut by @alanmainster
This disconnected undercut is matched with a high skin fade for a neat and easy-to-style look.
Combed Back Casual Disconnection

Undercut by @erichagberg
Achieve this combed-back disconnected style by making use of your best hair gel or pomade. Feel free to use the finger combing technique for a more natural effect.
Mid-Fade with High Volume Undercut

Undercut by @wuuulli
Gentlemen with any hair type and texture will enjoy wearing this mid-fade cut with a high volume undercut. The faded sides give thick hair a neater finish, while the volume at the top makes thin hair seem fuller.
Low & Disconnected Cut with Very Short Sides
If you're looking for a haircut that's easy to style and maintain, go for a low and disconnected one with very short sides. Match it with a beard for a balanced stylish effect.
Disconnected Short Comb Over Haircut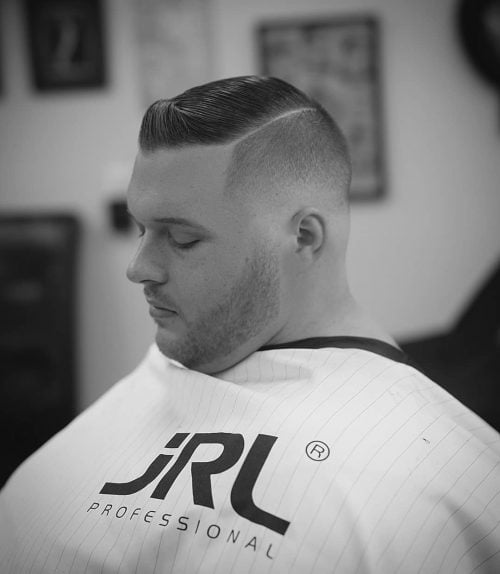 @philyscuts
A disconnected short comb over haircut is a perfect option for guys who love sleek hairstyles!
Faux Hawk Undercut
@hagopart
A faux hawk undercut never fails to provide an edgy appearance. It looks very masculine when paired with a beard.
Combed Forward Undercut
@singandstyle
This combed forward disconnected undercut can be compared to an old-school bowl cut. It was created by barber Kendal Strong of Fayetteville, AR.
Strong mentions, "I love the contrast between the harsh, structured lines and the soft, airy texture on top."
Strong suggests, "The round shape of this cut could add too much emphasis to round face shape. If you're looking for a way to spice up a short hair cut, this is definitely a fun option."
Undercut with Long Surgical Disconnected Line

Undercut by @criminal_barber
Opt for an undercut with a long surgical disconnected line for an up-to-date style that will benefit men with thicker locks.
Disconnected Undercut with Tall Quiff on Top

Undercut by @marianodivaio
This disconnected undercut with quiff flatters men with thick hair and would look great on casual occasions.
Low Fade Pompadour Undercut

Undercut by @andyauthentic
A disconnected low fade pompadour undercut is sure to look great on men with a natural straight hair texture.
Brushed Back Undercut

Undercut by @titan_barber
This brushed back undercut has a piece-y texture, which makes it unique and in style. Recreate the look by pinching strands with a bit of hair product on the fingers.
Long Hair with Disconnected Undercut Bald Sides

Undercut by @braidbarbers
Undercut sides are a great and stylish option for gentlemen with long hair, wanting a fresh chop without losing a lot of length.
Combover Disconnected Pompadour with Line-Up

Undercut by @_mannys
Isn't this combover disconnected pompadour unique? The line-up is what makes it stand out, for sure.
The Perfect Short Piece-y Low Faded Undercut

Undercut by @willsalon
For guys with thicker hair, try this piece-y low faded undercut. It looks appealing with or without the beard.
Medium Undercut & Messy Hair

Undercut by @braidbarbers
This medium undercut, paired with a messy style, screams extreme edginess! Achieved a textured finish like this using a good clay product.
Swept-Up with Disconnected Short Tapered Sides

Haircut by @jordan_king30
Here's a swept-up hairstyle with disconnected short tapered sides for men who want a textured yet neat finish.
Side-Swept Disconnected Undercut with a Deep Hard Part

Haircut by @horatiuthebarber
A good pomade is sure to be your best friend when wanting to achieve a sleek side-swept disconnected undercut with a hard part style like this.
California Thick Wavy Undercut

Haircut by @viktorfrisks
A California thick wavy undercut gives hair movement and soft texture. It can flatter men with a square face shape or with a strong jawline.
Disconnected Undercut Slicked Back Style

Haircut by @sr4oficial
Of course, slicked back and disconnected undercut can result in a fashionable trend! This will sweep ladies off their feet.
Disconnected Undercut for Thin Hair

Haircut by @napolesbarbershop
This is an ideal disconnected undercut for thin hair that's very easy to style. Short-length cuts like this will make it appear fuller and thicker.
Disconnected Undercut for Thick Hair

Haircut by @lianos_urban_cutz
A disconnected undercut for thick hair, if brushed up, offers a voluminous effect that boosts its texture. It works on both straight and wavy hair texture.
Disconnected Undercut with Man Bun

Haircut by @eddie_rtb
Give your man bun a disconnected undercut for a clean and fresher style.
Textured with a Mid-Fade Undercut

Haircut by @ayozecastellano
This textured hair with a mid-fade undercut features a swooping effect to flatter gentlemen with a heart or square face shape.
Undercut with Side Part and Beard

Haircut by @flatmax
This disconnected undercut with side part is blended well into the beard, creating such a suave appearance.
Medium-Length Undercut Wavy Hair

Haircut by @r.braid
To provide your undercut wavy hair the maximum texture it needs, use a salon-grade salt spray or styling cream.
Disconnected Low Razor Part With Long Fringe

Haircut by @casquero_officialbarber
This disconnected haircut features sharp lines for a smart, trendy look that's easy to mimic.
Disconnected Forward Facing Long Wavy Hair

Haircut by @beholdthybarber
Pairing long wavy hair with a disconnected undercut helps to show off the volume even better.
Disconnected Undercut for Curly Hair

Haircut by @jakebbarber
Disconnected curls offer a clean and tight look, for sure. When styling, choose a salt spray to boost its texture.
Cool Textured Waves & Disconnected Shaved Sides

Haircut by @vazgen.oga
Textured waves and disconnected shaved sides go well together, creating a nice balanced look. Feel free to pair it with a beard for an added appeal.
Natural Twists with Line Designs
@z_ramsey
Get a tight disconnected cut that is surprisingly easy to pull off! A long surgical line paired with a neat line-up make a cool hair design if you wanna feel confident and fresh!
Disconnected Long Straight Hair Pomp
@marconybarber
Add disconnect to a long, straight pompadour with a shaved line for a sharp and finish.
Spiky Textured Disconnected Undercut
@juanmapeluka
Another disconnected undercut that younger men must try. This spiky haircut and style give thick locks fullness and texture without looking bulky.
Short Pompadour for Straight Hair
@linothebarber
A short disconnected pompadour like this is ideal for medium to thick hair density. Use a pomade or clay when styling it for a sleek result.
Asian Undercut Fade
This Asian undercut fade offers a clean finish without sacrificing some length. Guys with a long face shape would look great with this haircut.
Disconnected Cut to Hide Receding Hairline
@camillemoore.s
When in need of a haircut to cover a receding hairline, here's a variation of disconnected undercut that works for any hair type and texture.
A Gentleman Undercut
@jesuszambrana_barber
Who says a sleek disconnected undercut is boring? This hair trend is perfect for men who prefer a clean and classy style.
Disconnected Cut with Asymmetrical Fringe
@jesuszambrana_barber
For a modern and very stylish look, here's a disconnected undercut with fringe that's worth a try!
Undercut for Men with Long Curly Hair
@miamihairmel
Don't be afraid to go under the razor with a buzz cut of your own. The wavy, long hair does the job of giving you all the body.
Disconnected Military Undercut
@travisanthonyhair
This disconnected military undercut is a very classic, timeless style with a little modern twist. Barber Travis Hill of Oregon created this chop and calls this a classic side-part with a mid-bald fade.
"It's also one of the most popular hairstyles for men. This style is a pretty attractive hairstyle on most head shapes. You can associate it with a man who is passionate about looking nice," Hill claims.
This disconnected style could be for a man who enjoys extensively styling their hair. Hill says this hairstyle works best with straight hair. But for curly hair, Hill uses Clay-Pomade by Baxter of California to achieve this disconnected style.
Disconnected Undercut with Skin Fade for Thinning Hair
@jamesmackeyhair
In this disconnected haircut for thinning hair, stylist Mackey Atkinson shows off a great artistic side and attention to detail.
The Alabama-based stylist says, "I love the texture on the top and the fading with a dramatic disconnected style."
This haircut can be high-maintenance. To keep up the skin fade, Atkinson recommends a touch-up every 2 weeks.
"I love seeing this on guys with curly hair. I would not recommend this for men looking for haircuts for thin/fine hair or who have a highly progressed receding hairline. If you have facial hair, fading your beard into the cut is a perfect way to tie it all in," he states.