15 Lit Faux Hawk Fade Haircuts for Guys
Faux with Taper Fade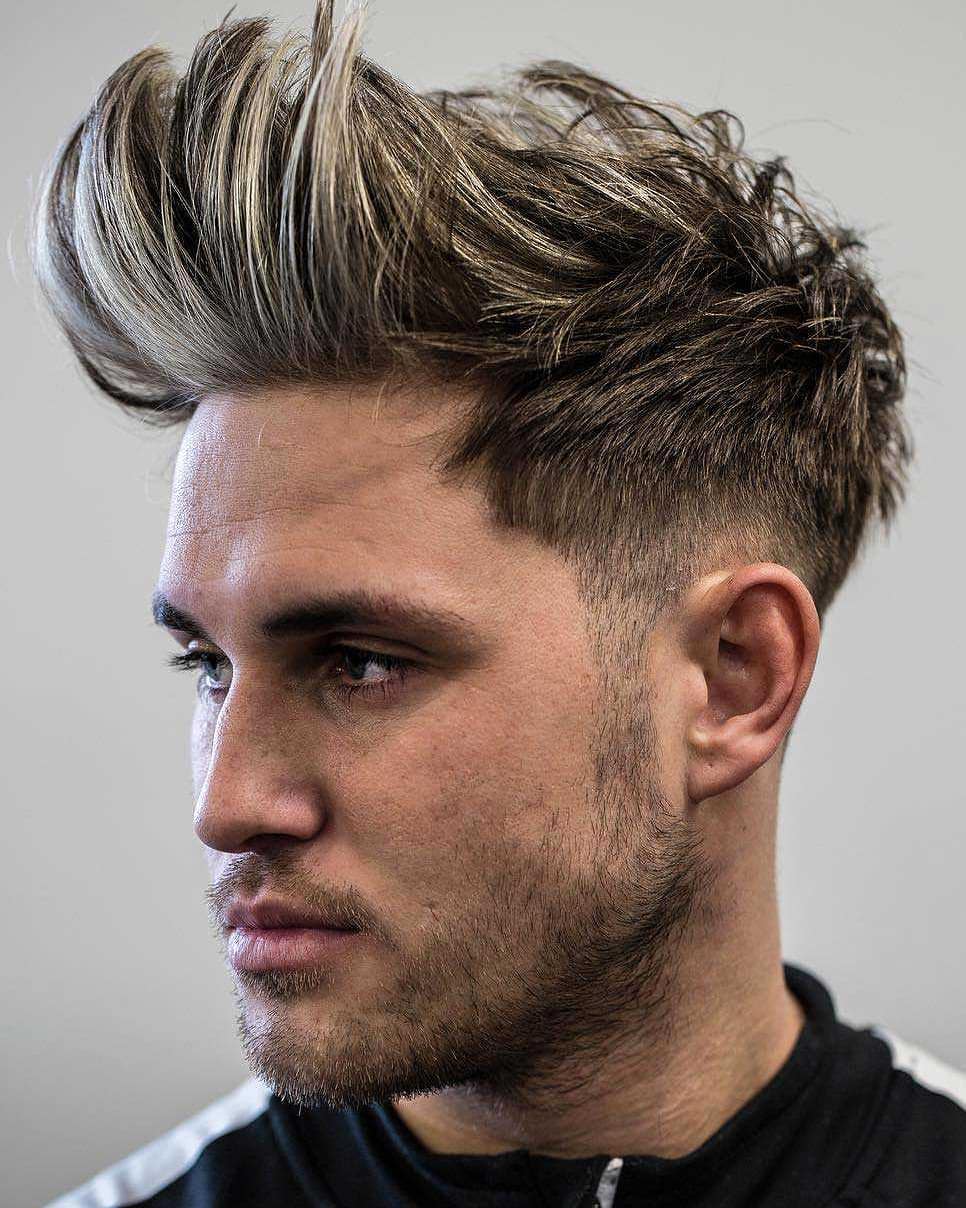 @dree_hellsing
Fringing ends on a taper fade faux hawk creates a nice textured appearance to the whole look. With this one, gradually coming into the fade makes a very clean transition.
The Short Faux Hawk
@mikey_teeze
This short faux hawk faded hairstyle is minimal but still has that extravagant look.
Pompadour Mohawk with Bald Fade
@ali_bar.ber
This faded faux hawk is a unique composure of different haircuts tied into one – it's a mohawk, shadow fade, and an old fashioned pompadour.
This haircut is a definite go-to for guys with strong facial features like a sharp jaw bone and cheekbones. You'll need to take a bit of extra time styling it on a daily basis, though. This hairstyle is not recommended for a get-up-and-go type of man.
The products highly recommended are a matte finish booster root powder and some matte clay with some hairspray to finish the look and slick back any flyaways.
Undercut Faux Hawk Style with Fade
@aminheydaralii
Playing up a simple fade with an undercut is a statement to all faded faux hawk wearers. The contrast from top to sides connecting to the beard has a clever touch. Men with thick hair will enjoy wearing this faux hawk undercut, for sure.
The Faux Hawk Faded Cut for Black Men
@zackblendz
This look is a complete package, from the bushy faux-hawk fade cut to the smooth fade to the ruled-up edges. The beard also makes the inclusion of tying this suave package together for black men.
Long Hair on Faded Faux Hawk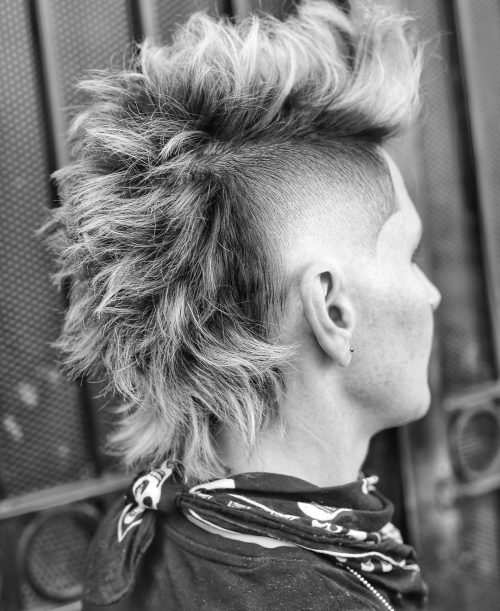 @mikeyyyyyyy_
You might make it into the rock and roll hall of fame with this long faux hawk fade haircut!
Faux Hawk with Fade for Curly Hair
@jose.crespo_
Embrace the kinks with a complementing curly faux hawk that keeps everything neat and tidy.
Faux Hawk Faded Hair with Design
@kutzbyoc
With a spiky hair design, this faux hawk haircut is one for the books! Keeping it bushy up top goes a long way, too.
Faux Hawk and High Fade
@great_whiite_hype
Keeping a wider faux hawk style could very well shape the face and make it look more square. Try to play with that effect to make a flattering look for yourself.
Faux Hawk Fade with Beard
@peteyrock_thebarber
This faux hawk faded cut is the look and style that Thor, the superhero from Marvel movies, should have had. "What I like the best about this cut was the hair placement on top and the super sharp lines to finish it off," says barber Petey Rock from New York.
Grow your hair and facial hair long, so the barber can work his magic. The products that Rock used were Slick Gorilla and Zorian of New York Paste.
Faux Hawk Drop Fade
@hair_by_natpetrov
This faux-hawk drop-fade haircut is definitely unique and you won't see a lot of people with it. "At the same time, it's sort of in trend with it being a low-grade fade and a textured top. Let's just say it will definitely be turning heads," says barber Nat Petrov from the UK.
To achieve the messy textured top and still have it sit like that all day, Petrov recommends a really strong matte pomade to create the foundations. He adds, "Then, you're going to need a firm finishing spray that will just set it in place."
Mid Fade Faux Hawk
@m.r.k.thebarber
Here's a mid-fade faux hawk by hairstylist Michael Kelly of Texas. "This is probably one of the most efficient and long-lasting fades you can give and still include style. Also, it's a ton of fun to cut this fade with a faux hawk," Kelly mentions.
This style requires a minimal product, minimal effort, and would fit dudes who have a busy schedule and like to make a statement with a clean look.
Burst Fade on Faux Hawk
@beaaastyles
This cut is the burst fade faux hawk created by hair artist Bea Petty of California "I love the concept of how drastic the fade is and how it smoothly flows into the darker and longer pieces on top," states Petty.
This style works great with any hair texture from straight to super curly.
For the style, Petty blowdried the hair to be straighter. "I used some textured powder to start off to create the volume and messiness. Then, I used a textured paste to hold the overall shape and style," Petty explains.
Faux Hawk with Low Fade
@diegomarcsant
Mix two styles together and turn it into a faded faux hawk! "I guess I was tired of the military fade, classic fade cut, and so on. I love the shape following the head, precise lines, and the V-shape on the back. The longer top gives you the ability to play with pomade or even slicked back with gel for a wet look. Messy hair, bedhead, why not? You can wear it however you feel like it," stylist Diego Marcsant of Brazil points out.
It's perfect for modern and stylish men. This style needs to be always clean and fresh, so it needs to be cut every three weeks. Although it grows out very nicely, too.
"I would say it works better for a man that has a square, an oval, or a round face. Beards go amazing with it, elongating the face," Marcsant notes.
Skin Fade on Faux Hawk
@charliebarberpr
This classic pomp-faux hawk with a modern fade was created by barber Charlie Corchado of Puerto Rico.
"The pompadour faux fade is ideal for men who have an extra five to ten minutes in the morning to blow dry their hair. Just enough to give it the right amount of volume. Use a matte finish for this kind of look," Corchado states.