19 Short Fade Haircut Ideas for a Clean Look
Wavy Hair with Short Fade
@ryancullenhair
Long curls with highlight gives a fluff to this short fade cut.
The Short Drop Fade
@iam.alexel
An altered classic fade, the short fade goes low around towards the nape. It works wonders for thinner hair.
The Short Temp Fade
@gilliefades
The blow out is a popular style for men. Short fade hairstyles around the temple area with a side part are a great combo for this kind of cut.
The Short Burst Fade
@taylorcutz1
This type of short fade tapers around the ear in a very smooth manner. Keep the top full and you'll be looking sleek in no time.
The Crew Cut Fade
@becfarrellstyles
A fundamental cut in a man's style, this crew cut gives a more defined face shape while giving room for a lot of touch-ups on the hair on top with a short hair fade.
Short Faux Hawk with Fade
@thekrabbebarber
If you have fine or thin hair but still want that height, then this short faux hawk cut with a short hair fade is for you.
Classic Short Taper Fade
@ronnieappelhair
Whatever has "classic" in its name is a sure winner. They don't last a lifetime for no reason, don't they? This short taper fade cut is the perfect business casual look.
The Low Fade on Short Hair
@frankdabarber
A low fade is a friendly way to keep that contrast of bushy and shaved hair. This short fade hairstyle keeps unruly hair at bay in addition to providing superlative style.
Buzz Cut with Bald Fade
@koutou_barbershop
This is a military haircut with a short fade. All the cleanliness and orderliness of the buzz cut serves to give a proper lad's look.
The Short Pomp with a Bald Fade
@livanio_barber
Don't get scared by the name- a short bald fade doesn't really look that bald. Except for the part of skin shaved sides and nape, you're all touched up hair.
Short Curls Fade for Black Hair
@cardinaltribe
The classic kinky curls on short hairstyle is the secret to a smooth man. At least that's what my grandma says.
The High Fade Short Hair
@ronihalehair
Keeping a fade higher on short hair can really bring about a more youthful effect to your style.
High and Tight Military Fade
@jmarconistudios
Having a short fade haircut with a fade is like carrying a weapon. The only thing you'll be killing is a proper attractive look.
Short and Curly Hair Fade
@hair.by.ashmichelle
The appeal of a guy's short cut with a fade is undeniably sexy. Add the curled locks and you'll have girls swooning all over you.
The French Crop with Skin Fade
@maxprivilege_
Look at this fashion-forward version of a french crop with a taper fade. The blunt sides go very well with the shave and the layered fringes up top. So many going around but in a harmonious manner.
Short Comb Over Fade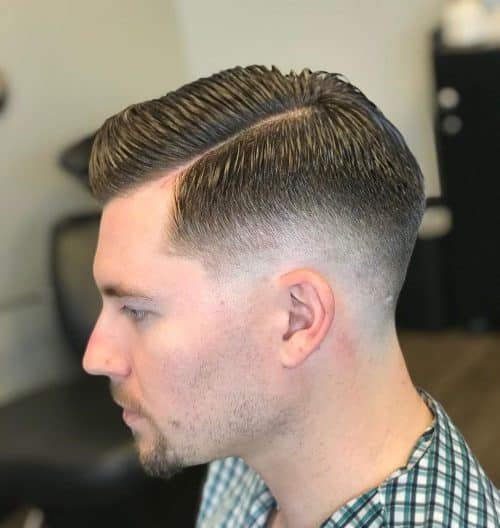 @king_hollywood_barber
Comb your hair over to the sides to let your smooth short fade style shine. A proper lad's cut in a modern version.
The Skin Fade Short Crop
@nickscuts_
Q&A with style creator, Nick Hissam
Haircutting Specialist @ Exurbia Salon in Seattle, WA
How would you describe this look?
This shape is one of my favorites to use on men with a slightly rounder face. Using a disconnection and keeping the haircut square to enhance the jawline is always my favorite technique to use with short men's cuts.
Any advice for someone considering it?
This men's short fade cut is a high maintenance look that would require an appointment every 2-3 weeks. This hairstyle works well for men with all textures, however, it would require blow-drying and volumizing products finished with a matte lightweight cream for those with finer textures. With medium to coarse hair, use a pomade and comb into place through towel-dried hair.
The Mid Fade Short Hairstyle
@yukistylist
Q&A with style creator, Yuki
Dry Cut Specialist & Educator / Owner @ Gavert Atelier in Beverly Hills, CA
---
How would you describe this look?
This is a classic low bald fade on short textured hair. My favorite thing about this look is that it's edgy, cool, and modern.
Any advice for someone considering it?
This style works for most of the face shape and hair texture. If you have fine flat hair type, you should use a volumizing product before you blow-dry and finish with hair wax (medium hold) and spray.
If you have wavy or curly hair type, you should use anti-frizz hair cream before blow-drying, then blow-dry with a round brush to make the hair smooth. Apply hair wax (medium or stronghold) and finish with hair spray.
Shorter Ivy League Cut
@tibby_atkinson
Q&A with style creator, Tibby Atkinson
Barber @ Luka's Barbers in Exeter, Devon
---
How would you describe this look?
This short haircut is a low to medium skin fade with a tight scissor cut on top. My favorite thing about this haircut is the smooth transition from the skin to the hair on top and how soft the fade is. No harsh or heavy lines – a haircut like this always works really well on people with thick, dark hair.
Any advice for someone considering it?
I would recommend this haircut to anyone who is conscious of having stylish hair however they have a busy and active lifestyle. The best thing about this haircut is how low maintenance it is. Because of the sharpness of the fade on the back and sides, it really gives you free roam with the top of the hair without it ever really looking messy and unkempt.
Although I would always recommend blow drying your hair, with a nice short cut like this, you could easily get away with simply towel drying the top and just adding some clay to style whether you want to go messy and choppy or a bit sharper.
Product-wise, I would recommend a dry product. For example in this picture, I used "Johnny's Chop Shop – Wild Cat Clay." This sort of haircut will suit pretty much anybody and everybody. Going so tight on the sides always brings in your face shape and gives you a face a much slimmer look.