The Top 20 Haircuts for Men with Thin Hair to Look Thicker
High and Tight for Thin Hair
@rebel.bible
Thin minimalist haircuts are always in style. This thin cut puts a present-day touch to the military cut by brandishing thicker top hair.
Thin Faded Undercut
@topboy_83
The thin faded undercut is a wise choice of style for anyone suffering from thinning hair. The shorter the sides are, the longer and thicker the hair will appear on top. This cut is easy to style as well, a little bit of product, a brush or comb backward, and off you go to start your day!
Ivy League with Drop Fade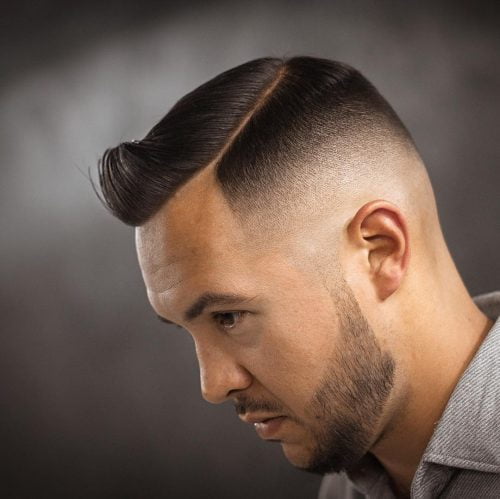 @kvenzo.barber.cuts
For the classic gentleman's hairstyle with a modern punch, this ivy league haircut is on the top of the list of hairstyles for men with thin hair. The tapered fade makes for the retro vibes of the ivy cut.
Buzz Cut on Thin Hair
@seanhairdesign
Looking for a haircut that's easy to manage, saves a ton of products, and will flatter thin hair? Then, this sharp and slick buzz cut is for you!
Thin Pompadour Fade
@alan_beak
How can you extend a fade on the sides when you have thin hair? Through a guard skipping technique! It works wonders in terms of aesthetics and innovation for the trained eye. Plus, it's a great way to make your thin hair look thicker.
Rugged Quiff Skin Fade
@barbertownworcs
The fact that you have thin hair is not a problem, but an advantage if you know what haircut to get. One way to go about it is this quiff hairstyle.
It works by letting hair gather on top then pulled back one on top of another to create a sense of fullness. Meanwhile, cutting the sides low will create contrast. A bald fade with the beard and glasses gives a total hipster vibe if that's what you're going for.
Slicked Back Style on Thin, Short Hair with Bald Fade
@barber_dalton
Slicked back with bald fade is one of the coolest haircuts that men with thin hair should try. The shaved sides give emphasis to the hair on top, creating a much fuller effect.
Professional Cut for Men Over 40 with Thin Hair
 @shecutsbarberstudio
This is a modern conservative look for the professional man with thin hair who desires more style. "You can achieve this with a tapered nape and temple area, along with the sharp lines," says barber Yolanda Campbell of Atlanta, GA.
This is a very easy hairstyle that would work on all guys with various lifestyles. This haircut is great for men with thin hair and a straight texture. This is a style that you can wash and go with very little time spent on maintenance.
Campbell recommends hair products like a mousse or even a leave-in conditioner when styling. "Allow the hair to air dry or you can blowdry for a more defined look," she adds.
Texturized & Masculine Haircut
 @slowdownbarber
This thin short haircut is texturized, hand-styled, and a bit messy. "The sides are faded from one into the transition area with a skin taper in the back," barber Aaron Rohrer describes.
"My favorite thing about this look is that it looks masculine and super easy to maintain for guys within thin hair," says the Washington-based stylist.
The number one thing for any guy to consider about their hair is their lifestyle. Rohrer explains, "I always ask guys what their routine is and how much time they spend or want to spend on their hair. From there, I make my recommendations."
Clean & Mature Crop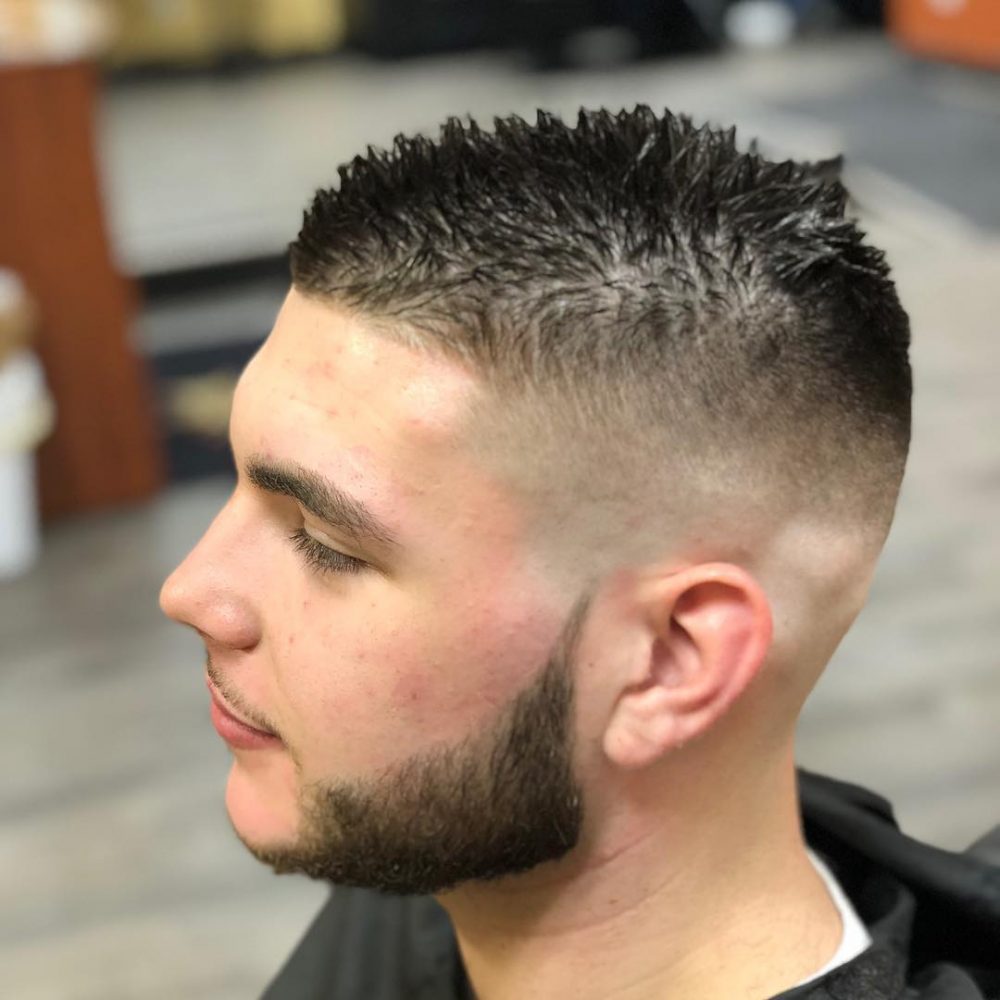 @kingkutz88
This thin haircut is a clean mature look created by barber Bruce of Glens Falls, NY. A lot of young men and athletes are sporting the full beard look today as it's manly and sporty at the same time!
"I really like how the beard comes to a point at the top of this look to accentuate the round face," Bruce states. For styling products, Bruce uses a custom-made sandalwood and tea tree oil beard balm to soften and style the beard. The Ampro Coconut Oil Styling Gel is also great to give the hair a nice wet look. It also has an attractive fragrance to draw the ladies' attention!
Bruce mentions, "I rub the gel against the grain of the hair direction to create a spiky hair effect. No comb is involved at all! This is classic skin fade on the side, too."
Side Part Comb Over for Men Over 60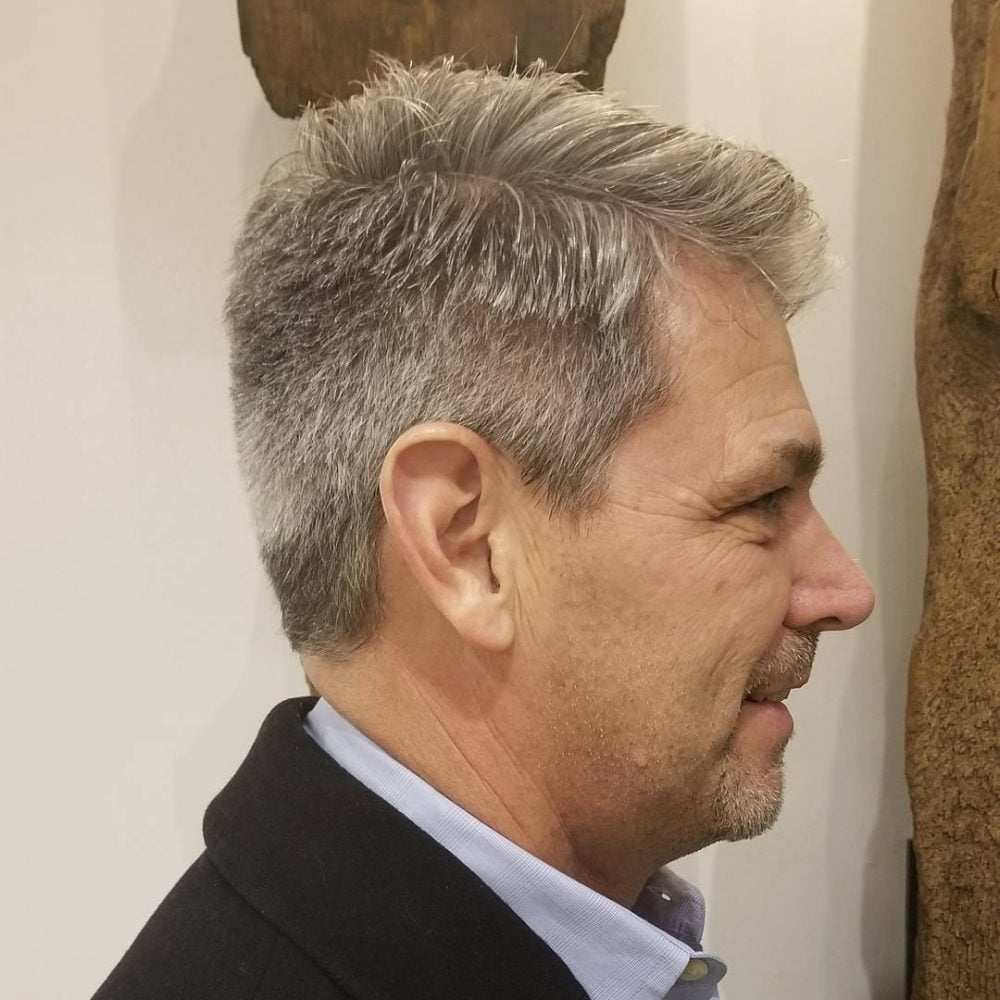 @atouchof_ginger
This look is a business cut with classic taper sides for men with thin hair. "My favorite thing about it is its versatility. You have the option for a hard side part as it is styled in the photo, or without which gives a more laid-back look," describes stylist Ginger Polichino-Brand of Bristow, VA.
This look is perfect for men looking for a modern and fresh style with minimal upkeep. It can be achieved with just a little product. Polichino-Brand states, "pomade was used to aid in controlling the hard part and to add shine. A mousse or gel would also work if styling wet hair."
This look fits many face shapes, hair types, and lifestyles and can be altered to fit each individual by opting for a tighter fade in the back or a longer top.
Straight and Sleek Haircut with Hard Part
 @kashythebarber
This haircut is simple and elegant with easy maintenance for the modern-day man with thinning hair. "It's classy but rockstar at the same time, and looks fab in a suit and funky in denim," states barber Kashy of Australia.
This men's haircut with curly hair would look awesome with no product at all.
As for face shapes, this haircut doesn't discriminate, although a sharp square jawline will get the heads turning. All in all, this style is for men who like a short, sharp, and crispy clean hairstyle which is no fuss in the early mornings while getting ready for work.
Thin Side-Swept Hair with Taper Fade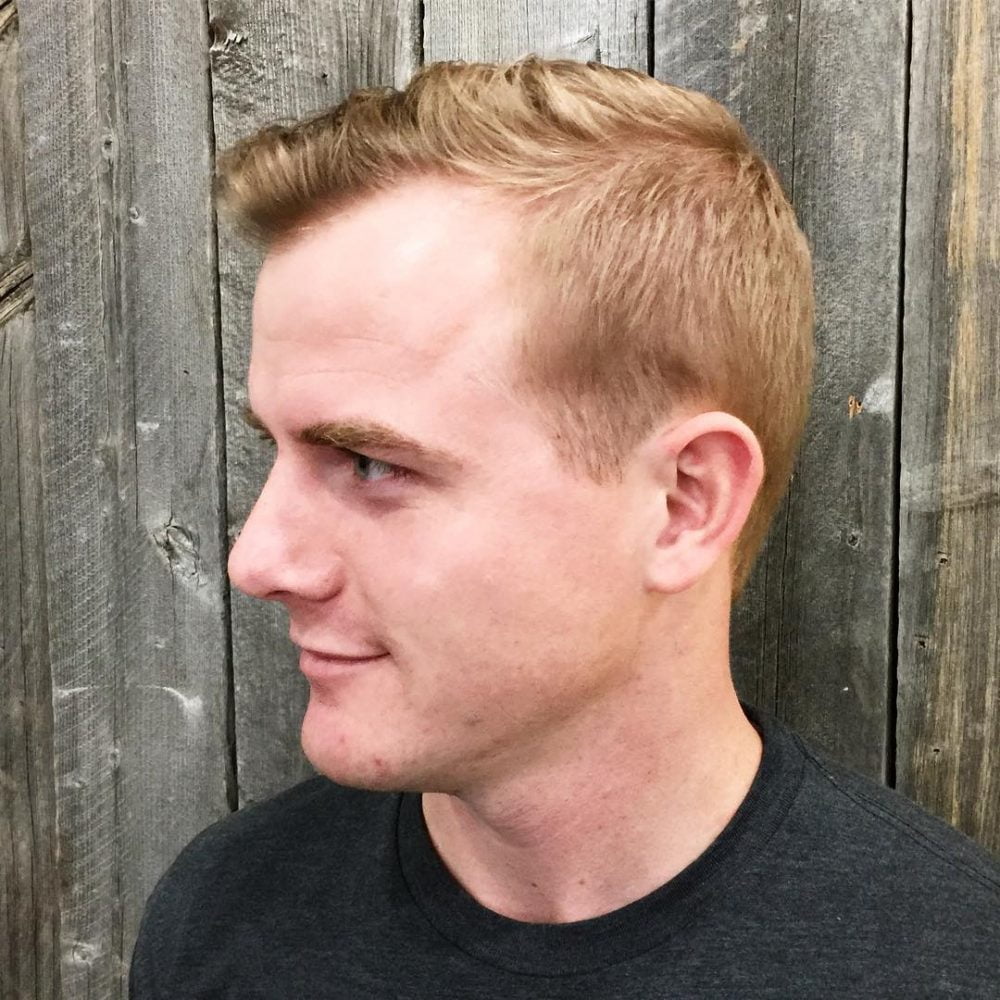 @cityscape_salon
This is a very modern side-swept haircut with a taper fade for thin hair, which is a masterpiece by cosmetologist Kennadi Prior from Provo, UT.
It's a good mix between the style of leaving it long on the sides and fading the sides extremely short. This haircut is great for men with thinning hair because the extra length both on the top and sides increase the appearance of volume of hair.
For styling, Prior suggests using a paste for even more added volume and to keep the shape in place. "This is a great haircut for guys who don't take too much time in the morning to style their hair, as well as those men that have a full hair routine," Prior advises.
Tight & Clean Textured Hair Cut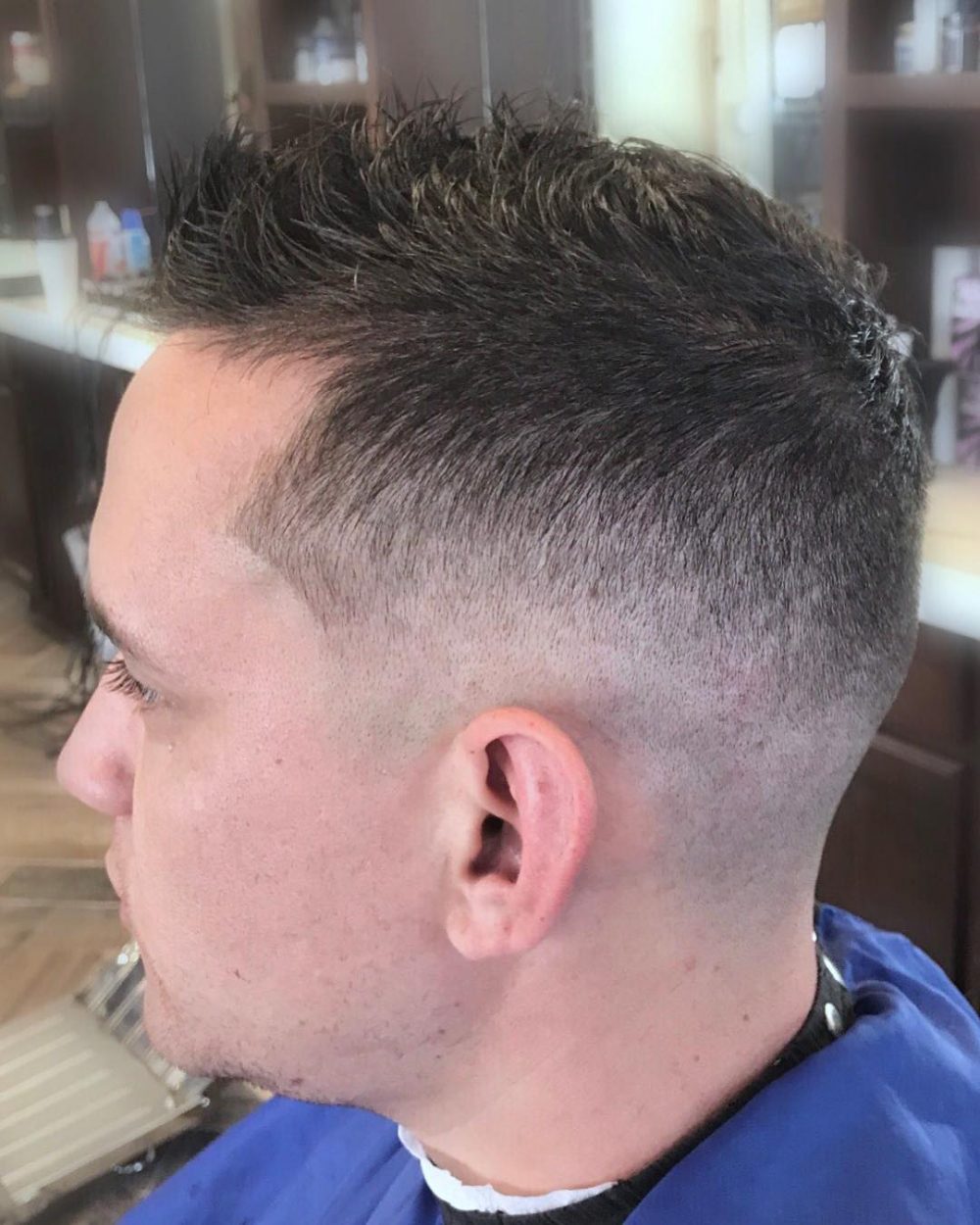 @jfuge13
This is a tight and clean look for thin hair that allows for a little fun expression on top. It was created by barber and stylist Julie Fulginiti from Hawaii.
"While I always love a strong fade, what I like most about this cut is the textured top," Fulginiti explains. Then, adds, "a textured crop is my favorite to cut. Maybe it's the feeling of breaking into the structure and messin' it all up!"
Fulginiti emphasizes, "it's a no-muss, no-fuss haircut that is great for men with thinner hair who doesn't like to spend the time styling his hair. Just mess it up and be out the door."
Mohawk Fade on Fine, Thin Hair
 @showzen_juan
This hairstyle is a mohawk fade with a wet, spiked-up finish to flatter men with finer hair. It was created by barber Juan Carlos Rivera of Anchorage, AK. "I recommend it to guys who want to look juvenile even if they are wearing a semi-formal suit," says Rivera.
To create the style, Rivera suggests using Alpha Products and American Crew.
He adds, "I prefer to apply this look to men who have had a fresh facial and clean face. I mean no facial hair, but it really depends on the shape of the face. It looks more accurate when you have a very clean facial look."
Combover with Razor Shaved Fade
 @blackbeardbarber13
This is a medium straight razor-shaved fade with a natural and sleek side part, created by California-based stylist Edgar Argumedo. What's great about this haircut is the simplicity and cleanliness that it provides.
"I've used Suavecito Firme Pomade, but you can also achieve this look with Tip Top Pomade and/or Shiner Pomade. I highly recommend all of these products because of their water soluble base, and because they give that wet look without damaging or giving dandruff to the scalp," Argumedo notes.
This comb over with fade looks great on men with an oblong, oval or diamond-shaped head. Those who have thick or thin hair can rock this look but, clients with thinner hair get that extra clean look.
Simple Crew Cut Fade
 @donthabarber_
Here's a simple fade with a number two crew cut on top, done by barber Don Oudoms. The California-based barber says, "It's almost a buzz cut, but not quite. I love it the way it blends in with the top of the hair which brings more definition to the client's face."
This look can be styled with a strong pomade, or even with a simple gel like Johnny B. "I can also create this fade to where no product is needed and it has a dry look to it. Sometimes less is more," Oudoms adds.
This is definitely for guys who like to have low-maintenance hair. A slimmer face structure is greatly preferred for this type of cut. Oudoms emphasizes that this would best fit any man who would want a clean-cut look that would give off a great first impression.
Low Skin Bald Fade for Gents with Thin Hair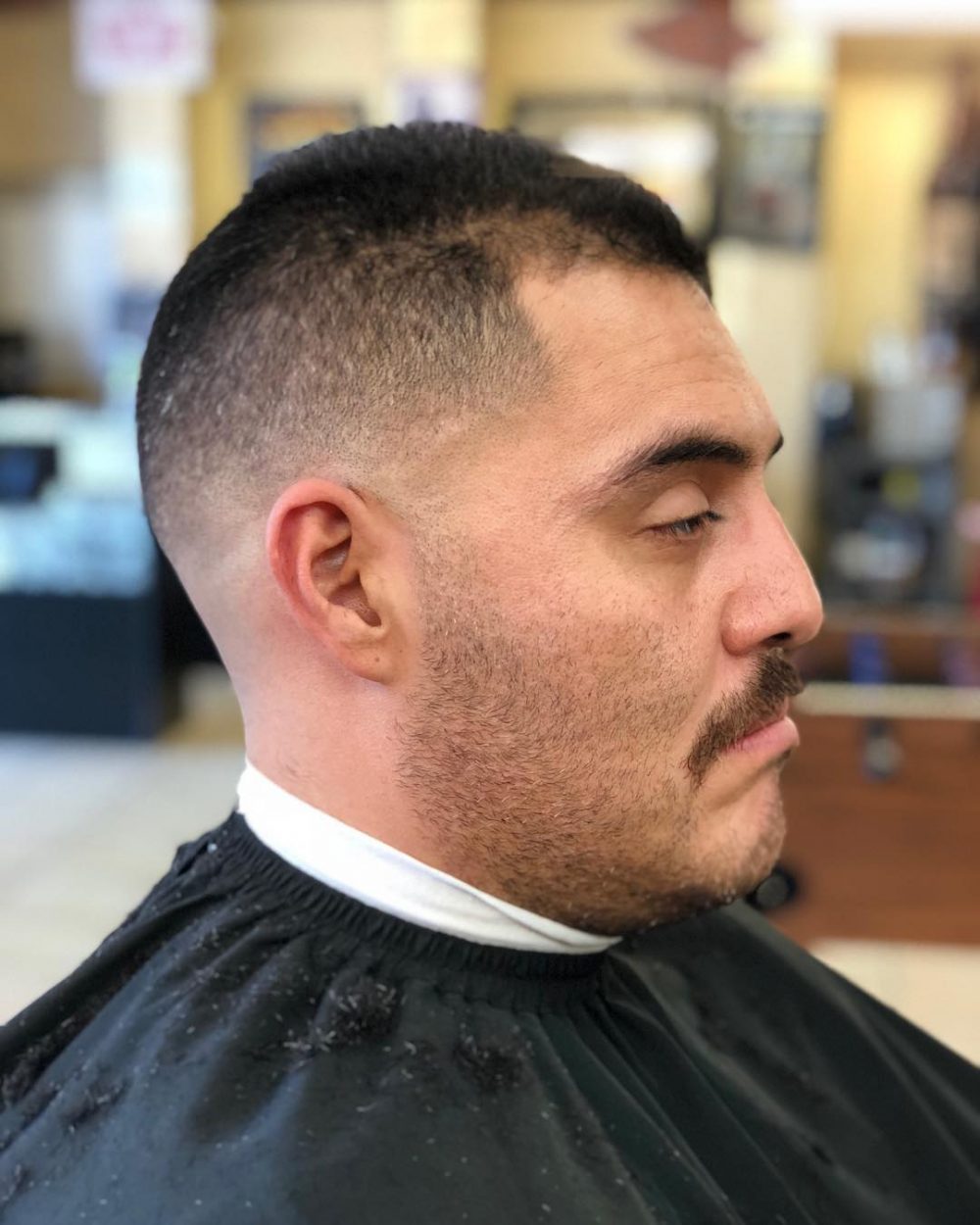 @sketch_the_barber
This is a low skin bald fade haircut that works on thinner hair. It was designed by barber Albert Arias from California. The blending is what makes it nice-looking. This style is a nice clean cut for guys who want to keep it short.
"I use a very small amount of Johnny B. You don't need a lot of gel because using just a little bit gives it that nice bright look. I also use Red One Agua Hair Gel Wax. Both products work well," Arias states.
This look is recommended for dudes of any age whether they have thick hair, thin hair, curly hair, or straight hair. Arias adds, "I believe the low bald fade looks good on any face shape and size and this haircut suits any lifestyle."
Skin Fade With Hard Part
 @huwjonesy
This style is a skin fade with a hard parting, pushing the longer hair on top over to make a slight pompadour haircut. "I did the fade using a Wahl foil shaver to take it right down to the skull on the sides," says barber Huw Jones, describing the look.
Jones opted for something that wasn't greasy to make sure it didn't weigh hair down that's very fine. The product used is the Bed Head Matte Separation Workable Wax, then finished with hairspray.
Thin Faux Hawk Style
@mgrandehair
Comb hair towards the center and brush up for the classic fake mohawk style that's perfect for gents with thin hair!